On the northernmost edge of Europe lies one of the happiest countries in the world. Iceland currently ranks #3 behind Switzerland and Denmark on the UN's world happiness report. And Iceland isn't just one of the happiest countries in the world, it's also one the healthiest. According to the World Economic Forum it's also ranked third globally for average life expectancy – must be all that fresh air and warm volcanic springs!
The country has a tiny population, just 332,529 according to Wikipedia, yet during this summer's Euro 2016 cup an estimated 8-10% of the population went to France to cheer for their national team. Iceland had never qualified for a major soccer tournament before and were the smallest country ever to do so. Nobody expected them to do well, yet Iceland quickly became the underdog darlings of Europe and their highly infectious "Viking clap" chant one of the biggest spectacles of the year.
Image credit: Moyan Brenn
But what about the country itself? Is it just a sparsely populated land of ice? Is it just one of those places that looks pretty on postcards or can you enjoy a good party too?
On visiting Iceland, you'll soon discover that its place on the Happiness Index is well deserved, not only is it very friendly, it's also clean and safe – though that's not to say its not rife with opportunities to create some unforgettable adventures.
Jaw-dropping Scenery
One way to quickly gauge the glamour of a potential destination is to ask yourself, "was it in a Bond movie?" If the answer is "yes" then you know you're on the right track. The Bond movie in this case was 2002's Die Another Day, which culminated in a thrilling car chase – on glaciers!
Iceland's rugged, unspoiled landscape is one of stunning beauty full of geysers, glaciers, waterfalls and more. These wild, wide open spaces can be explored and enjoyed in a multitude of ways. You can go hiking, horseback riding, take a snowmobile or jeep tour, you can charter a boat for a whale watching tour or sea fishing trip, or get a bird's eye view by taking a helicopter tour.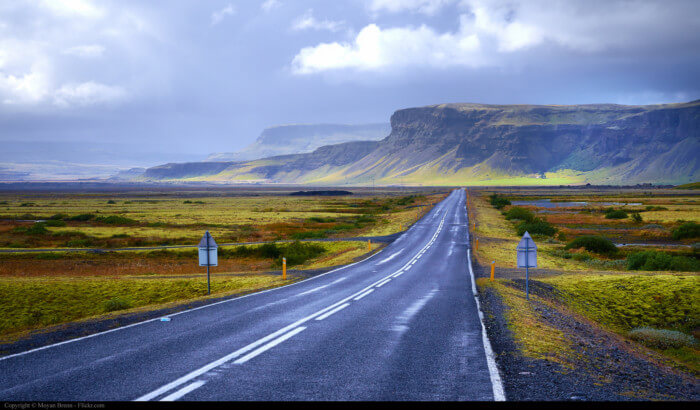 Image credit: Moyan Brenn
See The Northern Lights
If you haven't seen the Northern Lights already you need to add this to your bucket list. Seeing photos or video isn't enough – some things you really do need to experience first hand.
Luckily Iceland is one of the best places to do this, ideally just before, or slightly after, winter.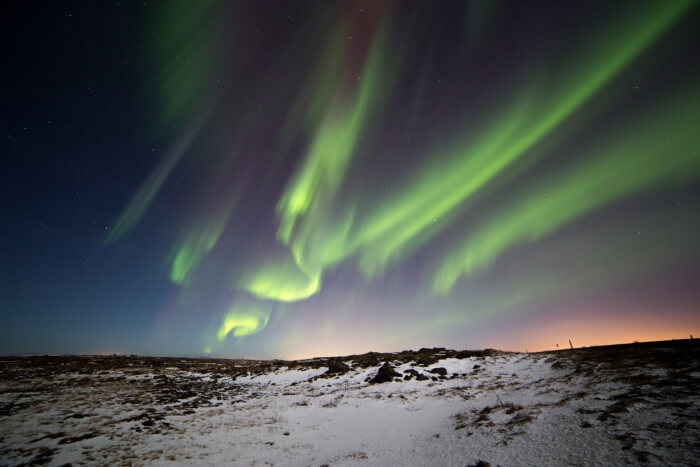 Image credit: David Phan
Party Long Into The Night – On Very Long Nights!
If you like to party long into the night then Iceland will give you a unique nocturnal experience. Iceland is one of the few places on earth where you can party all night long – for 20 hours!
Yes, you read that correctly, in December Iceland gets only a few hours (as little as three or four) hours of daylight.
Of course in summer it's the other way round.
Now, as you might expect, the land that gave us Bjork has its fair share of exotic parties and cool music. There's actually a huge range of different festivals, ranging from folk to jazz, not to mention lots of cultural festivals, food festivals…
For me, though, the most fascinating one is the Secret Solstice festival which takes place during the June solstice.
The festival plays host to various top acts from across the music spectrum. Last year, for example, saw Radiohead headlining alongside dance music legends like Goldie, Jamie Jones and Derrick Carter.
What truly sets this festival apart, though, is the fact that it takes place when the entire island is in constant daylight, for a total of 96 hours. So, whether you're raving at 3am, rocking out at midnight, or just chilling with your friends over breakfast, it's constant sunshine.
Once again this is just one of those rare opportunities to experience something completely unique and unforgettable.
Take A Relaxing Dip
So, bones and feet aching after 96 hours of partying? Not surprised. Still, nothing like a nice dip to stretch out and relax you.
Now I know what you're thinking; having a swim in the warm Mediterranean is one thing, going for a dip in a country on the edge of the Arctic circle is quite another. But then Iceland, don't forget, is highly volcanic and is pockmarked with toasty volcanic springs.
The most famous of them all, and one of the country's top destinations, is the Blue Lagoon, so called for its bright blue waters. It's as pretty as it is relaxing, a true feast for the senses. There's also something very strange about splashing around in bath-warm water while being surrounded by sub zero temperatures and ice.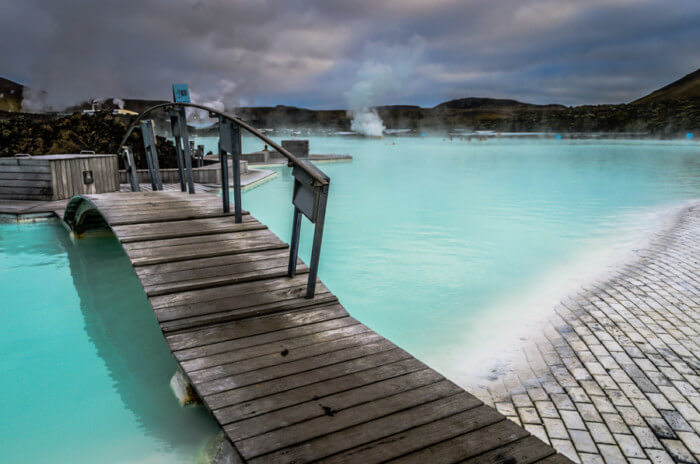 Image credit: Nikhil Pasricha
Unforgettable
Iceland can be a relaxing place to visit and chill, or it can be a place for wild adventures and even wilder parties. Of course there's no reason why it can't be all of those things at the same time! Whichever way you decide to go I'm sure you'll agree that Iceland really does pack a lot of unique and memorable experiences for such a small country.