---
Have you been wondering if Singapore is expensive for tourists? If so, keep reading!
---
If you're planning a vacation to Singapore, but you're not sure how expensive the city is, or if you can afford it… Hopefully this blog post will help answer some of your questions!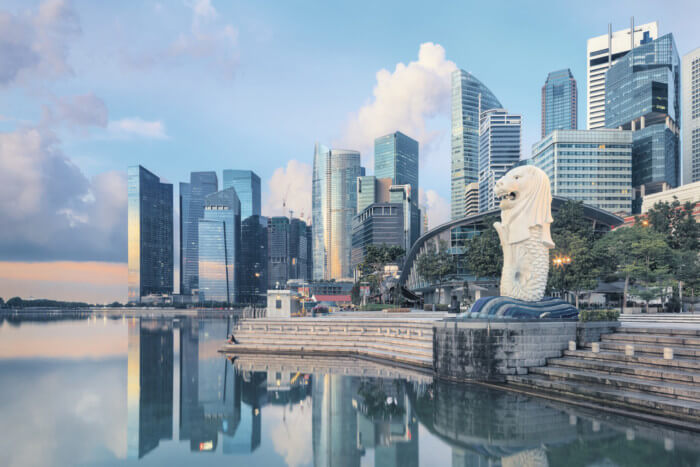 Singapore is an amazing urban destination. Located in the heart of Asia, Singapore is one of those cities that has it all. From amazing cityscapes, skyscrapers, and luxury hotels… to jungle, incredible beaches and theme parks – you couldn't really ask for much more.
But is Singapore expensive for tourists? Let's break it down…
---
Are Singapore hotels expensive?
---
It depends!
As with most cities, there are luxury options and budget options readily available. Singapore does have some crazy-expensive hotels (the Marina Bay Sands Hotel costs upwards of $400 (US Dollars) a night for even their most basic room).
But not all hotels in Singapore are this expensive, and you can find some really lovely hotels in the city centre for much less.
5* hotels in the city centre will generally be around the $250 – $700 a night range. But 5* hotels a little further out of the city can be a little as $200 a night – which is great value. Here are some great options: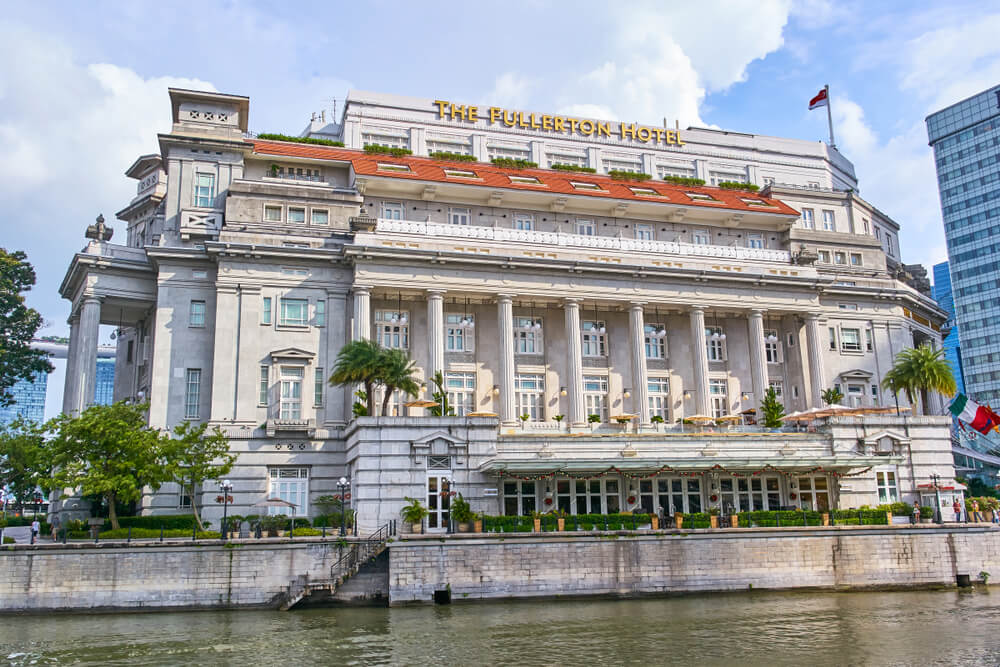 4* hotels in the city centre are usually priced around $100 – $350 a night. These can be a great option is you're looking to stop somewhere with a touch of luxury, but may not have the budget for a 5* hotel. Again, going out of the centre can bring prices down.
3* hotels and hostels are the cheapest accommodation options in the city, which rooms and beds in these options costing less than $100 a night. Hostels can range greatly in value and service though, so be sure to check out real reviews before committing to any hostels.
I wrote a guide to the different neighbourhoods in Singapore, and where is best for different kinds of tourists and visitors – so check that out if you need a little more guidance on where to stop.
---
Is it expensive to eat out in Singapore?
---
As a tourist, you'll mainly be eating out and about in the city. And what a city to eat out and about it! Singapore is one of the culinary hot-spots of Asia, and Singapore is full of so many amazing places to eat.
The great thing about there being tons of options in Singapore, is that there's literally something for EVERY budget.
Eating out at Hawker centres…
If you're on a bit of a budget, then you're likely going to spend most of your time in the city eating at the city's iconic Hawker Food Courts (check out my ultimate guide to Hawker Food centres here) . These food courts are home to loads of street vendors (selling everything you could possibly imagine!). The food inside Hawker Food Courts can range from $1 to $20 (depending on what you order) but the general rule of a Hawker Food Court is that it's cheap and cheerful!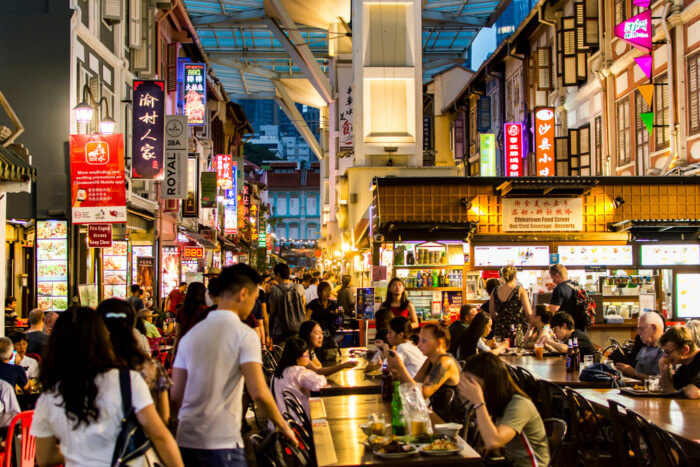 There are so many Hawker Food Courts in Singapore, and if you're wondering what kind of food to order – I wrote a guide about the best foods to try in Singapore food courts here.
Top tip! Even if you don't plan on eating cheap your entire visit in Singapore, make sure you check out the famous Chicken and Rice dish in Singapore at some point!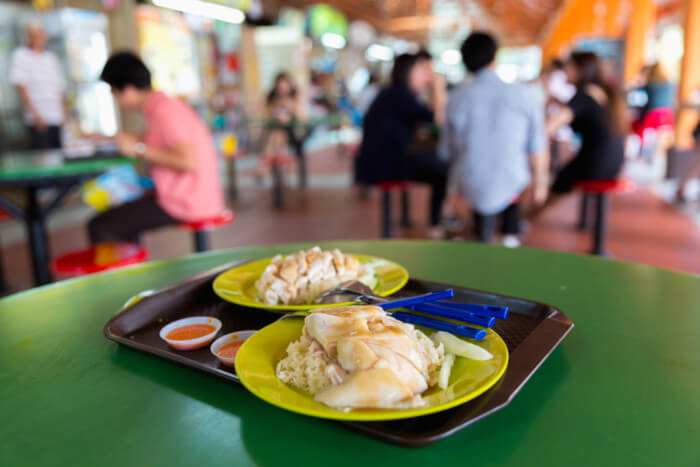 You could quite easily get away with spending as little as $20 – $30 a day on food, especially if you ate exclusively at the many food markets and hawker centres.
If you plan on diversifying your eating out during your time in Singapore and you want to eat out at some restaurants, some food courts and some bars, then you might want to look at a slightly increased budget of $40-$70 per day. This is likely a more realistic daily budget for food when visiting Singapore.
Blowing your food budget in Singapore…
Again, as with any city – if you really wanted to blow the bank when in Singapore, it would be totally possible! There are many posh / fancy / expensive restaurants to choose from in the city. If you're looking to spend big – then Singapore will happily provide!
Here are a just a few:
Overall, Singapore offers a good mix of super-cheap food, mid-range and super-expensive. So you can just pick and choose depending on what your personal circumstance is. It's an easy city to be flexible in – and it won't be hard to stick to a lower budget when visiting.
---
How much do attractions and activities cost in Singapore?
---
After your hotel and food budget, your next biggest expense when planning your budget for Singapore, will be your activities and day trips. There's loads of things to do in Singapore to choose from, and there are plenty of free things to do too.
If you wanted, you could probably spend a few days in Singapore only ticking off the free (or very inexpensive) things in the city. There's more than enough to keep you entertained!
Some of the free highlights include:
Walking around the Marina
Walk around Supertree Grove
Check out some of Singapore's most beautiful temples
Take a stroll around Chinatown
Explore the Southern Ridges
Visit one of the city's free museums
Visit Fort Canning Park
Go window shopping at Orchard Road
As great as all these free things are though, there are so many other wonderful things to do in the city, which do have a small ticket cost attached. I always use Get Your Guide for booking tickets in Singapore, they have great prices and I can also usually get bundles on there which are great for keeping things budget-friendly.
Some of the other highlights (with paid admission) include:
Singapore Zoo (one of the best zoo's in the world)
Singapore Night Safari
Singapore River Cruise
Singapore Sentosa Island cable car
Singapore theme parks
Singapore tour buses
I'd say put aside around $20 – $30 a day for activities and tours. Below you'll find some of the tours and activities I recommend checking out!
Hopefully this has answered your question of whether or not Singapore is expensive for tourists!
My advice would be, before visiting, make sure you've picked a good hotel fitting to your budget, and also make sure you picked out (and booked) the tickets and attractions you want to do. That way there aren't any surprises or unplanned spends when you arrive!
For food and drinks, plan to spend at least $40 – $50 a day – but know that if you want to eat out somewhere fancier, or go out drinking, you might need to add on an additional amount to this. Overall Singapore is an amazing place to visit, and it's a great place for lots of different budgets!