Having a small garden can often put people off when it comes to gardening, as they don't have the inspiration that a larger garden space may offer. There are so many amazing ideas for smaller gardens to really help you utilise the space you have, so now is the perfect time to get out into the garden and transform your current space into somewhere you can enjoy throughout the spring/summer months.
Planters and Beds
Introducing a selection of planters or flower beds to your garden is ideal for brightening up the area. Whilst you may not have lots of floor space for planters, there are different ways in which you can add them without taking up the floor space you have. From hanging planters to raised beds, you can create a beautiful display whilst utilising the space properly. You can find a fantastic selection of raised beds at Two Wests, along with a range of planters and pots to bring your garden to life.
Hanging Baskets
It doesn't matter how small your garden is, by introducing hanging baskets you can utilise the wall space you have and inject colour and character in an instant. A hanging basket can transform a garden whilst working on a budget, as you're bringing more character to the space without having to change much at all. Add some bright and beautiful flowers to your hanging baskets, such as petunias and geraniums.
Create a Focal Point
When working with small spaces, a great way to add a sense of space is to create a focal point. Having a clear point to focus on the moment you enter the garden will instantly make the area feel larger, adding to the character overall. Having a feature piece within the garden can really help to create an inviting space and with a smaller garden, you may want to look at introducing items such as large plants, ornaments or even a small water feature to really add the wow factor to your garden. If you're unsure on exactly what you want to add to your garden, visit your local garden centre for some inspiration and advice on what would work well for you.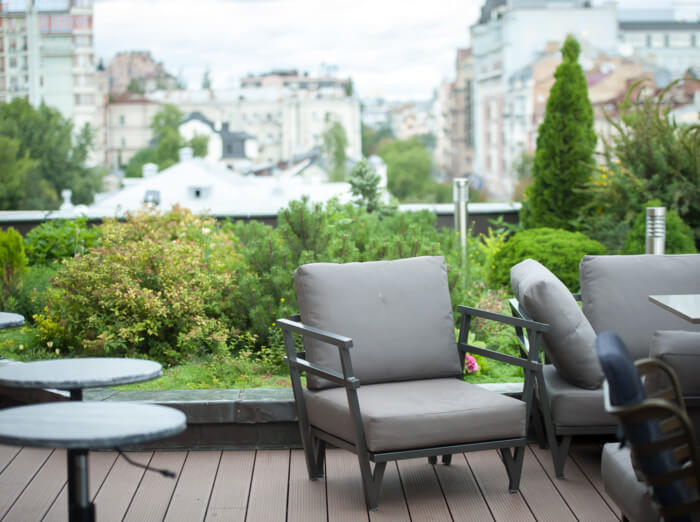 Make it Social
You want to be able to enjoy your garden, even if it is a small space. By creating a space that is sociable and inviting, you'll find yourself enjoying your garden much more, especially through the summer months. Depending on how much space you have to work with, start by looking at what outdoor furniture pieces would be a good fit. From simple benches with a few stylish scatter cushions, to compact dining furniture that can be easily stored away when not in use, you can make the most of your outdoor space and create an area that you can enjoy properly. There are so many gorgeous outdoor furniture items available online and in garden centres, so it's always worth having a good look around to find the perfect style for your garden.