---
Are you looking for the best neighbourhood gem restaurants in NYC?
---
When you're visiting NYC it's all to easy to fall into the tourist trap restaurants around the major sights and attractions.
Yes, they're convenient, but they're also mega busy and mega overpriced too. We visiting NYC a few times a year, and over the many years we've spent in the city, we've carved out a 'favourites' list of neighbourhood gem restaurants in NYC.
Below you'll find some of my favourite neighbourhood gem restaurants in NYC, a brief description of what they offer, and also a price code too (just to be extra helpful!). My biggest tip? Make sure you're hungry!
---
---
Incredible southern food with INSANE portions (fried chicken, poutine, burgers, tacos). Just amazing, probably our favourite place to eat in the city!
It's located on the upper west side, and it's totally worth heading a little bit out of the touristy midtown. It does get busy, but you can usually walk in for a table without a booking (if you're not visiting in peak hours).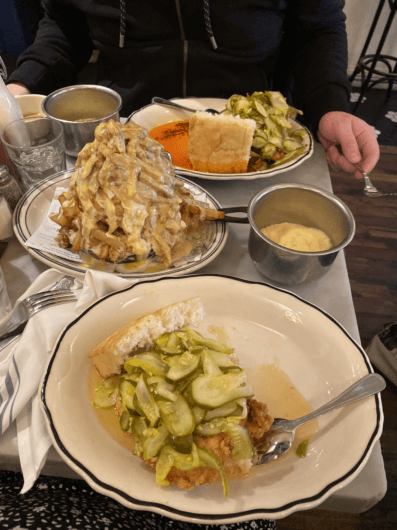 ---
---
Most incredible steak ever, get the bone-in option if possible – it's mega! This steak place is an amazing upscale neighbourhood restaurant, and it's loved by locals.
It is expensive, but everything about this place is delicious. From the side, to the steaks, to the cocktails. Yum! Definitely book ahead.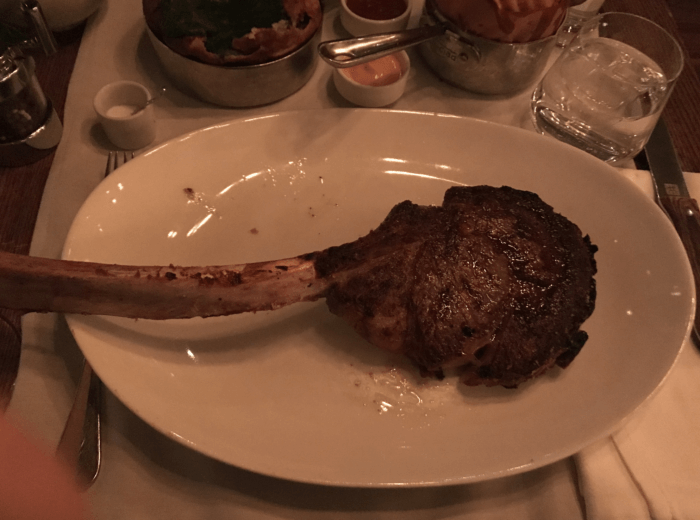 ---
---
Really cool place for breakfast or brunch (feels very New Yorky). They do amazing sourdough pancakes and the fried chicken and biscuits is my favourite.
The atmosphere is lovely, and the food is delicious! If you want brunch or breakfast, this place is a great choice for sure. Walk in or book – it's easy either way.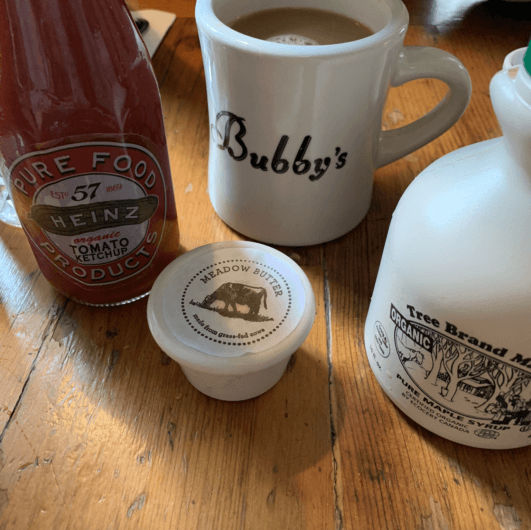 ---
---
Old-style deli serving traditional jewish food. A real local favourite, great staff, delicious food, and the portions are huge!
I loved the vibe here, and it felt like a real neighbourhood gem in NYC. You can walk in, and not worry about booking a table.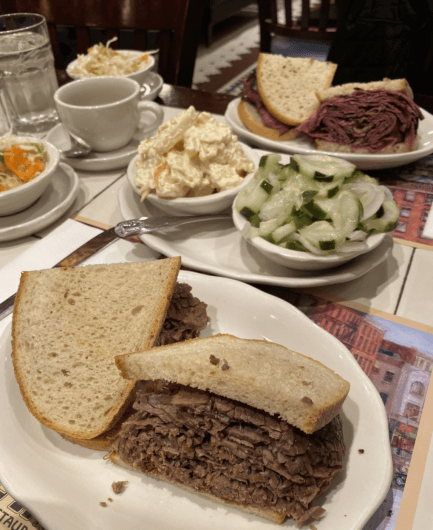 ---
---
Most incredible pizza ever, a neighbourhood favourite in the local area. It's always busy and booked up (because it's so popular) so it's definitely worth booking ahead to make sure you get a spot!
They also do fab pasta, so make sure you try both! Definitely one of the most amazing neighbourhood gem restaurants in NYC!
---
---
This is a real neighbourhood gem restaurant in NYC, and their Mexican street food is worth queuing round the block for. They do all sorts of small plates to take away (although there are a few seats to eat in if you can grab them).
Their tacos are AMAZING and you'll definitely want to head in for more. It's a tiny place, and really fun.
Great for lunch or a quick bite. You don't need to book, but I recommend getting there a little earlier than lunch, to avoid the rush.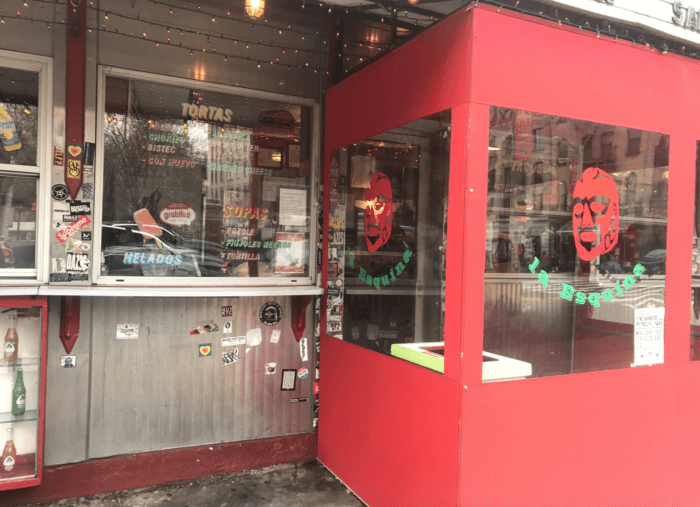 ---
---
This is a neighbourhood food market, with loads of food stands and vendors inside. It's really popular with locals, and it's a great place to pop into after a long day of sightseeing.
The lovely thing about Gransvoort Market is you can try a bit of everything, and there is SO much to try.  The fried chicken place (Wing Club) also does the best fried chicken sandwich I've ever eaten. 
Walk in, no booking needed.
---
---
Family-run pizza restaurant near Times Square. It's fun and typical New Yorker style. If you want somewhere friendly and wholesome (and delicious!) then this is the kind of pizza place you're going to love.
Touristy but decent if you want pizza and you're in the area seeing a musical.
Epic sandwiches diner, it's quite touristy in peak times, but it's also a massive favourite amongst locals too.
It was made famous from the movie 'When Harry Met Sally'. It feels like a proper "
NYC
" experience, but I'd recommend visiting in the morning (10am – 11am) to avoid the huge crowds.
Walk in, don't worry about booking a table! But if you want to avoid the queues we recommend avoiding the lunchtime rush!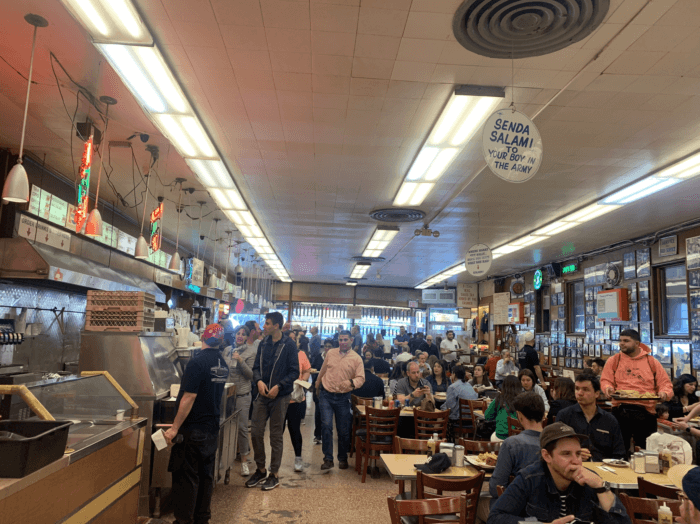 ---
---
Cute & cosy neighbourhood bar with amazing food (huge portions) and sports on the TV.
This place is a cosy gem in NYC, and the food is like a home-cooked meal from your friend's Mum who is amazing with food. It's got thatfamily feel to it, but still feels stylish and cool.
Book ahead on Friday and Saturdays (or game days).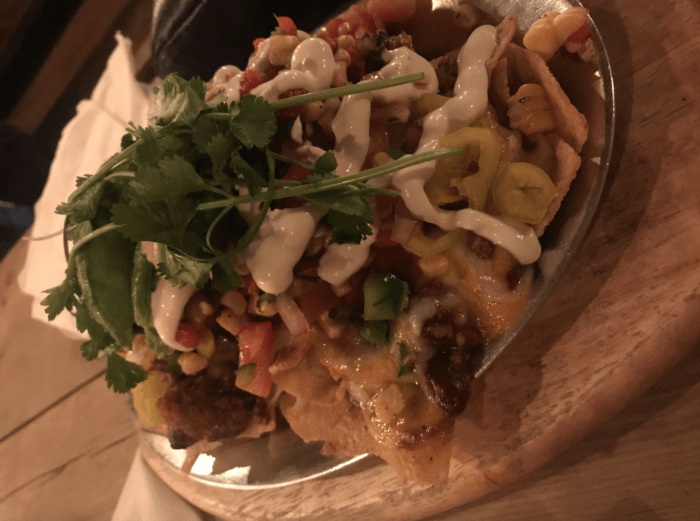 ---
---
If you're into a liad back bar setting, and like the idea of being entertained whilst you wait for food – then you'll probably love this place.
There are Board games to enjoy as you sip on craft beer, and don't let us forget the crazy desserts they serve up too.
---
---
USA BBQ street food, where you order meat by the lb. It's really quirky and cool, and it's out in Brooklyn, so you'll get to see somewhere a little further from Manhatten.
---
Here are some other useful blog posts I have written about NYC, that might be useful!
---