Don't get me wrong, I always knew bras came in a wireless version. I just always just assumed they were for breastfeeding women, or women with A cup boobs, not for normal day-to-day wear, or for women with DD cup size. When all the cute little bralettes came into fashion last year, I was hopelessly looking at them, thinking how comfy and pretty they look – but how they'd never ever give me the support of coverage I like.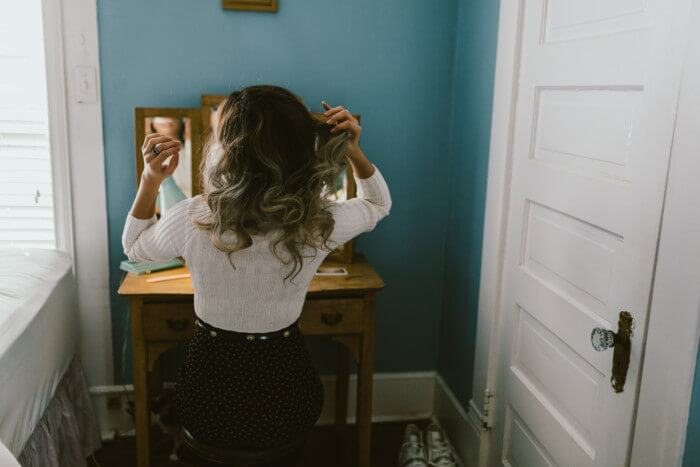 I work from home most days or I travel, so I wanted to find a bra that would be comfortable for me at home or during a flight, and I started realising that wires just weren't that comfy. Sports bras are an option (and something I've tried in the past) but I find that sports bras for bigger boobs can be more like compression garments (which is great for the gym – as they're super supportive) but that level of compression is not necessarily comfy for lounging in at home. On a flight too, the last thing you want is wires digging into you, or feeling like you can't sit or lean a certain way – wireless bras take all of those issues away.
So I started to look for wireless bras, and seeing if I could find any I actually liked. The good news is, I did!
Surprisingly, the ones I found, they do offer support, even in larger cup sizes, and they give great shape too. Basically I think of it as lounge-wear for my boobs – I wouldn't wear a suit inside the house, and a wired structured bra is kind of the underwear version of a suit. A flexible, comfortable non-wired bra is so much better!
So where can you get non-wired bras from? 
One brand I've come across is Knixwear, a body-positive brand who offer underwear for a big variety of sizes (yay!). I like the different shapes and styles of underwear they have on offer, and the wireless bras are also seamless, which is a plus for me.

Their 8-in-1 Evolution bra is seamless, has molded construction, and supports your unique shape without uncomfortable wires or padding. It has reversible shades too (which is pretty cool, and not something I've seen before) and detachable straps – so all in all, it gives you 8 ways to wear it. I'm pretty big on checking out review before buying anything online, and the reviews for Knixwear are great.
They also have a version called The Longevity Bra which is more like a flexible sports bra. It's flattering (as it's semi longline) but it's functional too, because of the support it offers.