Are you driving the Pacific Coast Highway and you're looking for a Pacific Coast Highway Road Trip Itinerary?
---
So you're planning a Pacific Coast Highway road trip itinerary… and you're ready to rent a car and set off! You've got your open top car, you've got your beach boys Spotify playlist, and I'd also definitely recommend getting some twizzlers in the car as they're the ultimate road trip food. 
The route we're suggesting is Route 1 from San Francisco to Los Angeles, and this Pacific Coast Highway road trip itinerary includes all the scenic stops and sightseeing along the way, so you won't be short of cool things to see and do.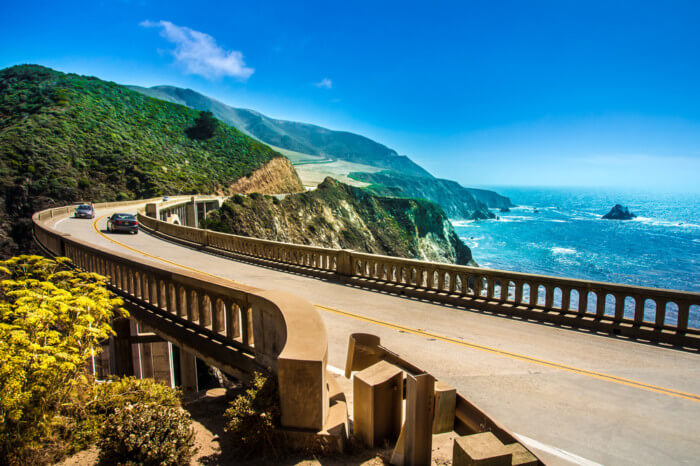 Whether you do this Pacific Coast Highway road trip itinerary over a couple of days, or you really take your time, we've come up with a tip-top 4 day drive plan, that shows you all the best sights whilst keeping the trip to an extended weekend so that you can fit this into any itinerary.
---
Day 1: San Francisco
---
San Francisco is iconic. So obviously it's the first stop on our Pacific Coast Highway road trip itinerary. 
You know it from Bullitt and Mrs. Doubtfire (or, if you're being honest with yourself, The Princess Diaries and the seminal Mark Ruffalo and Reese Witherspoon classic Just Like Heaven). We had an actual Blast in SF, so here's a few quick things to tick off before you leave this amazing city… Ideally you'll have more than a day there, but if a day is all you have then make sure you spend it wisely!
Little Italy for some incredible delis and cafes and some top notch coffee.

Visit Muir Woods to be in absolute awe of nature.

Don't miss out on the Polk where you can find amazing vintage shops and the best donut in town at Bob's.

Visit Alcatraz Prison for amazing views of the city, and to walk around a creepy prison.
Do a Bridge to Bridge boat tour and see the city from the water.
Do a San Francisco food tour and eat your way around the city.
---
Day 2: San Francisco 
to Monterey
Drive time: 3 – 3.5 hours (without stops)
---
Stops on this part of the Pacific Coast Highway road trip itinerary:
Half Moon Bay

Big Basin Redwoods State Park

Santa Cruz Wharf
Your first stop is at Half Moon Bay for coffee on the beach in the morning. If you're a surfer, this is where you're going to catch some waves (surfing at sunrise is always a good idea). If you've got time maybe stay here a little longer as it's so scenic and beautiful.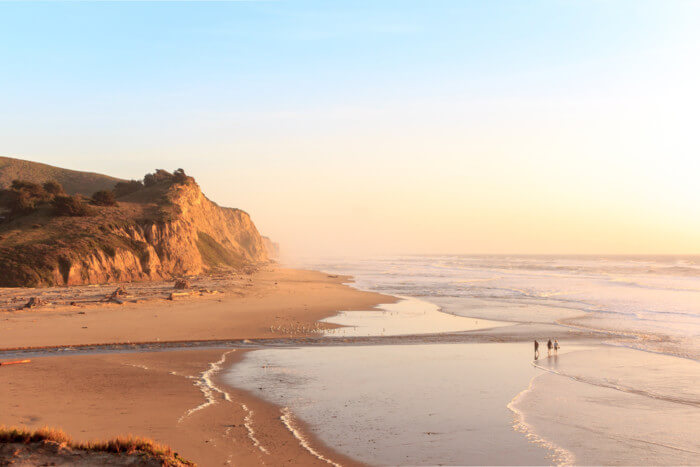 It's a real paradise for people who love the sport, so this is where you're going to meet like minded surfers, who just want to get out on the water and cut a half-pipe (I don't surf please don't laugh at me). We got some coffee and took in the sights, it's a quieter slice of Cali life, soak it up. Once you're done here, continue down to Monterey, going via the Big Basin Redwoods State Park.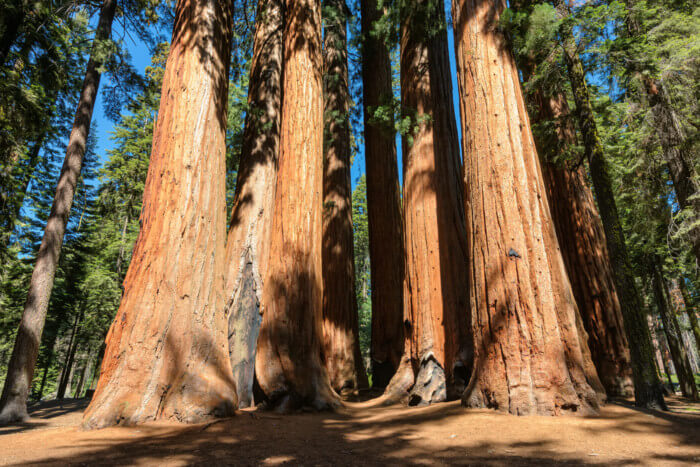 After the Redwoods, you'll want to head towards Santa Cruz Wharf. This is a great scenic stop-off, but also great if you need a toilet break too! Santa Cruz is quite a touristy area, but it's definitely worth snapping a photo of! Any amazing photo spot is definitely a must-see on my Pacific Coast Highway road trip itinerary.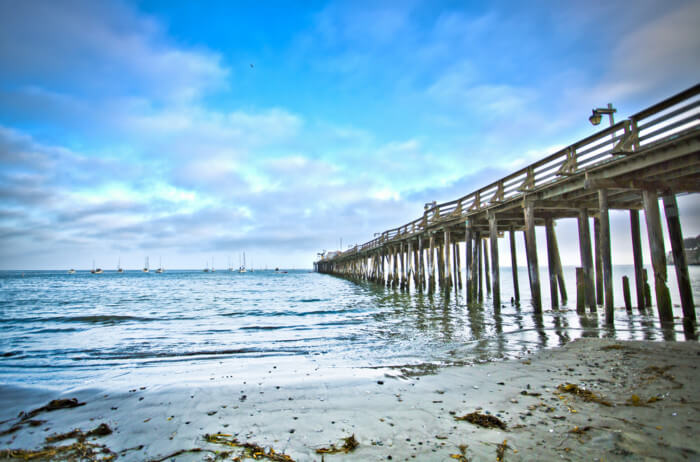 Arrive in Monterey and get yourself some dinner at Alvarado Street Bar & Grill. They've got super laid back bar food, like truffle crawfish mac and cheese, or really good wings. They've got killer beers from APAs to weird craft brews. Would definitely recommend the fish tacos. The vibe is super chilled out and friendly, so you're likely to make good friends!
---
Day 3: Monterey to San Simeon
Drive time: 2.5 – 3 hours (without stops)
---
First up, spend some time at the following places (they're all very close together):
Pebble Beach

Lone Cypress

Pescadero Point
The incredible scenery round this area is likely to make your instagram look really good, but also it's just something we think everyone should see at least once before they die.
Next a quick hop over the headland will get you to Carmel by the Sea. This is a cute spot, and it's not far away. If I were you I'd wait to have breakfast in this little beachside town as there are great breakfast options at the Tuck Box cafes. It looks like a Hobbit Cafe and the pancakes are amazing – we may have eaten our entire body weight in pancakes during our time stateside, so we know what we're talking about.
Read more California travel inspiration: Top 20 things to do in Carmel-By-The-Sea
Next on your day 2 driving, it's the Big Sur!
The coastline views driving down the Big Sur are incredible – you've never seen anything like them, and you most likely never will again. Even though you've basically been looking at the ocean for the entire drive, these views will definitely take your breath away. Some places to look out for along the Big Sur part of the Pacific Coast Highway road trip itinerary are: 
Pfeiffer Canyon Bridge
Pfeiffer Beach
Grimes Point Scenic Lookout 
Seal Beach Overlook
Boronda trailhead 
Partington Cove 
McWay Cove 
Anderson Canyon
If you want to know more about these scenic places along the Pacific Coast Highway, click on my other blog post here.
If you've got some extra time, definitely stay at Big Sur to get in some hikes at one of the national parks. We'd recommend Pfeiffer Big Sur State Park or Limekiln Beach State Park. They're definitely worth it – and you can stay at Ventana Big Sur for a glamping experience like no other! After, head on to San Simeon to spend the night!
---
Day 4: San Simeon – Los Angeles
Drive time: 5 -6 hours (without stops)
---
OK, it's day 4 of my Pacific Coast Highway road trip itinerary.
If you do one super touristy thing on this trip, get on a tour of Heart Castle. Originally designed to be the private residence of W.R. Hearst expect to find a lavishly decorated home, some cracking fine art, and maybe even the odd peacock or zebra roaming the grounds. Even if you decide not to take a tour, definitely hop out at Piedras Blancas, 'cause you can always catch a glimpse of some elephant seals there!
Read more California travel inspiration: 20 incredible things to do in Southern California
From here you're gonna drive through the San Luis Obispo area, there are countless places to stop here, and there's something for everyone. If you're into wine you can stop at a winery in Paso Robles, San Luis Obispo itself has something for the arts and culture lovers, Morro Bay is for all you outdoorsy types, and Pismo beach is a classic Cali Beach.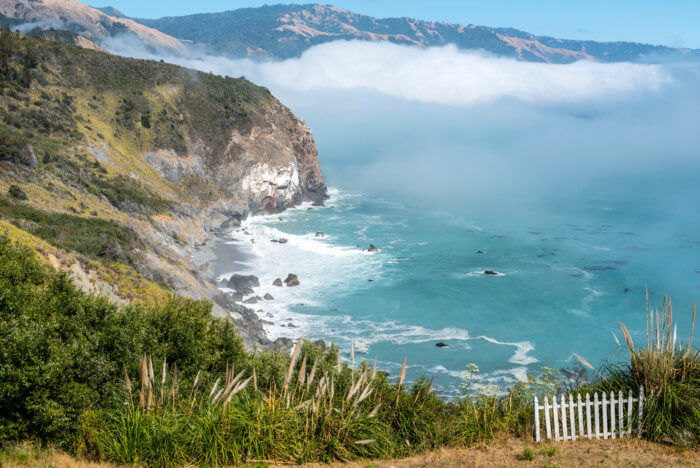 The next stop on my Pacific Coast Highway road trip itinerary is Solvang. It's adorable, it's California's little Denmark, it's got bakeries where you can get a danish pastry, and it looks so cute.
Drive down to LA, next, and really take in the ocean views on this last stretch of your journey. If you've got time you can stop off at Santa Barbara which has loads of cool things to see and do, like the old mission in town, and we'd definitely recommend grabbing a coffee and checking out the town. Once you get to LA, stop off in Malibu for a well earned drink and a rest at Paradise Cove Beach Cafe.
Read more California travel inspiration: 12 scenic small towns in California you should visit
Lastly on my Pacific Coast Highway road trip itinerary, if that's not your vibe, though, we spent a lot of time at The Original Pantry Cafe in downtown LA. It's never closed once in its history, the lady behind the counter is honestly so sweet, and (again) the pancakes are killer, as are the steak and eggs. Sit at the counter if you're alone, or there's only a couple of you, as you can jump the queue and get served quicker!
I hope this Pacific Coast Highway road trip itinerary is useful for your trip along the West Coast! The Pacific Coast Highway road trip is an epic road trip – so make sure you enjoy every second!
---