In the map of famous tropical travel destination, Philippines is gaining global popularity, attracting more and more tourists to celebrate its effervescent beauty. Among famed alluring spots in this archipelago lies on top of the list the province of Palawan. Of all incredible islands found in the world, Palawan is a beautiful dare to experience a one of a kind vacation.
Having Puerto Princesa as its capital city, Palawan is actually a province comprising its own group of enthralling islands and wonderful islets. The land area is distributed to its mainland and island municipalities.
One of its islands is the Spratley Islands or "Kalayaan Group of Islands" according to locals, which is a disputed territory of China and Philippines recently, also to mention that other neighboring countries also attempted to claim this abundantly blessed islet. Can you even imagine why it's that worth fighting for?
PALAWAN UNDER THE LIMELIGHT
In 2007, Palawan Island was recognized as the best Southeast Asia region and the 13th best island in the world by National Geographic Traveler magazine. In 2013 and 2015, it was hailed as World's Best Island. United Nations Educational, Scientific and Cultural Organization (UNESCO) also declared Puerto Princesa Subterranean River National Park, as a World Heritage Site.
It also spotted a slot in the New 7 Wonders of Nature in 2012. In 2016 and 2017, Palawan was included in the list of islands with the bluest water in the world by top New York-based magazine, Travel + Leisure. With the stunning seascapes, jaw-dropping landscapes and spectacular biological diversity, Palawan Island is equally deserving to be nicknamed "The Last Ecological Frontier of the Philippines". 
Added to its privileges is the nine hour-berthing of Legend of Sea, world's largest cruise with 1500 visitors from Europe. These international recognition has made Palawan gain global limelight and tourist radar. Would you even let the opportunity of visiting this award-winning place pass you by? If you're planning a visit – check out this itinerary for Palawan – it's a great place to start.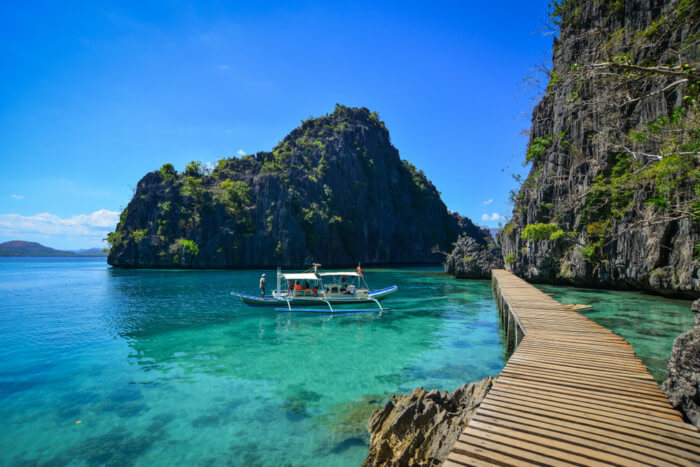 FAMOUS DESTINATIONS
Aside from the exotic wildlife such as Philippine mouse-deer, Philippine pangolin, purple crabs, rare butterflies, Palawan bearcat and the like, there's indeed a bunch of things to see and experience in this esteemed tropical paradise. Here's a list of top destinations you'd probably enjoy to the fullest.
Puerto Princesa Subterranean River National Park
Famed as a UNESCO World Heritage Site located 80 kilometers north of Palawan's capital city, Puerto Princesa Subterranean River National Park, also known as Puerto Princesa Underground River is a more than 8 kilometers underground river running in complex clandestine caves. It is considered the longest underground river in Asia and the second longest in the world. This renowned tourist spot is popular for its spectacular limestone karst landscapes and magnificent crystal-lined cave walls. A guided boat tour leads to the ever unique underground waterfalls. Any travel diary in the Philippines would never be complete without this superb tourist attraction.
Calauit Game Preserve and Wildlife Sanctuary
If you want to experience a flake of Africa, then Calauit Game Preserve and Wildlife Sanctuary are what you're definitely looking for. This 37 square kilometers wildlife sanctuary in Calauit Island eventually emerged when the late former Philippine president Ferdinand Marcos started to import endangered Kenya animals like giraffes, zebras, and antelopes to this game preserve island. Having a similar climate to Kenya, Calauit Island helped these foreign species adapt well and increased in population since then. It became the very first safari park in the Philippines. Bushbucks, bearcats, zebras, freshwater crocodiles, monkeys, Calamian deer, waterbucks, and Philippine birds are among inviting charms of the place.
Japanese shipwrecks of Coron Island
The shipwrecks of Coron Bay found between Manglet and Huson Islands is regarded as one of the best dive sites in the world. These supply and warships are the remains of a Japanese convoy sunken by the US Army in 1944 during World War II. This wreck site, encrusted with amazing corals, is now great for wreck diving and snorkeling. At depths of 10-30 meters lie the wreckages of 12 wartime ships. Irako ship remains enchanting to divers with its best visibility of schools of sea creatures such as scorpion fish, tuna, lionfish and sea turtles. For beginners, Okikawa Maru, the largest wreck is a perfect option. The recessed fleet was carrying equipment and vehicles back then and this machinery becomes interesting sights of today for local and tourist divers. Dive centers are available in Coron Town, offering day trips and courses for a fabulous discovery of these historic remains.
El Nido Islands
El Nido, located on the northern tip of Palawan, is an impressive archipelago which also offers one of a kind island hopping experience. The grandeur of this place is magnified by stunning coral islands and alluring bays beyond the magnificent white limestone cliffs. In fact, El Nido became the setting of some of the scenes of the Hollywood action thriller movie series, "Bourne" and a pit stop location to a reality show, "The Amazing Series". It's also a favorite beach destination for many and among of which is the intriguing Snake Island. Don't get deceived by its name. Snakes are not inhabitants of this island. It's labeled as such since it features an S-shaped sandbar. Aside from swimming and snorkeling, hiking is a must-do to enjoy a grand view of El Nido.
El Nido Lagoons
On the northern coast of Miniloc Island lies El Nido's Small and Big Lagoons. Two main activities include kayaking and snorkeling. A narrow opening between two limestone rock formations serves as a gateway to the bewitching Small Lagoon. Bountiful marine life, orchid-lined limestone walls, and tranquil turquoise green waters are irresistible features to see. If you are short on time, you can see all the beautiful islands and lagoons in just a single day tour by booking the El Nido speedboat tour package. This will allow you to see most locations in just a single day, instead of having to spend 2-3 days to see everything.
El Nido Twin Beaches
Nacpan and Calitang are enthralling twin beaches of El Nido. Having pristine powdery white sands and sparkling waters, these beaches meet each other on a tiny peninsula jutting out into the sea. Nacpan is 3-4 kilometer coconut-lined beach while Calitang extends only to 500 meters. Few options for accommodation and dining establishments are present.
Tubbataha Reefs Natural Park
Tubbataha Reefs Natural Park is home to some of the world's most beautiful coral reefs. It is a famous underwater sanctuary where a variety of marine creatures proliferates. Being also hailed as a UNESCO World Heritage site, Tubbataha Reef is a natural attraction of several extraordinary marine biodiversities in the world. Not less than 360 coral species, hundreds of fish, sharks, dolphins, whales as well as sea turtles are key species living unexploited, preserved and respected in this area. Discovered by divers during 1970s, this 97 square kilometer site comprises two large atolls and the Jessie Beazley Reef. This marine and bird sanctuary is ideal for scuba diving.
Tabon Cave
At the tip of a cape named Lipuun Point, Quezon in the southern part of Palawan Island is a historic cave complex which spans 138 hectares of rugged cliffs and deep slopes. This group of over 200 caves with only very few that is open to the public, is also called "Philippines' Cradle of Civilization" where the oldest human bones dating back from 22,000 to 24,000 years ago were excavated. It was discovered in 1962 by an American archaeologist, Dr. Robert Fox. In 1972, it was declared as a Museum Reservation Site by the Philippine government. In 2011, these archaeological human fossils are acknowledged as a National Cultural Treasure. Before visiting the cave complex, make sure to secure a permit from the local National Museum in Quezon as it will serve as your gate pass to this historical spot.
Iwahig Firefly Watching Mangrove Ecotourism and Wildlife Park
Who would have thought that Iwahig River is enchanted at night? At the Iwahig Mangrove Ecotourism and Wildlife Park, there's a magical treat that constantly wows every vacationist's soul. Against the serene panoramic night sky glows a Christmas light-like creatures within the mangroves lining the riverbank. Enjoy this fantastic scenery in a paddle boat ride guided by a local tour escort. These numbers of twinkling fireflies project a romantic setting perfect for lovebirds and a fantasy-like set up great for whimsy kiddies.
Palawan offers more. The mentioned destinations are just a bit of what to expect in this globally renowned place. It would definitely be a wise choice including the world's best island in your itinerary.