As I've mentioned before in some previous blogs, over the next year or so, I'll be sticking to mainly short-haul destinations in Europe – to save extra money for our wedding and honeymoon.
One of the destinations I'd love to fit in sometime soon is Amsterdam, it's so nearby and looks so beautiful and quirky – I'm actually kind of disappointed in myself that I haven't been already!
There's not really any excuse, it's like a 30 minute flight.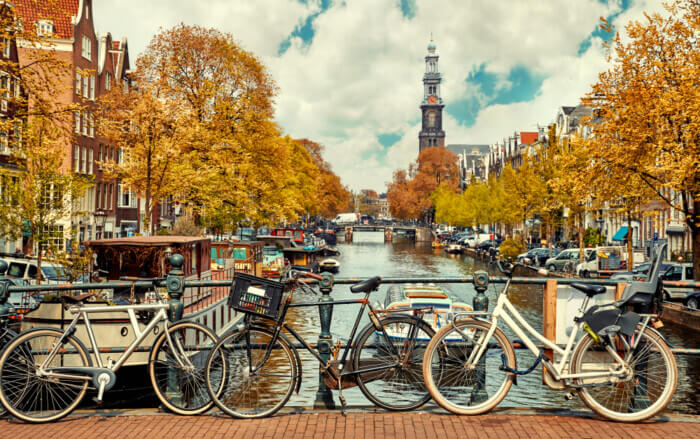 I'm going to be putting a few blogs together over the next few months, so I can reference back to them when we actually get round to going to these places, and this blog is all about the historical sites I'll be scheduling in when we do visit Amsterdam.
Obviously, Amsterdam is known as one of the most enjoyable cities in Europe to visit, largely because it's viewed as something of an adult playground (like the Las Vegas of the EU? Maybe).
But in addition to modern attractions (and by that I mean 'fun'-brownies and coffee shops that don't necessarily make their money from coffee)…. Amsterdam is also home to some truly incredible historical sites.
Anne Frank House
Arguably the best-known historical site in Amsterdam, the Anne Frank House is a lasting tribute to one of the most fascinating stories from the 20th century.
For those who may have forgotten the specifics, Anne Frank was a young girl in hiding during the Nazi occupation of the Netherlands in the 1940s.
Before her tragic capture and death, she maintained a diary about her situation, which most of us will have read at some point during high school.
The story always meant a lot of me growing up so this is somewhere I simply would have to visit. The historical site is the house, still standing, where Frank hid and wrote her famous diary.
And if it sounds like something of an outdated attraction, consider this: The Times Of Israel reported just a few weeks ago that 2014 was the fifth straight year of record visits to the house (approximately 1.23 million). I think it's kind of incredible that her story is still living on, and it's so important too.
East India House
Known in Dutch as the Oost-Indisch Huis, this is the former headquarters of the Dutch East India Company, a hugely influential trade corporation (of sorts) that controlled Dutch trade with Asia in the 17th and 18th centuries.
Built in the early-1600s and maintained and restored beautifully in the years since, the East India House actually has a strikingly modern design when you consider just how historical it truly is.
For me, visiting would be all about taking photos of the beautiful architecture, I love old buildings and seeing old structures.
Rijksmuseum
This incredible place was first opened in 1885 and remains not only an interesting historical site but a functional and breathtaking museum.
Counting only a few attractions among the highlight sights and sounds of Amsterdam, British Airways notes Rijksmuseum right alongside the more modern Van Gogh museum, the floating flower market, and the city's famous canals…
Which definitely makes it worth a visit in my opinion. The Rijksmuseum is as stunning now as ever, featuring an enormous collection of art works from many centuries past, I've always had a weakness for art galleries (having studied art all the way through school and college) so I'd love to spend a few hours here.
I might not be able to convince Pad to join me, but I'm sure he'd be happy having a beer somewhere nearby!
Centraal Station
Amsterdam is far from being the only European city with an historic railroad station (London has it's fair few too – especially since Kings Cross and St Pancras were redone!), but it's hard to find one with more external beauty than Centraal Station.
It opened back in 1889 and oddly enough was designed by the same man who served as the original architect for the Rijksmuseum, Pierre Cuypers.
The resemblance between the two is actually quite clear, with the result being that this is one central railway hub that almost looks like a palace on the exterior.
Canals
And finally, there are the canals, which are probably one of Amsterdam's greatest attractions.
The first few canals were constructed in the 1600s, and the entire network of them is arranged in concentric circles spanning the city, making for a design that is not only beautiful to behold but sensible as well (and efficiency is good!).
I don't think you can go to Amsterdam without feeling overwhelmed by all the canals, and I just know they would be a pleasure to photograph too.
The canals make up so much of the city's atmosphere that Atmosphere has been referred to by many as the "Venice of the North (and if it's anything like Venice, it's sure to be beautiful).
Best of all, this is one historical site that you don't have to go out of your way to visit; you can probably just step out of your hotel door and find one right there.
Where else would you recommend? 🙂