The Plitvice Lakes are nestled in a beautiful part of Croatia, half way between the ocean and the capital city of Zagreb. It's one of the most amazing national parks I've ever seen, and it's one the absolute treasures of Croatia. Vibrant greenery, beautiful clear waters and amazing landscapes make this gorgeous park a sight to behold, and so we've made you a list of everything you need to know when visiting Plitvice Lakes.
---
What are the Plitvice Lakes?
---
Plitvice Lakes is a UNESCO natural heritage site, comprised of 16 lakes, and a wide variety of flora and fauna both on land and underwater. The Plitvice Lakes aren't your normal lakes though, as in between all the lakes you'll find beautiful little waterfalls and elevated walkways over the water too. Honestly – it's just so stunning. I'll pop a photo below to do it justice, because I don't think I can describe it as beautiful as a photo will.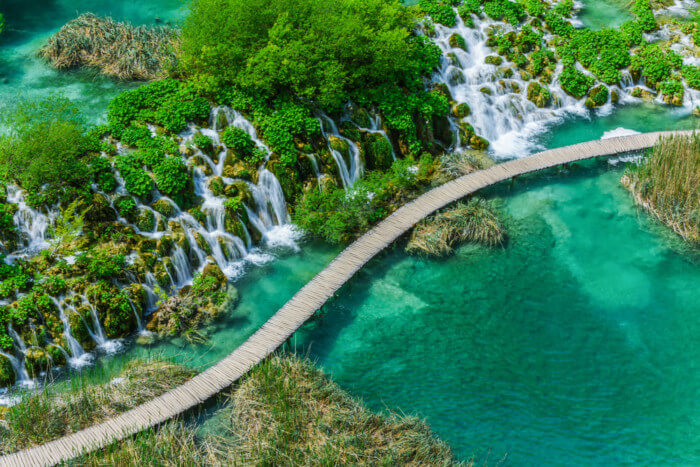 It's the perfect place to unwind and get in some walking, as there are special walkways to make walking enjoyable and totally easy too. Whether you're looking for something strenuous, or more of a gentle stroll, the Plitvice Lakes has got it. Oh! And if you're a photography lover – this is THE place to be in Croatia. There are so many amazing photo opportunities there.
---
Where are the Plitvice Lakes?
---
The Plitvice Lakes are kind of in the middle of nowhere, but equally not far from anywhere in Croatia that you might be visiting. As it's halfway between the coast and the capital, it makes it the perfect stop if you're travelling through (although we would definitely advocate for going to see it in its own right).
---
How do you get to the Plitvice Lakes?
---
You can drive (it's about 2 hours from Zagreb, and 2 hours from Zadar) or you can get a bus. OR if you'd rather have the whole day taken care of (completely effort-free) you can jump on a guided tour. 
These are the main highways that reach the Plitvice Lakes, which may be useful!
DC1 (Selište Drežničko – Prijeboj) from the direction of Zagreb/Zadar
DC52 (Vrhovine – Korenica) from the direction of Otočac (A1)
DC42 (Vrbovsko – Grabovac) from the direction of Ogulin (A1)
However, if you can use Google Maps on your satnav, just enter 'Plitvice Lakes' and you'll find it super easily. Or, alternatively if you get a tour over to the lake, your driver will know the way, so you won't need to worry!
---
Are there tours that include the Plitvice Lakes?
---
Yes, there are lots of tours that depart from different Croatian destinations that can take you out to the lakes. Tours are a great choice for convenience actually, especially if you're a bit nervous about driving in Europe or in a different country. If you take a tour, someone else does the driving for you – which is always nice!
Here are some tours I recommend:
Plitvice Lakes full day tour from Split – This wonderful day tour takes you around all 16 lakes at Plitvice Lakes, as well stopping off at breathtaking canyons and largest waterfall in Croatia on the drive there.
Rastoke & Plitvice Lakes National Park Tour from Zagreb – This 10 hour includes skip-the-line tickets, and lets you explore the picturesque watermill village of Rastoke, and the amazing Plitvice Lakes National Park.
From Zagreb: Transfer to Split & Plitvice Lakes Guided Tour – This is quite a good option if you want to visit the lakes whilst on a transfer from Zagreb to Split or Trogir. It means you can head onwards to explore another city, whilst also stopping off at the amazing Plitvice Lakes park.
---
When should I go?
---
It's beautiful all year round, I mean look at it!
Obviously the high season during the summer holidays is when it's at its busiest, and it's nice to explore at that time of year because the weather is great too. If you're not constrained by summer holidays though, we'd recommend visiting outside of the main summer season, so you can explore with less crowds. April or May is great, or September or October. 
Additionally, what ever time of year you go, we'd highly recommend getting an early start to beat as many of the queues as possible!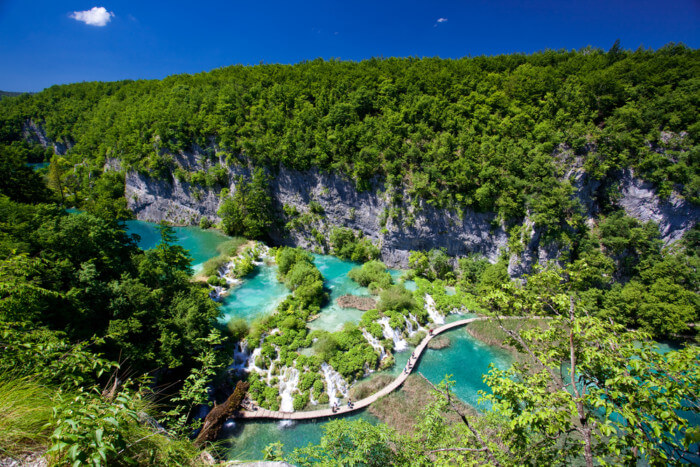 ---
How much does it cost?
---
There is a small ticket price when entering the park, but it's not much and it's totally worth the (small amount of) money too. The ticket price varies slightly depending on the season, and peak season prices are higher than winter prices. I've copied the official price list from the national park's website below.
Remember, if you take a day tour, the park ticket price will be included in your tour price. 
---
Can I swim in the lakes?
---
No, absolutely not. Because the lakes are a world heritage site, swimming is not allowed in the lakes. You'll get to lake through the lakes (on the raised walkways) and you'll get to view and hike around them, but you can swim inside them. If you do want to do some swimming whilst you're in the area, The Korana river is a bit North of the lakes, and is a lovely spot to do some swimming once you finished exploring the lakes.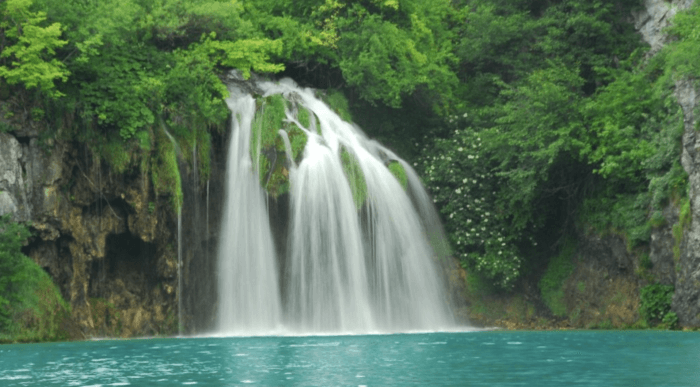 ---
How Long should I stay?
---
You can do a day trip from most Croatian cities that are nearby, and that's enough time to see the lakes and enjoy them.In fact, most people will do a day trip when visiting.
If you're able to drive you there yourself (and you've rented a car) then opting for a two day ticket is a great idea too. That way you could stop somewhere local, and really make the most of the amazing trails! It also makes sure you don't need to rush anything and you can spend plenty of time exploring at your own pace.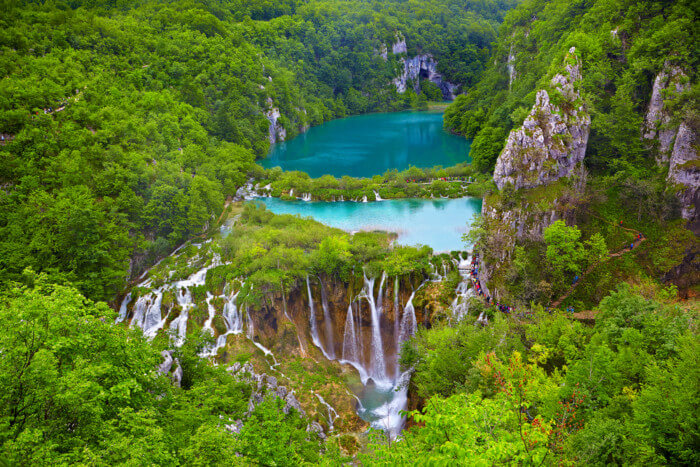 ---
Are there hotels nearby?
---
Yes there are several hotels near to the lakes, but in peak times these hotels will get busy, so if you plen on booking a night there it's a good idea to do so in advance! Here are the closest hotels to the Plitvice Lakes:
The Bellvue Hotel – A budget option, really close to the Lakes and close to the local village with amenities.
Eva luxury rooms and apartments – A nice aparthotel close to the lakes, with kitchens and stuff and decorated really nicely.
Villa Lika Hotel – A really small hotel with a boutique feel, lovely decor and realllyy good reviews!
Plitvice Hotel – One of the biggest hotels in the surrounding area, a good choice for price and convenience.
---
Rules of conduct at Plitvice Lake
---
According to the Plitvice Lakes website, the code of conduct rules are as follows:
Don't damage the trees
Don't pick flowers
Don't drop litter
Don't shout or yell
Don't walk off the footpaths
Don't disturb the animals
Don't swim in the lakes
Don't light fires or bonfires
Don't fish in the lake
Don't camp in the national park
Don't walk dogs off their leash
Don't feed the fish
Don't cycle or use your bike
---
I hope this guide to Plitvice Lakes has been really useful for you! It's an amazing place to visit – you're bound to LOVE it.