Las Vegas is one of those destinations that you just won't know what to expect… until you get there. It's a crazy cool city, with so much going on and so much to see and do. But how do you prepare for a trip to Las Vegas? Here are some of our top tips…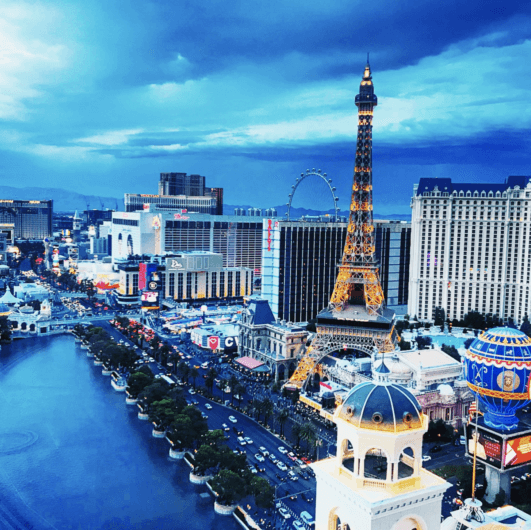 Tip 1: Buy some comfy shoes
Believe it or not, you'll probably do more walking in Las Vegas, than in most other holiday destinations. Most of the hotels on the Las Vegas strip are HUGE – and we're not exaggerating here. If you're room is far from the hotel lifts, you could be walking 200 ft (or more) every time you want to go down to the lobby. Then, once you're in the lobby, you'll probably be walking through the casino, which could be half a mile in some of the big casinos / hotels (no kidding!). Las Vegas may look compact in photos, but this city is deceptive. Yes, the hotels are close together, but they're also massive – so walking along the strip takes much longer than people ever expect! The key takeaway here? Take comfy shoes! The last thing you want is blisters on day one!
Tip 2: Stock up on $1 bills
In Vegas, you'll be tipping people A LOT. When you get a taxi? You'll tip. When you buy a drink? You'll tip. When you place a bet on the roulette table? You'll probably tip. Be sure to prepare for this, by asking for some $1 bills when you transfer your money from your own currency. It'll really help, and will avoid you getting stuck in any awkward situations where you don't have cash to tip with!
Tip 3: Practise your gambling / card games
If you've never gambled, it's a good idea to read up on the different games / card games / slots so you know what to expect when you get there. Even if you only gamble for one hour whilst you're in Vegas, it's a really fun activity to try out – so you'll want to be sure you go in with the right kind of knowledge!
Tip 4: Bring a variety of clothes
Las Vegas has so much to do and experience, you'll want to bring a mix of outfit choices. Make sure you have something a little dressy, but make sure you've also got the casual side sorted too. The truth is, Las Vegas is super casual in the majority of places (shopping malls, casinos, bars, etc) but there are some more dressed-up options you might want to visit. Having a big variety of outfits is awesome because you won't be limited by anything.