Los Angeles is full of the typical tourist haunts, but some of the best things in the city are the are found off the beaten path (if you dare to go looking!).
I only managed to schedule a few days in the city last year, but I crammed in as much as I could. Here are some of the best Quirky things to do in Los Angeles…
1. Visit Evergreen Cemetery
Evergreen Cemetery is the oldest cemetery in Los Angeles and has become one of the weirder, quirkier tourist destinations in California. You will recognise many names on the tombstones, as the cemetery is the final resting of numerous famous faces.
There is even a jogging track running through out if you are in the mood for a melancholy, extraordinary run! The running track is actually a good excuse to go there – because otherwise you're just a weirdo visiting a graveyard.
2. Time Travel Mart
A visit to the Time Travel Mart at Echo Park will result in you being able to tell a friend exactly where they can buy dinosaur eggs!
This crazy market place offers the quirkiest items you can find, from a vintage conquistador helmet to a full size robot replica. Another great aspect of the Mart is that all proceeds go to charity to help the education of 6 to 18 year olds.
3. The Sunken City
Located in San Pedro, visitors can experience something a little different by walking the remains of Sunken City, a neighbourhood that literally sank in to the ocean! You will be able to see old foundations and outlines of where old roads used to be situated. Sunken City is a crazy reminder of just how fragile human creations can be when pitted against nature.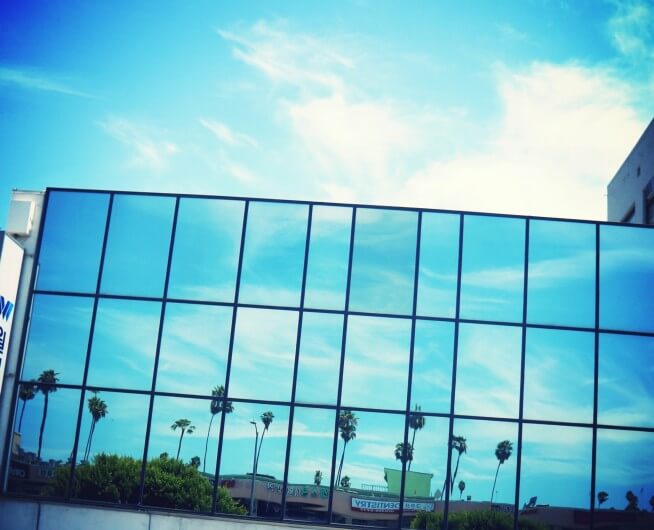 4. The Museum Of Jurassic Technology
Though it may have an official sounding name, this museum on Venice Blvd is a crazy and wonderful collection of fake historical curiosities and objects. With exhibits including paintings of space dogs from Russia and kooky holographs, this is certainly the place to be if you want bizarre!
Read more LA travel inspiration: The ultimate guide to sightseeing in LA 
5. Abandoned Zoo
Those into a spot of urban exploring will love walking through the remains of the abandoned zoo at Griffith Park. LA's original zoo location is now a physical reminder of the past, and it makes for a really cool and slightly creepy walk for people who want something a little more than a normal afternoon ramble.
6. Visit Sweet
The super popular sweet shop, aptly named Sweet, located on Hollywood Blvd, is the closest thing you will get to visiting Willy Wonka. From a chocolate laboratory where you can make your own creations to a crazy and weird candy dispensing urinals, this shop is a must do for any LA tourist!
7. The Museum Of Death
Those looking for something a little more morbid can try the Museum of Death on Hollywood Blvd. The place is a shrine to everything sinister, with features including a serial killer room and an autopsy room that houses real life crime scene photographs. Certainly not one for the faint of heart!
8. The Electric Dusk Drive-In
When you think of LA, you think of classic drive in movie theatres, and the Electric Duck Drive-In on San Julian St is a great example of the very best the state of California has to offer. Kick back with your friends and enjoy a movie from the comfort of your own car; chill 1960s style!
Read more about Los Angeles: 15 upscale restaurants in Los Angeles
9. Jumbo's Clown Room
This joint on Hollywood Blvd is part burlesque, part pole dancing club, part normal bar, but the one thing that is guaranteed is that you will have an amazing time. Jumbo's Clown Room will definitely give you an LA experience that you will not forget for a long, long time.
Read more about visiting Los Angeles: What is the best place to see the Hollywood sign?
10. Watts Towers
Constructed by one man, Simon Rodia, the incredibly weird Watts Towers at 107th St will be a treat for any lovers of unusual architecture of urban history. Marvels of twisted metal and interesting shapes, the towers are unlike anything you have ever seen.