Mexico might be best known for the all-inclusive beach resorts and spring-break parties, but Mexico offers so much more than that! Mexico's beaches are some of the most beautiful in the world and there is so much diverse countryside and landscapes to explore outside of the resorts areas. There are also loads of ocean activities to explore too, from snorkelling and swimming, to diving and fishing!
If you're a history lover, you can explore some of the many ancient Mayan ruins, see gorgeous waterfalls in the jungle, explore authentic Mayan villages, eat traditional Mexican food, engage in adventure activities like zip-lining over the jungle treetops, wander through colourful and colonial towns and cities, and much more. I told you there was plenty to do there!
So here are some reason you'll fall in love with Mexico:
The Weather
Of course the weather! It's why so many of us flock to the country, and it's pretty much guaranteed all year round. The beautiful weather makes it the ideal place for outdoor activities, relaxing by the pool, or chilling on the beach.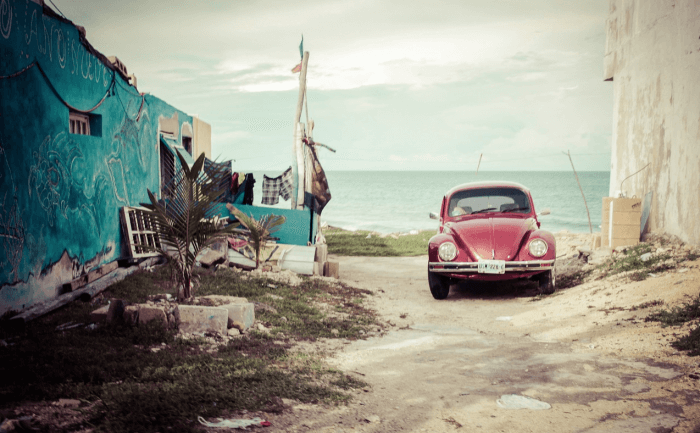 The Food
Chances are you've tried making Mexican food at home – but trying the real thing and having it authentically from Mexico is another thing completely! There is no question about it, Mexican and Mayan food is absolutely delicious. If you're wondering what kind of food is waiting for you, you'll find; tacos, panuchos, sopes, salbutes, huevos rancheros, chilaquiles, guacamole, paletas, aguas frescas, cochinita pibil, poc chuc, and so much more.
The Budget and price
Mexico has some really affordable accommodation options, and you can get really amazing hotels and suites for relatively cheap compared to other countries.
Accommodations
Mexico has unbelievable homes and apartments to rent out. Often nestled in gated communities (so safety is a priority), the rentals in Mexico typically overlook the ocean, and are steps from the beach. Whether you want an entire house for you and your whole crew, or you want an apartment to lounge around in by yourself, you're guaranteed to find a rental that fits your needs.
The shopping
Visiting the vibrant local markets in Tulum and Valladolid is a must-do when visiting Mexico! The markets are colourful and a hub of activity, and most of the locals do all of their shopping here. They are colourful and busy and a great place to immerse yourself in and learn about the local culture while practicing your Spanish and getting off the beaten path. Bring home loads of gorgeous stuff for friends and family – and also for yourself too!
The People
The people in Mexico are so lovely and so friendly. Everyone seems to have such a positive attitude in Mexico and you'll find that your outlook will just change with all the positive vibes and sunshine!