Last summer whilst touring the USA, we made the obligatory stop-off in Las Vegas. Of course, Vegas is probably better known for its casino chips than its edible chips – but that doesn't mean there aren't some amazing places to eat in the city. If you're looking for restaurant suggestions in Las Vegas, you've come to the right place….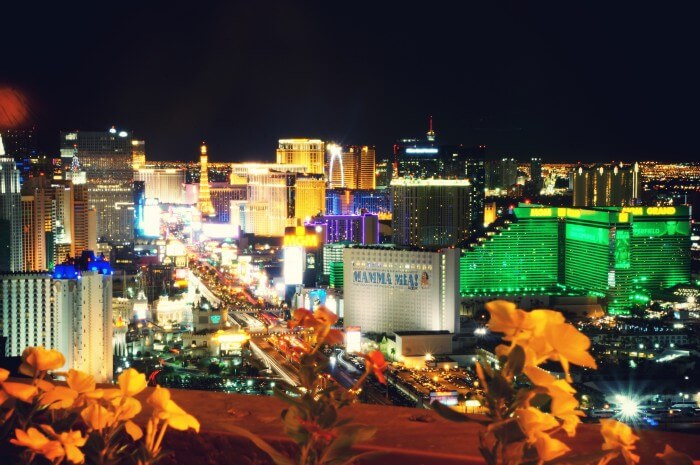 This classic eatery certainly puts McDonald's to shame. With choices of different meats, countless unique toppings and tasty drinks such as a caramel martini, Burger Bar is a hit along the Las Vegas strip. As the prices here are cheap compared to other establishments, it is ideal for those on a budget.
While Spago is a bit pricey, it is well worth the extra money spent. Inspired by renowned chef Wolfgang Puck, Spago offers organic vegetarian dishes, seasonal foods such as lobster and a host of signature salads. The ambiance here is likewise calm and inviting.
This restaurant boasts a unique blend of French and American cuisine. Dishes such as grilled portabello, chilled seafood, roasted pork belly and fois gras are only a few of the choices here. Keep in mind that the prices can be quite high, so stopping by for a tasty cocktail may be best for those on a limited budget.
As the name hints, this establishment specialises in all things related to steak. Lamb shank, grass-fed veal and braised short ribs are said to be some of the most popular choices here. While the meats are indeed impressive, side dishes including fresh salads help to round out any meal. The prices here are moderate compared to top-of-the-line restaurants.
Andre's
Andre's is a Las Vegas property that focuses on fine French cuisine. This unique approach can be seen in such dishes as pan-seared duck breast and their pepperoni-crusted fillet of beef. Still, it should be mentioned that their selection of wines is just as appealing. More than 1,500 varieties are available. Andre's can be a bit expensive, so it is wise to take a look at the menu ahead of time.
Offering an eclectic mix of traditional Chinese noodles alongside tacos, China Poblano is certainly worth a closer look. Smaller portions are ideal for those who wish to sample different platters and the prices here are very agreeable.
Lotus of Siam is inspired by Eastern Asian cuisine and the chefs here are not afraid to add a few spices to their menu. Vegetarian rolls, sushi and noodles are very popular. Lotus of Siam is also very cheap; their all-you-can-eat lunch buffet is very popular.
Wicked Spoon
Wicked Spoon is by far one of the most interesting (and cost-effective) restaurants in Las Vegas. Dishes such as pork chalupas are found alongside chicken pot pies and even dim sum. Those who enjoy mixing and matching will love Wicked Spoon.
This restaurant focuses on Mexican dishes. The authentic quality of this food allows every item to be truly delectable. Some popular favourites include their quesadillas, fresh Mexican gulf shrimp and a tasty handmade guacamole. Lindo Michoacan is also very amenably priced.
Those who are looking for cheap and yet sumptuous food should always visit Origin India. Choices such as lamb with spinach and creamy chicken makhani will certainly leave a lasting impression. The prices here can nonetheless be quite high.
Rao's offers more than a century of experience within the culinary field and this shows in their kaleidoscope of Italian dishes. Excellent options include their spaghetti alla bolognese although their entire menu will please the palate. Prices here are rather agreeable although some dishes can be a bit on the high end.
This establishment is a perfect choice for those who enjoy seafood. Dishes such as deep sea tuna and Maine lobster pot pie should not be missed. For the quality of the food, it is a welcome fact to know that Michael Mina is very reasonably priced.