Pad and I are MASSIVE fans of meat.
Most places we visit, the first thing we look out for (not even exaggerating here) is a BBQ place, a steak place or a burger place. Usually we'll have also harassed friends or family before hand for recommendations, which is how we stumbled across some amazing places such as Quality Meats (NYC) and Hawksmoor (London). Other times we ask taxi drivers, hotel staff or random people on the street (just kidding about that last one). In New Zealand our favourite Rib place in Queenstown was recommended to us by our taxi driver who drove us from the airport to our apartment when we first moved there. I think we returned to that rib place at least once a month.
Anyway – I'm rambling.
Five Guys was a place that we found all by ourselves. We were strolling through Leicester Square on Friday night looking for somewhere to enjoy a few drinks in the sunshine – and I suggested this bar called The Longacre – just off Leicester Square, where we'd drunk a few times at before moving abroad. However when we got there – the bar was gone, and in it's place was this massive burger place called Five Guys. There was even a queue to get in – wrapping right around the building.
We'd just eaten steak at Hawksmoor, so weren't about to join the queue and see what the fuss was about. But we agreed to come back the following day to try it out. After all, if people were willing to get in a 'disneyland' worthy queue for a burger – I was going to need to find out why for myself.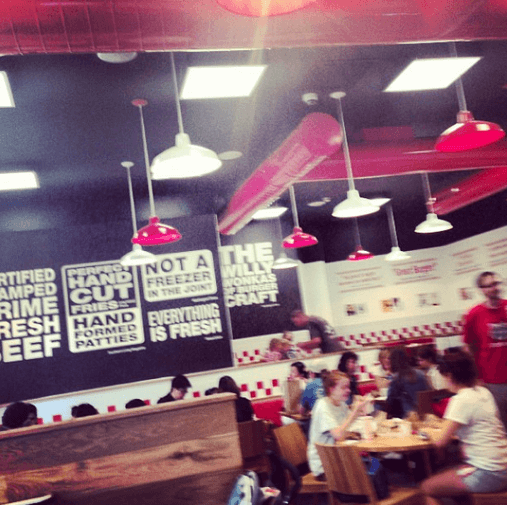 Five Guys feels like an authentic USA diner. And after spending 3 weeks there less than two months ago I think I can say confidently they've got the vibe just right. It's busy and bustling but it's fun and energetic too. They've managed to get a great balance. It's fast food style – but you're paying more than you would at McDonalds…. though I'd argue it's worth it.
Two bacon and cheese burgers (with pickles), a medium fries (to share) and two drinks (re-fillable) cost us £26.50. Not bad for a spacious casual-dining experience in the heart of Leicester Square / Covent Garden. Oh, and trust me – the fries portions are so huge – you won't need a medium one to yourself. We didn't even finish ours and we were sharing it.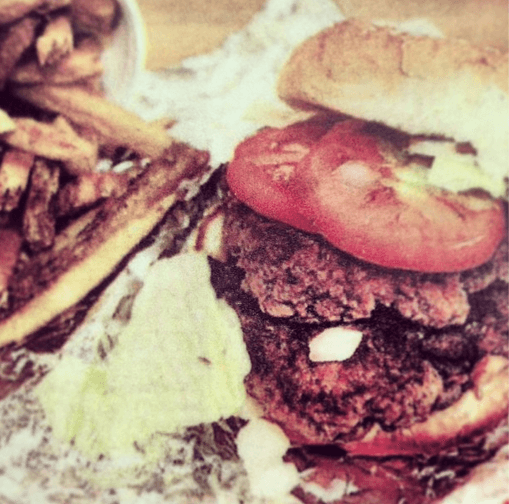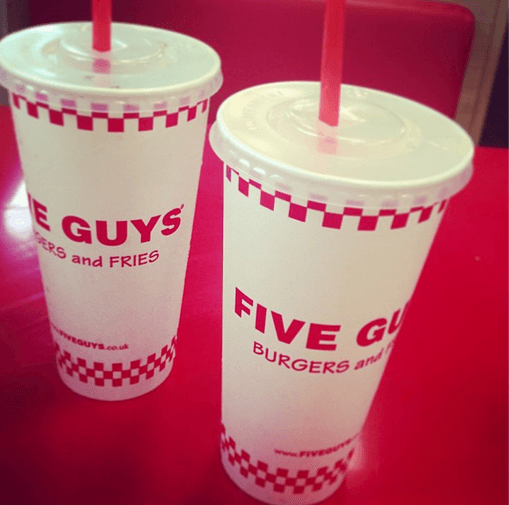 The burger was yummy, it had good quality meat and squidgy bread, which is my favourite. I hate it when you get a burger and the bread just crumbles around your grip. Pad remarked as we ate:
"This has good structural integrity"  – Yes we are that serious about our burgers.
Saying that – it was no Fergburger. But if you've not been to Queenstown (NZ) you won't quite understand what I mean by that. If you have been there and tried Fergburger you'll be nodding your head in agreement. And also (maybe) drooling on your keyboard.
For Five Guys, on my burger scale, I think I'd give it 7/10.
So overall? I'm impressed!
For sure I'd go back. I liked the layout and the ordering system and despite it being busy, we barely waited any time at all for our food to be made. There are plenty of seats (upstairs and downstairs) and you can get re-fillable drinks which is a real rarity in London and a bit of a treat. Plus they have these touch screen drink things – which are totally fun, so it's worth going to give those a try too.
The burgers are fast food style – but they taste great and it's an american style diner – so that's what you'd go there looking for. If that's what you're after, something fun and fast – you'll love it.
Oh and the staff were super friendly too!
Top marks all round.