We stayed in The London Hotel for a few nights during our recent 'engagement-holiday' to NYC and I can honestly say it's one of the most beautiful hotels we've ever stopped in.
You know when you walk through the door and your immediate response is 'WOW' – yeah, that's the general vibe of this hotel. So get prepared for amazingness.
The hotel is perfectly positioned for exploring the city, about 4 blocks south of Central Park, and 10 blocks north of Times Square.
So when I saw awesome location, I mean it. The room we were in was just lovely, and kind of felt exactly like the kind of apartment you'd want to live in – if you lived in NYC.
There was an entrance hall, a lounge area, a bedroom and a huge bathroom (the bathroom was the best bit – but I'll explain why in a second).
The Living Room… Stylish but minimalist, the living room made for a comfy break-out space from the bedroom – perfect if you're ordering take-out or having room service, etc.
There was also a massive window with beautiful city views stretching right around the corner of the room, which is something you can't put a price on.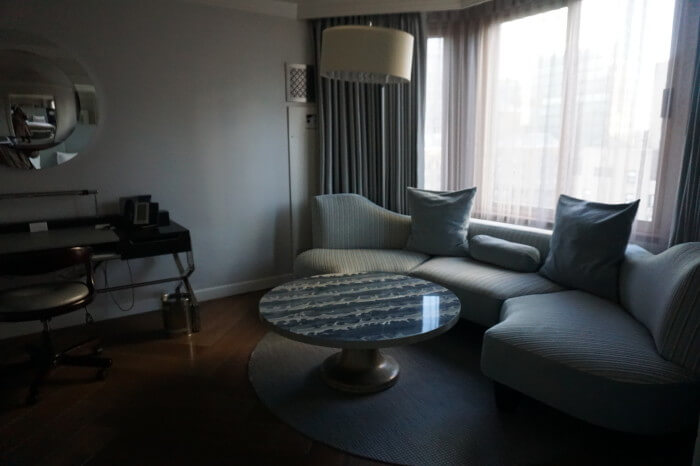 The other side of the living area, looking through to the bedroom. There were glass mirrored doors to seperate if needed.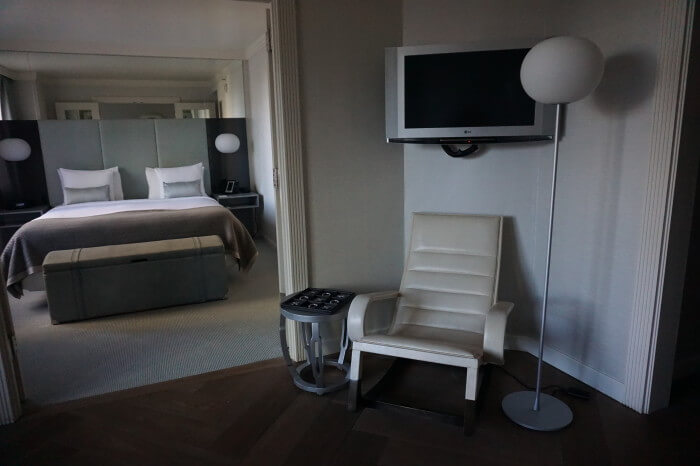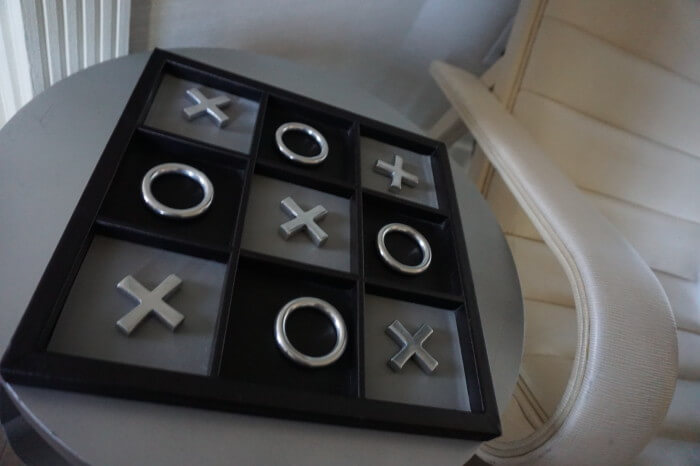 The bedroom. Where we had many a perfect nights sleep.
ALSO the bed is huge. There's another TV in there to the left, but it's not in shot.
Read more about visiting NYC: 14 amazing dog-friendly hotels in NYC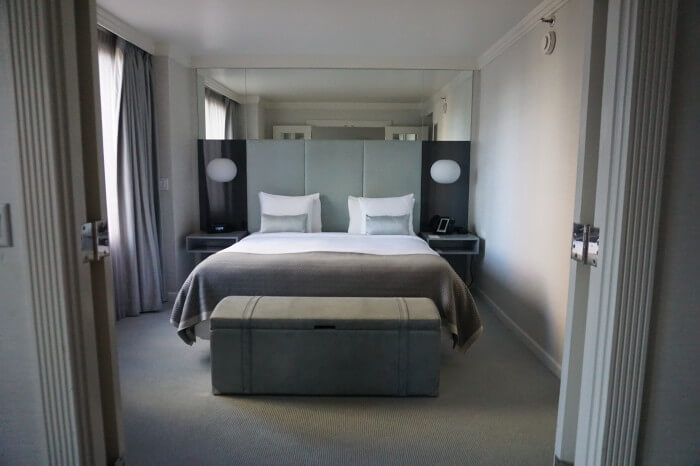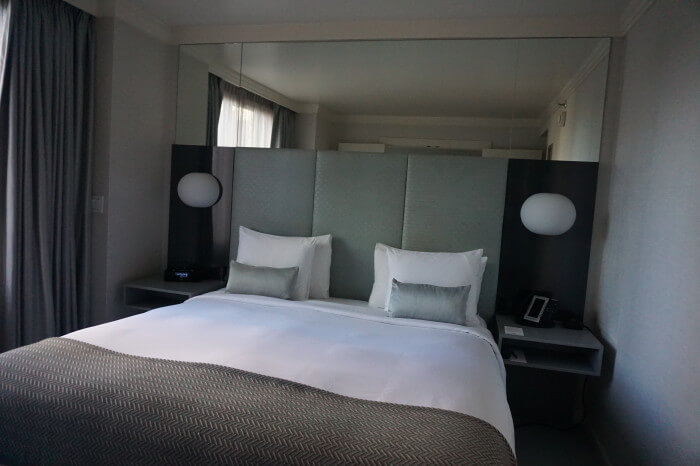 OK, now onto the bathroom. Not only was it gorgeous and all white and shiny and marble (like a spa) but it had a double shower. I'm going to try and describe the awesomeness of it, but you really had to be there.
Basically the shower which had two sides (one each!) was about 8 feet long and had two different types of shower heads in each bit. One was a power shower, the other was a big rainfall shower.
YES AMAZING.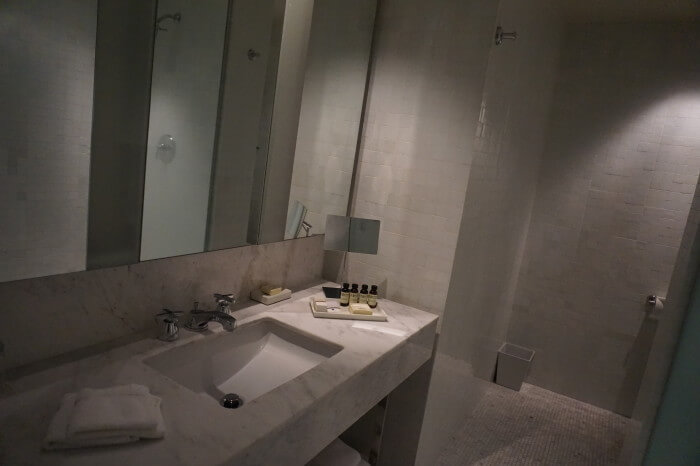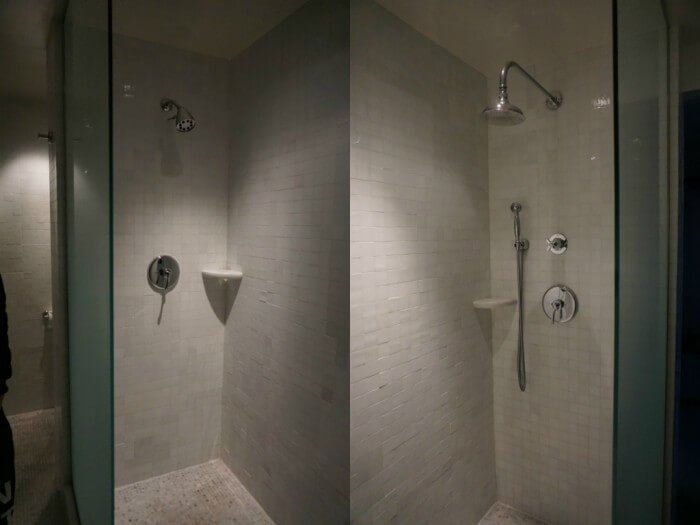 Oh, and not forgetting the view – which was pretty sweet too! We woke up on our last morning and all the rooftops were covered in snow which was so beautiful. I forgot to take photos though – because I was too excited about the snow and too busy jumping around shouting about it.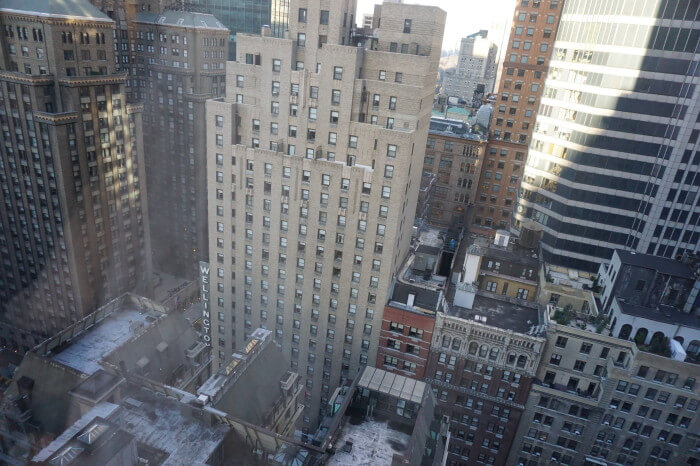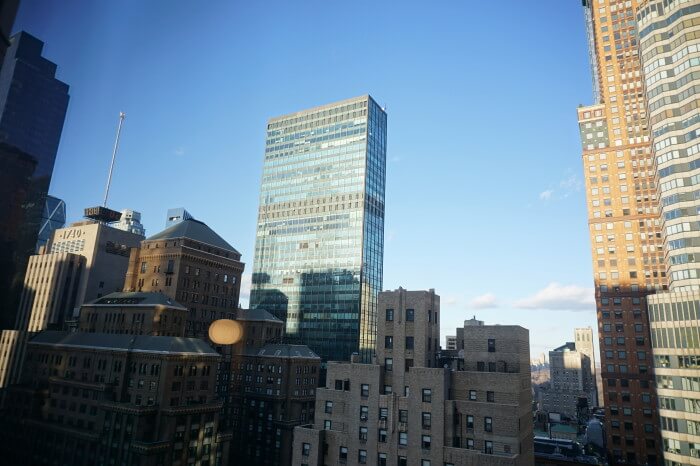 As I mentioned before, I learnt from our trip to NYC, that hotels like this don't always have to be out of your budget too. On the surface this is a beautiful, luxury, hotel. I think if I was looking at photos of this hotel on someone else's blog I'd assume it was out of my price range – which it isn't.
If you book through websites like booking.com you can get hotels like this for great prices. Their London Sky Suite is currently discounted £1500 less than the normal rate on there at the moment – so it just goes to show you can find a great deal, and you shouldn't rule beautiful hotels like this out, because it may in fact be in your budget after all.