During a sailing holiday you can really get away from it all, dipping in and out of daily island life when you wish and truly getting some alone time.
If you have never sailed before, it might be a bit daunting and difficult to know where to start. Well, here are a few tips to help you on your way to a romantic holiday sailing in the Mediterranean.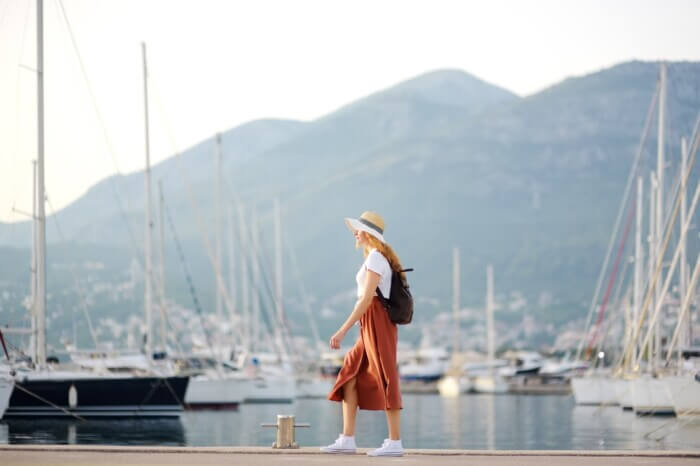 How to rent a boat
The best thing you can do when planning a sailing holiday is to research tour operators and sailing holidays. Checking what they have to offer, their experience reviews and value are all factors to consider. You also need to decide what kind of sailing holiday you want to take as there are a few to choose from.
Bareboat Sailing
If you are a qualified sailor and happy to take a boat out on your own, then you can just hire the yacht and the seas are yours. You have to be quite confident and able to navigate but it can be a great romantic adventure, sailing the seas and choosing where to stop and anchor. Find little coves and bays you can have to yourselves as the larger boats can't dock there.  There's nothing quite like setting sail, just you and the open sea.
Skippered Yacht Charter
If you are not a qualified sailor but still want the experience of setting off on your own then a skippered charter might be for you. You are basically hiring a yacht and a skipper to take you where you want to go. The skipper will also show you the ropes if you wish and you can help as much or as little as you want. They are also able to advise you on ports to visit, places to eat and and the most romantic spots to swim.
Flotilla holidays
A good choice if you are beginners who need guidance but also want some alone time. A flotilla is a group of around ten yachts which are guided by a professional crew on a lead yacht. There can be about 30-50 people depending on the size of the boats, however, with your own boat you'll have your own place for peace and quiet. Choosing to sail on flotilla holidays will give you some experience of sailing by yourself with the peace of mind that your guides are not too far away. Each day you will be briefed on your destination, then away you go!
Luxury Yacht Charter
For the ultimate in sailing luxury you can charter your own fully serviced yacht. You'll have your own skipper, host and spacious cabins to relax in. It is like a sailing chalet, taking you to a different destination each day. Obviously, these Yachts come at a price but if you are looking for the most comfortable way to sail the Mediterranean without lifting a finger, then this might be the boat for you.
How to choose your itinerary
Depending on how much time you want to spend sailing and how many different places you wish to see will both be factors when choosing your itinerary.
For short island hopping you may want to stay in one destination, for example Greece or Croatia, as there are lots of lovely islands to explore here. Greek Island hopping is quite popular and the scenery is beautiful and quite varied too. The Greek Ionian Islands are great for easy island hopping but for the keener sailors the Cyclades Islands are great too.
If you want to sail to a few different locations then you could take a tour from the likes of Athens to Venice, stopping at Milos, Fiskardo, Kotor, Dubrovnik and Split. That gives you four countries in just ten days. There are similar itinerary's available depending on how many nights you want to stay and sail.
You must remember that when you are sailing, you are staying in small quarters and you won't have much space. Keep this in mind when packing, reducing your luggage and being organised will help you stay comfortable on your sailing holiday.
So you see, there are many different types of sailing holidays you can take and a wealth of fantastic destinations to explore in the Mediterranean. Still struggling to decide? Here are a few of the top Romantic destinations to explore when sailing here.
Top Romantic Mediterranean docking spots
Santorini, Greece
A luxurious destination with its trademark white buildings with dazzling blue rooves and fantastic volcanic scenery. Santorini is a must when sailing around the Greek islands. It will always be a popular place with visitors so it will be hard to find a secluded spot. You must however hang around for the truly spectacular sunsets.
Menorca, Spain
Although this island is only small, it has more than 120 beaches which is quite impressive. This means you might find your own little secluded romantic spot to dock and enjoy the serene surroundings. Find your very own slice of paradise and relax.
Navagio Beach, Zakynthos, Greece
Or shipwreck beach to others, this beach is a popular spot with tourists and is quite recognisable with its curved shore and the wreck of a boat on the sand. Many people take a day trip to this beach, however if you have your own yacht you can visit early in the morning or late in the evening to avoid the day tripping crowds.
Bol, Croatia
Although this island is not far from the busy port of Split, Bol has managed to keep its serenity as opposed to some other neighbouring islands. Visit Zlatni Rat or the Golden horn, a small stretch of beach on the south coast for a beauty spot to relax in. Put this island on your list if you are planning a Croatian island-hopping tour.
Rimini, Italy
Sat in the Adriatic Riviera you'll find Rimini, a bustling resort full of lovely well-groomed beaches and excellent local food. If you want to relax in a place with plenty of amenities but a local touch then Rimini is an excellent choice. As Italians favour this area for a holiday destination you'll see the food is more than enough reason to stop by.
Solta, Croatia
Another often overlooked Croatian island, Solta is small and rugged unspoiled destination. There are still traditional fishing communities and working vineyards and olive groves on the island which add to its charm. It is a place Croatians like to visit but hasn't much been touched by the rest of the outside world.
Porto Christo, Mallorca
A small, tranquil Spanish town which seems worlds away from the busy noisy clubs of other nearby resorts on the island. Anchor here are you can explore sandy beaches, natural caves and plenty of sunshine. A great stop when sailing the Spanish islands.
Would you choose to take a romantic sailing holiday?
Now you know all about the choices you have with a sailing holiday, would you choose to set sail for a romantic holiday? It sounds like a fantastic idea and with so much choice and the help of expert tour companies you are sure to find the perfect sailing holiday for you.