Are you looking for the most romantic things to do in Las Vegas?
Vegas might not strike you as the most romantic destination for couples – but I've always loved the city, and I've only ever been there with my husband Pad – so for me it's always been very romantic.
In fact, some of the hotels in Las Vegas are the most luxurious in the world – a sure fire way to inject some romance into a trip.
First things first, if you're heading to Las Vegas as a romantic break – make sure you book a romantic hotel! That means no Hooters Hotel, or even Hard Rock Hotel.
Pick a 'grown-up' hotel that oozes class and romance, and you'll get things off on the right foot. I'd opt for The Aria Hotel personally (I fell in love with the place when we stayed there).
A few other options might be The Wynn, The Bellagio or The Cosmopolitan (which is super glamorous and has balconies too).
Next you need to scout out the romantic experiences in the city – which is why I've written this post. Romantic things to do in Las Vegas are easy to come by – you just need to know where to look!
A few of these suggestions will cross over with my 'things to do in Las Vegas for couples' but not many. That blog post was more about day-to-day things and night-out ideas, rather than super romantic experiences.
1. Take a Gondola ride around The Venetian Hotel 
It should be pretty obvious why this makes the list! My only tip though, is making sure you get a private gondola ride and not a shared one!
You have to pay a little more, but it's worth it. After all, it's not too romantic having some random tourist watch you while you try and steal a kiss! It would definitely be awkward though…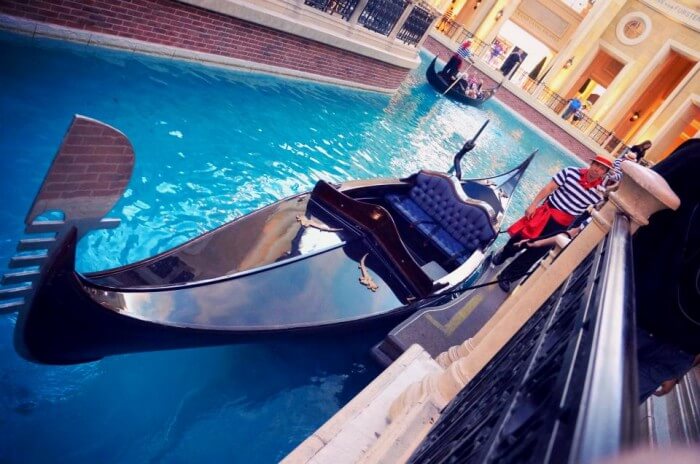 2. Take a private helicopter ride 
If you've never done it before – a helicopter ride is exciting, fun and really memorable – making it the perfect romantic experience!
There are a few ways you can mix this up too – you could watch the sunset over the strip – or you could take a helicopter out to the Grand Canyon and watch the sunrise instead. Oh decisions, decisions!
This is something truly romantic and unforgettable too.
Here are a couple of helicopter tours I'd recommend: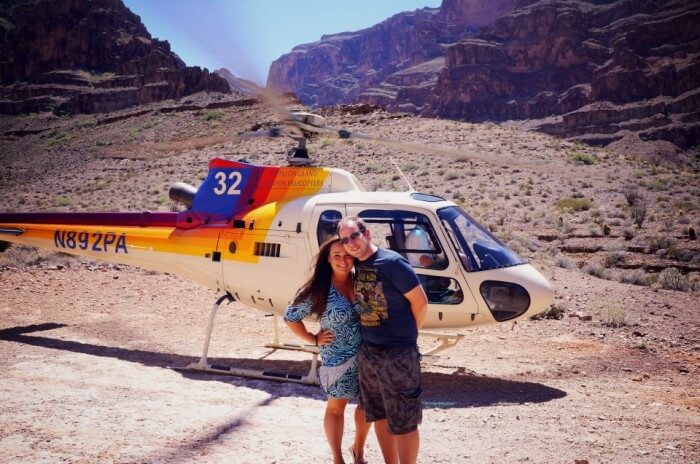 3. Take in the view
There's nothing more romantic than enjoying a nice cocktail with an incredible view. One of my favourite views is from The Foundation Room in The Mandalay Bay Casino – it literally looks right down the strip and I'd challenge anyone to find a view quite as mesmerising.
Book yourselves a private area in the bar – and just let the evening pass by.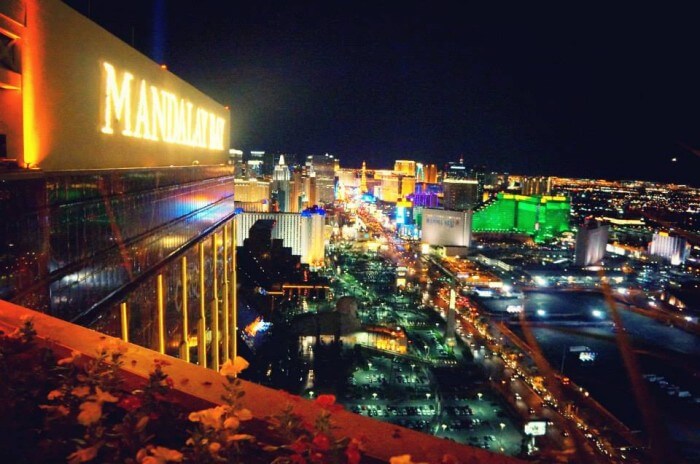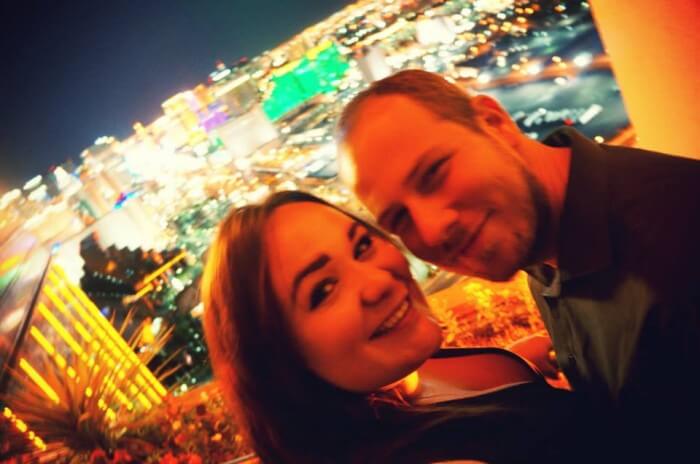 4. Take a limo ride
Private limo + champagne = romance. Need I say more? Las vegas limos are actually more affordable than limos ANYWHERE else in the world – so you might as well take advantage of it!
Read more about Las Vegas: Review of the Aria Hotel Corner Suite (with photos and video tour)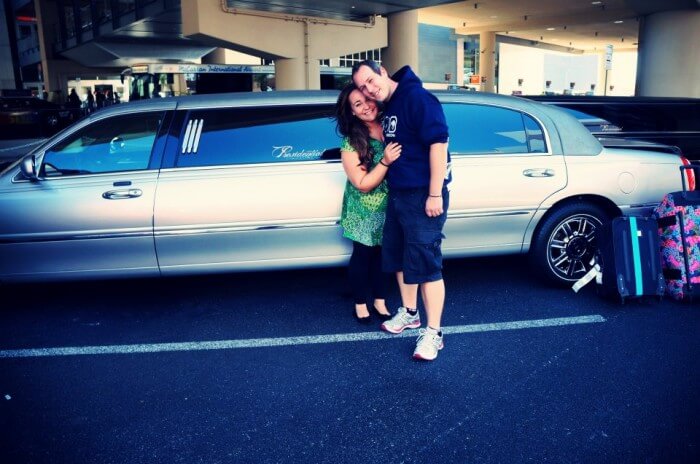 5. Make your own 'romantic VIP experience' in your room 
OK, so your first step, is to upgrade your room to a suite, once you've done that go to one of Las Vegas's many many dessert shops or chocolate shops and buy every single delicious thing you can find.
Last step – buy some champagne (or order it from room service). There you have it – a super romantic evening-in right there in Vegas!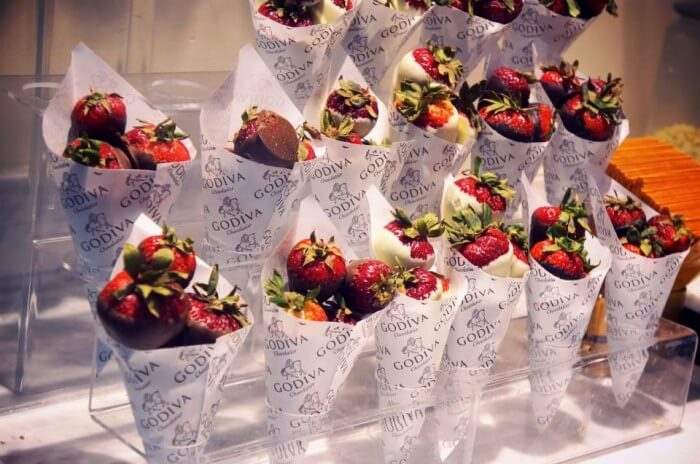 6. The Eiffel Tower Experience
I haven't had the pleasure of doing this yet – but I can imagine it's pretty amazing, and it's definitely on my list for our next visit.
Basically you head up to the 'fake Eiffel Tower' and visit the viewing platform at the top – which has incredible views of the city and the Bellagio Fountains below.
Sounds pretty lovely to me. You could even finish the night off at the restaurant they have up there too… cocktails anyone? You can also get great views from the Eiffel Tower observation deck – and it's a beautiful place to watch the fountains from! You can buy skip-the-line tickets here. 
7. GET MARRIED! 
Haha just kidding.
Although, strictly speaking, that is amongst the most romantic things two people can do. So I'm keeping it on the list 😉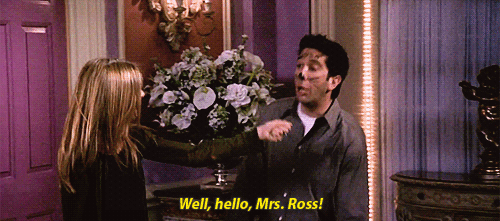 8. Book a vacation photographer
It doesn't need to be your wedding day to have a romantic photoshoot. Actually, booking a photoshoot on the strip is something you'll absolutely love.
You get to spend some fun quality time together, and you get some gorgeous souvenir photos to take home with you (which let's face it, will be way better than any selfies!). You can book a photographer easily and simply by clicking here.
I always think photos are the best way of preserving memories, so if this is an important trip for you both, make sure you capture it!
9. Book a private tour of the Grand Canyon
The Grand Canyon is pretty astonishing, and it's only a short drive from Las Vegas (perfect for a romantic day trip out of the city).
Whilst the crowded bus trips aren't exactly romantic… a private tour (you can book one by clicking here) is way more romantic for you both.
You can prioritise couple-time, take your time at the attractions, and enjoy seeing all there is to see. It's the perfect way to experience the canyon!
10. Book a hot air balloon tour
To finish off the list… A hot air balloon ride over the city. Is there anything more gorgeous? A hot air balloon ride is a romantic escape for you both, escaping the bustling noise of the city, and escaping into the clouds above.
You can see everything from up above the city, and it's even more perfect if you can time you visit for sunrise. I can't think of anything better!
My biggest piece of advice for taking a holiday to Las Vegas on a budget, is to try and save as much money as you can on flights, etc – so when you get out there you can do all these things and really splurge on your experiences. For even more (more general ideas) about where to go and what to do, check out this list on USAvacations.net.
Like I said – there's so many amazing things to do here! It's one place you can seriously spoil yourself and your partner so don't hesitate to visit – it's one of my absolute favourite places to go.