---
Are you looking for where to see street art in Paris? Hopefully this list will point you in the right direction!
---
So you want to indulge in a little culture during your trip to Paris, and you're looking for where to see street art in Paris.
Your image of Paris, with its iconic Haussmann buildings, wide avenues, and stunning Portes (french for doors) by certain neighbourhoods may not include the overt flamboyance, and rule bending panache of street art – but in that you would be wrong! Paris, whilst perhaps not as renowned for its artistic prowess as it once was, and trailing a little behind the cooler art scenes of London, Berlin, Tokyo, and New York, still packs a punch when it comes to street art. 
But, I hear you ask, how do I find these murs d'expression (french for walls of expression)? Where are they hiding and how do I get to them? Well we've made a list of where to find street art in Paris, and we've given you a few options! 
Top tip! If you want to do something totally wacky and quirky, this street art segway tour in Paris is so much fun. You get to zoom around on a cool segway, whilst soaking in some of the best street art in the city!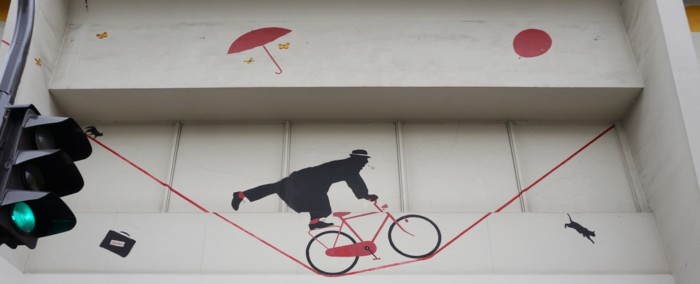 ---
11th Arrondissement
---
The 11th Arrondissement is the first place on our list of where to find street art in Paris. Rue st Maur and Rue Oberkampf have been home to some of Paris' most iconic pieces of street art for some time. Though, with the recent gentrification of the area, finding truly groundbreaking or new pieces of street art can prove difficult.
If you want to see the art that's been on your insta feed of Paris Street art for the last 5 years. Then this is the way to go. If you want to discover new art and new artists, this one might not be for you!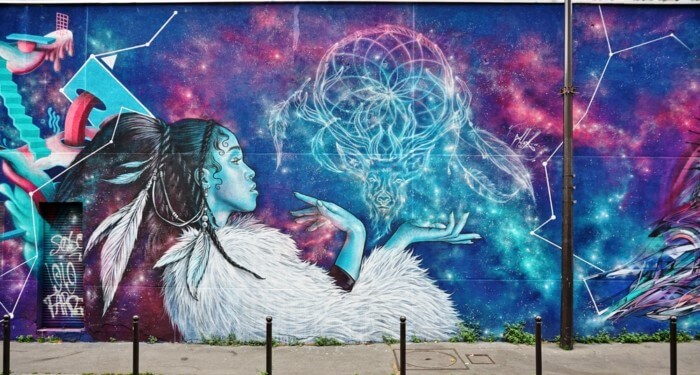 ---
13th arrondissement 
---
Some time ago the hotspots for street art were in Paris' 10th and 11th arrondissements, and regular readers of this blog will know that these are definitely Paris' coolest areas. However, the 13th arrondissement, with its tall skyscrapers of social housing, and large expansive brutalist walls has become a real hotbed of high reaching urban art. 
Yes, you can still find some rad street art at Rue St. Maur and Rue Oberkampf in the 11th, but trust me when I say the 13th is where it's at. You'll find stalwarts if the international scene like Shepherd Fairey rubbing shoulders with up and comers internationally like Socrate (really cool, very very politically engaged, very french). This is definitely one of the most popular options for where to see street art in Paris. 
I actually LOVE this street art walking tour of the 13th arrondissement – so if you want a guided tour (to make sure you see all the best bits) then booking yourself onto this is a great idea.
---
ART 42 – Musée d'art Urbain
---
Next on my list of where to see street art in Paris, it's Art 42. Not your traditional setting for spotting an urban artist, but this museum is super cool if you're interested in how street art came to be, the motivations of street artists, and other such cool bits and pieces. Art 42 is located in the 17th Arrondissement, and focusing primarily on french street art this museum is a must see for any aspiring street artists, admirers of street art, or even people who're interested in the changing expressions of a nation and it's politics. 100% recommend.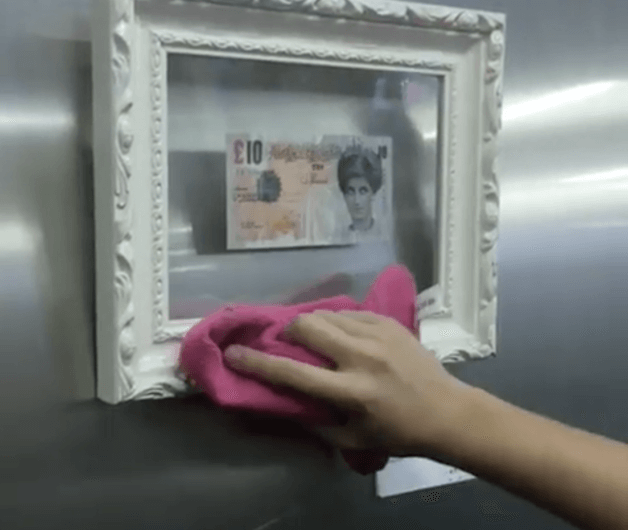 ---
The 19th Arrondissement
---
Another up and coming Arrondissement where you'll find actual artists making actual art! Near rue de l'ourq and the canal you'll find murals by multiple artists, from psy to Marko 93. You'll also find lots of amazing work on Rue Germaine Tailleferre.
Thé area is incredibly ethnically mixed, and a lot of these huge murals reflect a sentiment of togetherness and community despite difference, which has come the characterise the 19th arrondissement's vibe. Definitely one of the best places where to see street art in Paris.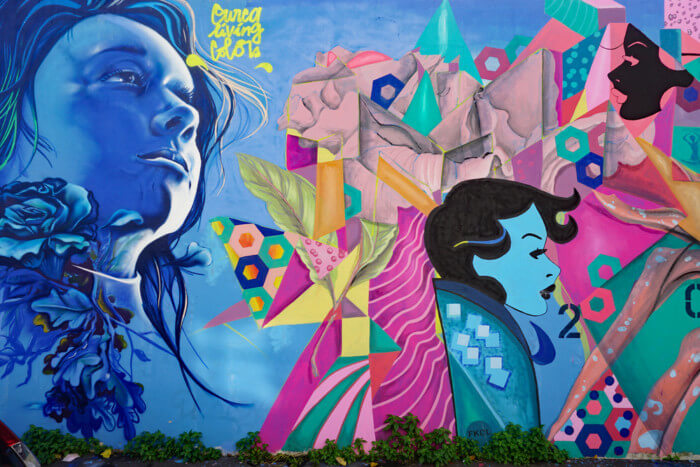 ---
Marais neighbourhood
---
The Marais neighbourhood is split between two arrondissements in Paris, located somewhere in the 3rd and 4th. It's a great option for where to see street art in Paris. It's a trendy area of the city (known for cool shops, stores, cafes and bars) so it makes sense that a lot of street art would pop up around this area. Marais is pretty central, so it's an easy place to get to for visitors and tourists too. The most well-known piece in this area is in the Place Igor Stravinsky right beside Centre Georges Pompidou – there you can stop and admire the Salvador Dali mural – it's one of my personal favourites.
---
Rue Saint-Maur
---
Next on my list of where to see street art in Paris, it's Rue Saint Maur. This street in Paris is 2km long, and is prime space for urban street art. It's located in-between the 10th and 11th arrondissements and it's a great spot in the city for finding amazing street art and discovering new artists. You'll find Invader's video game-inspired tilework work (an artist you also spot a lot in London) as well as works by Shepard Fairey and Kashink.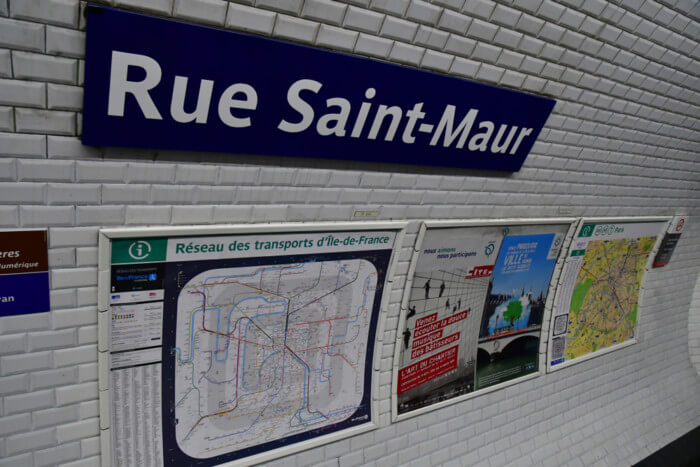 ---
The whole city
---
Last on my list of where to see street art in Paris, it's the entire city!
This is a bit left field, but in 2011 an urban artist, invader, unveiled his first piece of street art: a tiled mosaic of a space invader. Since then they've become a Paris institution, and have since spread to (or invaded) other cities such as London, New York, and Berlin. The cool thing about the invaders, though, is that there's an app where you can snap pictures of them and get points for all the ones you've seen.
I've been in Paris sixth months and collected 132 – but at the time of writing I am 15,189 on the leaderboard so there's still some time to go. This is a great way to go around the city, too, and see some things you might not have noticed before! This is another great walking tour of Paris, which focusses on street art and includes some of the best murals in the city, so worth looking into!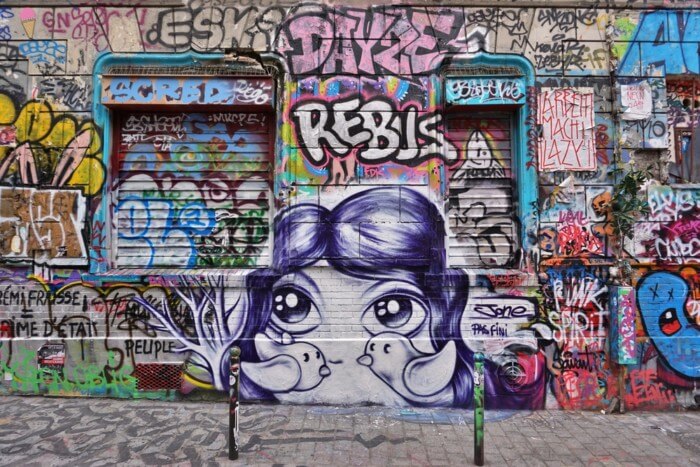 ---
I hope this list of where to find street art in Paris has been helpful, and you're feeling super inspired to go and find some amazing street art in Paris.
Below are some other tours that I highly recommend looking into during your trip to Paris!