Going on a road trip? It is easy to be overwhelmed especially when you have to keep in mind a lot of stuff to take with you. It doesn't have to be overwhelming; all you need is to plan.
Most people go on road trips during the warmer months for the summer vacation. If you like cruising in comfort or at the very least want to keep yourselves entertained during the long drive ahead, read on. Here are some essential things you should bring before you hit the road.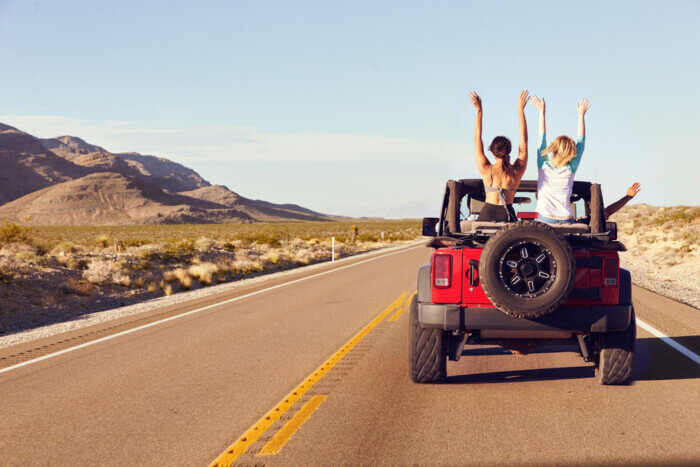 Weekender Bag
Driving on the holidays on the way to a fishing trip or simply to a relative's house? You'll need a hardy luggage to put in your clothes, toiletries, and other essentials. When deciding on what to bring, consider getting a leather weekender bag. Soft bags can easily fit better than strollers do, so they can be stacked anywhere inside the car.
It is also recommended to consider the kind of material your bag is made of. Bags made of leather are stronger, and they can survive rough drives. Furthermore, soft bags are more accessible than wheeled suitcases are, so you can stash your things and just grab whatever you need right away and at any time.
Clothes and Toiletries
Road trips consist mainly of you driving or being inside the car, so it's better to wear and bring clothes that are loose and comfortable. If the weather allows it, pack clothes in dark colors because they hide wrinkles, dirt, and whatever debris you are sure to get on the road. If space is an issue, go for clothes that are multipurpose, such as reversible jackets, and light, such as cotton tank tops.
As for toiletries, while it is a good gesture to bring toiletries for sharing, be sure to pack for your own use. People have different needs, and you know what you need, so bring whatever is necessary so you won't have to rely on others. If you are anticipating a long stretch on your road trip without pit stops in sight, bring some wet wipes so you can refresh yourself especially during summer.
Snacks/Car Food
Perhaps going to convenience stores in between driving stretches is something you and your buddies like, but buying snacks can be costly. Preparing your own snacks and bringing them with you is not only cheaper; it's healthier too. It can be easy to gorge on just junk food and soda, but you have the choice of eating well, so consider bringing healthier options like vegetable sticks, trail mix, and fruit.
You also save time during gas pit stops as you don't need to get out of the car to buy snacks. If you're on a trip with friends, pitch the idea of getting a cooler to keep your snacks on drinks in. For food items that don't need to be cooled, you can pack them in Ziploc bags or Tupperware containers and divide them so you don't snack on them in one go.
First Aid Kit
There's nothing wrong with being prepared, so that is why a first aid kit should be one of your priorities. If you're going somewhere adventurous or if you have a road buddy who easily gets car sick, it's all the more a reason to prepare one. You should also anticipate road-trip nicks and scrapes, so get some ointment, bandages, and even pain relievers.
When you're on a summer road trip, get some mosquito repellents and some calamine lotion. These pesky little buggers love to come out to play during the warm climate.
Travel Games
The first stretch of the long drive can be exciting and fun, but the adrenaline rush will soon come down in a couple of hours. Travel games are a great way to relieve you of boredom, so pack some especially if there are children. Sure, you can pack digital gadgets like tablets, but there's nothing quite like old-school cards, word games, and even bingo to pass the time.
Music
Everyone knows that the road trip playlist is the duty of the shotgun passenger. It is a good idea to have multiple playlists prepared for different situations. Catchy tunes are fun to sing along to, while a softer one is good for the mellower times.
Navigation
If you're going somewhere unfamiliar, it's best to have a gadget with GPS to help you along the way in case you get a little lost. While most areas have Wi-Fi or reception, it's better to prepare travel apps and download offline maps in this case. Also, double-check if you've correctly downloaded your map. It's also a good idea to have a physical map with you.
Remember to Have Fun
Road trips are one of the most enjoyable things you can do with your family and friends. While it's nice to be prepared and vigilant, remember to have fun and make good memories. Take it as an opportunity to unwind and relax with the best people in your life.
Do you have road trip essentials that weren't mentioned above? Share your tips and tricks in the comments.