Now Massachusetts is one great state, and while Boston may be its capital, and a beautiful one at that, the state has loads to offer that's not metropolitan. Here's how to spend three days in Massachusetts…
So you're wondering how to spend three days in Massachusetts, well don't worry – we've done all the research for you!
After spending a few weekends there in our time we think we've come up with the definitive list of things to make your weekend in MA an awesome sample of all the local flavour you can fit into a couple of days.
Think: great seafood, whaling, beautiful natural scenery. This trip is probably best undertaken with a car, though the public transport is quite extensive in New England.
However, if you've a license, and can get yourself a rental: we've got you covered.
---
Day One in Massachusetts
We think that the best city in MA (that isn't Boston or Cambridge) is definitely New Bedford. So, this is the best place, in our opinion to start your weekend in MA.
So when it comes to how to spend three days in Massachusetts, this where to start. I'd definitely punt for spending most of your first day here – there's loads to take in.
Breakfast:
Get yourself to Angelo's Orchid Diner. It looks like it's in an old train car, little booths and a shiny exterior give you that 'All American Feel' that I seem to be craving more and more the longer I'm stateside!
Breakfast is served until 11am weekdays, and 2pm weekends and I'd definitely not recommend arriving too late for breakfast because the lunch options are a little thin on the ground (and the diner is shut after 2pm anyway).
Get pancakes and bacon with Maple Syrup to start your day off RIGHT.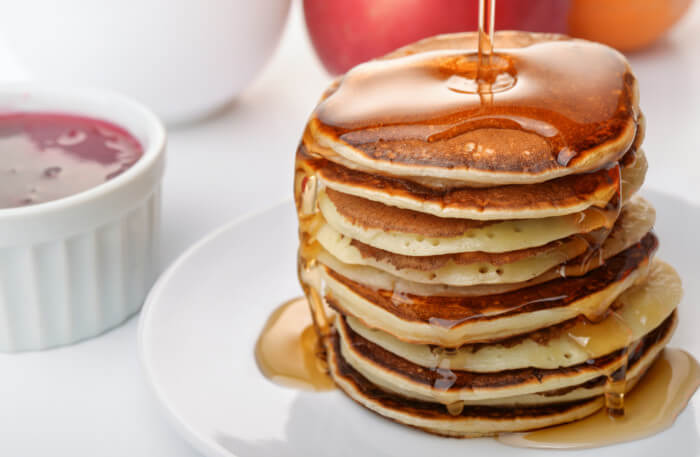 Morning:
New Bedford is super famous for its Whaling and Maritime history. It's the place where Herman Melville set Moby Dick, too so it's got a lot of history. Definitely hit up the Bethel in the centre of town.
If you've read Moby Dick, it's the place where the pastor delivers the famous Sermon. Every year they do a 'Moby Dick Marathon' where the whole thing is read out in the Bethel, and they get an actual Pastor to read Father Mapple's bit.
It sounds a bit weird, we know, but everyone in the town gets super into it, so if you're in NB in January we'd definitely recommend checking it out. 
Right across the road from the Bethel is the Whaling Museum, which is probably one the most interesting museums we've ever been to, even if the subject matter is a little gruesome. 
Lunch:
After you've gotten your fill of Whaling history head for burger's ad DnB's. They've an amazing selection of gourmet burgers!
Afternoon:
Next on the list of how to spend three days in Massachusetts… Stick in the old town for the afternoon. New Bedford's got loads of cute little shops, for vintage finds, antiques, or little boutiquey hand crafted jewellery.
Dinner:
Head for dinner at Antonio's. Due to transatlantic migration, and the ship trade being such a huge part of New Bedford's founding, NB has a huge portuguese population, the supermarkets have all got Portuguese sections, and Linguica (a kind of portuguese sausage) is on the menu in a lot of restaurants.
For a real taste of Portugal, we really recommend Antonio's. It's kind of homey, and the food is really something else. The Swordfish is to die for.
Read more about Massachusetts: 25 cool things to do in Boston, MA!
---
Day Two In Massachusetts
Breakfast:
Dunkin' Donuts (or as it's known locally: Dunkies) is a Massachusetts born franchise, and whilst I know there's loads of them out there, this is the one you wanna head to. This is a pretty driving heavy kind of day, so we'd recommend getting in the car early, and heading out to a drive thru to pick up some coffee and some donuts.
Morning:
You'll be driving out towards Westport, but you're gonna spend most of your morning of Horseneck Beach. It's honestly stunning, and parking is free in the off season (and only $12 in the summer) so it's a bit of a steal if you ask me.
I took home loads of little pieces of Quartz pebbles from the beach, found a whole horseshoe crab shell, and loads of other bits besides so it's worth a trip whatever the weather, even if it's too cold to swim.
The light here is beautiful too, which is why there's such a huge artist community in MA, so bring your sketchpad or your camera to capture the areas amazing natural beauty.
If you're into horseback riding, this is the place to do it!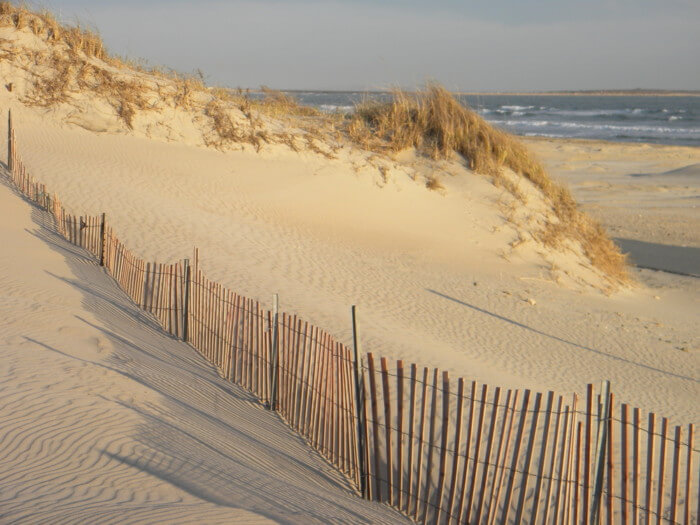 Lunch:
The Bayside restaurant is a couple of minutes drive away, and it's one of the sweetest restaurants we've ever been to. The staff are super nice, and we'd always recommending having punt on the specials.
The seafood is all super fresh, being so close to the ocean, and they've always got something interesting. I had a scallop salad with a strawberry balsamic dressing, which was quite an experience!
Afternoon:
Take a drive over to Plymouth, MA and take in some tame Cranberry bogs.
I know this day is jam packed with walking around looking at nature (which is something a little different from the jam-packed city trips we usually advocate) but there's really something about the scenery in New England that is just begging to be explored.
Beware of Deer Ticks, here – they can carry lyme disease, and are really quite easy to pick up from just brushing against trees and grass (I picked one up but it didn't bite me thankfully!) so be sure to be vigilant, and check yourself before you get in the car again!
Dinner:
This was definitely one of the highlights of our weekend in Massachusetts: The Star Drive-In. It's an odd little diner just off the route 140, up from Acushnet, and whilst its diner fare (good burgers, awesome malts) is pretty good, the highlight is that in the summer, it becomes a drive in movie theatre on Saturday nights showing all kinds of movies from the New Avengers to German films like The Lives of Others.
(Honourable mention if you've got the time: Acushnet Dairy is really close to all the places you'll be heading to on day 2 and does amazing ice-cream. There's loads of ice-cream places around the coast here, and they're all in different shapes, like a giant bucket, or a giant milk churn, or a giant cow – but this is where I got a banana fudge sundae and it was everything I've ever wanted from an ice-cream)
---
Day three in Massachusetts
It's your last day!Hopefully our list of how to spend three days in Massachusetts has been helpful! Today you're gonna head out to Cape Cod.
Most famous (for this traveller anyhow) as the place where Dawson's Creek is set.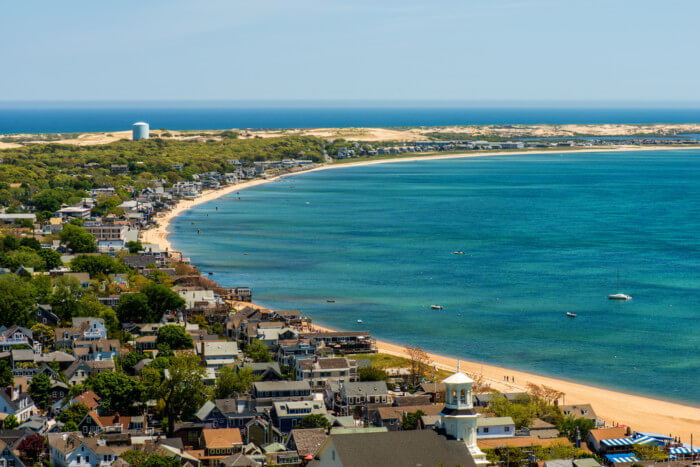 Breakfast:
Get breakfast on the way out to the cape at Spoon and Seed – a cute little diner just outside of Hyannis.
They do eggs any way you like them, and the servers are the cutest people ever. Lay your English accent on thick for people to ooh and ahh over you 🙂
Morning:
We'd recommend slowing things down for the final day of your three days in Massachusetts. We've taken you on a right run around, but the cape is so beautiful that once you've gotten out to the national seashore, and Provincetown on the tip of the cape, we've say: take your time, take it all in.
There's beautiful things to see like lighthouses, and beaches, and sand dunes so just pottering around is definitely recommended.
Lunch:
Pack a picnic and eat it on the beach. You won't regret it, and you'll be able to spend more time soaking up the sun and dipping your toes in the Atlantic.
Afternoon:
We'd recommend sticking with the beach if you need more chill time – but as you're super near Provincetown, there's some cute shops and things to do downtown so if you're tired of the sand, there's things to check out there!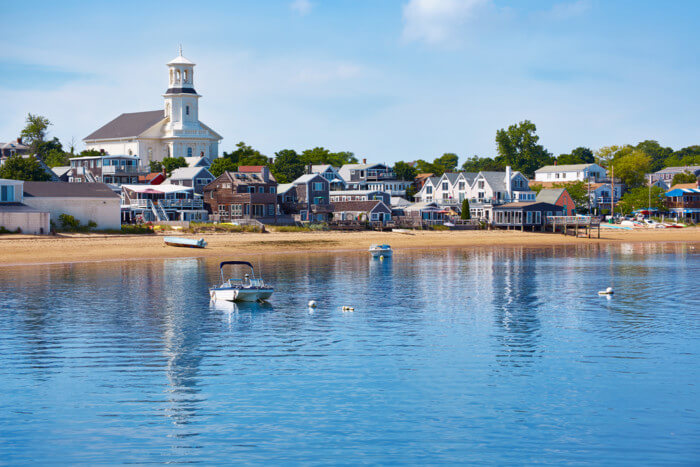 Dinner:
Head to Jimmy's Hideaway in Provincetown for creative new American cuisine. It's underground, and has a killer back bar so spend your last night getting down with the locals.
Please drink responsibly and don't go getting yourself into trouble on the beaches (but if you did want to go for a late night swim after a couple of glasses we won't tell you it's not super fun).
Just a note about places to stay: We stayed in the same place in New Bedford and traveled out from there each day as the distances aren't too far to drive – but if you fancy staying in a different place every night, that might also be fun (and give you a little more time each day).
Read more about Massachusetts: The best water parks in Massachusetts!