---
Are you looking for advice on where to stay in Singapore? Here is your ultimate guide to neighbourhoods and hotels in the city, to make sure you have the best possible trip. 
---
If you've never visited this amazing city, and simply can't decide where to stay in Singapore, you're in luck. My handy guide to where to stay in Singapore (including all the key neighbourhoods and hotels on the island) will help you figure out the right fit for your stay in Singapore. Whether you're a party animal who wants to dance the night away or someone looking for their cultural oasis, I've got you covered with this guide on where to stay in Singapore.
In each neighbourhood guide below, you'll find some hotel suggestions too, so you can find all the information you need when choosing where to stay in Singapore!
---
Neighbourhood: Little India
---
First on my list of where to stay in Singapore, it's Little India. Little India in Singapore is an area that's worth looking at for the more budget conscious travellers. 
Now, as well as being a fabulous place to experience Indian culture, Little India is a delightful explosion of colour (check out this cute video tour of the area). Its rainbow houses are scattered all over Instagram, and around every corner there's a delicious curry to be sampled.If you happen to be visiting during October's Diwali celebrations this neighbourhood in Singapore truly comes alive, so it's worth keeping in mind if you've yet to nail down your travel dates.
A highlight of this area has got to be the Sri Veeramakaliammam Temple too – a must-see place in Singapore. With the smell of incense wafting gently through the air, this place is a must for culture seekers. Obviously, it goes without saying that you should be respectful of the worshippers; I recommend keeping your iPhone camera tucked away during your visit. 
Hotel recommendations:
With hostels commonplace in this area (such as the popular Footprints Hostel), it's an excellent choice if you're looking for a budget accommodation option. For somewhere a little quirky, I LOVE the Wanderlust hotel – which is cool rooms and amazing decor.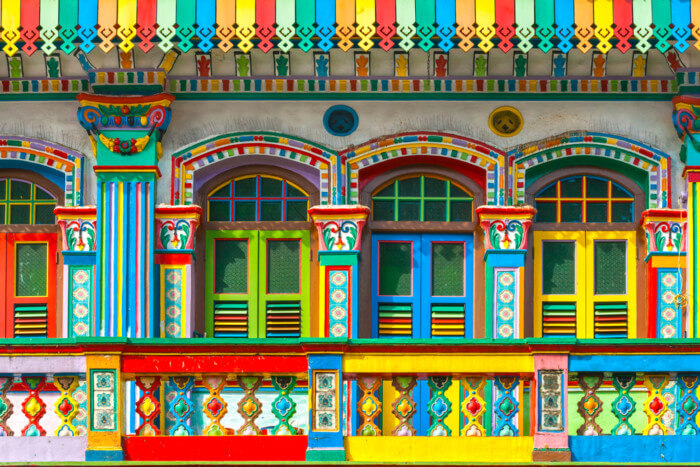 ---
Neighbourhood: Clarke Quay and Robertson Quay
---
If you love nightlife and you're searching for where to stay in Singapore… Then Clarke Quay is the place for you. If you like to party the night away, Clarke Quay and Robertson Quay are perfect places to stay as you'll be in walking distance of all of Singapore's best nightlife. 
Well-known for its endless bars and clubs, Clarke Quay is the Singapore equivalent to Ibiza, but a little bit classier! Centrally located with numerous attractions within reach, there are budget and higher-end options that will suit most travellers here. With the waterfront on your doorstep too, this is the perfect neighbourhood if you're looking to explore Singapore's diverse nightlife, and be in the centre of everything too. 
Hotel recommendations:
If you're looking for where to stay in Singapore, but you want a budget hotel, the Oxford or Marrison Hotels are good picks in this neighbourhood. If you're after a more luxury experience, try the famous Fullerton Hotel. The Fullerton Hotel is one of the most luxurious in the city and was originally a General Post Office, so has stunning design and architecture. 
---
Neighbourhood: Orchard Road
---
Next on my list of where to stay in Singapore, it's Orchard Road. Orchard Road is renowned as Singapore's shopping district, and I promise that you'll be able to find anything your heart desires here. With cool local boutiques and massive complexes offering international brands, there's no shortage goodies to be had.
If you're wondering where to stay in Singapore, but you know you want to be somewhere with lots of energy and shops – this neighbourhood is ideal. With endless transport links and numerous hotels within walking distance, you won't have an issue staying near Orchard Road as a tourist.
The main drawback might be that you've seen it all before, as it's not exactly reflective of Singapore's history or unique culture. It can also be slightly pricey, with 4 and 5-star hotels being commonplace in this Singapore neighbourhood. However, if you're a sucker for some retail therapy, and you want to be centrally located, you can't really go wrong with this area for where to stay in Singapore.
Hotel recommendations:
My personal favourite hotel near this area is the Shangri-La Hotel on Orange Grove Road. Retaining elements of Singapore's oriental charm whilst being incredibly modern, it has an unmatched buffet afternoon tea offering buttery scones, local dishes and mouth-watering desserts. The Rose Veranda for a spot of tea is a MUST at this location (even if you're not staying at the hotel!).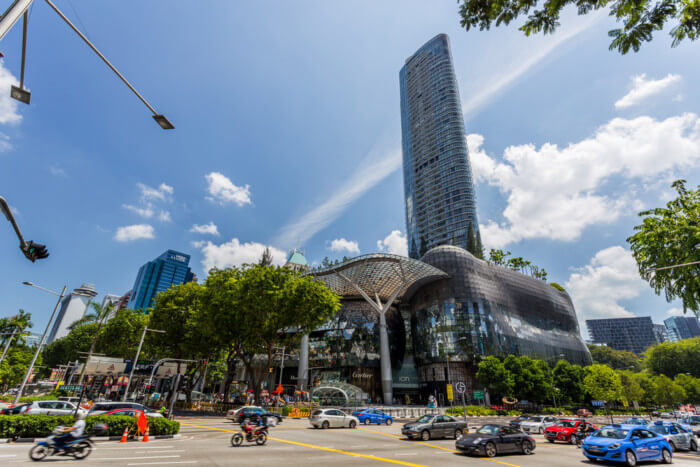 ---
Neighbourhoods: Marina Bay & Financial District
---
If you're looking for the version of Singapore that's often plastered across postcards, Marina Bay is probably your best bet. This is the heart of the city's skyline and it's also home to the iconic Marina Bay Sands Hotel (the huge three tower skyscraper with the epic infinity pool).
Singapore's central business district is an unrivalled choice for city-lovers and excitement seekers. Offering breathtaking skyline views, this buzzy neighbourhood is ideal for those clamouring for Singapore's metropolitan side. With bougie restaurants and more luxury hotels than I can count, Marina Bay promises both style and substance.
If you're choosing to stay in the Bay area, you're going to be within walking distance of most landmarks. It's an extravagant (and expensive) neighbourhood to stop in, but it certainly shows off the best of Singapore. If you're wondering where to stay inSingapore, but you know you want it to be glamorous and extra-special – Marina Bay is the answer! 
Hotel Recommendations:
Of course we couldn't write a guide to where to stay in Singapore (especially Marina Bay) without mentioning the iconic Marina Bay Sands Hotel. This is one of the most famous hotels in Singapore, and the rooms overlook the beautiful skyline with uninterrupted views. Another hotel option with amazing reviews would be the Conrad Centennial Hotel in Marina Bay – it has gorgeous facilities, and modern interior design.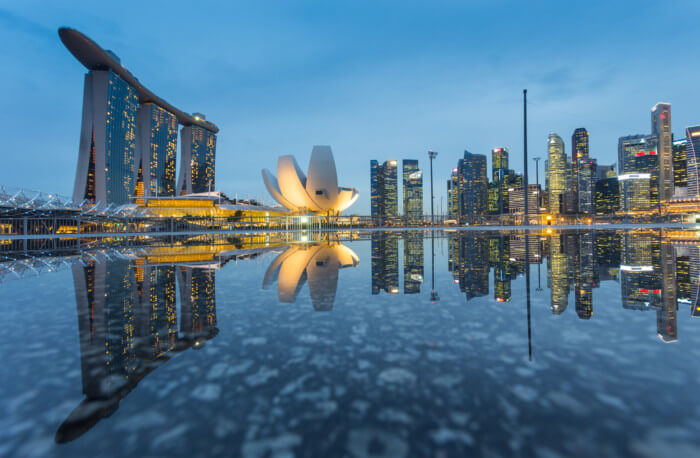 ---
Neighbourhood: Chinatown
---
Next on my list of where to stay in Singapore, it's Chinatown. Chinatown is one of Singapore's most vibrant neighbourhoods has got to be Chinatown. With shophouses galore and splashes of red visible on every street corner, this exciting and bustling area is one of Singapore's coolest places to stay.
If you want to plonk yourself amongst the epicentre of Singapore's Chinese culture, this is the neighbourhood for you. At night, check out the markets, where you're sure find a bargain or two amongst the many street stalls and shops lining the streets. If you're feeling peckish, the area is littered with food centres serving up tons of Singaporean favourites. It's an amazing place to stay in Singapore – full of culture and amazing food too. 
Hotel recommendations:
Hotels around here tend to be reasonable, with Furama City Centre and the Hotel Soloha coming in as great mid-range options. If you fancy a slightly more upmarket pick, the Dorsett Hotel is a 4-star hotel that is a 3-minute walk from Outram Park MRT (which means getting around is super convenient).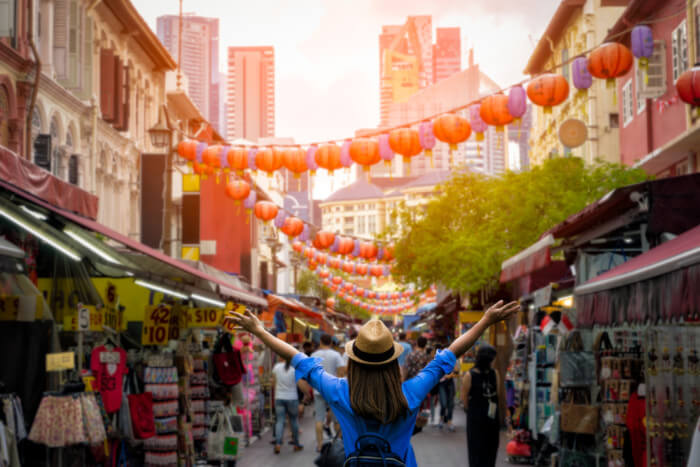 ---
Resorts World and Sentosa
---
Last on my list of where to stay in Singapore, it's Sentosa Island. If you fancy something a little more tropical, Sentosa is an excellent beachy base. Though slightly less central in terms of location, it's the perfect escape from Singapore's hustle and bustle. If you want your stay in Singapore to be half beach escape, and half city break – this is a great place to stay in Singapore.
There is loads to do in Singapore, and it feels like an oasis of calm, yet fun-filled and diverse too. The only drawback to staying in this neighbourhood of Singapore is that it can be slightly trickier to get to the mainland. It's still quite centrally located but getting anywhere noteworthy might require some time on the MRT.
Hotel recommendations:
Though it's a little bit pricey, Amara Sanctuary Resort Sentosa is a beautiful Heritage Hotel that is located just 3 minutes from Palawan Beach. Boasting insane views of the South China Sea, this tropical paradise is a delight.
If you don't want to stay on the island itself, Resorts World Sentosa is a massive complex that houses multiple hotels. If you're looking for a lively hotel that's perfect for families, give the Festive Hotel a whirl. Alternatively, fans of the Hard Rock brand will enjoy the modernity and rock-and-roll edge of the Hard Rock Hotel Singapore.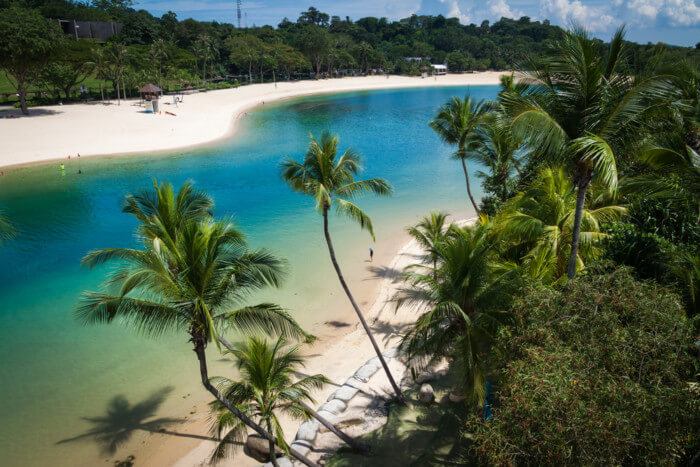 ---
I hope that this guide to Singapore's neighbourhoods and hotels has been useful, and you have a more clear idea now of where to stay in Singapore!
Wherever you decide to set up camp, Singapore's geography tends to work in your favour. To make the most of your time there, it's worth checking out itineraries from people who've been there (like this one) you'll get a much better idea of how the city works, where things are, and what to keep on you to-do list.
I've made sure that all my picks are close to MRT stations and bus routes, so you should easily be able to get around, no matter where you stay in Singapore.  Travel in Singapore is super reasonable, so you really can explore Singapore's wonders from wherever you end up.