Auto-Trail is one of the most well-known motorhome brands in Europe, offering an exciting lifestyle that can be achieved through any one of its luxury leisure vehicles. Allowing you to take your home with you on the road, without compromising on home comforts and personal touches, Auto-Trail motorhomes offer freedom of travel for you and your family.
With a rich heritage, Auto-Trail is a quintessentially British brand that has been curated over the years through signature motorhome models and valuable industry experience. Performance driven and now part of the prestigious Trigano VDL group, Auto-Trail offers a huge selection of motorhomes for you to choose from. So, where did the brand originate from, and what's made it such a huge success?
The beginning
In the 1980s, Auto-Trail was already an established repair business for caravans and motorhomes but made the decision to branch out. Owners Bill Boasman and Barry Holmes began designing and building their very own coachbuilt motorhomes. In almost no time at all, Auto-Trail had developed its signature cream-coloured design with maroon stripes which became indicative of the brand. Well-recognised, it was a hugely popular style throughout the 80s. Towards the end of the decade, more styles become prominent too, including blue and green designs.
Talbot versions of the motorhomes were the most popular but customers had the choice to specify and customise their desired model. Choices included Fiat, Citroen and Peugeot.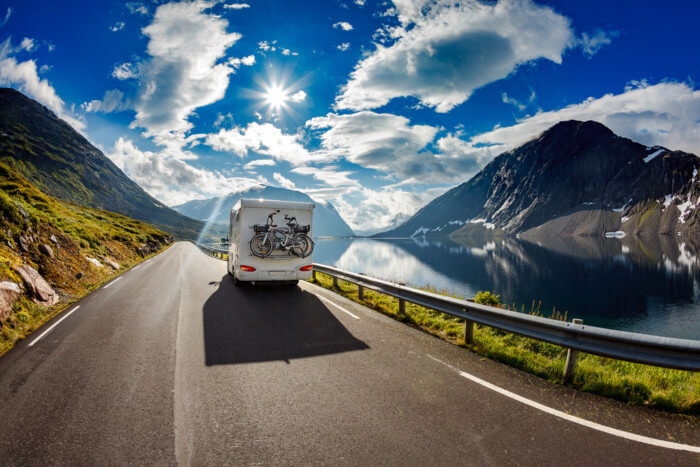 The middle
More Auto-Trail motorhomes were developed, expanding the available range and giving more choice to customers. In the mid 1990s, more models based on VW and Mercedes were released; each one better than the last. As the company began to get a better understanding of their customer's needs and wants, their motorhome range grew and improved.
Auto-Trail offered small, car-derived models based on the Peugeot 504, alongside motorhomes built on a Mercedes lorry chassis for a palatial style. Catering to the demand for different sized motorhomes for different needs, there was a motorhome for everyone; no matter how big or small your family was.
The present
By the early 2000s, Auto-Trail motorhomes began to look smarter and more modern than ever before. Changing features to include the likes of permanent beds, stylish curved locker doors and better layouts, Auto-Trail celebrated 25 years in the industry in 2007.
The models evolved quickly, with new lines being launched throughout 2013 and 2014. Auto-Trail motorhomes were equipped with panoramic roof light, aerodynamic design and solar panels that come as standard. The exterior design was also improved, creating a real sense of luxury travel.
What's more, the brand began creating affordable ranges that didn't compromise on quality, ensuring that motorhomes were available to everyone.
With the latest collection introduced just last year in 2017, models now benefit from the brand's experience and expertise.
A dedicated manufacturer of motorhomes, Auto-Trail offer choice, comfort and innovation that continues to push the boundaries and build on previous efforts. From the specification to the style, Auto-Trail motorhomes really have thought of it all.