Located along the shores of Lake Michigan, Chicago stands out for its vibrant cultural scene, an awe-inspiring architecture, friendly city-dwellers and excellent shopping opportunities.
It offers a plethora of attractions that make it difficult for visitors to decide which ones are worth experiencing.
Enjoy Millennium Park
This 25-acre park is one of most popular gathering spots for Chicagoans and the place to be if you want to mingle amongst locals.
There are usual free concerts organized there, ice skaters burning energy at the ice rink nearby and iconic public art installations.
For instance, if you want to get a selfie with The Bean (the polished, mirror-like stainless steel piece of art), then you need to head to Millennium Park!
Crown Fountain, an interactive artistic installation that features 50-foot-tall LED video structures separated by a reflecting pool is also definitely worth seeing.
Millennium Park is located in the Loop, just north of the Art Institute of Chicago and part of the larger Grant Park. It's open daily from 6am to 11pm.
All artistic exhibits are free to visit and there are complimentary guided garden and architecture tours between May and September. Tourists can reach it either by tube, bike or on foot.
Read more about visiting Chicago: 28 fun things to do alone in Chicago!
Boost Your Adrenaline With Stunning Panoramic Views
With a fantastic skyline, Chicago is a city that invites visitors to appreciate it from above.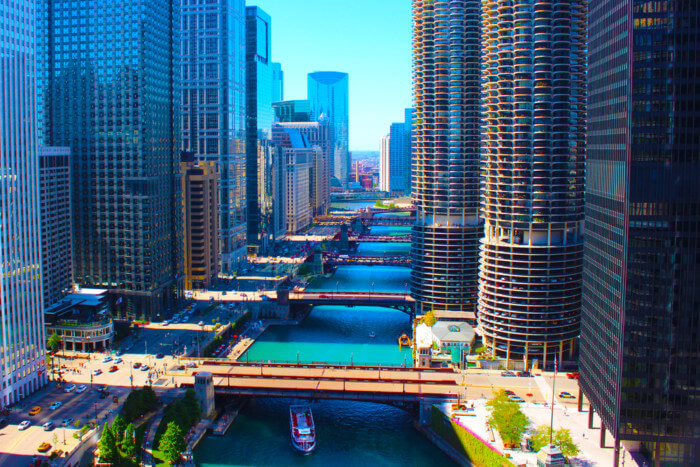 The 360 Chicago Experience offers probably the best views of the city. Nestled on the 94th Floor , it surprises visitors with the Tilt: a huge window made of steel and glass that tilts forward giving adrenaline seekers a downward facing view of Chicago from 1000 feet up in the sky.
Skydeck Chicago, on the 103rd floor of the Willis Tower (formerly Sears Tower), greets you with jaw-dropping panoramic views that can span up to four states and nearly 50 miles away on a clear day. If you dare, you can step out onto a glass  balcony that extends four feet beyond the building.
Explore The Most Artistic Side of Chicago
Two iconic bronze lions guard over 300,000 works of art at the Art Institute of Chicago. It's a world class museum with a rich and diverse collection of paintings, photographies, prints, sculptures, textiles, decorative art, architectural drawings and so much more.  It is known for its stunning collection of Impressionist and post-Impressionist paintings, including "A Sunday Afternoon on La Grande Jatte" by Georges Seurat or "Acrobats at the Cirque Fernando" by Renoir or Picasso's "Old Guitarrist". You can also admire fantastic paintings by Cezanne, Van Gogh, Monet or Toulouse-Lautrec. If you are after modern art, the Art Institute of Chicago has works of art by Pollock, Matisse or Warhol.
It also invites visitors to delight themselves with ancient Greek, Etruscan, Egyptian and Roman artifacts including pottery, mosaics, broze, glass, coins and jewelry.
The Museum of Contemporary Art endows a serious collection of art from 1945 to the present. There are works of art by Alexander Calder, Andy Warhol, John Francis Bacon or René Magritte amongst others.
The Oriental Institute Museum is home of a treasure of ancient artifacts discovered during digs in Israel, Iran, Iraq, Turkey, Egypt and Syria. Some of its most remarkable exhibits are a statue of King Tutankhamen and a giant human-headed winged bull from the Assyrian city of Khorsabad, not to mention a set of ornate Luristan Bronzes produced in western Iran in the early Iron Age.
Last but not least, the small National Museum of Mexican Art shows everything from pre-Columbian art to modern protest installations.
Say Hello To A Mummy At The Field Museum
The Field Museum houses the biological and anthropological collections for the World's Columbian Exposition of 1893 and it's dedicated to a massive exhibition of natural history. With 350,000 sq feet of permanent exhibitions to explore, it can be a daunting task to decide what to see first. Former visitors recommend admiring the Field's popular " Inside Ancient Egypt" display, where you'll descend into a recreation of the 5000-year-old tomb of pharaoh's son Unis-Ankh. From there, you'll walk through an extensive assemblage of Egyptian artifacts, including a fascinating collections of mummies.
Another impressive exhibition is Máximo, a 122-foot-long and 70-ton-heavy skeleton of a titanosaur.
The Field's Museum surprises visitors with a jaw-dropping collection of artifacts related to the natural world. There are grand Neoclassical halls housing fossils, priceless gemstones and animal and plant specimens. You can't miss the compelling anthropology for the Ancient Americas and Ancient Egypt, as well s China, Tibet, Africa and cultures from the Pacific Islands. You can admire an exquisite collection of Chinese jade and a stained glass window by Louis Comfort Tiffany at the Geology Halls. The Cyrus Tang Hall of China, Evolving Planet or the DNA Discovery Center are just some of the exhibits that will grab your attention.
Stroll The Magnificent Mile
The Magnificent Mile is the stretch of Michigan Avenue from the river at the south to Oak street at the north. These eight blocks squeeze a whole world of entertainment, dining, shopping, dazzling architecture and much more. From flagship retail stores to luxurious boutiques, there's a world of shopping opportunities waiting for you. And if you turn your head up, you'll be able to admire  some of the most renowned icons of the skyline of Chicago: the Tribune Tower or the Wrigley Building just to mention a couple of them. You'll be able to admire the Historic Water Tower, which survived the Great Chicago Fire of 1871 and is the longest standing structure on Michigan Avenue.
Have A Blast At The Museum of Science and Industry
Chicago's incredible Museum of Science and Industry showcases more than 35 thousand artifacts and a variety of hands-on exhibits that are meant to inspire awe and creativity. Get ready to learn about a wide variety of topics inside the museum as displays cater to all kinds of curious minds. You'll be able to enjoy a tour of the only U-505 German submarine captured during the WWII and if you spend hours on end at night gazing at the stars you'll be able to explore distant planets and stars at the Henry Crown Space Center. Special exhibits are definitely worth visiting .
Read more about visiting Chicago: The top 15 toy shops in Chicago!
The Chicago Museum of Science and Industry is one of the best places to take the kids. With fascinating and interesting exhibits that will allow them to learn more about the world around them. Their young scientific minds can wrap their heads around big concepts at the exhibits on storms or the Foucault pendulum or the Wimshurst machine. There are also relics from the Apollo missions!
Cruise Lake Michigan and the Chicago River
There's a selection of cruises that allow you to sit back and give Chicago' cityscape the attention it deserves. From gentle lake tours to exhilarating speedboat rides, Lake Michigan and the Chicago River allow visitors to appreciate the Windy City like never before.
If you're into sightseeing, the Classic Lake Tour gives you a 40-minute sightseeing trip that gives you plenty of time to soak up the sights while you listen to a recording that speaks about the most interesting highlights you sail by.
For a more adventurous ride, you can jet off on a speedboat for a 75-minute ride that leaves from the old Navy Training Center on Navy Pier and you reach as far as the Willis Tower upriver.
And as you're there, don't miss the beautiful Navy Pier, a multifaceted visitor attraction that extends over the water for six city blocks. You'll come across Funhouse Maze and the 65-metre Centennial Wheel, surrounded by fairground rides and amusements. Opened in 1916 as an amusement area and shipping facility and it has now become one of the most popular tourist attractions in the city. There are concert venues and restaurants as well in the area and a historic carousel to ensure a great family experience.
Watch the Fish at the Shedd Aquarium
With more than 32500 animals representing 1500 species, the Shedd Aquarium has plenty of attractions for families to explore. The seasonal stingray exhibit that runs through October is a must-see must-do one (you can touch one if you can). There's an amazing show with whales and dolphins that children enjoy specially. The Amazon Rising zone has anacondas, piranhas and caimans  while the Caribbean Reef zone houses a rescued green sea turtle and the Waters of the World is home to beautiful seahorses and starfish.
The Shedd Aquarium is a great place to see non-native species and delight yourself with the wonderful sea world.
Feel Like An Astronaut at the Adler Planetarium
The Adler Planetarium is an observatory and a museum at the same time as well as a research center. There are plenty of exhibits that explore all 91 billion light-years of the universe. Search for the ninth planet at the Planet Nine exhibit, crawl, climb and fly through Planet Explorers and take a fast-paced tour through our cosmic backyard in Destination Solar System!
One of its domed theatres, the Grainger Sky Theater, usually relies on immersive technology to explore the depths of space while the Doane Observatory allows visitors to view celestial bodies over Chicago with its Adler After Dark and Doane at Dusk programmes.