Are you looking for the best beach hotels in LA? If so, keep reading!
So you're planning a relaxing beach vacation in Los Angeles… and you want to find the perfect beach hotels in LA. Bright lights, big city, hustle, bustle, and wide-open Pacific Ocean.
You've come to LA for all the sights before, and now you're looking for a way to come to LA and unwind by the ocean in a beach hotel that'll give you a relaxed and relaxing experience.
This list is full of all my favorite beach hotels in LA (right on the sand!).
The ocean in LA is like no other. It's perfect blue, there's surfing, marine life, incredible sunsets… It's no wonder you're looking for relaxing beach hotels in Los Angeles. There's no better place to be!
We get you, and we've got you sorted. Here's our list of the most relaxing beach hotels in LA….
---
Casa del Mar – Santa Monica
Casa del Mar is the first on my list of beach hotels in LA. This beach hotel in LA is a classic choice and everything you'd want from a beachfront hotel on the West Coast.
Located on the actual sand, and right down the road from Santa Monica's shops and restaurants, this hotels architecturally significant facade and world class amenities will give you a taste of luxury like you've never experienced. Relax into socal life with an afternoon at the spa.
---
Venice Beach House – Venice
My next pick for beach hotels in Los Angeles, it's the Venice Beach House in Venice Beach.
The really extravagant suites at this historic hotel feature a fireplace, a bathtub, and stunning ocean vistas – so it's an ideal getaway if you want a little bit of romance and extravagance!
You can't help but feel relaxed whilst looking out at the Pacific Ocean, which is why this makes my list of the top beach hotels in LA.
Read more about Los Angeles: 47 things to do alone in Los Angeles!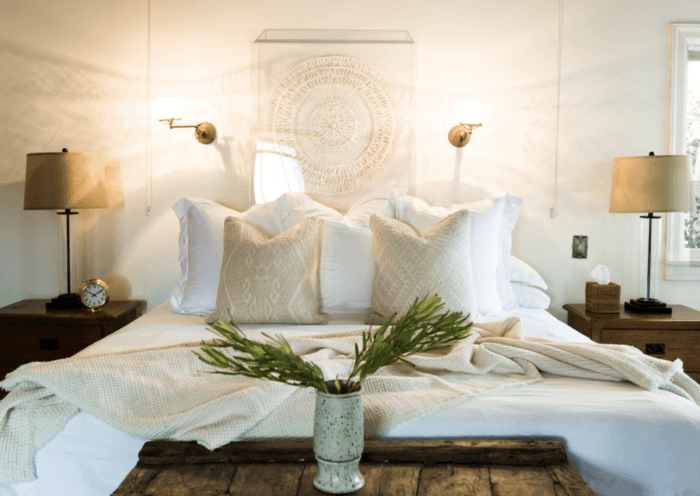 ---
Pacific Edge Hotel – Laguna Beach
Next on my list of beach hotels in LA, it's the Pacific Edge Hotel in Laguna beach. Located a little further out of LA, this is still an incredible option for beach side hotels in LA.
This hotel is right on the beach, you couldn't get closer to the ocean if you tried. For me, this hotel is probably one of my top picks on this list of beach side hotel in LA.
It feels like a proper retreat, luxurious located a stone-throw from the sea, and with views that you'll always want to go back to time and time again. The hotel has a boutique style to it – but it's modern and stylish too.
Read more about Los Angeles: 15 upscale restaurants in Los Angeles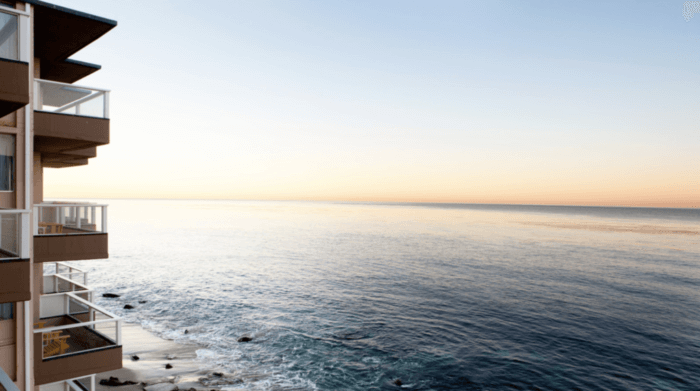 ---
Shade Hotel – Manhattan Beach
A bit more secluded, with a downhill hike to the beach, this Manhattan beach destination makes the list of the most relaxing beach hotels in LA by being out of the action.
With adjustable chroma-therapy lighting, a spa bath in every room, and a tucked away feel you couldn't get more relaxing. This is a lovely choise for relaxing beach hotels in LA.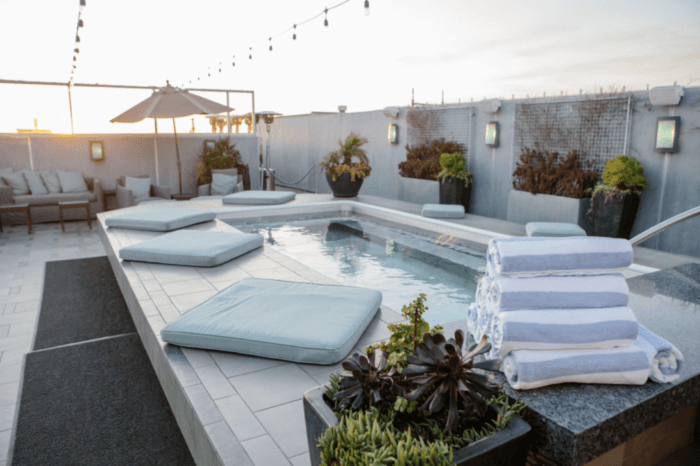 ---
Hotel Erwin – Venice
Next on my list of beach hotels in LA, it's the Hotel Erwin in Venice Beach. With steps going right down to the boardwalk and the ocean, delicately styled boutique bedrooms , a gorgeous restaurant with SoCal eats at Barlo and rooftop drinks at high lounge.
This little beachside getaway in LA is the perfect place to relax and it's a perfect choice for beach hotels in LA!
Read more about California: 40 fun things to do in LA

---
Malibu Beach Inn – Malibu
The next entry in our list of the most relaxing beach hotels in LA is right on the sand, giving you a stress free trip from bed to ocean, it's the Malibu Beach Inn, in Malibu. It even has its own private beach so you don't have to share your space with anyone.
This is luxury and relaxation at a price that'll make you feel a million bucks, and it's location in Malibu means that you have some of the best beaches, shops and neighbourhoods right on your doorstep for exploring.
---
Loews – Santa Monica Beach Hotel
Santa Monica Beach is a perfect beach-side location in LA, and this gorgeous hotel by Loews is in a prime beach side location right in the heart of the city. You'll be a stones throw from some of the neighbourhoods best bars and restaurants, and the beach is within touching distance!
In fact, the hotel kind of open out onto the beach, so it's a really beautiful choice. This is a great choice if you're looking for luxury beach hotels in LA.

---
Hotel Oceana – Santa Monica
This is another fantastic beach hotel in LA, and again, it's located in the iconic Santa Monica. Santa Monica Beach is a stunning beach to spend time on, which is why so many gorgeous hotel situate themselves right off the sand.
It's also still relatively close to downtown LA and Hollywood – so if you need to visit the inner city for any reason, it shouldn't take you too long from here. I love Hotel Oceana, it's sophisticated, stylish and has a real boutique feel to it and the style of the grounds and buildings are just beyond-cool.
---
Doryman's Inn – Newport Beach
This historic hotel might not be the most modern or the stylish – but it is located in the heart of Newport Beach (so incredible location) and it has character in bucket loads.
If you love a bit of history, and feeling like you're escaping reality for a while – you might love this hotel. It's located right on the beachfront too – with lovely views of the ocean.
---
Lido House Hotel – Newport Beach
Another option for beach hotels in LA, and another in Newport Beach to take a look at. The Lido House isn't strictly ocean-side, but it's close enough (it's really very close!) and I think the stunning facilities and the amazing quality of rooms makes up for it being a 5 minute walk to the sand.
This Autograph Collection hotel is so beautifully finished, and it's a little bit of luxury in this gorgeous beach side neighborhood. There are some incredible restaurants a 2 minute walks from the front door, including Nobu's Newport Beach.
---
The Ritz-Carlton – Laguna Niguel
Last on my list of relaxing beach hotels in LA, it's The Ritz Carlton in Laguna Niguel.
If you want luxury, and you don't mind traveling a bit further from the city of LA, then this is going to be the best beach hotel in LA for you. This hotel oozes luxury and style, it's a proper resort hotel, so expect all the trimmings… such as a stunning pool, amazing grounds, beautiful views.
It really is something special. If you're planning a week-long vacation and you just want to 'switch off' then this might be the ideal beach hotel in LA for you to opt for.
---
I hope this list of beach hotels in LA has been useful! We hope you have an amazing relaxing break away in LA!
Happy chilling ☺️