Are you looking for the best travel crib to buy this year? If so – keep reading.
Any parent knows how essential a good travel crib is when vacationing. The best travel cribs will keep your little comfy, keep them sleeping soundly, and make them feel relaxed and cosy in a new environment.
Gone are the days when we'd settle for the hotel's travel crib – because it's so easy (not to mention safer!) to bring your own travel crib to your destination.
But how do you choose the perfect travel crib for your little one? And how can you differentiate between the good travel cribs and the bad ones? Should you prioritizee comfort or flexibility when shopping for a travel crib? We'll answer all your questions here!
Read more about kid-friendly travel: What is the best kids travel tray?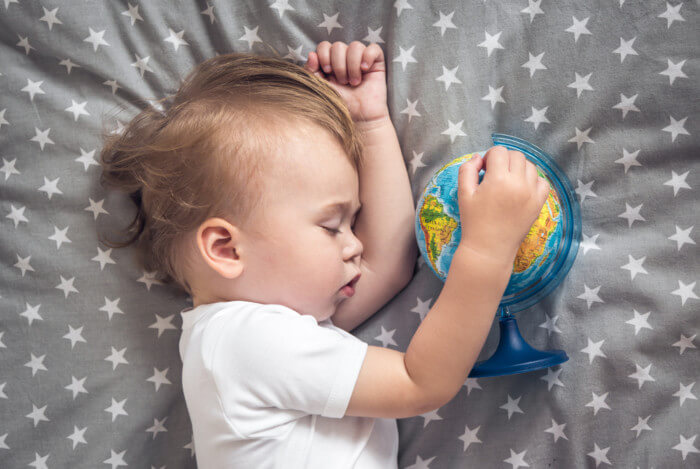 We all know that the better sleep your little one gets, the better your trip will be. Whether it's a weekend away at grandmas, or a week away on vacation – a travel crib is probably the most important item you'll bring with you. Being away from home with your little one can feel a bit overwhelming at first, but a good travel crib will keep your little one safe, contained and comfortable. And that's why travel cribs are so important.
Read more about family travel: 11 child-friendly hotels in NYC
So, let's get into it! Here's our list of the best travel cribs on the market at the moment, and why they're great picks when choosing a travel crib.
---
Our top 10 travel cribs…
---
Graco Pack 'n Play Playard Travel Snuggle Suite
First on my list of the best travel cribs, it's this choice from Graco. This is one of the most sturdy travel cribs on the market, and it's a travel crib that provides plenty of choices and options for usage too. It goes a bit beyond the simple 'pop-up' travel cribs, and actually fits seamlessly into vacation life – especially if you're got a little baby. The range of use that this travel crib gives you is reason enough to buy it, and it's price tag is worth the investment. If you're looking for a 'doe everything' option – then this travel crib by Graco is going to check your boxes.
---
BabyBjörn Travel Crib Light
The BabyBjörn Travel Crib Light is next on my list of the best travel cribs. This is an amazing travel crib option, and it's super light too (at only 6kg, including the travel bag). It's a great option for those who want something really lightweight (and could be a great choice for families who are flying, rather than driving).
I also love this travel crib because it's stylish! Let's face it BabyBjörn are known for being super stylish and simple in design, and this travel crib is beautifull designed and lightweight and easy to use. I highly recommend this travel crib for any parents looking for a beautifully simple solution!
---
LuckyDove Portable Travel Crib
Next on my list of the best travel cribs, it's this great option by LuckyDove. This is a wonderful travel crib, and comes in a little more affordable than the other options. Whilst it's not as slick-looking as the BabyBjörn crib above, it still does the job and is really simple and efficient to use! It's also a really lightweight travel crib option too (the weight is listed as 13.57 lbs). One of the great things about this travel crib is the side zipper, which turns the travel crib into a little play area / play mat too. I think that's a really great feature!
No products found.
---
CRZDEAL Bassinet (2-in-1 Fold Travel Crib)
Next on my list of travel cribs, it's the CRZDEAL Bassinet. This is a great choice for younger babies, who aren't yet standing on their own. If you've got a new born, or 0-6/ months, this would be a great choice for your travel crib. It's a little different from the other travel cribs on this list, as it's bassinet style (rather than crib style) but that perfect for younger babies. I love this choice as it folds down really easily ( a bit like a camping chair!) and it's also really stylish and looks super comfy for your little one!
No products found.
---
Baby Trend Quick Fold Bassinet
Another great travel crib in the bassinet style, is this choice from Baby Trend. It's another quick fold travel crib option, and it's a great choice for the 0-6 months age bracket again. The great thing about this style of travel crib, is that they don't look too 'travel' ish – they look beautiful and feel really stylish. They're also extremely easy to put up, and pack away, so perfect for spontaneous trips where you need your travel crib handy!
---
Dream On Me, Travel Crib Portable Bassinet
Another lovely choice for bassinet-style travel cribs, is this choice from Dream on Me. This is a really lovely budget-friendly travel crib too, which is why it made my list of the best travel cribs. I love the color choices they offer for this travel crib (a nice touch!) and I love how despite being one of the cheaper travel cribs out there, it's also really efficient, smart and sturdy. This travel crib also has great reviews on Amazon from other parents, which is really reassuring.
---
Diaper Bag Backpack with Travel Bassinet
Now from a slightly left-field travel crib! This is a completely portable, very different option for travel cribs – but I wanted to include it because I think it's worth looking at if you have a young baby and you need something really useful and flexible for spontaneous naps. Basically, this travel crib, is actually a backpack, and it unfolds out into a playpen / changing pad / nap area / sleeping pod for your little one. Look, this might not be the kind of thing you're looking for, but for many parents – this will be a must-have. And whilst it's not a great option for long trips, it's a perfect solution for day trips and naps! It's a travel crib with a twist!
No products found.
---
Hiccapop Inflatable Toddler Travel Bed
If you're looking for a travel crib for your toddler (and not a baby) then this inflatable bed might actually be worth looking at. It has protective bumpers around the edge (to keep them safe) and it's a really budget-friendly and comfortable option. This travel crib has incredible reviews, comes in lots of colors, and it's one of the most budget-friendly travel cribs on this list.
---
The Shrunks Inflatable Kids Bed Rails
Another alternative travel crib option for parents with toddlers or young kids, this is an inflatable bed rail, that can be put on a normal bed, to prevent them falling out of it. It means you don't necessarily need a travel crib, and can convert an existing bed into a travel crib style bed. If you know your destination might not have much floor space, but that they may be an extra bed – this is a great travel crib solution. It's also really affordable!
---
Hopefully this list of travel cribs has been helpful!
As you'll now know, travel cribs come in all sorts of shapes and sizes (and prices!). But finding the perfect travel crib for you and your little one is all based on what you're looking for out of your travel crib. Hopefully this list of the best travel cribs has given you a good idea of what you need and what to look for and some great products to try!
Read more about family travel: The best family-friendly vacation destinations in the USA