---
Are you looking for things to do in Las Vegas when pregnant?
---
Believe it or not, Las Vegas isn't just a 'nightlife' destination – it's actually a great destination for all kinds of people – at different stages of life! That includes pregnancy! If you're planning your 'babymoon' in Las Vegas, or if you're just planning a trip to the city with your bump in tow – then hopefully you'll find a list of great things to do in Las Vegas when pregnant here!
---
Book a pool cabana for the day
If your hotel has a swimming pool… then there's no better way of spending the day than renting out a pool cabana and relaxing VIP style for the day. Pool cabanas are a perfect way to sunbathe by the pool in luxurious style, and it's a great things to do in Las Vegas when pregnant, and it's so much fun too. The hire cost of a cabana can vary depending on what hotel you're stopping in (and whether it's the weekend) but it's usually anywhere from $150 – $500 for the day.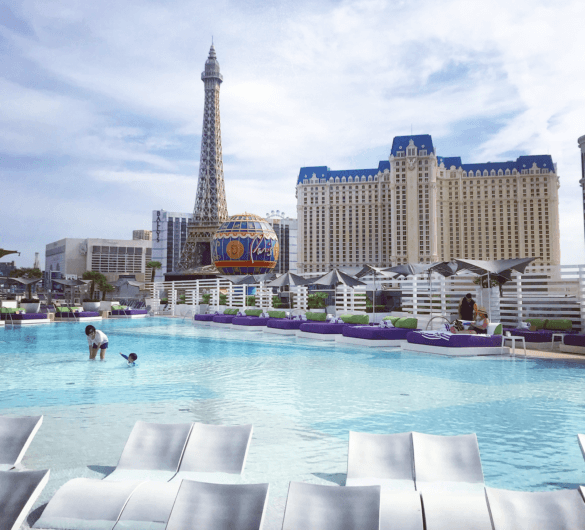 ---
Do the open-top bus tour
Next on my list of things to do in Las Vegas when pregnant…The open top bus tour in Las Vegas is a great way to see everything the city has to offer, without putting too much strain on your back, hips or feet from walking around loads. The bus will take you to all the main locations, and you can hop off if you want to explore a little more! It's the easiest way of sight-seeing – and perfect for ladies who are pregnant. You can book tickets for the bus tour by clicking here.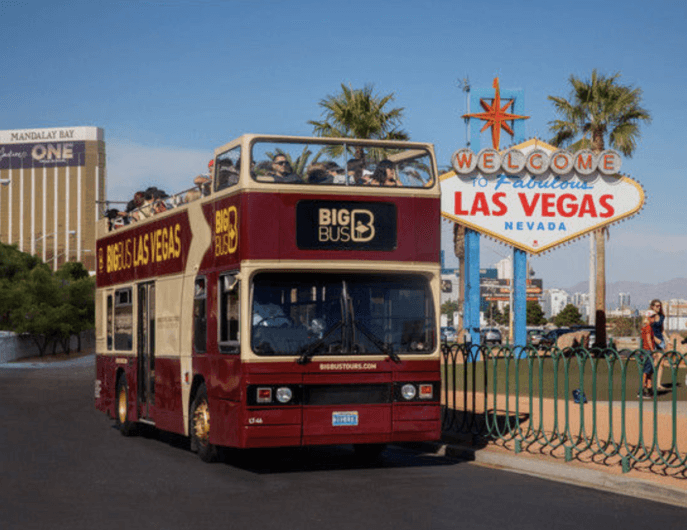 ---
Enjoy a show (or two, or three!)
First on my list of things to do in Las Vegas when pregnant… One of the best things to do in Las Vegas whilst pregnant is definitely booking tickets to a show (or more than one if your budget allows it). There are SO MANY amazing shows in Las Vegas, from all the Cirque du Soleil shows, to world-famous magicians, and even your favourites singers and bands. There is no 'boring' evening in Las Vegas – there is always something happening. My favourite show is 'O' by Cirque Du Soleil – I've seen it 3 times, and each time it blows me away.
---
Try all the mocktails!
Just because you're pregnant doesn't mean you can't enjoy a night out on the town. Get dressed up and head to some of the city's best cocktail bars – just order from the mocktail menu instead. Actually, some of the mocktails are better than the cocktails – so you're not even missing out! One of the things I love about Las Vegas is just soaking in the atmosphere, and sitting in a cocktail bar lets you feel like you're in the heart of Las Vegas glamour. I love The Foundation Room inside Mandalay Bay, and also the SkyBar inside the Waldorf Astoria – because they both have epic views.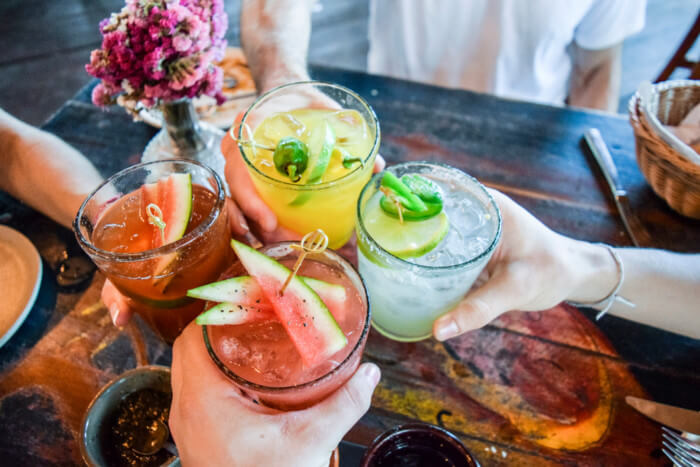 ---
Get lucky… in the casino!
We couldn't write a list about things to do in Las Vegas when pregnant without mentioning the casino! Gambling is almost a perfect activity for when you're pregnant! It's a seated activity (so no aching back or feet!), you get waitress service drinks (that are free!), and you get to sit inside an air-conned casino (so no over heating). It's really fun, and even if you're only a novice, you can have fun learning the game!
---
Go shopping
Next up on my list of things to do in Las Vegas when pregnant…. Shopping! And with a baby on the way, you might want to buy a few things! There are so many malls in Las Vegas… so shopping had to make our list of things to do in Las Vegas when pregnant. In the centre of the Las Vegas strip you have:
The Grand Canal Shoppes in The Venetian Hotel
The Forum Shops at Caesars Palace
The Fashion Show Mall (Opposite The Wynn & Encore)
The Miracle Mile Shops at Planet Hollywood
The Shops at Crystals
A little outside the city centre (just a little taxi ride away) you have:
Tivoli Village
Las Vegas Outlet Mall (North)
Las vegas Outlet Mall (South)
Town Square Las Vegas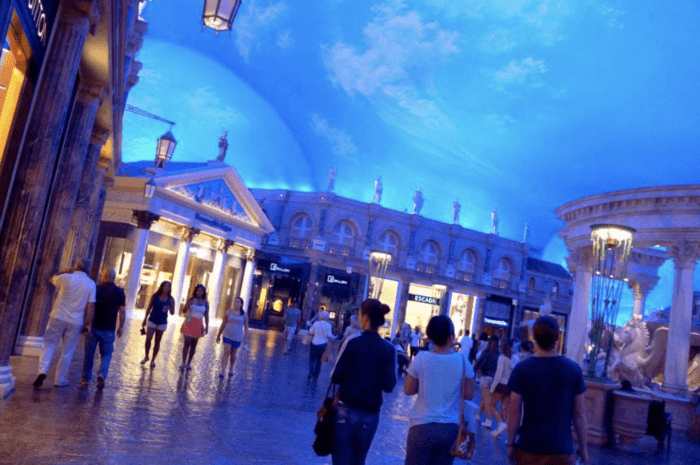 ---
Book a spa day
There are some incredible spas in Las Vegas, located inside the central hotels. Most hotel spas will offer great pregnancy packages, or mum-to-be massages – so it's a lovely way to spend the day, and spoil yourself a bit too. I love the Aria Spa (I adore the outdoor pool they have on the balcony) and the whole decor of the spa at Aria is beautiful. Other gorgeous spas are located inside the Cosmopolitan Hotel, Wynn Hotel and Encore Hotel.
---
Food tour
Seen as you're eating for two… a food tour is a pretty awesome way to explore the city when you're pregnant. During the food tour you'll get to see the city through the eyes of food-lovers, and taste some of the best food the city has to offer. Your food tour will take you to each of the different restaurants / cafes, and your job is to enjoy the delicious offerings!
---
The Highroller
A relatively new addition to the city, The highroller is a giant ferris wheel in the heart of the city, where you'll get great views of the city from every angle. It's a really lovely way to spend the day / night, and you can even get skip-the-line tickets too (to save you waiting around). You can book skip-the-line tickets by clicking here.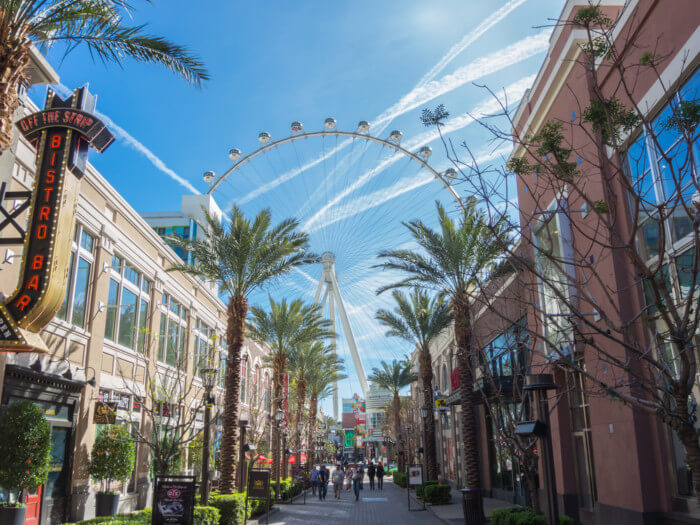 ---
Do a Grand Canyon day trip
Next up on my list of things to do in Las Vegas when pregnant, if you feel like you might want to get out of the city during your holiday in Las Vegas, doing a day trip to the Grand Canyon is a great idea. There are loads of day trips and tours from the city, and most will pick you up from your hotel lobby, so it's super easy and fuss free. Because you're pregnant, opt for a comfort orientated tour, perhaps with a nicer vehicle and a bit more space – just to make the drive out there a little more comfortable. I recommend the tours below…
---
Enjoy some great views
There are some amazing places to admire the views of the city and the strip. Whether you head to a beautiful rooftop bar and sip some mocktails, or whether you drive out of town and find a look-out spot. There are so many ways to soak in the Vegas skyline. The Highroller (mentioned above) is actually one of the best ways!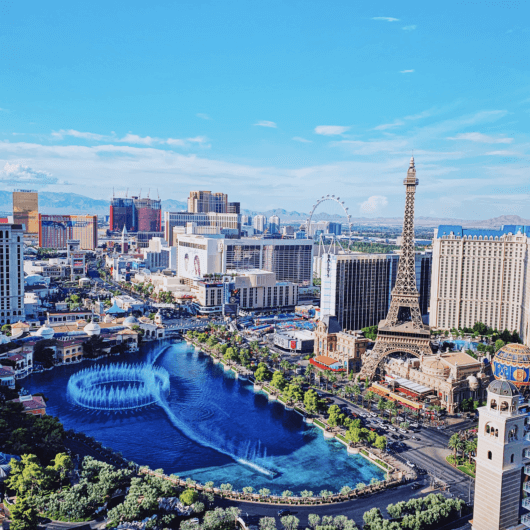 ---
Have a limo ride through the city
Booking a limo ride to give you a private tour of the city is a pretty special way to spend time in Las Vegas when pregnant – it's pretty romantic too! Most limo companies will be totally flexible and let you decide your destination / schedule – so you could have your limo pick you up from your hotel, drive you around the strip and then drop you off at a posh restaurant to end the night in.
---
Enjoy the world-class restaurant scene
This kind of leads on from the previous suggestion! There are thousands of restaurants in Las Vegas, and sampling as many as you can is part of the fun. From burger places, and steak houses – to fried chicken and pizza places – the variety is endless. And if you're having one of those days when you just want to relax and take it completely easy – you can order room service!
---
Explore the hotels
Last up on my list of things to do in Las Vegas when pregnant… Some of the hotels are worth spending a whole day exploring and enjoying. You don't really need any other excuse to visit than to look around! I recommend; The Venetian, The Bellagio, New York New York and Caesars as a starting point!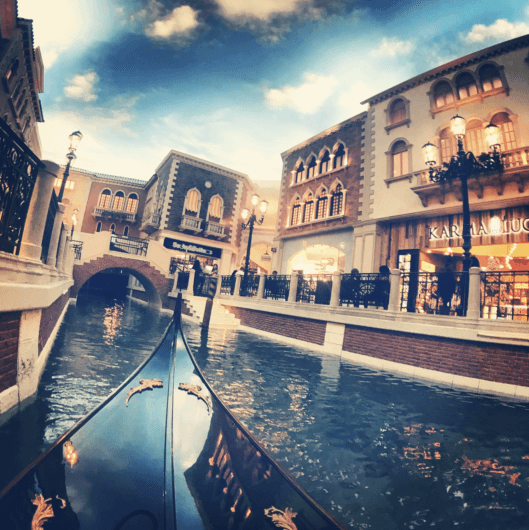 ---
Visit the Neon Museum
The Neon Museum is one of the most unique and quirky museums in the world, and it's located in the heart of downtown Las Vegas. It's a 'boneyard' for old neon signs that used to be so popular in the city – and walking around it takes about an hour. It's so interesting, and there are so many great photo opportunities.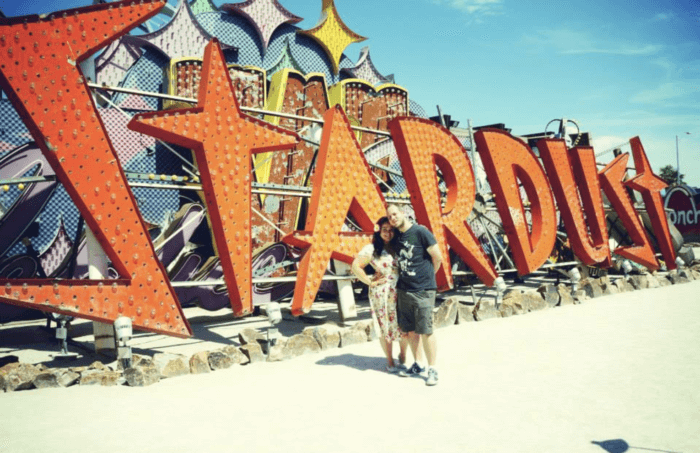 ---
I hope this list of things to do in Las Vega when pregnant has been helpful! Have an amazing vacation in Las Vegas, it's an incredible city – you'll love it!
/>