We're going to level with you; Angel's Landing is not for the faint of heart.
By far the most difficult and dangerous hike in Zion National Park, there are a few things that you may not have been told about this hike.
Known for its dangerous narrow ridges and 1000-foot drops, you may be rightly nervous about taking this hike. However, whilst it's not your typical daily stroll, it's not actually too difficult should you plan it correctly. Though safety should be the most important factor here, we'll run you through the things no one tells you to ensure that you have the best possible trip.
But first, here are some key facts and figures
Elevation Gain: 1500 feet (very steep in points)
Distance: 2.4 miles one way (the Grotto to the Angels Landing viewpoint)
Difficulty: Hard
Length of Time: 3 – 6 hours (depending on your speed)
When to go: It's good all year round, but best in spring and autumn.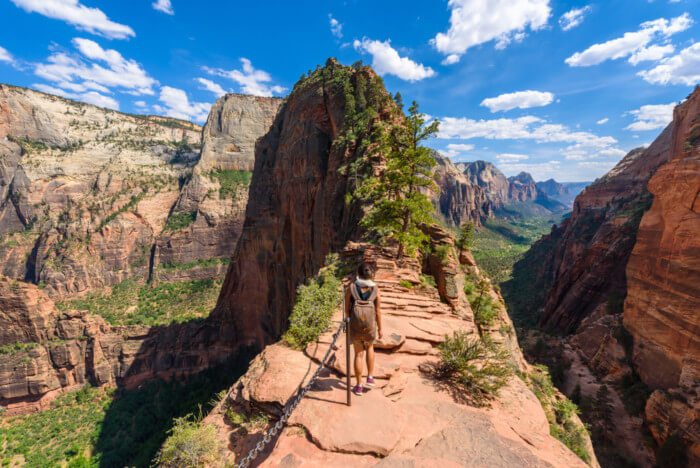 You'll want to go at a time when there's less people about
This one may seem obvious, but something that people may not tell you is that you should aim to go when there are few people around. If you add hundreds of people to the trail in both directions, you're likely asking for trouble.
One major hack is to know what the most popular visiting times are. Generally, the worst time to visit is in the middle of the day, as you'll find the trail tends to be absolutely packed.
Though you could arrive at sunrise to beat some of the crowds, you could save yourself the tiredness by going late in the day. If you rock up after 3pm, it tends to be much, much quieter and you'll have a much safer and more pleasant experience.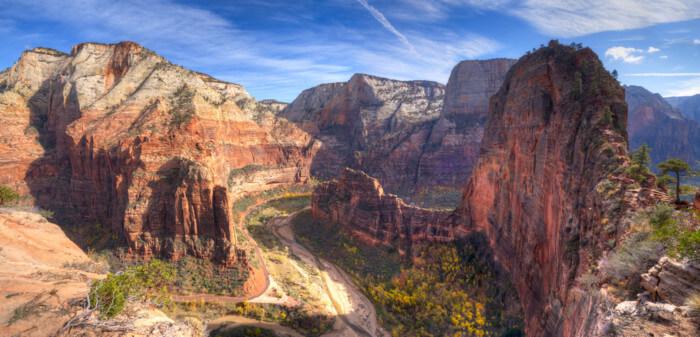 It's about endurance AND strenth
When training for this hike, it might be tempting to focus on strength alone. Building up your leg and core muscles will probably be you main focus. BUT don't forget about endurance too – the climb is long, challenging and requires a lot of endurance.
Make sure you're trained in endurance as well as strength – so you can actually make it to the top.
You'll want to avoid it if you're afraid of heights
Again, one that might seem obvious, you may not exactly have people telling you not to take the trip of a lifetime! However, you need to be aware that this is not a place for people that are afraid of heights.
Simply put, it's a horrifying place to be if you're scared of heights due to the sheer cliff drops that are visible from every angle. Though Angel's Landing is a remarkable place, the tourist board may not tell you that it's not the place for you!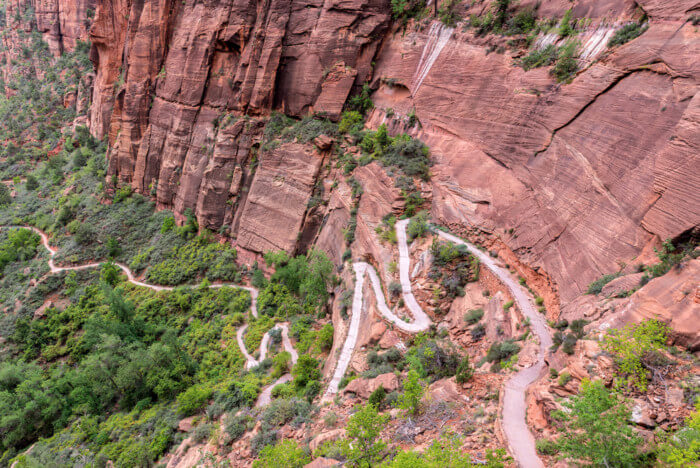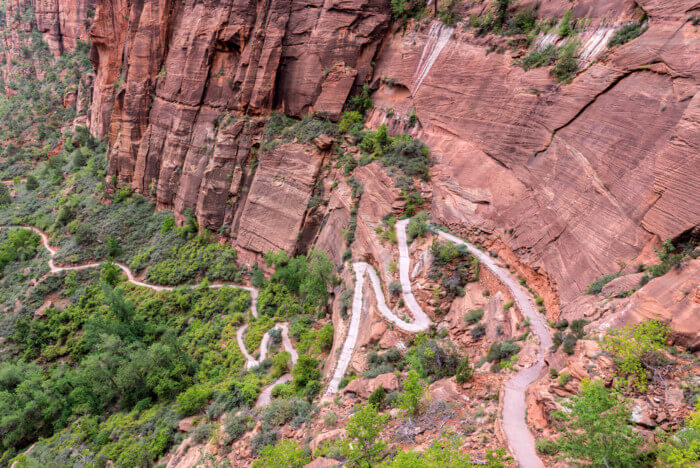 You'll want to bring plenty of sunscreen and water
As Angel's Landing takes an average of five hours to trek around, you'll absolutely want to be stocked up on water and sunscreen. Though the official website might not think to tell you this, the last thing you want on your trip is sunburn or dehydration- yikes!
Don't wear flats
Trust us when we say that you will want to wear shoes with plenty of traction and good lift. By nature of the trail, it would be extremely unwise to wear anything but supportive and stable shoes to Angel's Landing.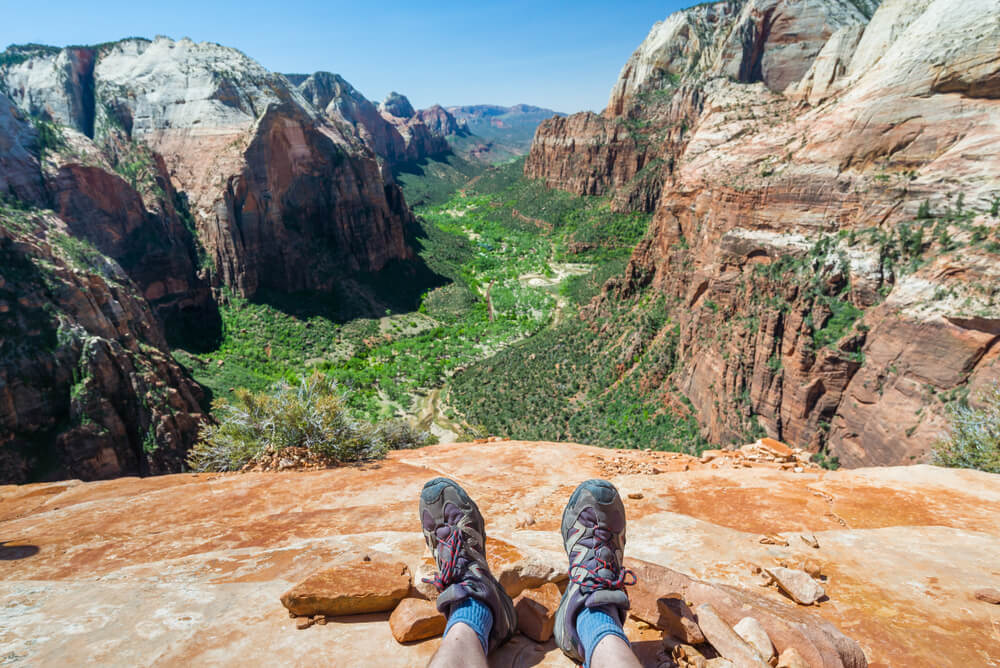 You'll probably want to take the shuttle
Due to the sheer number of people that want to visit this spot, you will likely have some extreme trouble parking nearby. So, your best bet is to take advantage of the free (!) shuttle that runs from the town of Zion.
Simply take the shuttle from Sol Foods Market (Stop 5) and then once inside the South Entrance of Zion Canyon Village, hop on a second shuttle to "The Grotto" (Stop 6). As this is where the Angel's Landing trail begins, it's a great way to see the sights without panicking over parking!
Don't look down…
Okay, now this one may seem a bit scaremongering, but if you want to visit and aren't a huge fan of heights as we've mentioned above, you may simply wish to not look down.
As the drop from Scout Lookout can be extremely off-putting, just focus on the scenery ahead and keep plodding on. Zion is beautiful, and it would be a shame to miss out!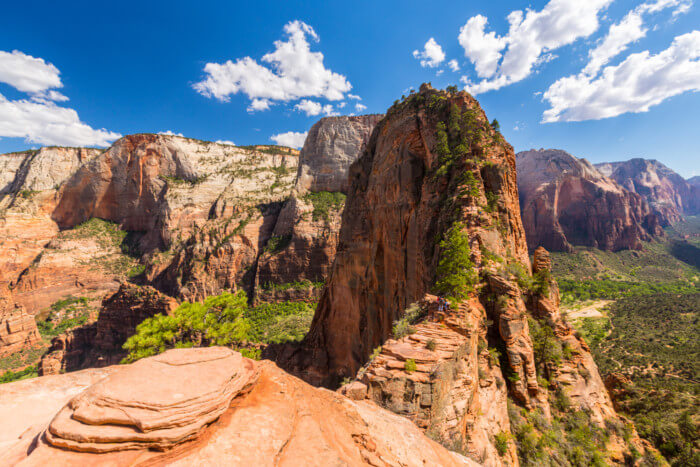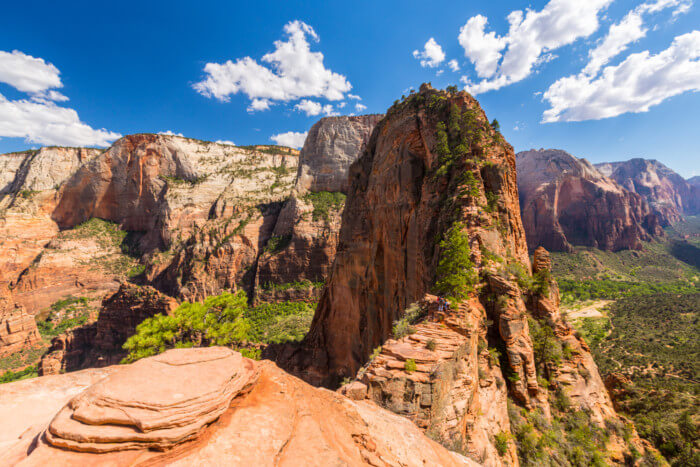 Be sure you've got a comfortable night's sleep before and after the hike
OK… something no one tells you about a challenging hike – especially the ones at Angel's Landing – make sure you have somewhere comfortable to sleep the night before, and the night after.
If you're really thinking smart… book yourself a spa hotel for the night after the hike, then you can book yourself a treatment the day after, and also properly relax and chill out. Here are some nice hotels around the Zion National park area!
Don't miss it!
Mainly, don't miss it. Angel's Landing is beyond amazing, if you're brave enough to try it!
Though you'll be able to find most of the information that you need out there in the internet's great ether, sometimes, people won't tell you everything! It's often the little considerations that make a trip fantastic, so you'll want to be sure that you pick up every tip and trick that you can before visiting.
So, hopefully these little things that people may not have told you will aid the planning of your trip to Angel's Landing. Just remember, if you can avoid it, don't look down!