---
Are you looking for things to do in Guadeloupe? Keep reading for my favourite suggestions!
---
Known for its beautiful sunny shores and relaxing beach-life, Guadeloupe never has a shortage of visitors. Far less crowded than other French-Caribbean islands, this idyllic area is the perfect escape from urban life. If you're looking for an ultimate list of things to do in Guadeloupe, you've found it!
During the days, the island inspires adventurous trips to Les Saintes and Pointe-à-Pitre. However, by night, this place is equally as captivating. Take a trip to one of the island's Creole restaurants and enjoy delectable local cuisine before heading back to your hotel. Whether you're looking for an adventurous archipelago trip or wish to relax on one of the world's most gorgeous beaches, Guadeloupe is full of magnificent things to do.
---
Guadeloupe National Park
---
First up on my list of things to do in Guadeloupe, Guadeloupe National Park.
Nestled in Basse-Terre's mountainous landscape, Guadeloupe's Parc National is a picturesque rainforest paradise. 74,100 acres in size, the park's luscious plant-life and stunning waterfalls have long been starring members in tourist travel photography. With trails to suit every fitness ability from avid hikers to couch potatoes, this national park has something for everybody.
A handy hint if you fancy giving this place a go, is to pick up a Guide to the National Park brochure from Guadeloupe's tourism office. If you're a man (or woman!) with a plan, this certainly makes your life a whole lot easier! If your boots aren't made for walking however, you can see a large majority of the national park by car (there's a special route dedicated to this very purpose). One of the most biodiverse areas in the Caribbean, I recommend packing your bug spray and indulging in one of nature's finest offerings at this wonderful national park.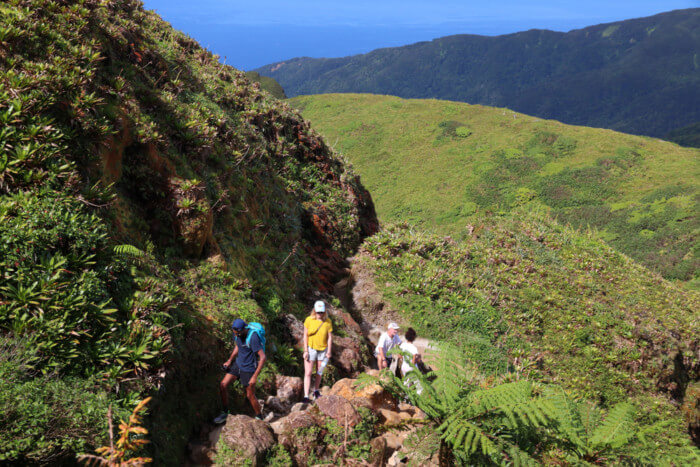 ---
La Soufriere Volcano
---
Next up on my list of things to do in Guadeloupe… If you're the outdoorsy type, you're bound to relish a trek up the towering La Soufriere Volcano. Overlooking the lush forests of the national park, conquering this feels akin to conquering Everest. Though I say this in jest, I'd argue that the views from the summit are just as stunning. The route to the top is challenging, but totally doable.
With plenty along the way to catch your eye, (the paths are unbelievably well maintained) you can take your time soaking up nature's beauty. A cracking workout AND superb views in one neat package? Count me in! You can do a guided tour up to the Volcano too (which I definitely recommend) and my favourite tour company is this one.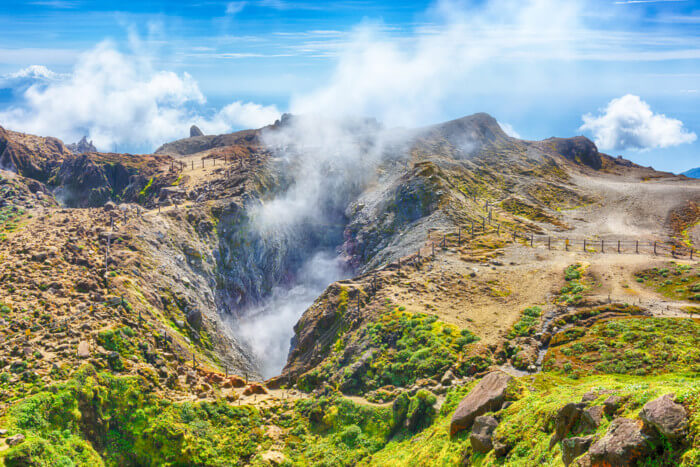 ---
Pointe de Chateaux
---
The Pointe de Chateaux is a very famous tourist site that should totally be on a list of things to do in Guadeloupe. These cliff formations highlight Grande-Terre's eastern edge and mark where the Atlantic collides with the Caribbean Sea. Nature has truly shaped this place, as the signature limestone rock has been chipped away by turbulent waves.
Though it's a bit of a hike if you want to see it all, you'll be richly rewarded with the sandy beaches at the island's shoreline. This is definitely one of the best things to do in Guadeloupe, and it's beautiful too!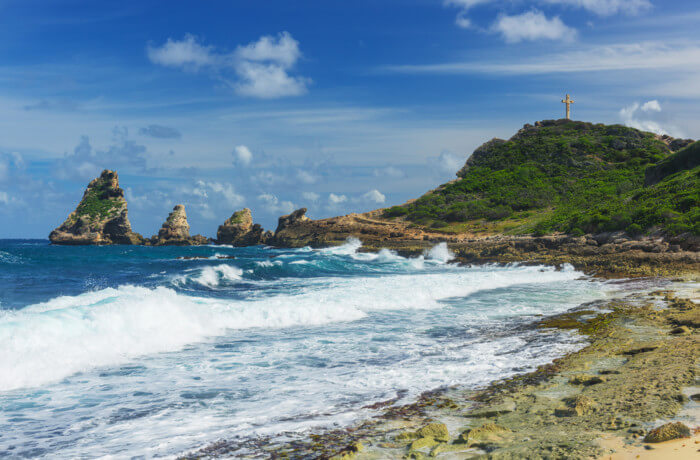 ---
Pointe-a-Pitre
---
Pointe-à-Pitre is my next suggestion for things to do in Guadeloupe. This has been the commercial mecca of Grande-Terre island for more than 400 years. Historically, landowners would sell sugarcane, bottled rum and piles of spices here. With stalls and local shops still the focus of the area, it's a step into the past that I can get on board with.
The fab thing about Pointe-à-Pitre is also the myriad of sights, smells and sounds, it also has a beautiful cathedral too (see the photo below!). With fishmongers and spice-traders on every corner, you'll likely walk away with a bargain whilst getting a glimpse of French-Caribbean culture. Make sure you check out the awesome jewels on offer in Schoelcher Street too. They may not be in your price range, but they sure are fun to look at! Definitely one of the most fun things to do in Guadeloupe!
---
Carbet Falls swimming
---
Next up on my list of things to do in Guadeloupe, it's Carbet Falls. Another part of this island that must be on your to-do list is the famous Carbet Falls. A national treasure, this beautiful waterfall is hidden deep inside Guadeloupe's national park. With endless water cascading down the mountains, this baby sure knows how to make a statement.
Not only is this a sight to behold, but the plunge pools surrounding the waterfall happen to be great swimming spots. And hey, even if you don't take a dip, make sure you nab a picture for social media. Cue the jealously!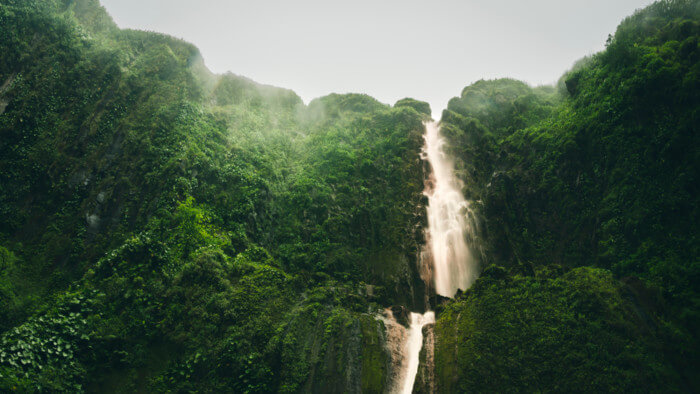 ---
The Rum Museum
---
Yo-Ho, Yo-Ho, a pirate's life for me! Okay, so we may not be in a popular Disney theme park, but the rum in this place is certainly as abundant as it is in the ride. The Musée du Rhum of Sainte Rose is my next suggestion for things to do in Guadeloupe! Located on the northern shore of Basse-Terre is THE place to go to learn about the Caribbean's most infamous alcoholic beverage. With plenty of information on rum production and the growth of sugarcane, this place is a treat way to brush up on your alcohol knowledge.
I mean, you never know when it'll come in handy right? If the ins and outs of alcohol aren't enough to whet your whiskers, this place has an awesome showcase of historic copper distillation presses. Oh, and did I mention you get to sample the goods at the end of your tour? Move over, Jack Sparrow! If you love a little tipple of run, this will be one of the best things to do in Guadeloupe for you!
---
Plage La Grande Anse beach
---
We couldn't write a list of things to do in Guadeloupe without including this heavenly beach!
One of the most popular beaches on the island, La Grande-Anse Beach is sun-kissed perfection. Based on the north-western edge of Basse-Tree, this place is almost too ethereal to be true. With the jungle tickling soft, sandy beaches, it's easy to see why this is one of Guadeloupe's most celebrated areas. With plenty of shade from towering palm trees, the 1km beach has plenty of space to spread yourself out.
With several lovely local eateries, you can sip on tropical refreshments to your heart's content as well. I particularly recommend hitting these restaurants at night for a calm and relaxed dinner. If you're looking to pepper some rest and relaxation into your cultural exploration, this is the perfect pitstop.
---
Zoological and Botanical Park of Guadeloupe
---
Located in the area of Bouillante, Les Mamelles Park is an amazing place to see plant and animal species that you may have never laid eyes on. Home to approximately 85 animal species from the Caribbean, feast your eyes on mongoose, monkeys, racoons and parrots thriving in their natural habitat. There's more on offer of course; with a two-hour exploration time, there's plenty to do. If you've got little ones, this place has fantastic facilities.
With a purpose-built playground of bridges, slides and passageways, adventurous little visitors can get their fill of fun too. Acting as a preservation area as much as an exhibition of the Caribbean's stunning wildlife, this place is a fab place to get familiar with Guadeloupe's flora and fauna. Definitely one of the most relaxing things to do in Guadeloupe, especially for those who love botanical gardens! 
---
Sailing to La Desirade
---
Next on my list of things to do in Guadeloupe, it's a bit of sailing!
Meaning 'The Desired One' in French, it's no surprise that this place lives up to its namesake. Littered with palm trees, this island's sunny shores offer excellent spots to unwind. If you need a break from the sun, grab a scooter and explore the roads leading up to Grande Montagne (a small village on the island).
From there, witness Guadeloupe in all its glory. With a view that would make the gods jealous, you'd be silly to leave this one off your list of things to do in Guadeloupe.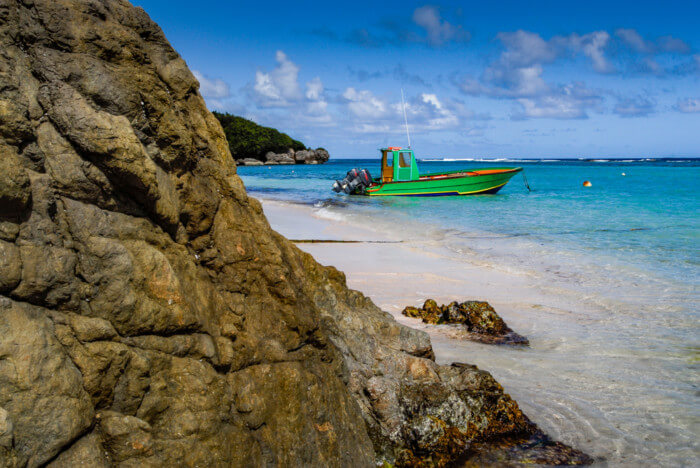 ---
Iles des Saintes
---
And last on our list of things to do in Guadeloupe, it's Iles des Saintes. One of my top must-dos for Guadeloupe is a trip to Les Saintes. An eight-island cluster skirting round Guadeloupe's southern coast, this beautiful map of islands was named after Christopher Columbus. If you're looking to brush up on your history knowledge, I'll give you the tiniest lesson.
When he discovered them in the 15th century, they were named Los Santos (as good ol' Chris was Spanish of course!). The biggest boy of the bunch is Terre-de-Haut, and features restaurants, shops and large stretches of beach.
---
I hope this guide of things to do in Guadeloupe is useful and has give you lots of inspiration!
---
It's impossible to condense such a beautiful area into a list of things to do in Guadeloupe, but I've endeavoured to scout out popular favourites that never fail to please.
Whether you fancy a boozy foray into the historical or just want to relax and unwind on glorious sandy beaches, there is no shortage of things to do in Guadeloupe. So, grab a camera, a pal and some sunscreen and see just how much the French-Caribbean has to offer.