"I love Canada. It makes a nice hat for America. When America runs out of water it's the first place I'll go" – Ryan Reynolds.
Well if Ryan Reynold's likes Canada, that's enough for us. In all seriousness though, It's about time you visit Canada. According to official figures, in 2016 almost 20 million people visited Canada. That's almost the entire population of France.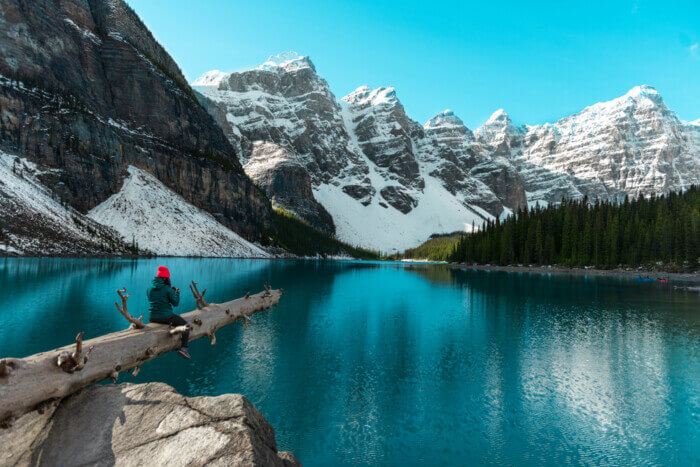 Situated above America lies Canada. Canada itself is the second largest country in the world, after Russia. Geographically, Southern Canada touches America and the Northern Canada reaches the North Pole. This means that the country has some of the most breath-taking landscapes in the world. From mountains, arctic terrain and even a small amount of desert, Canada has it all.
For urbanites, Canada also boasts several large cities. Meaning that the landscapes aren't the only thing to see. Whether you come for a weekend, month or a year, there is plenty to do and see. Below are our top 5 reason Canada.
Read more nearby travel inspiration: 22 things to do in St Catharines, Ontario
---
Canada's Natural Beauty
Few countries in the world are as beautiful as Canada. Canada's entire landscape is pretty much postcard-worthy. Which for Instagram fans is great news. Who doesn't want a photo of themselves surrounded by beautiful scenery?
Given the rise in 'ego travel'. Which essentially is travelling based on photo opportunities. Canada should be high up on anyone's Instagram bucket list.  The following places are some of the Canada's natural attractions:
Canadian Rocky Mountain Parks: Part of the North American mountain range lies in Canada. Stretching from British Columbia to Alberta, the mountain range covers a vast area. Within the Canadian Rocky Mountain Parks are 5 national parks.
Niagara Falls, Ontario: Niagara Falls is one of the most powerful waterfalls in the world. It is also one of the most stunning. Millions of people each year flock to enjoy the boat ride and get up close.
---
Entertainment
If you want to be entertained, then come to Canada. Across Canada, there are plenty of things to keep you amused. From sports, festivals, and casinos. Many of these events and activities are also pretty Instagramable.
Sports. Canadians love sports, in particular Ice hockey, and skiing. If you visit Canada, going to an ice hockey game is a must. Think of it as like going to the football, it is huge. As for skiing and snowboarding, given the landscape, it's the perfect place.
---
Filming Locations
Bay Adelaide West, 333 Bay Street, Toronto – Filming location for "Suits"
To quote Michael Buble (also a Canadian) "Hollywood is dead". In terms of filming locations, Canada is where it's at. Several high profile films and television shows are filmed in Canada. This is because of the wide variety of landscapes available. For example, when it came to filming "Brokeback Mountain" there was no better place than the Rocky Mountains. Other Hollywood hits filmed in Canada include 50 Shades of Grey, Titanic, and Twilight. All of which make use of Canada's natural beauty.
Canada is also home to several television shows. One show in particular "Suits" which has a high media profile. This is because of one of the former cast members. Prior to her marriage to Prince Harry, Meghan Markle starred in the legal drama.
During her time on the show, Meghan also lived in Toronto, where "Suits" is currently filmed. Fans of the series can visit many of the filming locations. Situated in Toronto's financial district is the Bay Adelaide Centre. This 51 story sky-scraper is used as the office of Pearse Spector Litt. Channel your inner Harvey Spector and make sure Toronto is on your list.