If you're planning to drive around Miami on your next visit, you might be worried about driving in a new place or adjusting your driving habits to suit a new location. Miami is a vary car-friendly city, with loads to see and do, most of which have parking and are accessible by car (whether you choose to rent a car in Miami or bring your own).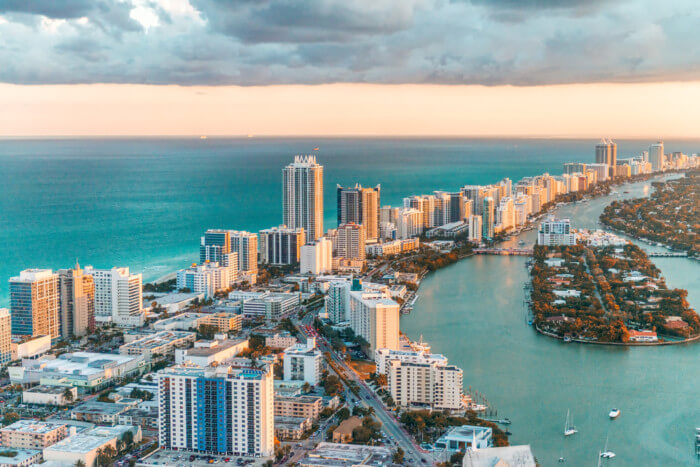 Here are some highlights we recommend:
Miami Beach
The iconic beach, it simply can't be missed during your time in the city. There's plenty of parking along the beach, both in residential streets that run alongside and in designated car parks. Taking the car to the beach is a great idea too, because you'll be able to take games with you, plenty of food and water too.
Visit the Art Deco District
The Art Deco style is what Miami is all about. The nostalgic 1930s buildings are so famous in the city and it's amazing to see them in person. Driving around this part of the city is relatively straight forward, and if you spot anything you want to stop off anywhere, there should be plenty of meter parking to choose from.
Bayside Marketplace
This lively and amazing place in Miami is a popular nightlife spot. Hosting over 150 specialty and tourist shops, cafes and restaurants, Bayside Market place has it all so you'll have plenty of places to choose from. There are outdoor malls, as well as lovely boutique stores to enjoy too. It's a great place to park up for the daytime, enjoy some shopping, and then stop for dinner afterwards. Located along Miami's waterfront, you'll get to enjoy loads of views and live music too!
The Vizcaya Museum and Gardens
A stunning museum that is worthy of a full day of exploring. This museum is regarded highly in Miami, usually referred to as one of the city's best spots and most enjoyable days out. It truly is a treasure to behold, with it's wonderful architecture, grounds and artwork to explore and admire. There are 34 rooms, all arranged around a breath taking courtyard, and if you love the Renaissance-style you'll absolutely LOVE this villa.
Driving tips in Miami
So now you know where to drive to, and where you should be exploring, it's time to talk about driving around Miami and give you some tips on how to handle the road in the city:
Keep your driver license, proof of insurance on you all the time
All passengers must wear seat belts
If you've rented a car, keep your rental documents on your person
Drive on the right-hand side of the road (like the rest of the USA)
Always note posted speed limits: 15 mph in school zones, 30 mph in business or residential areas and 55 mph on most expressways, unless road conditions warrant lower speeds.
Right turns are permitted at red lights unless otherwise indicated
Children under 5 years old must be fastened securely in government-approved car seats
Texting while driving is not allowed
Do not use social media whilst driving either
In the case of rain or fog, turn on your car's windshield wipers and headlights (not hazard lights)
Remember: Weather in Miami can be somewhat unpredictable in certain months, so it's always a good idea to familiarise yourself with different weather functions on the car – incase you need to make rapid changes for rapid weather changes. This is especially important for those in rental cars, where you might not be familiar with the car's controls.
Most of all – remember to have fun and be responsible! You'll love exploring Miami by car, whether you choose to drive your own vehicle, or whether you decide to be renting a car in Miami!