---
Are you looking for tips for packing for a Safari? This blog post will let you know what colors to wear and what items are useful!
---
Packing for a safari can be a daunting task if you've never been on one before. How many pieces of clothes do I take? What colors do I need to wear? Do I need a hat?
Any one of these questions may have crossed your mind during your planning phase, so we're here to provide some much-needed answers to those burning queries!
From the correct colors to safari extras that will make your trip one to remember, this handy list of tips for packing for a safari is sure to make your packing endeavor that much easier.
We've taken care to include everything that may come in useful, along with some handy tips for clothing choices, so read ahead for our top packing tips for your next safari trip!
---
What to wear on Safari…
There are a few considerations you should take when packing your clothing for a safari, and these are mainly temperature, colors, and the activities that you plan on undertaking outside of your scheduled safari activities.
---
Keep Warm…
You may be surprised, but if you're heading out on an African safari, the temperature shifts can be quite extreme. You may find early mornings and late evenings nippy, so you'll want to pack light layers to ward off the cold.
However, the afternoons can be absolutely scorching, so you'll want to be able to peel the layers off when necessary.
Further to this point, you'll be out for most of the day whilst on safari, and you may be up extremely early or stay out quite late into the evening based on animal waking patterns, so be sure to pack plenty of appropriate clothing to avoid being caught out.
We'll go into more detail about what to bring in explicit terms further down in this post, so don't worry!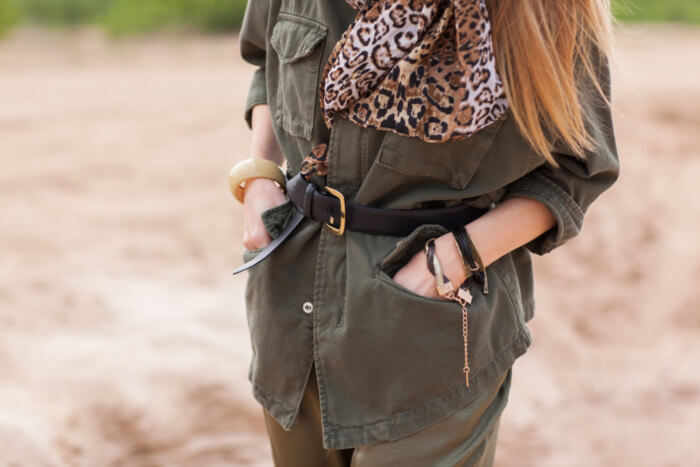 ---
What colors should you wear on safari?
In terms of colors, we recommend neutrals and greens, as these colors supposedly allow you to blend in with the surrounding areas.
According to experts, you shouldn't wear red, black, or blue, as each of these colors will either attract insects or make you appear as wounded prey (which for obvious reasons is not encouraged!).
In addition to this, bright colors can sometimes spook animals and may make them shy away from visitors. So, to avoid disappointment, don't be the person in the neon tee…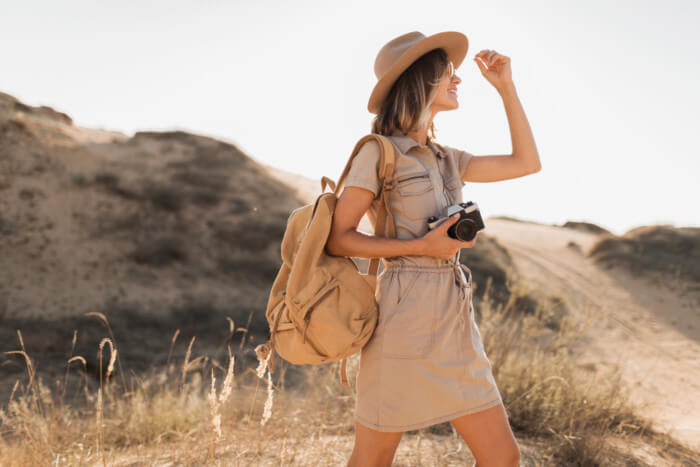 ---
A list of packing essentials for safari
To make your life easier, we've created a concise list of clothing to pack on your safari trip, so feel free to use this as a reference for your big trip!
Fleece sweatshirt for chilly mornings
A safari jacket for layering
Long-sleeved layered tops
Shorts
Trousers
T-shirts
A swimsuit if you're visiting a safari camp with a pool
Comfortable shoes (preferably hiking boots or sturdy trainers)
Sunglasses
A hat
A bandana or a scarf
One or two pieces of evening wear if you're attending a more formal event after the safari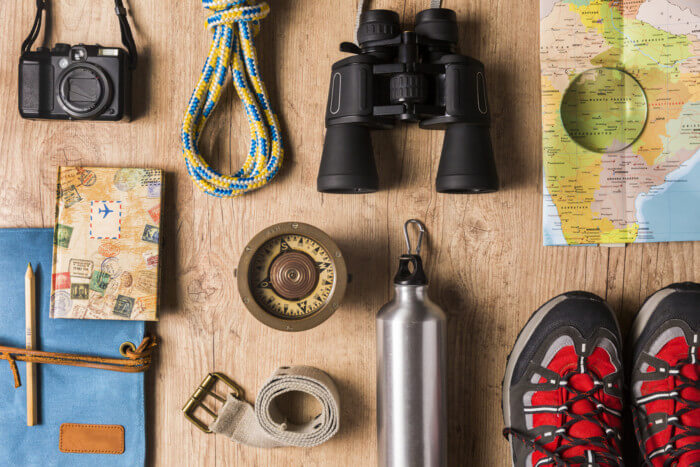 ---
What other items are useful when heading out on a Safari?
Packing Cubes
If you're looking to keep your items organised whilst on safari, then I cannot recommend packing cubes enough!
I've got a whole post on packing cubes available on this site should you be looking for more detailed information regarding them, but they truly are a godsend if you're looking to downsize your packing to fit a duffel bag.
A soft duffel bag
Speaking of duffel bags, you'll want a lightweight soft duffel for your safari trip. Not only will this help when you're lugging this around, but it's much easier to avoid overpacking with one of these than a hardshell case which are usually impractical on safaris. 
A good camera
This one perhaps goes without saying, but a good camera with a stunning zoom lens is paramount if you're heading out on a safari.
We've got a great post on some great cameras that are geared towards travelers, so one of these should suit your needs well so long as you're not a top-shot professional photographer.
As the animals on safari can be fast-moving and elusive, a great camera will ensure that you walk away with some top-of-the-line shots that you can show the family!
Binoculars
To get the most out of your safari, it's recommended that you bring binoculars. You'll be able to find a decent pair on amazon, so don't worry about shelling out a fortune on a pair! 8×40 tends to be the recommended specification for animal viewing.
Bug Spray
We cannot stress this one enough, as the last thing you want when out on a safari is to be battling with mosquitos and gnats. Trust me, it's no bueno. Though the level of insect exposure will vary depending on the season, you'll absolutely need spray if you're travelling during the summer season.
In addition to this, if you're traveling anywhere within the malarial zones, you will absolutely need to protect yourself with more than just bug spray. So, be sure to consult your doctor for malaria tablets or similar protection prior to traveling.
A portable charger
A portable charger is a great thing to have on a safari, as you'll find yourself struggling to keep your battery running all day long as you snap photos. There are numerous great options on the market, and you needn't select a charger that breaks the bank either. 
No products found.
Sunscreen
Like bug spray, you'll want to protect your skin from the harsh sun with some high factor sunscreen. Though it may seem overkill, I'd recommend SPF 50 and above for a full day out on safari.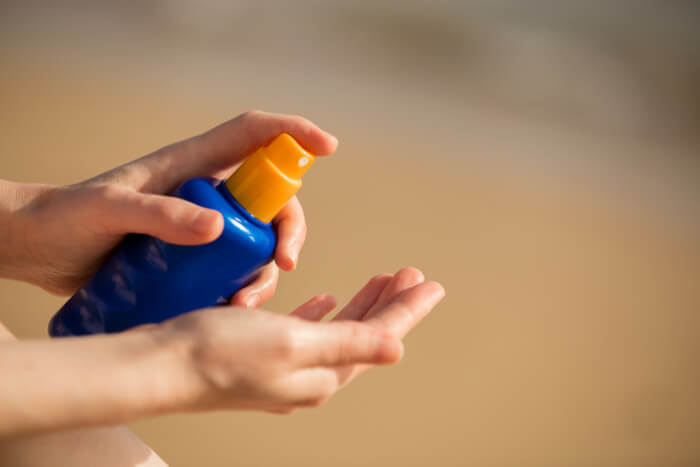 Medications
If you have allergies or issues with nausea, then I highly recommend that you include medication to combat this in your pack. The last thing you want to do is be stuck with some horrible motion sickness whilst on safari, so it's always best to come prepared.
---
Hopefully this list of what to wear and what to take on safari has been helpful!
I hope that this guide to packing for a safari has been useful. Whether you're looking for the extras that you may need or simply need a checklist for reference, this handy article should help you on your way!