Are you looking for the best places for glamping in California? There are some incredible glamping locations in California!
Glamping in California is one of the best ways to embrace the natural beauty of the state, and soak in the great outdoors in style!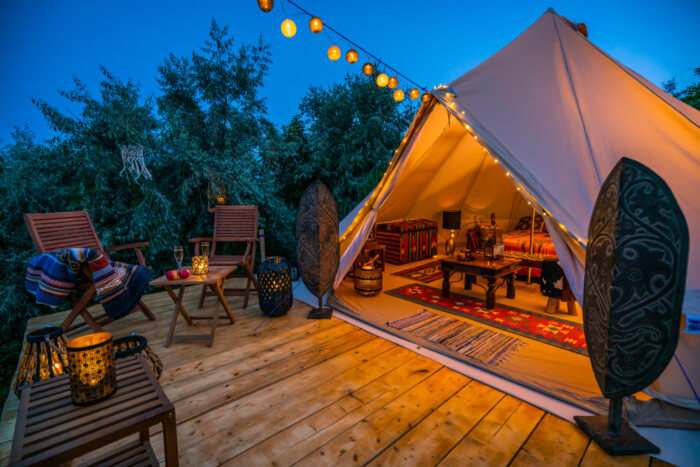 The beauty of the great outdoors has drawn visitors to California for years, and it's undeniably inspiring every time. However, though the smores that you consume whilst camping are always delicious, actually pitching a tent and organising your digs for the night can be, well, less than glamourous.
If you love getting away from the hustle and bustle of California's urbanity but don't want to meddle with the wildlife quite so closely, then glamping in California may just be the answer to your prayers. 
Whether you're planning to go glamping in Northern California or go glamping in Southern California – this list will have something for you!
---
What is glamping?
A literal combination of the words glamorous and camping, it's the luxury way to get outdoors without giving up those home comforts.
I mean hey, camping just isn't for everyone, so if you want to find out where best to 'glamp' in style, then read on, as we've whittled down the numerous options out there to include only the 10 best places for glamping in California!
There is glamping in northern california and glamping in Southern California and this list of glamping locations will run through all the best places!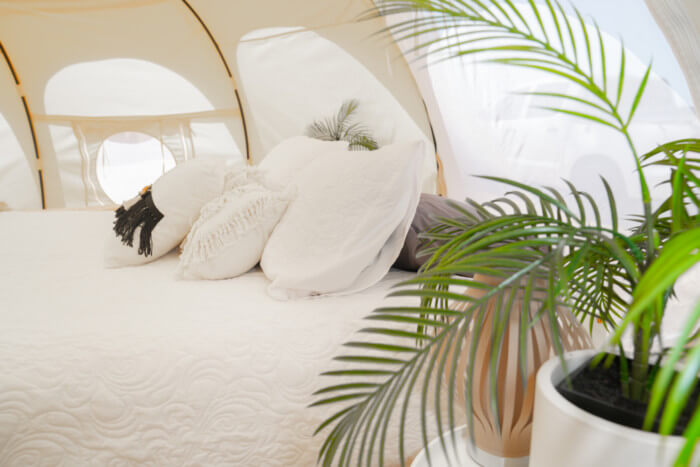 ---
Treebones Resort: Big Sur
First on my list of places for glamping in California, it's Treebones resort. Located in Central California is the famous Big Sur. Home to the stunning Santa Lucia Mountains, this is a stunning location to get in touch with nature. If you're looking for a fine glamping location in Big Sur, then look no further than Treebones Resort.
With cliff-side yurts or small huts available, you're sure to feel well-catered to yet distinctly in touch with the outside world here.
Offering amazing farm-to-table food and designed so that you can hear the natural elements outside, it's the closest that you can get to camping without the icky parts that can accompany traditional tents. With wonderful parks, beaches and trails nearby, this is a great place to glamp.
---
 Ventana: Big Sur
Next on my list of places for glamping in California, it's Venata in Big Sur! Another wonderful glamping site in Big Sur is Ventana. With 15 luscious safari tents scattered across the massive 20-acre location, it features full plumbing, comfortable bedding and even a housekeeper that visits daily!
With an amazing infinity hot tub, a central feature of this resort, it's absolutely got to be one of the most amazing glamping resorts in California.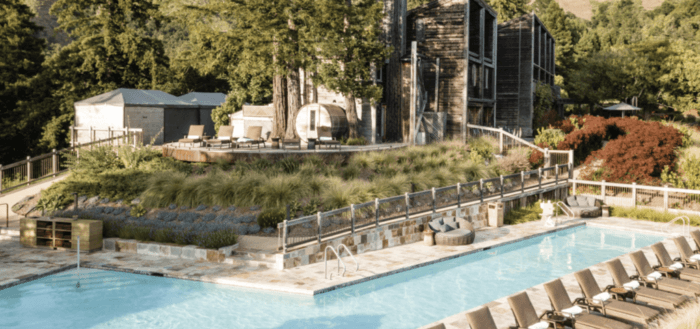 Wellspring Ranch: Cayucos State Beach
Though Wellspring Ranch is technically a luxury B&B, it does offer several glamping options on Cayucos State Beach. With high-end yurts or a straw-bale home on offer, you'll find that each option is fully furnished and includes a cozy fireplace to warm-up as the nights turn colder.
With organised hikes and plenty of activities set up at this ranch, it's the perfect choice for first-time visitors to California. Definitely a must-see for glamping in California!
Safari West: Santa Rosa
Next on my list of places to experience glamping in California, it's Safari West! If you're really looking to get in touch with nature, then give Safari West's glamping offering a whirl. Located on a wildlife preserve that's home to over 900 animals, it's available for overnight stays.
If you're looking to experience a full-blown African safari right in the middle of Cali, then give this a shot.
With the sounds of wildlife in the distance lulling you to sleep in your comfy canvas safari tent, you're sure to get a restful night here. I love this place for glamping in California – it's so unique!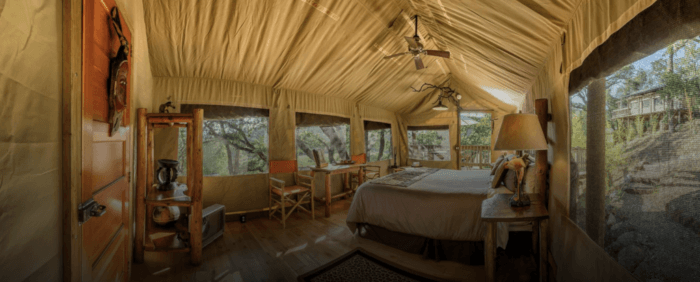 Mendocino Grove Tent Camp: Mendocino
Located in Mendocino's woodlands, this glamping spot is home to safari tents and Airstreams. These glam tents are fully equipped, and the roaring campfires allow you to cook up a hearty breakfast before undertaking any of the scenic hikes that are popular around here.
A location that really brings you back to basics without losing any of those luxury amenities, it's a stunning spot to glamp in California. This is a great place for glamping in California!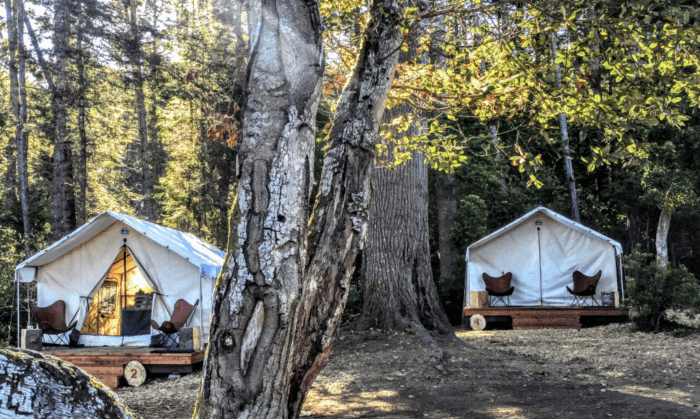 Carmel by the Sea
Carmel by the sea is my next place for glamping in California. With heated pools, scenic hiking trails and amazing views of the nearby mountains, this glamping spot gives you full access to the amenities at Saddle Mountain Ranch campground.
With fully functional Wi-Fi, comfortable bedding, a massive fire pit and BBQ facilities, there's no shortage of amenities here to keep your stay comfortable.
Gone are the days of nasty inflatable beds, this place makes sure you get to rest your head in style. This is a really luxurious place for glamping in California.
Mary Smith Campground: Lewiston Lake
Right by Lewiston Lake and the beautiful Trinity Alps, this campground is home to six amazing glamping cabins that fully protect you from the less glamourous parts of nature. This is a perfect place for glamping in California, especially if you love being by the water!
With massive queen beds that are kitted out with down comforters, you sure won't find yourself missing hotel accommodation here. With multiple picnic tables available to guests, it's the perfect place to indulge your inner nature-lover without having to share your food with the local wildlife!
Autocamp: Yosemite
Yosemite is the ultimate place in California to get back to nature. Designed to feel like camping (but with all the amenities thrown in), Autocamp offers glamping in sleek Airstream trailers, luxury tents or larger wood cabins. Only 80 minutes from the huge National Park, it's the perfect way to see the area.
This is one of my favourite locations for glamping in California! With fridges, air conditioning, showers, microwaves and an outdoor grill, it's really all you could ask for! If you like the social side of camping, you can gather at the common fire pits and meet other guests if you wish to.
El Capitan, Santa Barbara
Located in Santa Barbara, El Capitan offers several different glamping options with a great number of home comforts. With yurts, wooden cabins, luxury tents or wooden lofts available, you're sure to find the perfect glamping accommodation to suit your style.
With added extras like a heated pool and massages, this is a wonderful place to stay in Santa Barbara that has just the right amount of luxury. This is a brilliant location for glamping in California!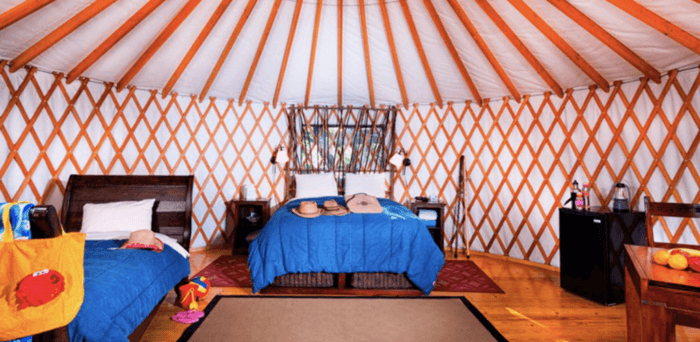 Boon Hotel: Guerneville
Located in a beautiful, secluded area near Guerneville, the tented rooms of the Boon Hotel have all the modern amenities that you could wish for. With a spa that's set up to pamper you after a long day, it's just the perfect glamping spot. One of the best aspects of this place? You get breakfast delivered to your room each morning!
I hope this list of places for glamping in California is helpful and inspiring!
There are plenty of places for glamping in northern california, and glamping in Southern California – so hopefully you've found a glamping location to suit your needs on this list! Glamping in California is so much fun – we think you're going to love it!