---
Are you looking for the best supermarkets and grocery stores in Manhattan? Keep reading for my top 14 picks.
There are plenty of grocery stores in Manhattan to choose from, but finding the perfect once close to you is often the challenge!
When you first move to the city, it can be tricky knowing where to shop, where is best value, or which grocery stores in NYC have the nicest produce!
Or maybe you're visiting NYC and you just want to stock up on some delicious groceries during your trip.
Ultimate list of grocery stores in Manhattan….
Hopefully this list of grocery stores in Manhattan will help you locate your nearest supermarket, so you can stock up!
So let's get started…
---
Trader Joe's
Trader Joe's is one of the most common grocery stores in Manhattan, you'll find them sprinkled across midtown and downtown, and there are a few up by Central Park too.
I love Trader Joe's, it's a nice mix between a supermarket and a market, and I always find the well known brands I love, as well as the delicious boutique brand, and Trader Joe's house brands.
One thing I absolutely LOVE Trader Joes for is their sauces, dressings and treats! Oh and their freezer section has some really great options too.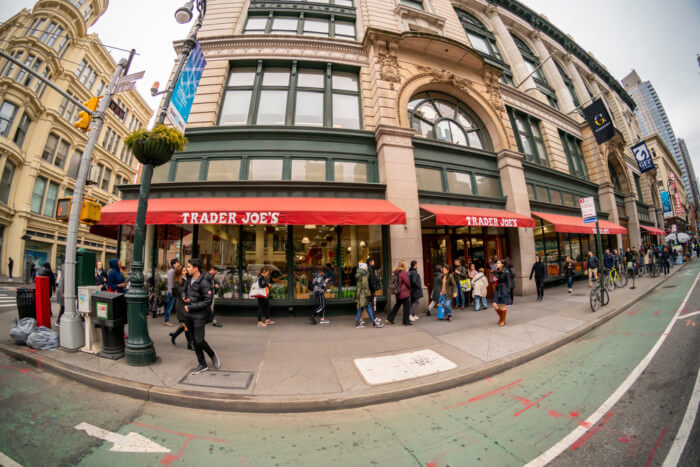 ---
Whole Foods
An expensive choice, but one with loads of great brands, and especially good for people who prioritise fresh and organic produce.
There are about 10 Whole Foods located on Manhattan island and they're spread pretty evenly across different neighbourhoods, so it's a good grocery store in Manhattan to look out for.
I love the fresh produce available at Whole Foods (perfect if you love stocking up on fresh bread, cake, etc), and I also love the deli bars that are available at most Whole Foods too.
It's my little daily pleasure, heading to the Whole Foods at Bryant Park and sitting in their upstair window seat with a fresh salad from the deli bar. Whole Foods is one of the best known grocery stores in Manhattan, NYC for good reason!
Read more NYC food inspiration: What is the best bakery in NYC? Here are 10 options!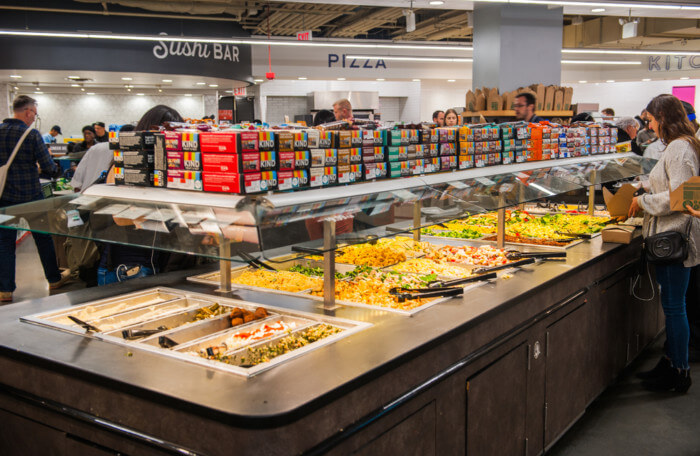 ---
Gristedes
Gristedes Supermarkets has been feeding New Yorkers for over 100 years. Gristedes has about 10 supermarkets in Manhattan, and they're slightly more affordable than Trader Joe's and Whole Foods.
Gristedes feels like the the old-school NYC local supermarkets, so it's a great choice for people searching for grocery stores in NYC.
You'll find fresh produce in Gristedes, handy pre-packaged lunches, all your favourite shelf-brands, and even sushi and deli counter in some of the stores.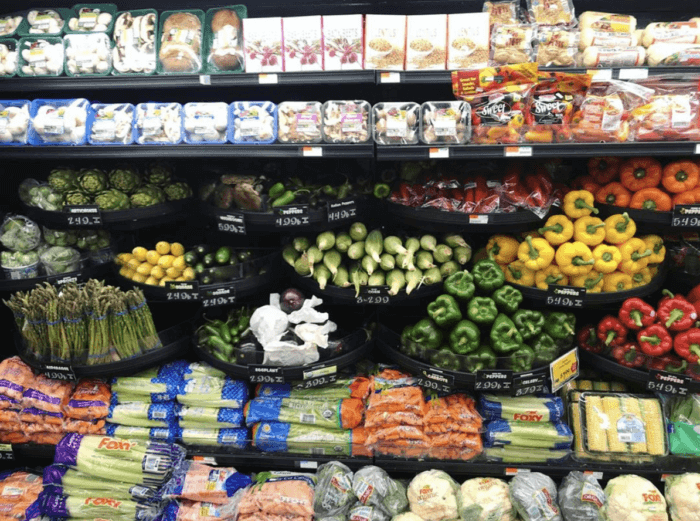 ---
Morton Williams
A popular choice for those on the upper east side (you'll find plenty of Morton Williams scattered in this neighbourhood).
But you can find Morton Williams in other parts of Manhattan too (namely midtown and near Washington Square Park near the uni campus).
I really like Morton Williams, it has everything you need, the stores are well laid out and have plenty of choice, including deli meats, pre-cooked dishes and salads too. A great choice for grocery stores in Manhattan, NYC.
---
Zabar's
Next on my list of grocery stores in NYC and grocery stores in Mahattan, it's Zabar's.
Zabar's is located on the upper west side (2245 Broadway to be precise) and it's a favourite amongst locals. The staff are lovely, the produce is high quality and it's in a great location in the neighbourhood too.
Zabar's describe themselves as a 'Gourmet emporium specializing in smoked fish, caviar, coffee, cheese, kitchen goods & housewares" – so that should tell you everything you need to know!
People who grew up with Zabar's would describe it as a NYC institution, it's unique, beautiful to look around, and has a real character of it's own.
---
4th Street Food Co-op
Located on 58 East 4th Street (how'd you guess?) Food Co-Op has the motto "food for people, not for profit".
If you like your grocery stores in Manhattan to be organic, local-sourced, sustained, etc – then 4th Street Food Co-op might be a great place for you to go shopping!
They provide high-quality organic food and household products, and you can be sure of the quality when shopping here for sure. This is a great choice for grocery stores in NYC.
---
Fairway
Next on my list of grocery stores in Manhattan, it's Fairway Market. Fairway Market don't have too many grocery stores in Manhattan, but it's definitely one of the top picks for people looking for value and choice.
It's long been a firm choice amongst people a little more budget conscious – and for good reason. The prices here are great, and they often have good deals on certain food.
One of the best things about Fairway Market? The fresh fruit and vegetables (often locally sourced too). They have sooo much choice, and it's all on display so it's really easy find what you need.
---
Random Bodega
Not a specific store, but you'll find random bodegas all around Manhattan. They don't offer loads of food options and tons of variety, but you'll often find a good selection of the basics, so they're a good place to stop by if you need a few things. There are loads of bodegas in Manhattan, and they're perfect if you can't find a supermarket in NYC.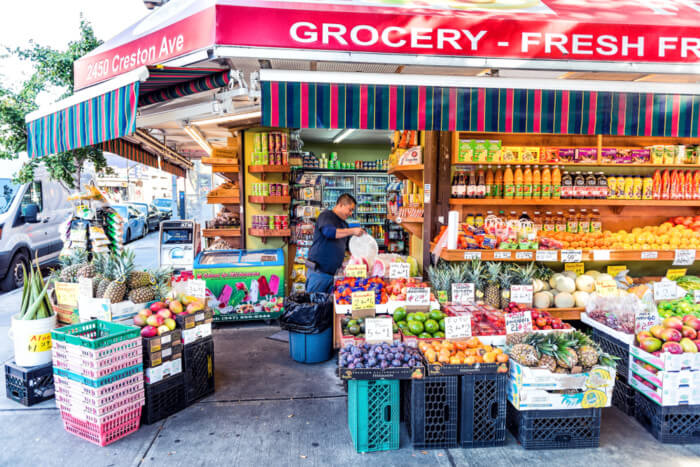 ---
Citarella
There are four Citarella's in Manhattan, so pretty much spread out around the island, so there's a chance there's one nearby wherever you're based. If there's one thing Citarella is known for, it's their selection of seafood! This is a classic choice for grocery stores in Manhattan, NYC.
They have just about every kind of seafood you can wish for, so if seafood is a bit part of your diet (or you just love seafood) then heading to Citarella for your weekly grocery shop in Manhattan is a great idea!
Citarella isn't just about the fish and seafood though, it's all about all the amazing fresh produce too! They stock meat, fresh veg, etc – so you'll find everything you need here.
---
Union Market
Next on my list of grocery stores in Manhattan, it's Union Market. Union Market is located in the East Village, located next to the iconic Katz Deli! Union Market is a great neighbourhood market, stocking all the must-haves from fresh produce, to packets, sauces, etc.
---
Eataly
Next on my list of supermarkets in Manhattan, it's Eataly. OK, not necessarily a 'proper' grocery store in Manhattan. Eataly is half tourist attraction, half specialist grocery store, half restaurant (OK the maths there doesn't add up, but let's continue).
Read more about shopping in NYC: The best toy stores in NYC
But anyway, if you fancy picking up some Italian themed groceries in Manhattan, Eataly is a great place to go.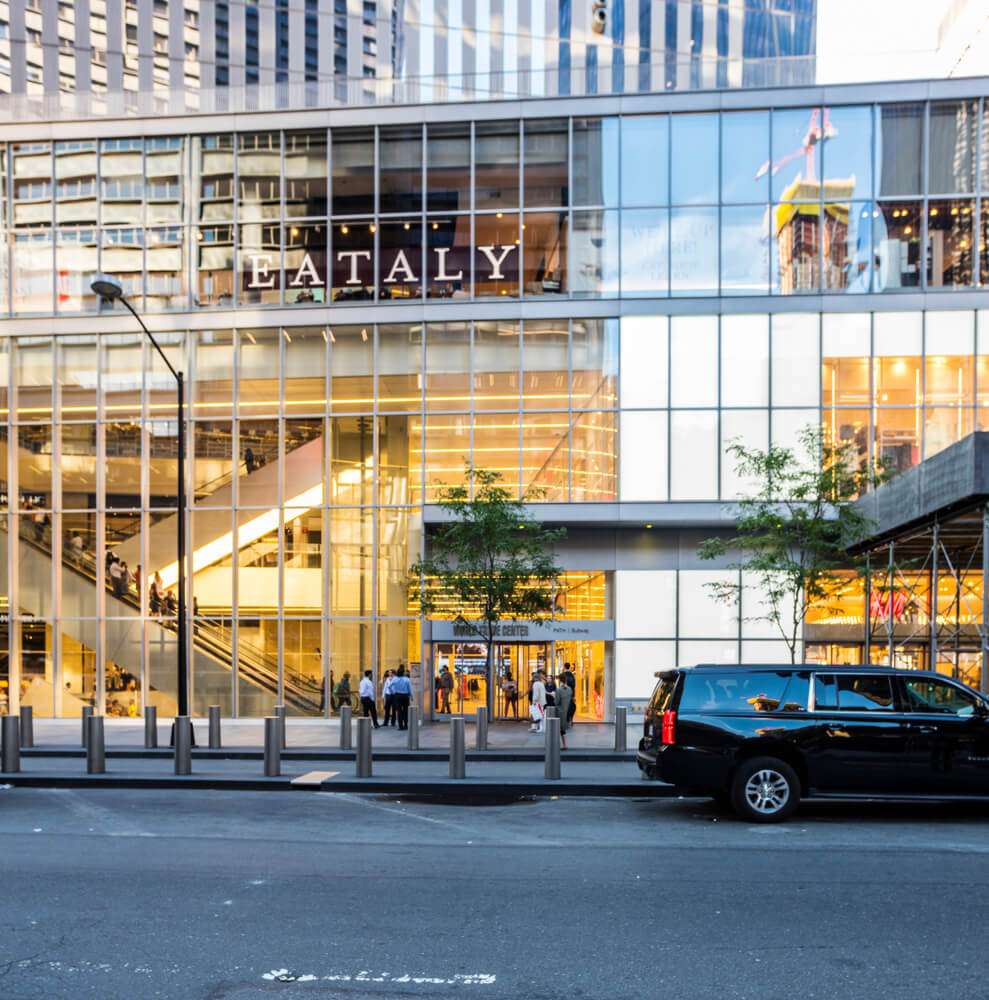 ---
Associated
There are a few Associated supermarkets in Manhattan, mostly located in East Harlem and Harlem (so way up north on this amazing island). Associated is a great choice is you like finding a bargain, and their own-brand stuff is really budget-friendly and good quality.
Look out for their online coupons too – you may be able to save even more on your weekly shop.
---
D'agostino
You'll find D'agostino supermarkets in Manhattan, mainly on the upper east and upper west sides. D'agostino is one of the more expensive grocery stores in Manhattan, but it's not all overpriced. Overall, it's a solid choice though, and a nice local option to have if you're close by.
I always find the fresh produce great at D'agostino, and the meat selections are good too (and well priced).
---
C-Town Supermarkets
There are quite a few C-Town Supermarkets in Manhattan, and they're a good choice if you have one local to you. There are also a few of these in Brooklyn too. You can find your nearest store here.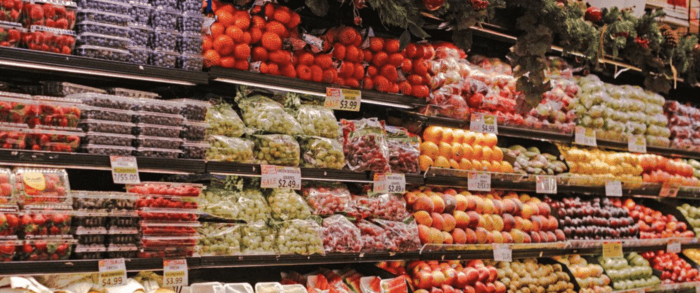 ---
I hope this list of grocery stores in Manhattan has been useful!
There's lots of variety when you're looking for grocery stores in Manhattan, the key is finding the right grocery store in Manhattan to suit what you're after.
Whether you're after lots of fresh fruit and vegetables, or a good selection of tinned and frozen food – there's a perfect grocery store in Manhattan for you!
Also, remember that as a really multi-cultural city, NYC is also home to lots of specialist supermarkets and grocery stores. I've written a post about the best Japanese grocery stores in NYC here – which is a great list if you want to check out some slightly different produce and food.