---
Are you looking for a list of fun and unique things to do in Cooperstown, NY?
---
If you're looking for a great list of things to do in Cooperstown NY, hopefully this post will give you lots of inspiration!
Located in Otsego County, New York, Cooperstown has often been referred to as "America's Most Perfect Village". Due to its culture and heritage, it's a truly amazing place to visit, and people come from all over to visit Cooperstown NY.
Boasting several museums, a fantastic tribute to baseball and a few stunning parks and recreational spots, it's no wonder it's deemed equally perfect by its visitors. A great travel destination for any kind of traveller, you're bound to find several spots that take your fancy.
No matter what time of year it is, Cooperstown NY just radiates with community spirit. So, let's jump in and explore some amazing things to do in Cooperstown NY.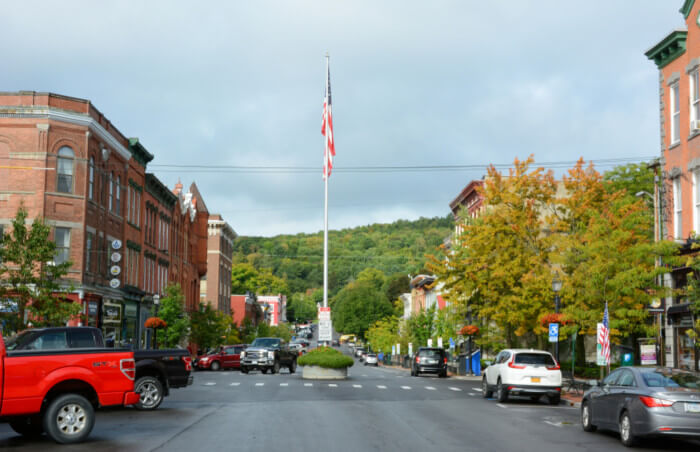 ---
Glimmerglass Festival
First on my list of things to do in Cooperstown NY, it's the Glimmerglass Festival! One of Cooperstown's favourite festivals is the Glimmerglass Festival. A series of internationally renowned theatre productions operate on the shores of Ostego Lake and in the summer, the Alice Busch Opera Theatre also hosts three operas and one American Musical Theatre piece.
One of outer New York's finest theatrical offerings, it's truly an amazing place to catch some top-quality entertainment!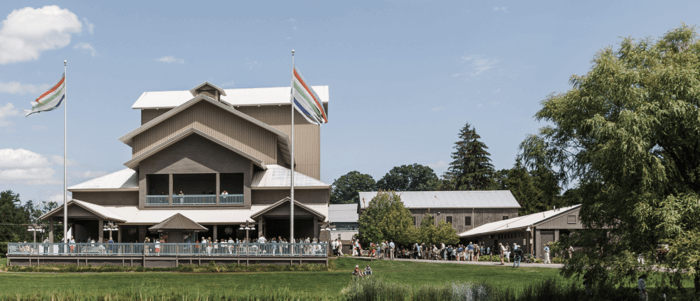 ---
Try out Goat Yoga
Yes, you read that right. The next activity on my list of things to do in Cooperstown NY, is yoga… WITH GOATS.
It's exactly what it sounds like, there's no tricks here! A guided yoga glass, with the added extra of cute baby goats. The friendly little goats will walk around making you smile as you attempt your yoga poses, and they'll even jump on your back or attempt to clamber on you as you practise.
It's so much fun, and so uplifting, and it's just a pretty unique and gorgeous way to spend a few hours.
---
Fenimore Art Museum
Next on my list of things to do in Cooperstown NY, it's the Fenimore Art Museum. Whether or not you're a huge fan of museums, Fenimore Art Museum has some incredible exhibitions.
A historic estate that became a museum housing renowned folk art and American landscape paintings, it's an amazing spot to visit to take in Cooperstown's culture.
If you're interested in Native American art and history, the museum's American Indian collection features some outstanding artefacts and original artwork that are sure to take your breath away. This is such a great idea for things to do in Cooperstown NY.
---
Cooperstown Farmers Museum
Though Cooperstown is well known for its baseball scene (which we'll get into further down!), this town has some of the USA's oldest history museums, so they're always great options to add to your list of things to do in Cooperstown NY.
The Farmers' Museum is one of the finest museums that holds working farm features exhibits, craft demonstrations and hands-on activities that showcase the importance of agriculture.
Kids tend to love the horse-drawn wagon rides, and of course, those of all ages will enjoy a visit with the lovely farm animals!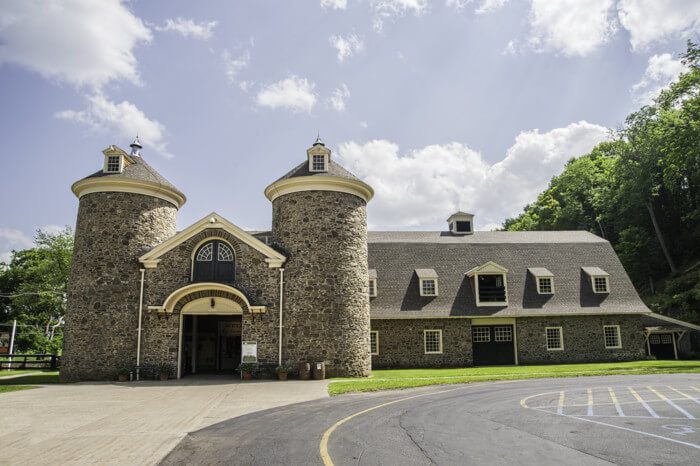 ---
Spend the night at the Otesaga Resort Hotel
The Otesaga Resort Hotel is one of the best hotels in the area, and it makes my list of things to do in Cooperstown NY, because if you can, you really should try and stop here for one night.
This incredible hotel is right on the lake, it's beautiful beyond belief and it's such a wonderful experience to have in Cooperstown.
As the name suggests, this place is like a resort, so there are cafes, restaurants and plenty of things to do inside the hotel, without leaving!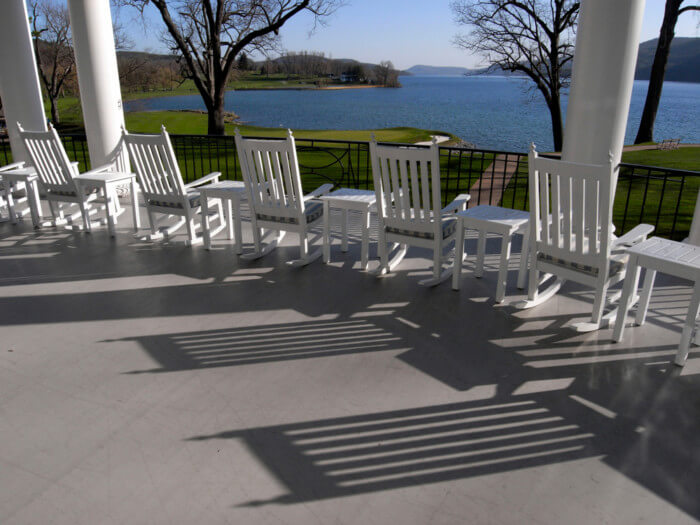 ---
Ommegang Brewery
Starting its life as a Belgian brewery, this great spot specialises in delicious Belgian-style ales. Opened in 1997 by the owners of Vanberg & Dewolf, the Brewery fully opened in 2005 and was hugely popular almost immediately.
Ommegang holds excellent tours that are limited to 20 people per tour, and they tend to book out far in advance.
So, make sure you plan ahead if you want to check this awesome brewery out! If you love beer, this should be at the top of your list of things to do in Cooperstown NY.
---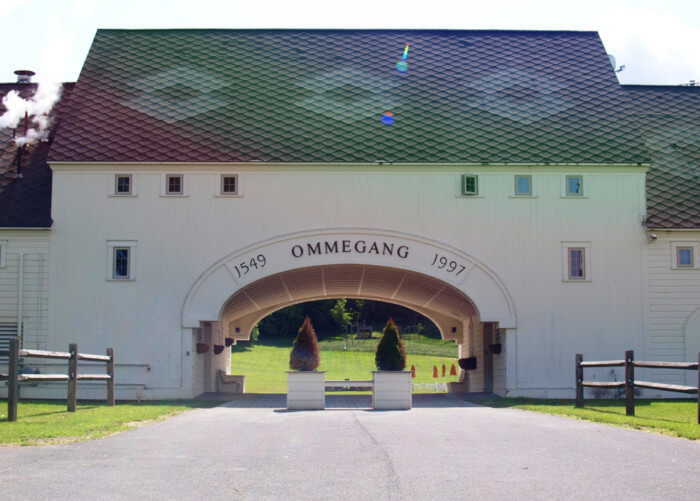 ---
Things to do in Cooperstown NY: Howe Caverns
Next on my list of things to do in Cooperstown NY, it's Howe Caverns. A popular tourist attraction that never disappoints, Howe Caverns is the perfect spot for adventurers and cave fanatics.
Offering cave activities that don't require advanced equipment, it's the second most-visited natural attraction in the USA after Niagara Falls!
So, it goes without saying that this is a must-do. Today, this natural wonder hosts tours where visitors can explore most of the cave (including the Lake of Venus).
Don't worry if you don't have all the necessary gear, as you'll be provided with appropriate attire as you explore the muddy area. It's all hands-on deck here and a fantastic day out for the whole family. 

---
Main Street in Cooperstown NY
Main street is my next suggestion for things to do in Cooperstown NY. Though it's only 2 blocks long, Cooperstown's Main Street is incredibly charming.
A tree-lined avenue that houses multiple shops selling baseball memorabilia amongst other things, it's a fantastic place to explore. At Cooperstown Bat Company, you can learn how baseball bats are made and you can even order a custom-made personalised bat.
However, it's not only baseball fans that'll have a good time here, as Main Street offers a host of other shops and restaurants for visitors to explore!
With great food and awesome boutique shops, there's truly something for everyone here. If you love shopping, this is definitely something to add to your list of things to do in Cooperstown NY.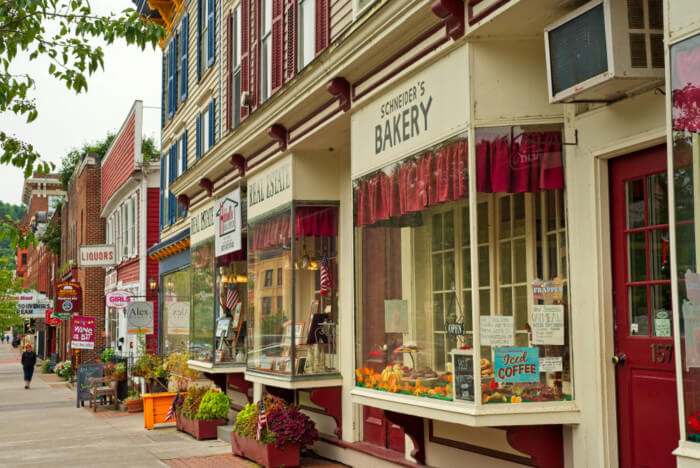 ---
Ostego Lake
Seen as one of Cooperstown's most scenic spots, Ostego Lake is stunning. A short walk from Main Street, Lakefront Park gives you a great clear view of the lake's glistening waters.
If you're looking to find out more about the area, you can go on a 1 hour narrated tour on the Glimmerglass Queen Tour Boat. With a great view of Cooperstown, you're sure to fall even more in love with the area as you float about this majestic lake.
If you love the great outdoors, then Ostego Lake should definitely make your list of things to do in Cooperstown NY.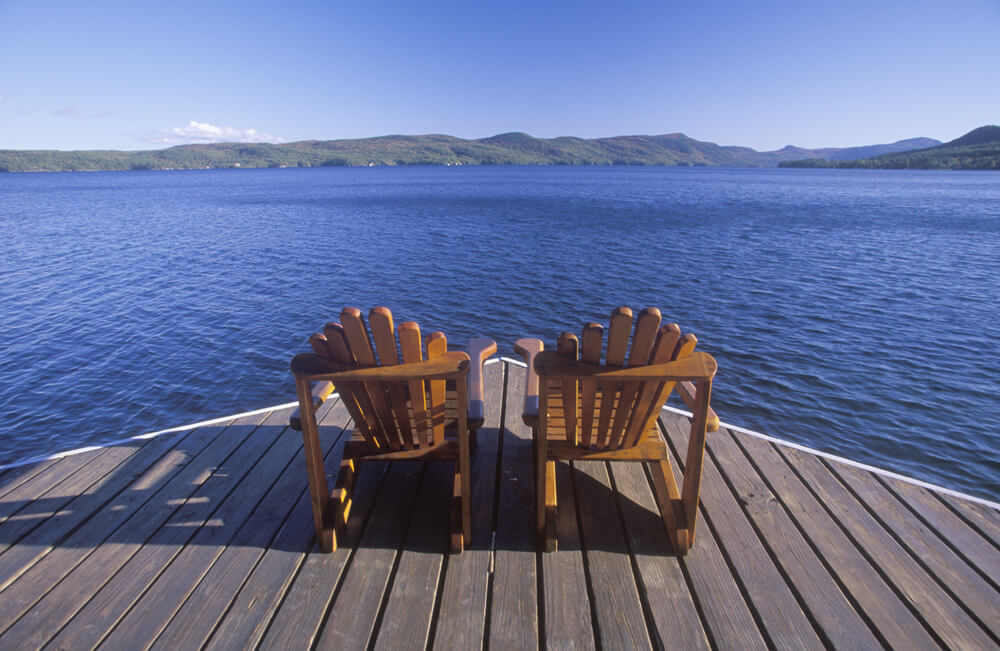 ---
National Baseball Hall of Fame and Museum
Now, a list of things to do in Cooperstown could not be complete without a mention of the National Baseball Hall of Fame and Museum. From Babe Ruth's glove used in the 1926 World Series to Derek Jeter's batting helmet, this is the place to be for all thing's baseball.
Established in 1936 and holding endless artefacts from the well-loved sport, it's an excellent tribute to notable individuals within the sport and is a must-visit for fans of the sport.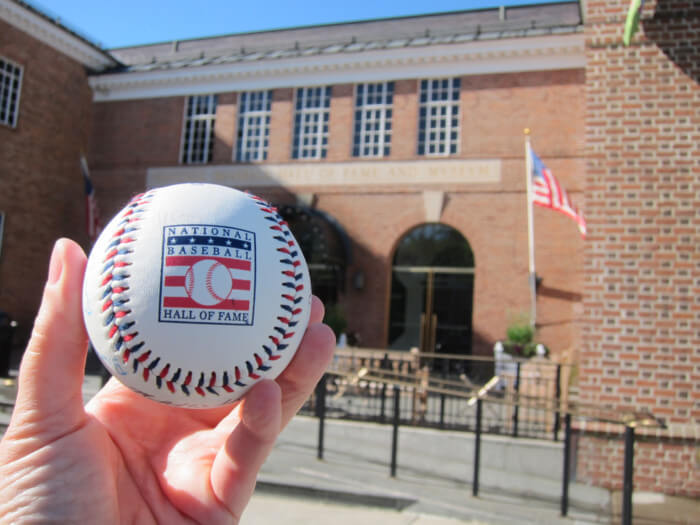 ---
Visit Wood Bull Antiques
Next on my list of things to do in Cooperstown NY, it's Wood Bull Antiques. You don't need to be an antique enthusiast to appreciate and admire all the incredible treasure in Wood Bull Antiques. If you like discovering things, and shopping – this place is like a treasure chest of fun.
Wood Bull Antiques is located at 3920 County Highway 28, Milford NY 13807 so it's really easy to reach from Cooperstown, and it's a lot of fun to see all the random assortments of items!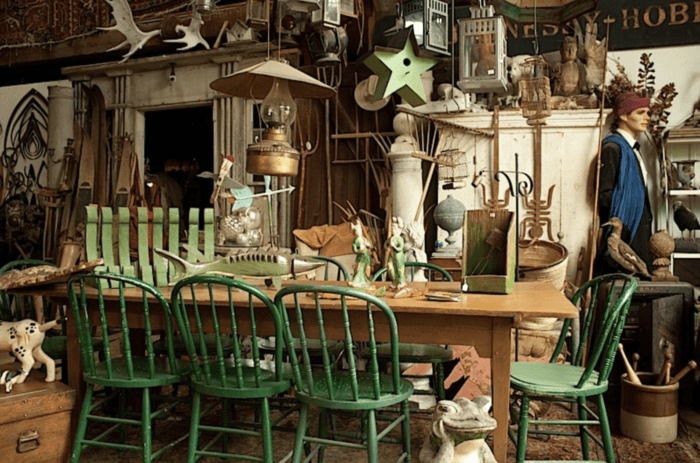 ---
Have a meal at the Hawkeye Bar and Grill
One of the best restaurants in Cooperstown NY, this gem is a great place to enjoy something to eat while you're in Cooperstown NY. Hawkeye bar and grille is located inside one of Cooperstown's most iconic and beautiful buildings, the Otesaga Resort Hotel – so the experience is just so memorable and a real treat.
The restaurant is right on the lake, so the views are just incredible too. It's classic food, with something for everyone, so it's a fantastic choice for dinner in Cooperstown.
---
Glimmerglass State Park
The great outdoors surround Cooperstown NY, so I could write a list of things to do in Cooperstown NY, without mentioning the Glimmerglass national park. Make sure you head out to explore it at least once during your trip to Cooperstown!
---
Cooperstown Barnyard Swing
And finally on my list of things to do in Cooperstown NY, it's the Cooperstown Barnyard Swing! A family fun centre with seven great activities (including an 18-hole mini golf course), it's a great place to visit in Cooperstown with kids.
Whether you want to play Wild West laser tag or just take your time trying to get holes on the green, it's the perfect place for a family day out!
---
Hopefully this list of things to do in Cooperstown NY has been useful and given you lots of ideas!
Though there are always hidden gems in every town and city, we hope that this guide of things to do in Cooperstown, New York has been useful. With great history, breath-taking scenery and fun things for kids to explore, it's truly a winning spot for families and individuals alike.
How to get to Cooperstown, NY
The best ways to get to Cooperstown NY, are by car and by bus. Cooperstown can actually be reached quite easily from some of the major east coast cities, so if you're visiting from abroad, or from the west coast, you could easily fly into one of these cities and then hire a car to drive out.

If you're visiting Cooperstown from one of the cities below because you live there, Cooperstown is mostly under 4 hours from all the locations listed below – which makes it a great weekend getaway destination.
Getting to Cooperstown by Car
From NYC: 3 hours 45 minutes
From Albany: 1 hour, 30 minutes
From Buffalo: 3 hours, 50 minutes
From Boston: 4 hours
From Philadelphia: 4 hours
Getting to Cooperstown By Bus
Your best options are to look into Trailways and Otsego Express who both other regular and affordable services to Cooperstown, NY.