Are you looking for things to do in Rhinebeck NY? If so – hopefully this ultimate guide to things to do in Rhinebeck will give you plenty of ideas.
If you're looking for things to do in Rhinebeck NY – you have plenty of choices! This charming and historic town is a well kept secret, a quaint, peaceful hideaway only a 2 hour drive from one of the busiest cities in the world.
Located in New York's Hudson Valley, Rhinebeck is a wonderful section of New York state. From its flourishing art and culture scene, to its hiking and biking trails, there's no shortage of things to keep you busy here, and most people who visit fall in love with it.
Whether you're looking for a more chilled out vacation or want to pack in as much as you can, you'll be able to build your perfect itinerary from this list of things to do in Rhinebeck, NY.
---
Market Street and Montgomery Street
First on my list of things to do in Rhinebeck NY, it's just exploring and soaking it all in. One of the greatest things to do in Rhinebeck, New York, is just to walk around the beautiful town. Every street corner offers something unique, and there are so many quaint shops and stalls that offer amazing little treasures.
The Grand Cru Beer and Cheese Market is a must-visit, as they serve up amazing pints of craft beer, wheels of amazing cheese and more. As well as this, the area offers a variety of boutique stores that are sure to tickle the fancy of any avid shopper.
One of the nicest spots is arguably Samuels of Rhinebeck NY. A stunning little book-end shop that's packed with coffee, tea and locally made baked goods, you can wile away the afternoon in here without a second thought.
Whether you want to sneak a peak at the area's boutiques or enjoy the local food fare, there's plenty of things to do in Rhinebeck along Market Street and Montgomery Street.
---
Great Estates of American Royalty
Next on my list of things to do in Rhinebeck, it's the Great Estates of American Royalty.
One of Rhinebeck's finest attractions are the 6 Great Estates of the Hudson Valley. With each located on a 20-mile drive along Route 9, you'll be able to fit them all into your trip. Perhaps the finest two on the list are the FDR Presidential Library at Springwood (the home and estate of the eternal Franklin D. Roosevelt) and the Vanderbilt Mansion.
The Vanderbilt's palatial home is a historic site and is open for tours from May to October. With stunning views and architecture, these great estates are certainly worth a visit.
---
Hiking
If you're in Rhinebeck and love to indulge your active side, why not try hiking around the area? There are loads of amazing National Parks around the Rhinebeck area, and you'll find so many gorgeous places to stretch your legs! A perfect option for things to do in Rhinebeck NY, especially for those with the adventurous spitit.
The Ferncliff Forest Preserve is a wonderful place to visit and a brilliant starting point for people keen on hiking. The observation tower at the preserve overlooks the Hudson and the Catskills, so is a must-visit if you're looking to see the area's natural wonders.
However, this isn't all! The area has miles of trails, so is the perfect place to hike, bike and camp to your heart's content!
---
Cycling
Next on my list of things to do in Rhinebeck NY, it's cycling. If you're looking to rent a bike, stop by the Rhinebeck Bicycle Shop on Garden Street for some reasonable rates. A great trail is to ride eight miles north on the wooded River Road which covers some of the area's finest estates.
Make sure you ride by Bard College and the Fisher Center for the Performing Arts if you can, as the architecture of these buildings are super cool!

---
Poet's Walk Park
Poet's Walk Park is my next suggestion for things to do in Rhinebeck NY. Another lovely place to explore in Rhinebeck is Poet's Walk Park. With sweeping meadows and views of the Kingston-Rhinecliff Bridge, this is a lovely spot to soak up the town's scenery.
With plenty of places to walk and offering easier walks than Ferncliff Forest, it's a great option for the whole family.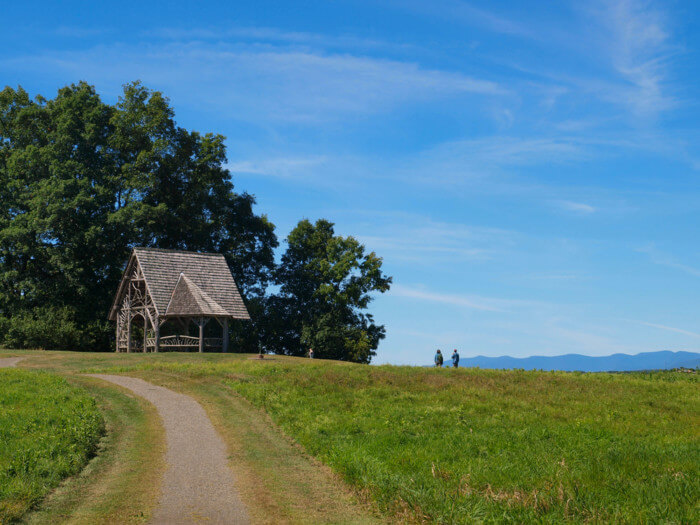 ---
Dutchess County Fairgrounds
Next on my list of things to do in Rhinebeck NY, it's the Dutchess Country Fairgrounds. If you're in the area, make sure that you include a trip to the Dutchess County Fairgrounds on your itinerary.
Hosting events year round such as car shows, antique shows, wool festivals and food and wine festivals, there's always an amazing day out in store at the fair.
A thrilling day out for the whole family, you're sure to find some new gourmet food favourites here. Make sure you check out when the festival is hosting live entertainment, as the talent on show tends to be fantastic! A great choice for things to do in Rhinebeck, and so much fun too!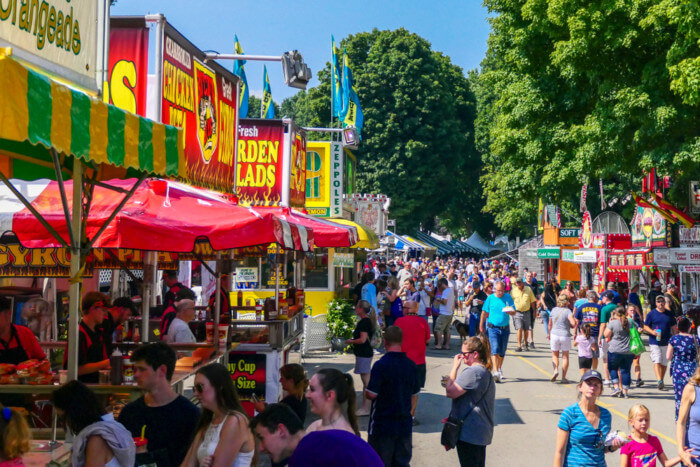 ---
Old Rhinebeck Aerodrome
I couldn't write a list of things to do in Rhinebeck NY, without mentioning the Old Rhinebeck Aerodrime.
The Old Rhinebeck Aerodrome is an amazing "living" museum of antique aviation that's home to one of the largest collection of aeroplanes in the world. Not only is the aerodrome home to these amazing exhibits, but the Aerodrome lets you participate to a great degree!
You can ride in a biplane if you wish (complete with goggles and cap!) if you've always wished to take to the skies. However, if you prefer to stay on the ground, the aerodrome has plenty of amazing weekend air shows and dogfights that entertain guests and showcase these amazing feats of engineering.
If you want to catch a glimpse of a huge collection of WW1 era planes, then you've just got to pay this place a visit as you won't see anything quite like it anywhere else in the world!
---
Enjoy the restaurant scene
Next on my list of things to do in Rhinebeck NY, it's eat! Rhinebeck NY has some pretty good restaurants hidden away inside the village streets, so make sure you seek a few out and enjoy some good food during your visit. Here are some places to check out during your visit:
Terrapin – Restaurant specialising in local organic food.
Calico Restaurant and Patisserie – Stylish European restaurant that is also a pastry shop too.
Bread Alone – iconic bakery chain local to the Hudson Valley area
Gigi's Trattoria – Mediterranean food served up in a friendly atmoshere. Really delicious.
Foster's Coach House Tavern – Old-style tavern located in the heart of historic Rhinebeck.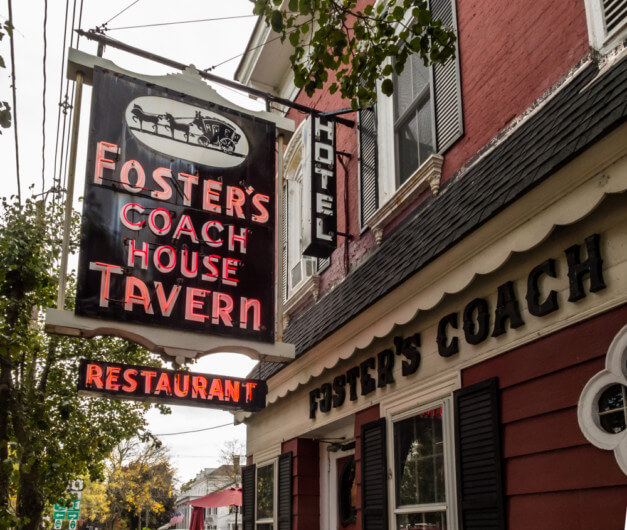 ---
Staatsburg State Historic Site
A historic mansion in Dutchess County, the Staatsburg State Historic Site is a fine example of the estates built during the Gilded Age. Built in 1895 but donated to the state in 1938, the home features original furnishings and art from Europe and the Far East.
On tours, you can see the mansion's massive dining room, marble walls and western lawn that tends to leave guests in awe. A great choice of things to do in Rhinebeck, especially for those who love a bit of history.
---
Take a hot air balloon
Not for everyone (especially not those scared of heights!) but for many people, a hot air balloon is one of those once-in-a-lifetime bucket list items.
Rhinebeck is a beautiful place to take a hot air balloon ride, as the landscape is so utterly beautiful and the views promise to be amazing. This is probably one of the most memorable things to do in Rhinebeck NY.
---
Hudson Valley Pottery
Hudson Valley Pottery is a gorgeous place to visit if you love exploring the local art and craft scene. Located in the center of Rhinebeck this beautiful pottery studio is a fully equipped pottery school, and houses the local community of potters and crafters and ceramic artists.
Whether you want to pop in and purchase some amazing artwork, or whether you want to take a class yourself – it's a must see.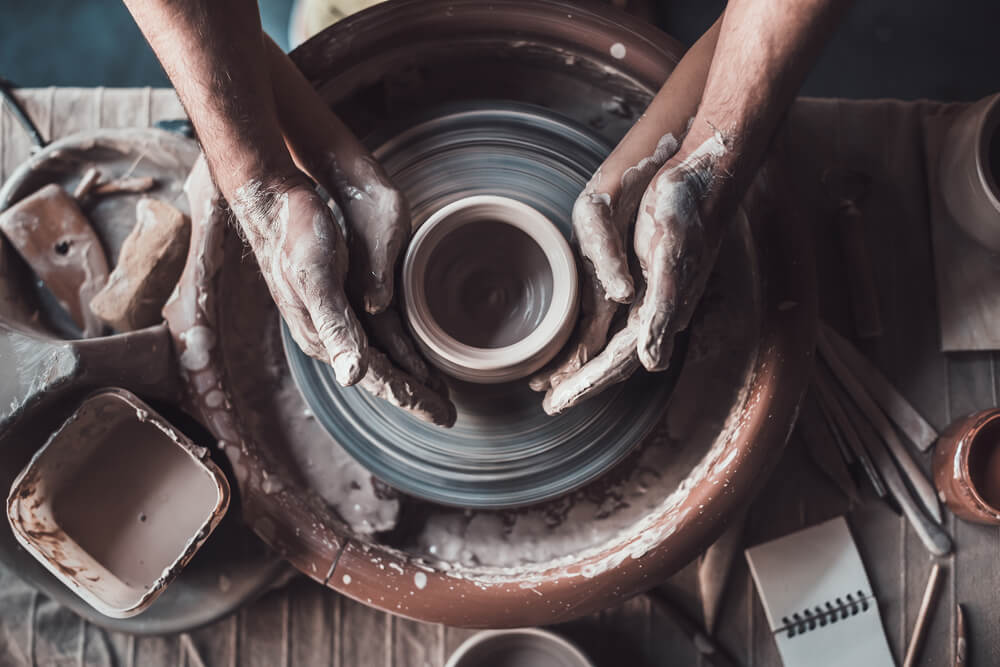 ---
Visit Rondout Lighthouse
OK, whilst Rondout Lighthouse isn't technically in Rhinebeck, it's only a short drive away and in my opinion it's a must-see for anyone in the area.
Located on the Hudson River, the Rondout Lighthouse is a beautiful lookout point and place to enjoy absolutely beautiful views. Th lighthouse itself is really beautiful too!
The Rondout Lighthouse is only accessible by boat. Tours operated by the Hudson River Maritime Museum are available Saturdays & Sundays, June through September.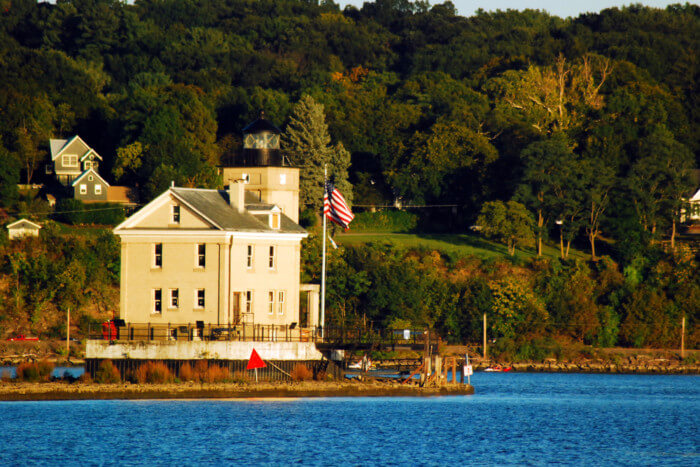 ---
Rhinebeck Farmers Market
Next on my list of things to do in Rhinebeck NY, it's the farmer's market. If you're into food and local produce, then this is one of the best things to do in Rhinebeck.
Rhinebeck Farmer's Market is one of the top farmer's market in the state, and it constantly wins competitions and votes for top farmers markets in the Hudson Valley area! You'll find over 30 vendors at the market, each providing dvierse and delicious products!
If you love exploring local produce options, and speaking to and learning more about local sellers and farmers, this is definitely one of the best things to do in Rhinebeck NY for you!
---
Catch a movie at Upstate Films
Next on my list of things to do in Rhinebeck NY, it's Upstate Films. This independent cinema is a great place to check out for film-lovers and culture vultures. Upstate Films is a non-profit art organization that supports smaller and independent film makers, so it's a great place to catch a showing a little less mainstream.
---
The Sheep and Wool festival
Last on my list of things to do in Rhinebeck NY, it's the Sheep and Wool festival. OK, so this may be a little niche for lots of visitors, but it's worth checking it out if you happen to be in the area when the festival is taking place. I doubt you'll have seen anything like this before!

---
I hope this list of things to do in Rhinebeck has been helpful!
I've answered a few other commonly asked questions about Rhinebeck below for you too – just incase you need it! Rhinebeck is such a lovely place to visit (for good reason) so chances are you're planning a trip there if you're reading this.
---
How do you get to Rhinebeck NY?
Getting to Rhinebeck is relatively easy. Of course, you can drive, and it's a relatively easy drive into Rhinebeck from most East Coast cities around the New York and Boston area. Ride up or down the Taconic Parkway (bulls head road exit) or Route 9 will get you there just fine.
If you're reaching Rhinebeck by train, use Amtrak on the Hudson line to the Rhinecliff station. It'll take an hour and 40 minutes.
---
Accommodation recommendations in Rhinebeck NY…
If you're planning to work your way through this entire list of things to do in Rhinebeck, you might want to find yourself somewhere to stay in Rhinebeck too – as it's likely you'll want to stop for the weekend (or at least a night!).
Here are some accommodation options to check out in Rhinebeck NY:
The Olde Rhinebeck Inn
The Belvedere Mansion
The Looking Glass Bed & Breakfast
Whistlewood Farm
---