Are you looking for tips and inspiration for things to do in Valletta, Malta? If so – hopefully this list will give you lots of ideas!
---
If you're planning a trip to one of Europe's smallest capital cities, you may be wondering how best to fill your time. With various nationalities and cultures influencing the city's growth over the years, it has a fascinating military history that is still visible in many of its attractions today.
So, to save you some time, we've scouted out some of the best things to do and see in Valletta so that you don't have to!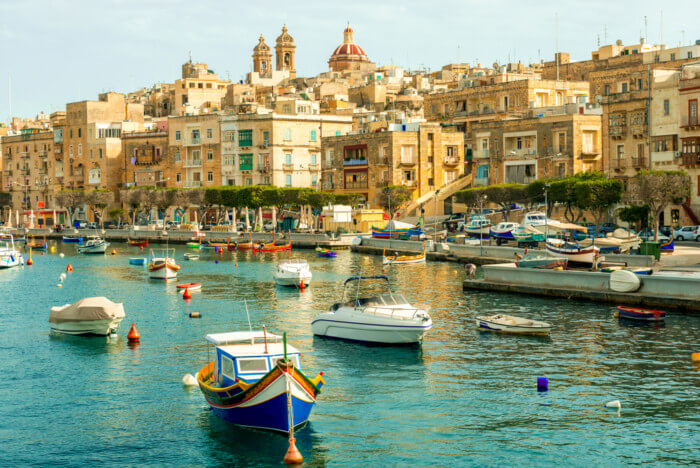 ---
National Museum of Archaeology
First on my list of things to do in Valetta, it's the national museum of archaeology. An important part of Maltese culture is their art and galleries, so this is a really important addition to my list of things to do in Valetta.
Auberge de Provence, located on Valletta's main Republic street was built in 1571, and was once the main base of the Knights of the Order of St John. Today though, this amazing building is home to the National Museum of Archaeology. With artefacts that date back to 5000BC, it's a must visit for history or archaeology buffs.
---
Fort St Elmo
Fort St Elmo is a huge fort located on a peninsula that sticks out of the city (see the photo below for a birds eye view of it). It's known for being the war museum, and it's well worth a visit, to learn about the history of Malta, and also the general history surrounding some world events too. There are also the splendid chapels dedicated to St Anne – which have been beautifully constructed.
It's also just a fascinating structure and well worth wandering around and exploring.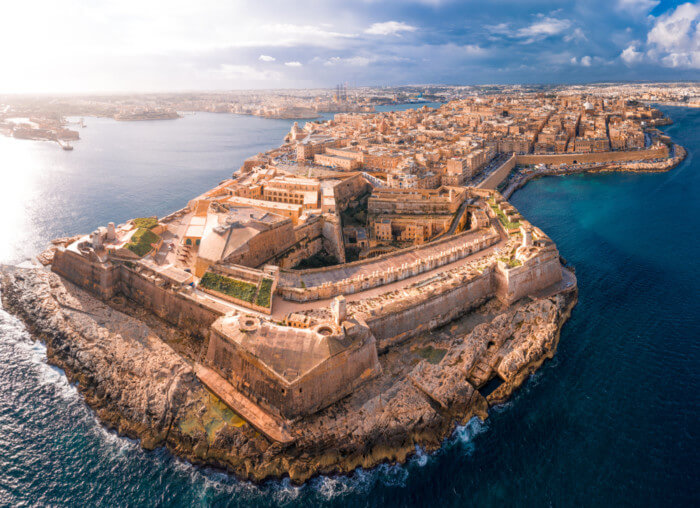 ---
Casa Rocca Piccola
Casa Rocca Piccola is one of the top things to do in Malta and is the family home of the de Piro family that gives you an insight into how the aristocracy lived. With furniture and treasures that allude to days past, it's a quaint little pocket of Maltese history that's a must-visit.
These days, the house is home to the 9th Marquis de Piro, who chose to open the house as a museum to the public. Don't worry if you're not sure what you want to explore here, as a very capable tour guide takes you through the home. An opulent experience from the word go, it's a rarely seen glimpse into the 16th century in Malta.
---
Barrakka Gardens
Barakka Gardens is my next suggestion of things to do in Valetta. This stunning part of the city offers some stunning views. From here, you're able to see across the area's many forts, as well as the cities of Vittoriosa, Senglea and Cospicua.
In the Upper Barrakka Gardens, you will get views of the Grand Harbour, and you can spend hours here just taking in Malta's beauty. Built on top of a bastion, the Upper Barrakka Gardens are the highest point of Valetta and date all the way back to 1661 when it used to be a private garden of the Knights. Now, it's fully open to the public and the garden is home to various flowers and trees that offer a reprieve from the busy city.
However, that's not all! The Lower Barrakka Gardens have a daily midday gun salute. Known as the Saluting Battery, it's truly a sight to behold and should absolutely make it on your list of things to do in the Barrakka Gardens. You'd be a fool to miss this awesome military display!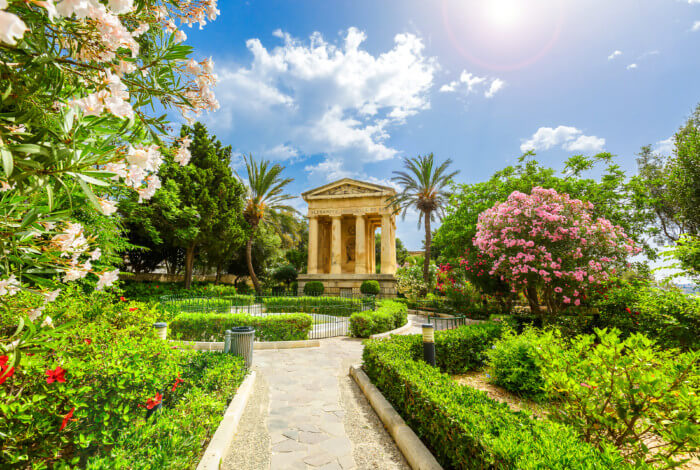 ---
St James Cavalier
If you want to see one of Valetta's oldest fortification buildings, then you should absolutely pay a visit to St James Cavalier. The building was one of the original fortification buildings as planned by the Knights, it originally functioned as a gun platform to defend Valletta from any land-based attacks.
A historic nod to Valetta's military history, it now functions as the Centre for Creativity. Offering exhibition space to Valetta's artists, it is now a host to various events and performances! This is one of the top things to do in Valetta, and it's no wonder!
---
St John's Co-Cathedral
One of the city's oldest sites, and one of the most popular things to do in Valetta, St John's Co-Cathedral is an absolute must when visiting Valetta. Though construction began in 1571, it was not completed until six years later. At the time, it was a relatively normal church, with little decoration.
However, though it still looks quite simple on the outside, it hides amazing Baroque architecture on the inside. Transformed in the late 16th century, the inside of this cathedral is extremely ornate, and it's a vivid masterpiece that truly showcases the wealth of Valetta's Knights. You can book a tour of the cathedral by clicking here.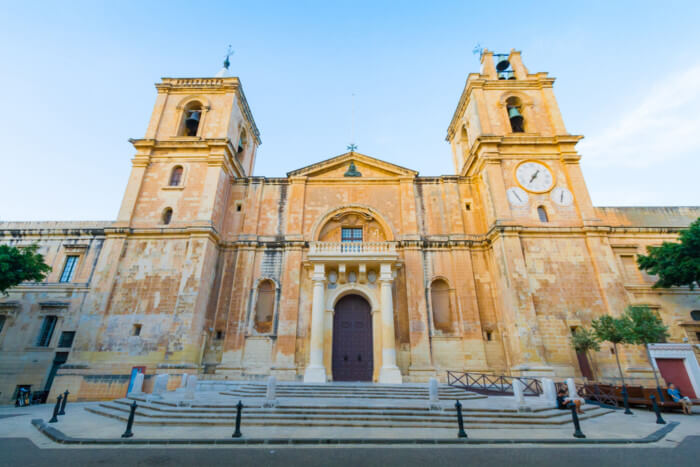 ---
Traditional 2 Harbours Day Cruise of Malta
Seeing Malta (and Valetta) from the water is really special, and it's a perspective you don't get to see very often of this beautiful city. If you're looking for things to do in Valetta, then an amazing day cruise of Malta, including Valetta is a wonderful choice.
You can book tickets here, and they're really affordable for such a great cruise / tour. This is a really great for things to do in Valetta, and it's lovely and relaxing too!
---
Grandmaster's Palace
Next on my list of things to do in Valetta, it's the Grandmaster's Palace. Like many of the other buildings originally built for the Knights of Valetta, the exterior to this building is quite unremarkable. However, much like St John's, the magic is located inside of its doors. Littered with Baroque artwork and an exquisite nod to Baroque architecture, it's a great place to revel in Maltese art and design work. With plenty of gold and elaborate paintings, you can easily spend a wistful afternoon in here.
A guided tour of the palace gives you access to State Rooms, the official dining room and the Ambassador's room, and it's well worth going on one of these tours for the full experience. If you have a penchant for military history, you can even visit the armoury to see some of the weapons used back in the day!
---
Teatru Manoel
Next on my list of things to do in Valetta, it's Teatru Manoel. Believed to be the third-oldest active European theatre, the beautiful Manoel Theatre is an oval-shaped auditorium that is one of Europe's most beautiful.
Retaining many of its original architectural features, it's a stunning building that's well worth a visit. Still showing performances in both English and Maltese, you may just be lucky enough to catch a show or two whilst you're in Valetta! If you can't manage a show, you can go on a 30-minute audio tour of the building and its museum for only 5 euros a head.
---
The Waterfront
I couldn't write a list of things to do in Valetta, without mentioning the famous waterfront in Valetta! It's one of the most popular activities in Valetta, and it's a hub of energy and things to do in things to do in Valetta.
If you're visiting Valletta, you absolutely must pay a visit to its stunning promenade. Originally built for the Knights of St John to use as stores, it's located away from Valletta's main centre, and is a tranquil oasis in an otherwise busy city. With converted stores that have been turned into restaurants and shops, it's the perfect place to explore on a lazy afternoon. With gentrification spurring on the rejuvenation of the waterfront area, it is now more beautiful than ever.
---
Take a walking tour of the city
A walking tour, is my next idea for things to do in Valetta. One of the best ways to explore Valetta is by foot, so taking a walk tour of the city is the perfect way to see all the sights and learn loads about this beautiful place too.
This walking tour is my favourite, it's 3 hours long, includes a professional guide, and will actually take you past many of the sights on this list – so you can check them all off! If you're only in Valetta for a day or two, this is a must. The tour I've linked above also has over 100 five star reviews, which speaks for itself!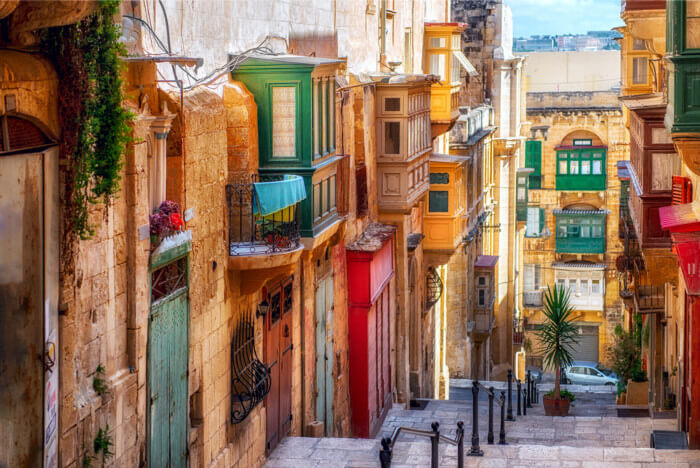 ---
La Sacra Infermeria
La Sacra Infermeria is my next suggestion of things to do in Valetta. It was built in 1574 as an infirmary to care for the sick and wounded. Originally able to accommodate over 900 patients, it was a crucial part of the city's operations.
Throughout the centuries, it has been repurposed, but is now known as the Mediterranean Conference Centre. An imposing building that's bursting with history, it's well worth a guided tour should you have an afternoon to spare.
---
Valetta Christmas Tour
Last on my list of things to do in Valetta, it's a seasonal option! If you're visiting Valetta during the festive season (and lots of people do!) then taking the Valetta Christmas tour would be an amazing thing to do in the city.
This is perfect for anyone who loves celebrating the holidays (especially christmas!) as you'll get to witness Valletta at a special time of year! During the tour you'll visit Christmas markets, admire iconic sights and learn more about the city's festive traditions.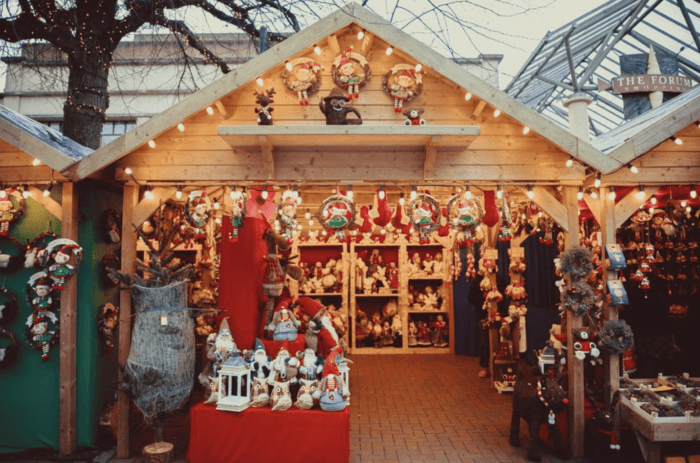 ---
Go shopping in Valetta
There are lots of gorgeous little shops in Valetta, so shopping had to make my list of things to do in Valetta! Whether you're into serious shopping and want to spend hours looking through luxurious shops, or whether you just want to stroll through some independent boutiques and sellers – Valetta has something for everyone.
---
Enjoy the local Valetta cuisine
Food is a big part of travelling, and there are so many opportunities to try amazing food in Valetta – which is why it makes my list of things to do in Valetta. If you're keen to explore lots of local eateries (away from touristy areas) then I recommend checking out this list of Valetta restaurants.
Sometimes the best way to get to know a city is to dine out in their local restaurants, meet local people and try the delicious food they're serving up!
---
I hope this guide of things to do in Valetta has been useful and given you some ideas!
Valetta is a beautiful city to explore, and there are so many things to do in Valetta and fun activities to choose from during your visit! Hopefully this list has given you lots of inspiration so you can start planning!