Are you looking for a list of the best glamping locations in Santa Barbara? If so – hopefully this list will help!
If you're looking for the perfect place to try glamping in Santa Barbara – this is the blog post for you! If you love the idea of sleeping under the stars – but aren't necessarily into the idea of constructing tents, or finding spiders in your sleeping bags – glamping is the ideal solution.
The rise of glamping has completely changed the game, and it means you can get out there and enjoy the great outdoors, whilst also enjoying a stress-free and relaxing getaway too. Glamping has made it possible to have your cake and eat it too (and by that, we mean have your luxuries and amenities whilst being able to experience the fun bits of camping).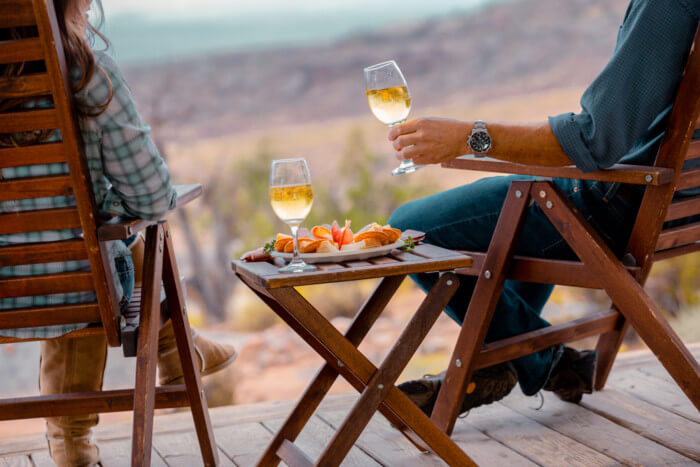 Glamping locations in Santa Barbara have been steadily growing, as has the demand of glamping in Santa Barbara. If you're planning a trip to Santa Barbara, you may not want to stay in a traditional hotel, so why not use this opportunity to give glamping a try? Convenient and as luxurious as some of the best hotels in cases, it's a great way to try something new without stepping too far outside of your comfort zone.
So, to save you the trouble, we've rounded up three of the best glamping locations in Santa Barbara that are sure to exceed your expectations.
---
AutoCamp Santa Barbara- Airstreams
First on my list of the best glamping locations in Santa Barbara, it's Autocamp Santa Barbara. Viewed as one of the best glamping locations on the California coast, Autocamp Santa Barbara is only a 9-minute drive from Santa Barbara's waterfront.
Slightly different from the other locations on our list, Autocamp Santa Barbara offers visitors the chance to stay in a luxurious Airstream trailer on the California Coast, which is a pretty amazing glamping location in Santa Barbara, and feels really authentic and quirky too.
You'll have never seen a glamping location quite like this, as each Airstream trailer has been customised with elegant interior fittings and has been thoroughly modernised. Clean, sleek and spacious, this location is sure to be a hit with the whole family.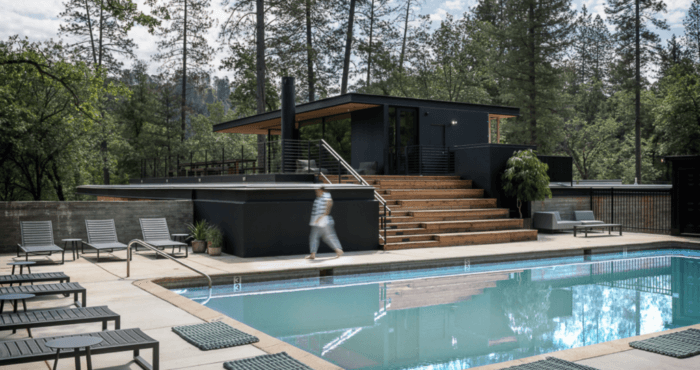 Another plus of this glamping location in Santa Barbara? The kitchens of these awesome trailers are fully equipped, with each one coming with an outdoor BBQ grill.
Should you wish to cut costs and avoid some of Santa Barbara's more expensive dining options, this is the perfect way to ensure you're getting your money's worth. After all, there's nothing better than a classic burger on an outdoor patio, is there?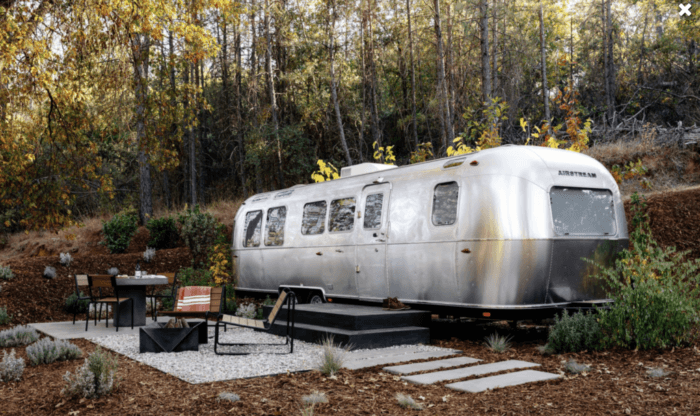 However, it's not only the luscious trailers that makes this glamping location in Santa Barbara so fabulous. Oh, no. What makes this location so special is that it's perfectly situated for exploring Santa Barbara.
If you're not merely looking for a staycation but wish to see all that Santa Barbara has to offer, this place truly gives you the best of both worlds. Located just minutes from the buzz of Downtown Santa Barbara, it's easy to slip in and out of paradise to explore Santa Barbara's urban side. Why not rent a bike and take on the famous trails of the American Riviera whilst you're here?
You're truly only minutes away from the best of Santa Barbara, so this spot is a perfect base should you be planning an all-out vacay. Oh, and here's their instagram!
---
El Capitan Canyon
Next on my list of glamping locations in Santa Barbara, it's El Capitan Canyon. Offering luxury camping only 15 minutes north of Santa Barbara, El Capitan is not only one of the most luxurious glamping options in Santa Barbara, but in all of California.
Hidden amongst acres of rolling hills and just steps from El Capitan Beach, it's a beautiful way to get in touch with nature without passing up on those home comforts.
With each cabin and tent coming equipped with willow beds, down-style duvets and comfortable blankets, you can sink into a comfortable sleep that feels just like a 5-star hotel experience and makes this glamping location in Santa Barbara a winner in our eyes!
With over 100 cedar wood cabins of varied configurations, you can serve yourself over the course of your stay as each cabin comes with its own small kitchen!
A perfect way to save on food costs by being utterly self-sufficient, these beautiful cabins allow you to just enjoy the great outdoors without venturing into Santa Barbara each evening for food. Should you be merely looking for an escape from your hectic lives, this beachfront glamping location is absolutely perfect.
Don't feel like cooking inside? Well, this particular glamping spot actually comes with fully equipped outside spaces. Should you fancy an outdoor barbecue during your stay, outdoor grill sets offer a great opportunity to enjoy a luscious summer barbecue near the ocean – lovely. With an on-site store that provides everything you may need during your stay food-wise; you'll truly be spoilt for choice. This is just such a perfect option for glamping location in Santa Barbara.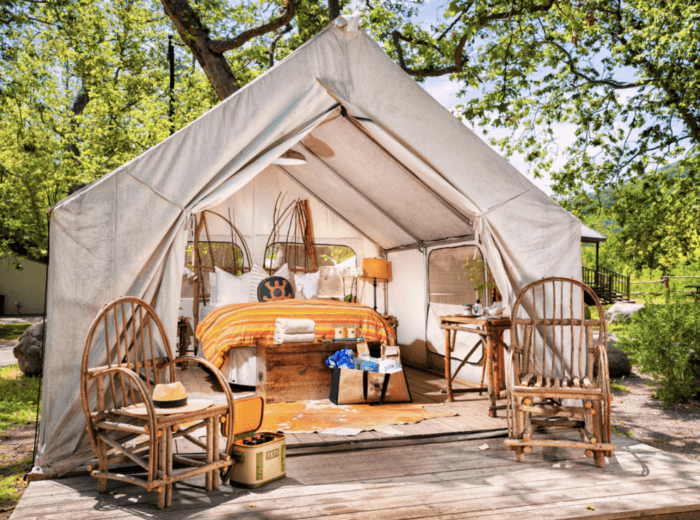 If you're worried about unwelcome critters and happen to be staying in one of El Capitan's open-air safari tents, simply zip up at night and sleep easy knowing that those bugs will stay out! With its reputation for being one of the most enchanting glamping experiences out there, you'd be mad not to give it a go should you be based around the area for a vacation.
Here's their instagram if you fancy taking a look at more photos!
---
Jalama Cabins, Lompoc
And finally on my list of glamping locations in Santa Barbara, it's Jalama Cabins! Located on Santa Barbara's coast, Jalama Cabins is a small, yet heavenly place to get your glamp on.
Located right on the beachfront of Jalama Beach, the sunsets that are on offer here are breathtaking, and you can truly just relax and wistfully watch the day pass by. 
Each cabin is fully equipped with a kitchen and a bathroom, so you needn't share any facilities with other nearby campers here! As Santa Barbara is littered with regular campsites, this is a great alternative for those who love privacy, luxury and something different to what's usually on offer at glamping locations in Santa Barbara.
With Jalama Cabins, there is truly an effortless vacation on offer on account of the massive list of amenities available, so this is a way to truly glamp in style. Clean, comfortable and a great place to catch some waves should you be a surfing fanatic, this is THE beachfront choice for glamping in Santa Barbara.
---
I hope this list of my top 3 glamping locations in Santa Barbara has been helpful!
Finding the perfect glamping location in Santa Barbara can be tricky, but these three beautiful glamping locations in Santa Barbara should be an ideal fit for just about anyone. They're really superior in experience and quality and are beautiful locations to enjoy and relax!