With its thriving nightlife, many theme parks, and stunning beaches, it's no wonder Florida is considered one of the most beloved vacation destinations in the world. In fact, the Sunshine State's tourism arrivals for the first quarter of 2018 have gone up by 7.4 percent at 33.2 million visitors, 2.3 million more compared to last year's 30.9 million, according to the tourism-marketing agency Visit Florida.
If you're one of those people who desire solitude during vacations, these statistics may seem off-putting. However, you'd be pleasantly surprised to know that the region has plenty to offer with quiet escapades — even better given that many of these places are by the sea.
Longboat Key Beach
This gorgeous stretch of natural shoreline is ideal for those who wish to stay away from the crowds. Longboat Key is lined with rental properties, condominiums, and private residences that limit the public's access to its beach, making privacy one of its main appeals. Due to this level of privacy, couples and families who prefer seclusion often end up staying here. You can find plenty of reasonably priced Longboat Key accommodations in and around the area in addition to the nearby restaurants and shops.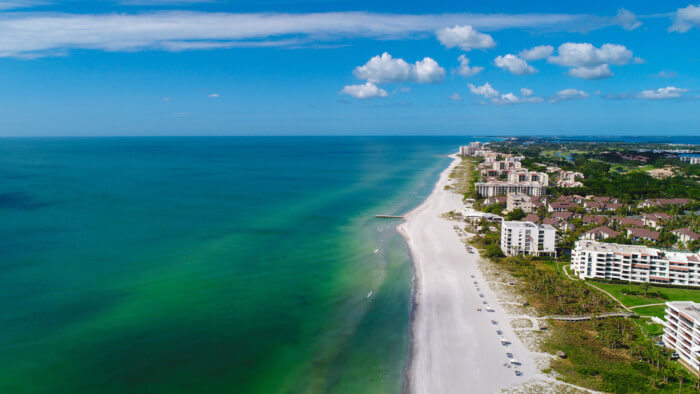 Cayo Costa State Park
Finding hidden gems often requires a bit of effort, and such is the case for Cayo Costa. Getting to its 9 miles of pristine, white sand shores will require you to depart from Punta Gorda on a private ferry. However, the journey is more than worthwhile because the trip includes opportunities to see dolphins, manatees, and local avian wildlife along the way. Upon arriving at the island, you also have to hike through pine hammocks and mangroves to get to Cayo Costa's secluded beach. You can also spend the night if you wish since the park offers some rental cabins.
John D. MacArthur Beach State Park
Encompassing 437 acres in northern Palm Beach County, this park was once the property of insurance magnate John D. MacArthur. Today, it has become a coastal preserve peppered with manatees and mangrove channels. 
While its beach is a mere 2 miles long, rarely does the place get crowded. In fact, with so few swimmers going in and around the area, the beach doesn't have any need for lifeguards. The park is also the natural habitat of the zebra longwing, the state butterfly of Florida, in addition to other marine species such as fiddler crabs, oysters, and snook.
Caladesi Island
Although Caladesi Island has only about 3 miles of coastline, its stretch of beach is often considered one of the best in America. This atoll off Dunedin is accessible only via a private boat or ferry, but its unspoiled shores make it a beach lover's paradise. Since you need a bit of effort to reach Caladesi Island, the atoll doesn't have as much crowd congestion as many of Florida's public beaches. Bring your own lunch, chairs, and umbrellas, or opt to pack light and get what you need from an on-site purveyor.
Whether you desire privacy or wish to blend in with the crowd, Florida has something in store for you. It wouldn't be too far-fetched to say that the Sunshine State has it all.