---
Are you planning a trip to Watkins Glen State Park soon? If so, keep reading!
---
So, you're planning a trip to Watkins Glen State Park! If so, you might be looking for some tips and advice for making the most of your trip to Watkins Glen State Park.
Located in upstate New York, near the finger lakes, this national park is one of the must-see in the state and a stunning place to spend time in the outdoors.
Good news! Watkins Glen State Park is one of the most gorgeous state parks in New York – so you've made an amazing choice!
There are loads of things to do and see around Watkins Glen state park, and the park itself is home to so many beautiful sights to see. There so much to do there, and the scenery is breathtaking!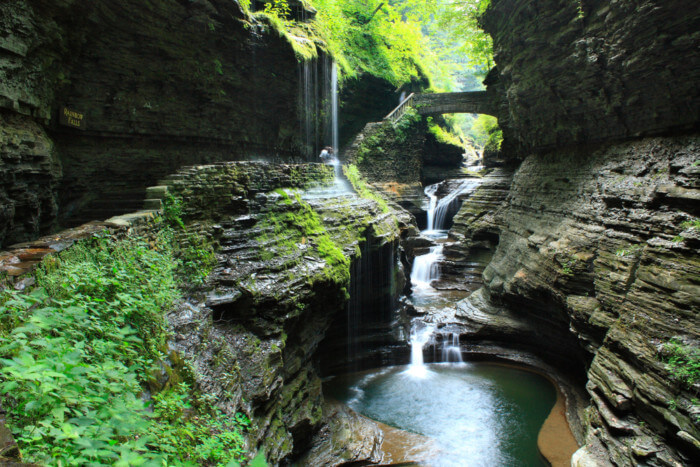 ---
Here's the key information you need about the Watkins Glen State park
---
Address of Watkins Glen State Park: 
1009 N Franklin St
Watkins Glen, NY 14891
Latitude 42.375896
Longitude -76.871078
Parking: Free
Vehicle fee (to enter the park): $8 per vehicle
Trail Shuttle (during summer / autumn season) to Watkins Glen State Park: Service runs from 9 am to 6 pm
$5 per person each way
Top tip for visiting Watkins Glen State Park!
If you live in New York and you explore the national parks a lot during the spring and summer months, it's well worth looking into the the easy-to-use Empire Pass card.
It costs $80 a year, and it gives you all-season free (and unlimited) day-use entry into most facilities operated by State Parks and the State Dept. Depending on where you live, this can include beautiful forests, amazing beaches, trails and loads more.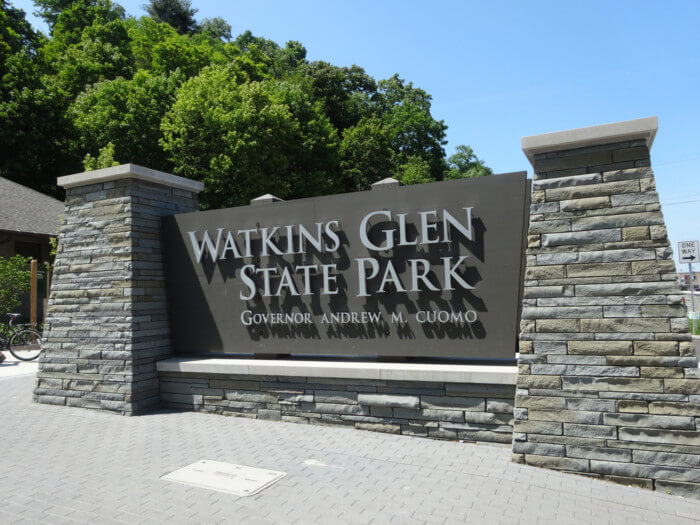 ---
So here are my top tips for visiting Watkins Glen State Park…
---
Tip 1: Pack plenty of water when visiting Watkins Glen State Park (in reusable bottle of course). The hikes are a little strenuous around Watkins Glen State Park (especially in hot weather) and whilst each entrance has water fountains, there's nowhere to stop along the way.
There are no shops inside the park, so having a good supply of water is a super-sensible idea and makes sure you don't put yourself in any dangerous dehydration situations. 
Tip 2: Wear waterproof clothes and shoes to Watkins Glen State Park. Due to the nature of the park sometimes the falls come straight over the paths where you'll be walking.
There's nothing less fun than walking a trail with wet socks and shoes – so make sure you've got the right kind of gear. You'll need a little something to keep you dry, even in summer when the weather is great at Watkins Glen State Park.
Tip 3: Get a map of Watkins Glen State Park. Whether it's paper or on your phone, it's something you'll definitely want with you. This just acts as insurance in case you do get lost or wander the wrong way. 
Read more about New York State: 11 things to do in Harriman State Park, NY
Tip 4: Get to Watkins Glen state park early. If you want to feel like an intrepid explorer, arrive early to avoid the crowds, especially in the summer and autumn (when this place is a really popular destination).
You'll have a way better experience of walking the trails at Watkins Glen State Park, and your photos will look way better too, because you won't have random hikers and tourists in the background!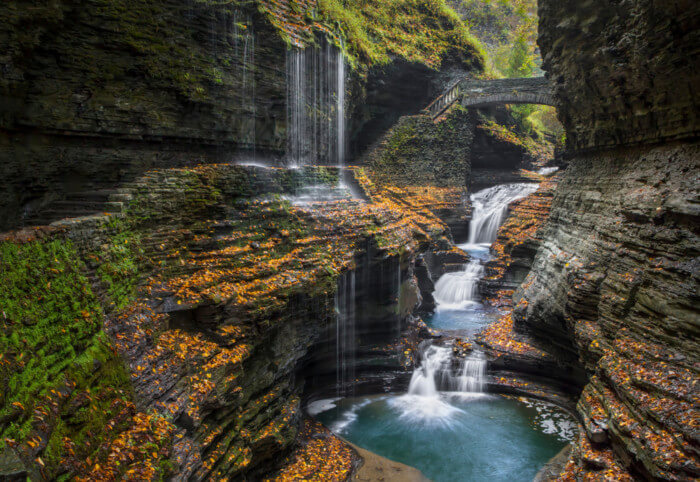 Tip 5: Don't bring Rover with you to Watkins Glen state park.
Whilst pets are allowed in Watkins Glen State Park, they're not allowed on the Gorge Trail, and you'll be so disappointed if you miss the Gorge Trail as it's the main attraction inside Watkins Glen State Park and the reason most people visit. 
Tip 6: Use the bus shuttle to Watkins Glen State Park. In the summer the park runs a bus between all the entrances, and it's a really good little hack to know and use.
This could be super useful if you're camping at the north entrance and want to hike from the Main entrance. 
Tip 7: Leave no trace. Keeping the park clean is super important in order to preserve it for the future, so being eco-friendly and taking all rubbish and litter with you is CRUCIAL.
Leave nothing behind but footprints! We want to keep Watkins Glen state park beautiful for many generations to come. 
Tip 8: Leave time to explore Watkins Glen village, which is next to Watkins Glen State Park. The town of Watkins Glen is actually worth spending a day in too, so make sure you've got time to hike the trails, and enjoy sightseeing around the Watkins Glen.
There's a beautiful river to kayak on, and the pier is a lovely place to enjoy a few hours and a cup of coffee.
We wrote an entire guide on Watkins Glen here.
Tip 9: Check the trails are open at Watkins Glen state park. This applies especially when you're visiting during springtime.
The Gorge trail inside the Watkins Glen state Park doesn't always open in April, sometimes (if the snow melts later) it can take longer to get access, even into late May. So it's always worth checking the official park website to make sure you can actually do your hike!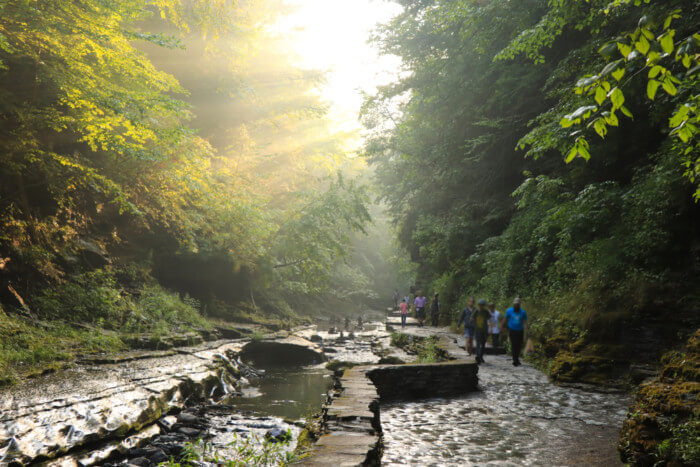 ---
I hope this mini-guide to visit Watkins Glen state park has been useful! Enjoy your visit!
Read more about New York State: Top 15 things to do in Lake George, NY