Are you looking for things to do in NYC with a baby?
NYC might not seem like the most obvious place to visit with a baby, but you'd be surprised how baby friendly the city is. Yes, NYC is busy and bustling, but there's so much to do here and so much to see – and lots of those things are baby-friendly.
If you're visiting NYC soon (or maybe you've just arrived for your trip) and you're looking for tourist things to do in NYC with a baby – then look no further.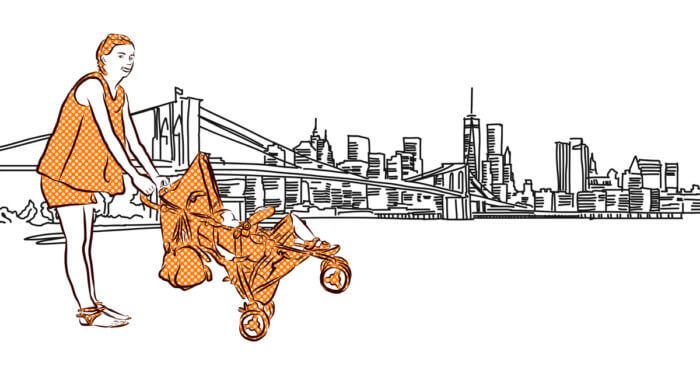 Top tip! Baby car seats won't be the norm in most taxis and ubers (and you may have to pay a lot more for the use of one). Because of this, if you can take with you (or borrow from a friend) a car seat / stroller & pram convertible that'll help you out a lot during your trip. You know the ones where the seat of the stroller detaches from the main frame to become a car seat. That way, if you want to get a cab at any point – it's no big deal and you have a car seat with you already.
Now onto the tourist things to do in NYC with a baby!
---
The museums!
Most museums in NYC are surprisingly accessible for strollers, prams, any type of travel systems and also have great baby changing facilities too. Some museums even offer 'stroller tours' which are specially designed for parents with babies, who still want to see the museums.
The Natural History Museum is a classic choice because your baby will likely find lots of the contents there entertaining and interesting too! It's the perfect tourist things to do in NYC with a baby.
---
Central Park
We couldn't write a list of tourist things to do in NYC with a baby, without mentioning this place. Central Park is an amazing park to walk around and enjoy, and it's surprisingly easy to navigate with a pram or stroller.
Of course, you could also have your baby in a sling, if pushing the stroller seems like too much work. There are lots of things for babies to see in the park, and there's regular toilets and changing facilities (as well as regular snack carts too).
On a sunny day, there's nowhere nicer to spend a few hours with your little one. I'd actually recommend trying out the Pedicab tours (where someone on a bike pulls you along) or the Horse Carriage rides – to make the day a little more special and memorable for your family!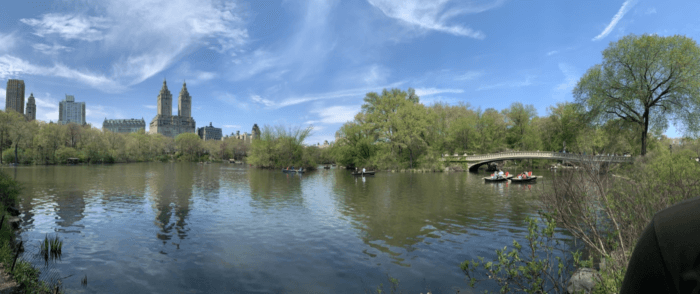 ---
Central Park Zoo
Yes, Central Park has it's own zoo! It's really easy to reach, it's lovely to walk around, and it's one of those attractions that will keep adults and babies happy. Babies love the zoo, it's interactive and interesting for them, with lots of new things to look at and be entertained by. Click here to purchase tickets in advance! 
---
Visit a local playground
Make like a new yorker and visit one of the MANY playground in the city with your baby. It'll be a nice activity to tire them out (especially if they've start crawling or walking) and it'll be fun for you to meet local parents. This is a great list of playgrounds in NYC – so you could pick one that's really close to your hotel.
Having a list of playgrounds handy will be useful when working your way through all the other tourist things to do in NYC with a baby, as something to break the day up, and let them burn some energy!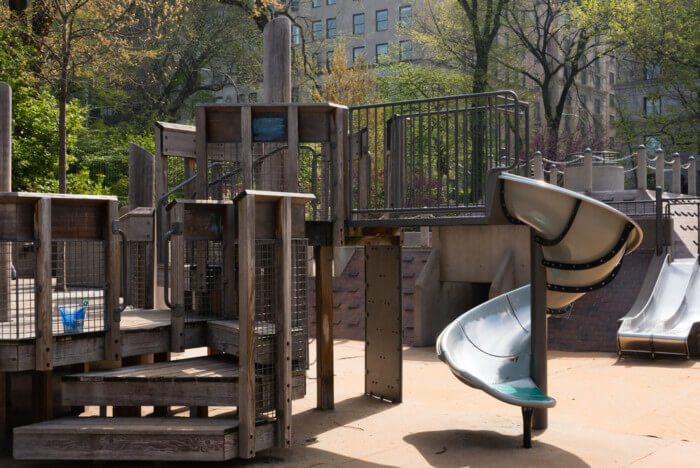 ---
Children's Museum of Arts
Next up on our list of tourist things to do in NYC with a baby …. It's the Children's Museum of Arts is an NYC museum is designed for children, and they actually have drop-in sessions where under 5's can get creative and let lose with art. It's a lovely thing to do!
---
One World Observatory
Take in the amazing views of NYC from the One World Observatory in NYC. It's one of the city's newest and modern observation decks, so it's perfect to bring your baby too. The Empire State can feel a bit cramped and crowded – but the One World Observatory is pretty spacious and even has a restaurant and cafe too.
---
Ride the Staten Island Ferry
The Staten Island Ferry is free, and it's stroller friendly too. It's a great way to spend the morning or afternoon, and you'll get amazing views of the city as you cross the river.
The best bit? Once you've crossed, if your baby is getting tired, you can just turn around and come straight back again. There are toilets onboard, and a cafe too (for emergency snacks!).
---
Walk the High Line
The High Line is an elevated park / walkway set above the city and winding through skyscrapers. It's totally flat (and there is elevator access) so it's easy to get up there and enjoy it with strollers – or with your baby in a sling.
There are some amazing views to be admired during the walk (definitely some opportunities for family photos!) and there are plenty of benches along the way to sit down if you fancy a rest. I recommend going in the early morning or evening to avoid the crowds though, as it can get busy on nice days! As far as tourist things to do in NYC with a baby go, this is a great choice.
---
Time Out Market
Time Out Market is a food vendor market in DUMBO Brooklyn. You could get a taxi over there, or walk there (over the Brooklyn Bridge) or even get the Subway. The market has loads of food options, and plenty of places to sit too (and it's casual seating – which is fab for babies).
There is even a roof terrace upstairs with a cracking view of manhattan – so it's well worth the trip!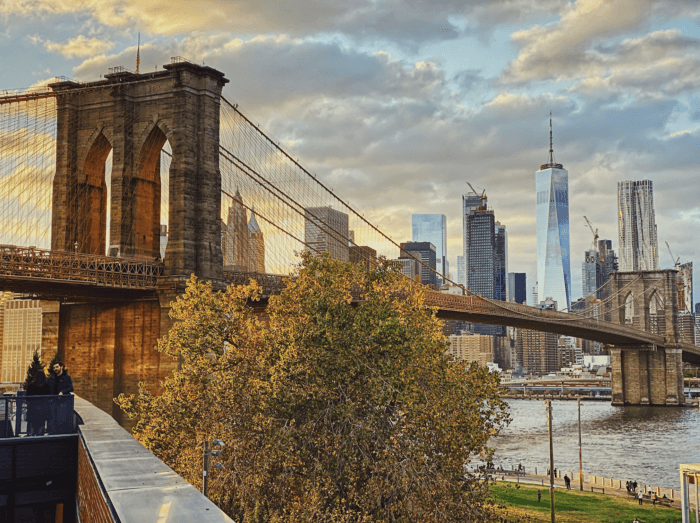 ---
Watch a movie
Visiting a big city is great because they cater to everyone, and that includes parents! If you haven't had the chance to go to the cinema since having your little one, use your holiday in NYC as the perfect opportunity.
City Cinemas on the Upper East Side and Nitehawk Cinema in Williamsburg offer special viewings for parents with kids under one – so you can watch a movie with your baby on your knee and not worry about disrupting it for other audience members.
---
Ride a carousel
NYC is the city of carousels (there are so many!!). Go on an adventure to find a few to ride on with your little one and that's a whole day of fun taken care of! You find one in Central Park, one in Bryant Park, one in DUMBO and so many more. Here's a list of carousels if you want to tick them all off. It's a perfect chance to see them laugh and smile, and also take a snap for Instagram!
---
Take a walk
Next up on our list of things to do in NYC with a baby, It sounds simple, but one of the nicest things to do in NYC is walk. If you're taking a stroller / pram then walking around the city is easy and so enjoyable. Avoid rush hour (8am – 9.30am) when people are rushing to their offices, because the sidewalk will be busier at those times – and you should be fine.
I recommend walking in Soho or Greenwich where the sidewalks are a bit wider and the streets a bit quieter. If you're unsure about where to walk (or you're worried about getting lost) then why not look into a private walking tour? There are loads available in NYC – I love this Brooklyn walking tour personally – because the views and photo opportunities on offer are insane!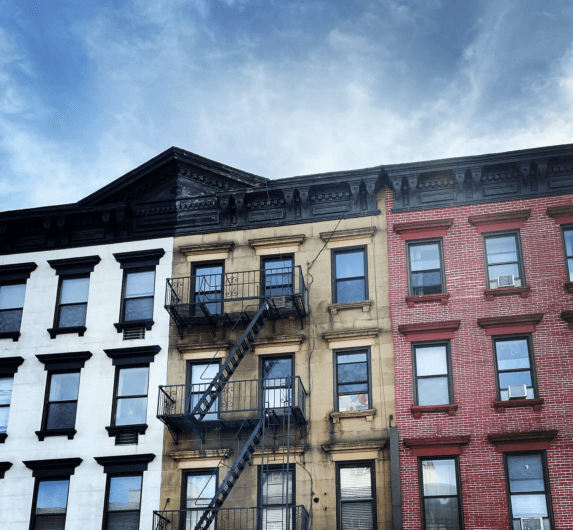 ---
Visit Coney Island
If you're visiting during the spring or summer, then Coney Island will be open! It's a bit of a train ride out of the city itself, but once you get there it's a wonderland of beaches, boardwalks, games and fun. It's a kids idea of heaven, and you're baby will love all the bright colours and sounds.
We hope you're feeling inspired by our list of things to do in NYC with a baby! You'll have an amazing holiday, just embrace the craziness that is New York and roll with it! 
---
Last tip! Purchasing a NYC city pass is a really great idea if you plan on hitting up a load of the tourist attractions. Their info pack can also advise you on opening hours for attractions too. It can also help you skip the line in some attractions too – which is always amazing when you have an impatient baby!
---
Here are some other useful blog posts I have written about NYC, that might be useful!
---
The ultimate New York City Travel Guide
The best ways to view the Statue of Liberty
Famous restaurants in NYC from movies and TV shows
Things to do for couples in NYC
The best outdoor rooftop bars in NYC
The best art galleries in Chelsea, NYC
Best places to take photos in NYC at night time
How to take a great photo in Times Square
Secret places to take amazing photos in NYC 
Hidden gem and neighbourhood restaurants in NYC