---
Are you visiting Cliffs of Moher in Ireland? Keep reading for an ultimate guide to visiting this stunning landscape. 
---
If you're thinking of taking a trip to Ireland – the Cliffs of Moher are a must-see destination. These stunning oceanside cliffs are breath-taking and some of the most scenic and picturesque landscape in Ireland. If you're visiting Cliffs of Moher – this guide is for you!
A dreamy backdrop for any photographer, the massive waves and seaside cliffs are a stunning feat of nature that can be easily distinguished from the rest of the world's offerings. With their staggered formation and unique green topping, they're a natural marvel that you absolutely need to see before you die. Visiting Cliffs of Moher is a must-see on anyone's bucket list.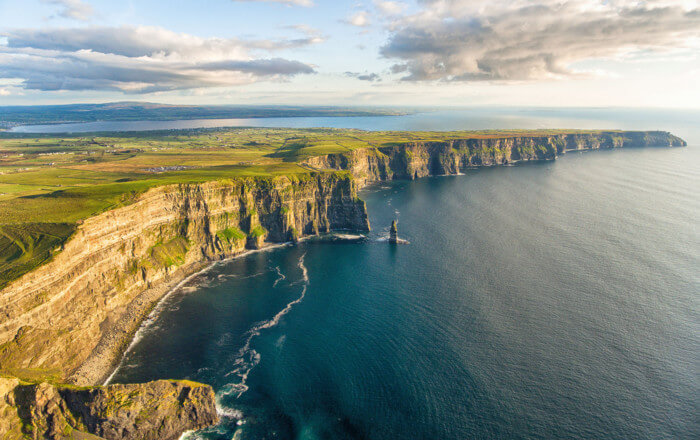 However, how do you go about seeing The Cliffs of Moher? Planning even a simple trip can pose challenges, so to help, I've compiled a list of some of the best ways to see The Cliffs of Moher so that you don't have to! One day should be enough time to see the best of the cliffs, so read ahead to get the biggest bang for your buck.
---
Seeing the Cliffs of Moher by Car
---
The first method of travel on the list, and one of the best way to see The Cliffs of Moher has got to be renting a car (or using your own of course!). If you're visiting Cliffs of Moher this is arguably the best method on the list due to the flexibility it gives you, as if the weather decides to take an unexpected turn, you'll be covered. 
There's decent parking available at when visiting Cliffs of Moher, so this isn't an issue. You can park in the main visitor centre for around 6 euros per person. It's a bit steep but gets you great access and peace of mind, and it's an easy location to just plug into your SatNav or Google Maps navigation. It's certainly one of the best ways to see the Cliffs of Moher, because it's convenient and easy for most – and makes visiting the Cliffs of Moher super easy.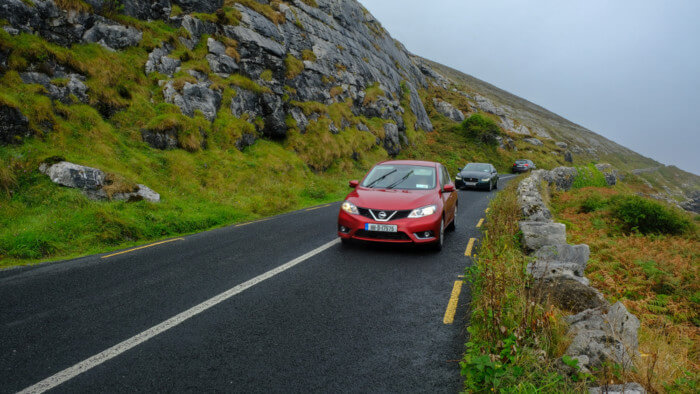 What are the drive times from nearby towns?
If you're visiting Cliffs of Moher from out of town (and out of the country) you'll likely be renting a car. In this part of Ireland, you can probably get a decent car rental for around 75 – 120 euros for the day – and it'd be easy to make the drive from either Galway or Limerick (with the journey taking about an 1hr30 each way). If you decide to drive from Dublin, it'll take about 3 hours each way – so it's a much longer trip, but still completely achievable in a day. The drive isn't too difficult, Ireland doesn't have too many difficult roads, so a normal car should do the trick (you won't need a 4×4 or a jeep or anything).
Personally, if you're going to spend time in a nearby town when visiting Cliffs of Moher, I would choose Galway – it's so beautiful, quirky and fun!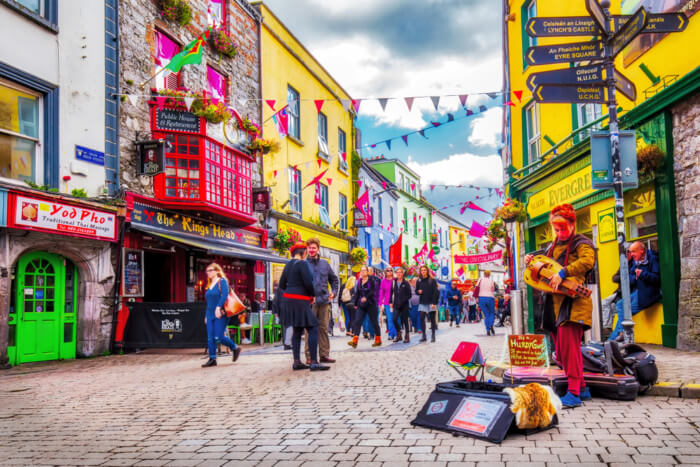 ---
Seeing the Cliffs of Moher by Public Transport
---
Next on my list of the best ways to see the Cliffs of Moher, it's public transport.
If you want to take the public transport route, Bus Eireann has a huge network of routes that cover the entire country. You can take to Google Maps to plan a decent journey, and whilst it might be more inflexible than travelling by car, it's a decent low-cost option to get to the Cliffs of Moher.. This is a definitely one of best ways to see the Cliffs of Moher if you're budget conscious, and it makes visiting Cliffs of Moher a bit more of an adventure too.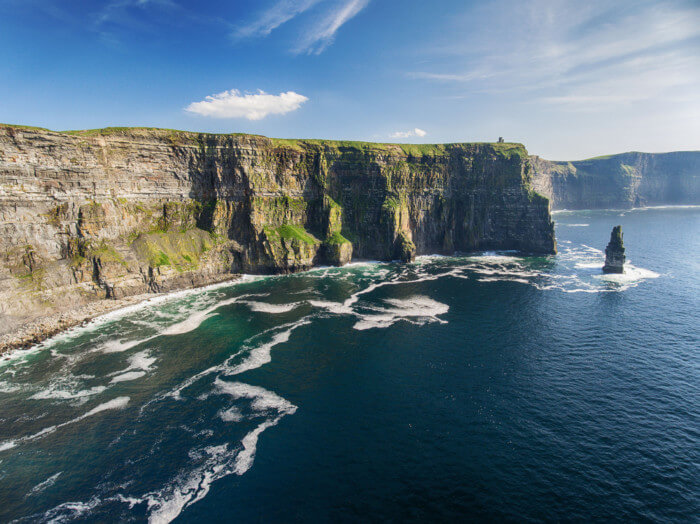 Alternatively, there are multiple shuttle buses that run from the nearby town of Doolin that stop at the Cliffs of Moher, so you should have little to no issue getting to the cliffs by bus from this location.
Arguably the best way to reach the Cliffs of Moher by bus if you're coming from Dublin is to take the 300 bus from Dublin City South, walk to the Ennis Bus Station and then take the 350 bus to the Galway Bus Station. After this, you can get off at the County Clare/Cliffs of Moher stop. Whilst it's a rather drawn out way of getting there, it's certainly scenic!
---
Visiting Cliffs of Moher by tour group
---
Another really popular choice for one of the best ways to see The Cliffs of Moher, is to join a tour group or a day trip. This really takes all the hassle out of the day trip when visiting Cliffs of Moher – as the transport is completely taken care of. Most of these tour groups use coaches or small people-carriers as their transport – so you can listen to music / read / sleep in the comfort of your seat, and then arrive ready to enjoy the views at the other side.
A lot of the tours that visit the Cliff of Moher will also take you via some other beautiful spots in the area too – so you get the added bonus of seeing more of the Irish landscape and stunning scenery. It makes visiting Cliffs of Moher really worthwhile, as you get to see so much!
Some of the tours I recommend as the best ways to see the Cliffs of Moher are:
From Dublin: Cliffs of Moher, Burren & Galway Full-Day Tour – on your journey to the Cliffs of Moher, you'll also visit the stunning city of Galway, the Burren and the ruins of historic Kilmacduagh Monastery.
From Dublin: Wild Atlantic Way & Cliffs of Moher Day Tour – Journey across the Wild Atlantic Way and see everything it has to offer, including the Cliffs of Moher and Galway. This is a fully guided day tour to one of Ireland's most impressive natural attractions.
From Galway: Cliffs of Moher Explorer Tour – This unique and interesting tour leaves from Galway each day from April to October. The tour includes 5 hours to walk the cliff path from Doolin to the Cliffs of Moher visitors centre, and you'll see medieval castles, the iconic dry stone wallsand lots of the Irish landscape.
From Clare & Limerick: Aran Island & Cliffs of Moher Tour – This tour starts with an enjoyable drive, and then a sail onboard a small ferry boat to the Aran Islands and the Cliffs of Moher.
Taking one of these tours would be my personal choice as the best ways to see the Cliffs of Moher, as it takes any worry or planning out of the day, and you get a knowledgable tour guide too!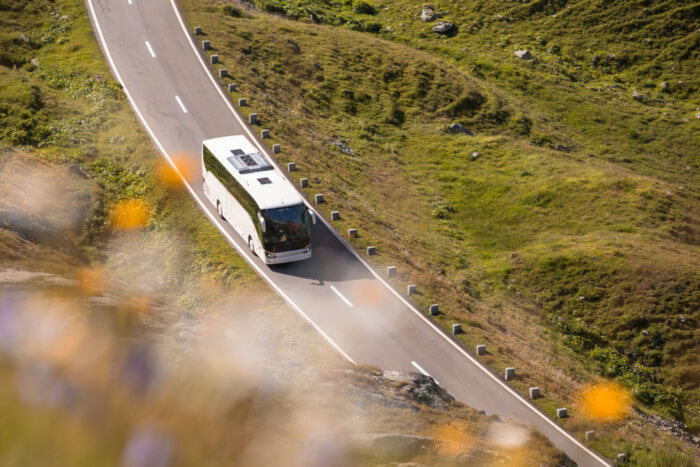 ---
Seeing the Cliffs of Moher by Walking
---
Arguably, if you're looking to take in the best of The Cliffs of Moher, you may choose to walk it. Hiking is certainly one of thebest ways to see the Cliffs of Moher because you can take your time and really soak in those stunning views.
Highlights of walking and hiking the Cliffs of Moher
If you're walking, there's a beautiful tower from the Napoleonic Wars that still stands. Called the Hag's Head, you'll want to pay a visit to this historic monument. It's around a 1-2 hour walk for the average person, so make sure you leave plenty of time to explore the cliffs by foot. You need to check out O'Brien's Tower too. Marking the highest point on the cliffs, it's not far at all from the visitor's centre and is probably the best place to view the area. If you're looking for the most comprehensive way to see The Cliffs of Moher, you should check out the Cliffs of Moher Coastal Trail. Having opened in 2013, it is a long trek but undeniably worth it.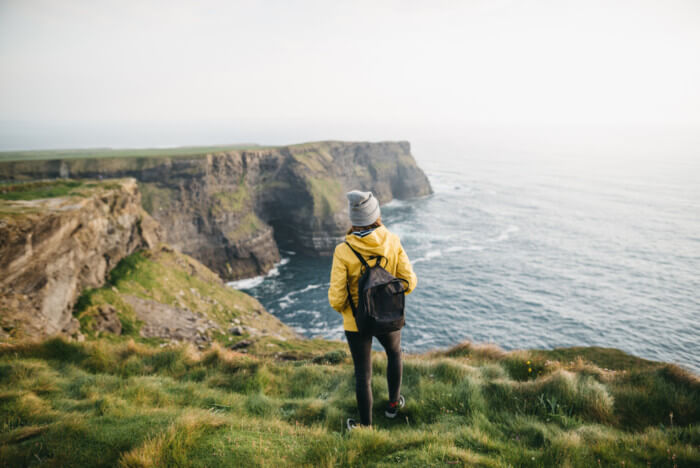 Realistically, you don't need to head to the visitor's centre to see the cliffs, but it helpful when visiting Cliffs of Moher (for many reasons). if you want a central point to start from, it's worth heading there before starting your trip. Tourism season is at its height in July and August, so if you fancy a more leisurely trip without the odd random ruining your photos, it's probably best to visit outside of this peak season if you can. Not only does it give you more freedom to roam, but you may catch better deals if you're clever about booking.
One final thing- make sure you bring some comfy shoes when visiting Cliffs of Moher! The last thing you want to do is pack heels for this one. Trust me, teetering around the cliffs will ruin the experience and may be downright dangerous. A trusty pair of boots or trainers will serve you incredibly well here, so be smart! Also remember there are strong winds in these parts, so be warned and stay safe if you choose this option as the gusts can catch you off guard at times.
---
Take a helicopter when visiting Cliffs of Moher
---
OK, this suggestion requires a bit of a budget, but if you really want to take in the Cliffs of Moher from an incredible angle – then taking a helicopter tour over the cliffs is NEXT LEVEL amazing. The price ranges from 100 euros, to 500 euros (depending on the company, and also whether you want a private flight or a shared one).
There are several companies that run helicopter tours when visiting Cliffs of Moher, here are the main ones:
---
What if I need to stay the night near the Cliffs of Moher?
---
So once you've settled on the best way to see The Cliffs of Moher for you – you might be looking for accommodation in the area. If you're looking to stay the night nearby, The Cliffs of Moher are very close to Doolin and Liscannor. Both are approximately 10 minutes away by car and are home to numerous B&Bs, hotels and room rentals that are all charming.
If you're looking to do the cliffs on a budget, it doesn't get much better than the popular Aille River Hostel in Doolin. Located a stone's throw from the city centre, it's a charming 300-year-old cottage that caters to countless travellers every year. You can even catch some live Irish music at Gus O'Connor's pub if you fancy! You may deem the cliffs worthy of more than one day of your time, so staying in a nearby town is the perfect choice for a more leisurely trip. Definitely one of the cutest places to stay when visiting Cliffs of Moher.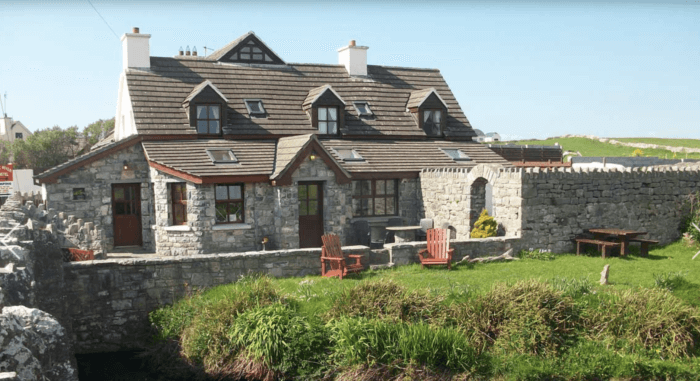 ---
Now that you know the best ways to see the cliffs of Moher, I'm going to close by saying that I just wouldn't rush it.
---
There's a good chance you may have poor weather, and you really want clear skies to get the best out of your trip. You can spend an entire afternoon doing the stretch of cliffs, and you can find plenty of cliff walk paths on the official Cliffs of Moher site (cliffsofmoher.ie). I'd also recommend visiting the Visitor's Centre too when you get there, as they have loads of tips and advice for the hiking trails and best viewing points. The building in the photo below is the Visitor's Centre!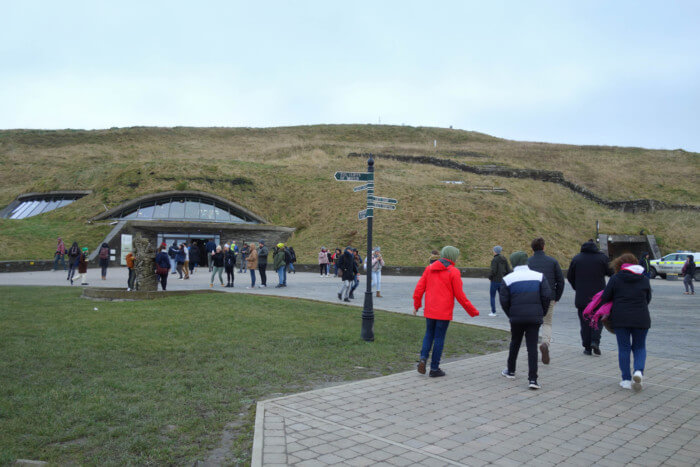 With multiple coastal walks on offer, you're sure to find one that covers the best of the area. So, make sure you plan well with the time you've got, as it may not always be practical to take the most scenic route possible! However, as you can see there are numerous best ways to see the Cliffs of Moher, so get planning!