If this place isn't on your bucket list, get Komodo National Park down as number one, STAT. Maybe you've had it in your mind as a place you fancied heading to, maybe this is the first you're hearing about it, maybe you've been obsessed with Komodo Dragons since you were six and you found out that they were the last real dinosaurs left on the planet. Whatever drew you to it, here's The Ultimate Guide to the Komodo National Park.
We get it, you want to know about the best snorkelling spots, how to see the dragons, and which landscape will look best on your insta feed. Yeah, we know that seeing these incredible sights with your human eyes is the number one priority, but you also want to be able to show off about having seen them. Don't worry, we've got you!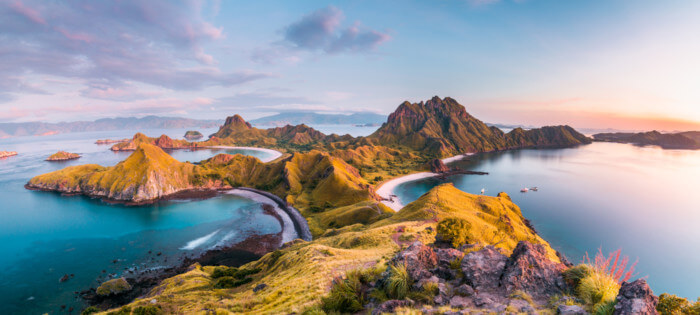 ---
What actually is Komodo National Park?
---
What kind of Ultimate Guide to Komodo National Park would this be, if we didn't actually give you the 411 from the off-set?
The park is right slap bang in the middle of the Indonesian Archipelago, in-between the islands of Flores and Sunbawa. It is comprised of three islands: Komodo, Rinca and Padar, and was created in 1890 for the sole purpose of preserving the natural habitat of the Komodo Dragon. Since then the creators of the park have extended the protected status to all of the national park's inhabitants, from its flora to its fauna in the sea, on land, and in its skies. Since 1986 it's declared as a world heritage site and a man & biosphere reserve by UNESCO – which makes it pretty darn awesome, we think!
---
What activities are there inside Komodo National Park?
---
There is so much amazing stuff to do in Komodo National Park.
Animal / nature watching
It's the only place in the whole world where you can see Komodo Dragons in the wild (in case you haven't guessed yet, we're pretty excited about this), but this is kind of just the tip of the iceberg in terms of what's on offer. Have you ever seen pink sand? Well this national park has got it, and some black sand beaches, and also your common or garden white sand beaches too.
You can scuba dive (or snorkel)
If you're into your scuba diving, or snorkelling, then there's as much to see underwater as there is on land. Click here for the dive sites within the park itself. Manta rays, rare Manatees or dugongs, different kinds of whales, turtles, dolphins, sharks, and beautiful corals are all there for the looking. It doesn't matter about your swimming ability, or your scuba ability either because there's something here for everyone – so you could be experiencing your first scuba dive in no time in these gorgeous environments.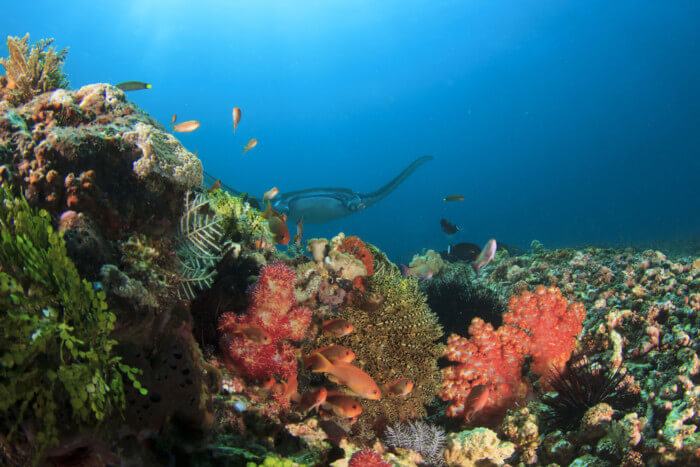 You can hike 
If you're not a fan of snorkelling or scuba diving, there's loads of flora and fauna to be seen on land, too – and the sights up above are to die for. We're not kidding! Think water buffalo, eagles, savvanah-like vegetation, rounded volcanic hills. It's one of those places that can't accurately be described in words, and a picture still doesn't quite capture it's majestic beauty. Believe us when we say it will almost definitely be the most beautiful thing you've ever seen. It's not been made one of the new 7 wonders of the world for nothing!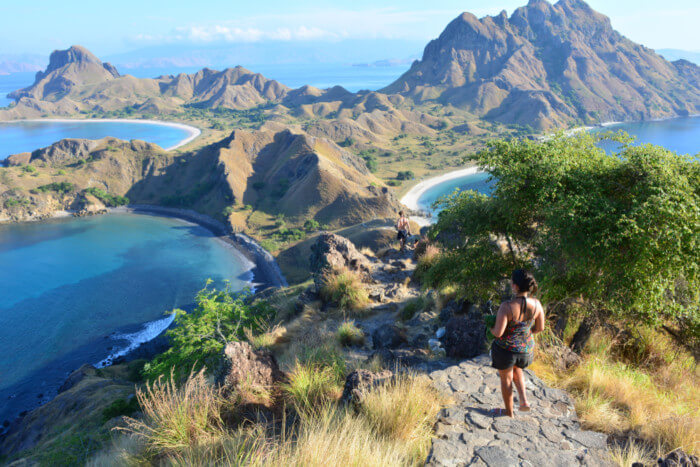 You can sail (or rent a boat)
If you want to grow some sea legs, then you can rent a boat in the national park (or go on a sailing tour). This is amazing as it is, because you can spend time changing between laying on beaches and snorkelling off the back of the boat.
---
How to get to Komodo National Park
---
So, now we've got what it is out of the way, we know you're definitely champing at the bit to get going. But, we hear you cry, how does one get to the park itself?
Well your first port of call is to get yourself from wherever you are right now, to Flores.
We'd probably recommend that you fly unless you're feeling incredibly intrepid, or own a super fancy yacht. You won't be able to fly there directly, though, as the airport is pretty tiny and doesn't take international flights. You're probably going to want to fly to Bali, but the onward journey to Labuan Bajo is only around an hour from there. This is the place you want to keep as your home base, as you can't stay in the park itself (unless you sleep on a boat just off the coastline). 
From your base, you can book the tours that'll take you into the park. Please keep in mind that the only way to visit the park is to go with a licensed tour company. It is actually impossible to explore the park alone.
Don't worry, though, because this is The Ultimate Guide to Komodo National Park we've handily got all your options here in one place.
---
Places to see inside Komodo National Park 
---
We've mentioned some of the flora and fauna you'll see from Rays to coral to buffalo and Komodo Dragons (how many times can we say that this is amazing) but the wildlife isn't the only thing you're going for (we know!). As excited as we are about Komodo Dragons, they might not be on the tip top of your list, so here's a countdown of what we think are the best sights.
Pink Beach
Will. Blow. your. Mind. The sand is a gorgeous rose colour, and the water an amazingly crystal clear turquoise. It reminded us of the fountain of dreams on Super Mario Smash Brothers – but if that's too niche a reference, it looks like a beach that could have hopped right out of a disney film when they were going through that psychedelic phase (hello, fantasia?) The hill has amazing sunrises and sunsets, too!
Kanawa Island
Classic white sand paradise. Honestly, you'll think you've died and gone to heaven. This island is home to Manta Rays and broken coral, so there's loads to snorkel and find. It's also a big one for scuba diving.
The summit of Padar Island
Quite frankly it's iconic. Green undulations, and swirled beaches. It looks like something out of a sci fi movie in which all the characters are at peace because they live somewhere so beautiful. Catch a sunset from the summit, and the whole park looks like it's been dipped in gold. Thank us, later.
Kelor Island
This island is so green. It looks like it should be heaven. It's serene, pristine, and gorgeous. Worth it just to stroll through its vegetation and relax on its white beaches.
Manta Point
Not to be missed if you like diving, or snorkelling. This is where you're going to catch the best views of Manta Rays. It's just majestic seeing one glide through the water near you, and definitely an experience to put on your bucket list.
---
What kind of tours are there in Komodo National Park?
---
The main street in Labuan Bajo is chock-a-block with store-fronts offering tours, but if you plan on staying the area for longer than a day, I recommend booking ahead of time with a tour company with reviews you can check and read through. 
Private 2 Day Tour
If you're short on time, then spending 2 days in the park is a great compromoise. You'll have enough time to see the main areas of the park, but 2 days doesn't feel too long. I really recommend this tour  – it's a complete 2 day private tour, where you'll get to look for Komodo Dragons (and other wildlife), go for a jungle trek in the habitat of the giant lizards, discover a beach of amazing pink sand and spend the night on a boat too. It has a little bit of everything – so it's an amazing choice. You can book the 1 day tour by clicking here. 
Private 3 and 4 day tours
If you want to spend a bit longer in the national park (and who would blame you – because it's amazing) you can opt for a private 3 or 4 day tour with Get Your Guide. These are great options, because they give you a little more freedom to explore, and a little more time to explore too – but you get a private guide the entire time who can make sure you're seeing the best bits. You'll get to see Komodo (of course) but also the surrounding islands too – which means seeing even more wildlife, doing more swimming, seeing more beaches and more caves. You can book the 3 day tour by clicking here, and you can book the 4 day tour by clicking here.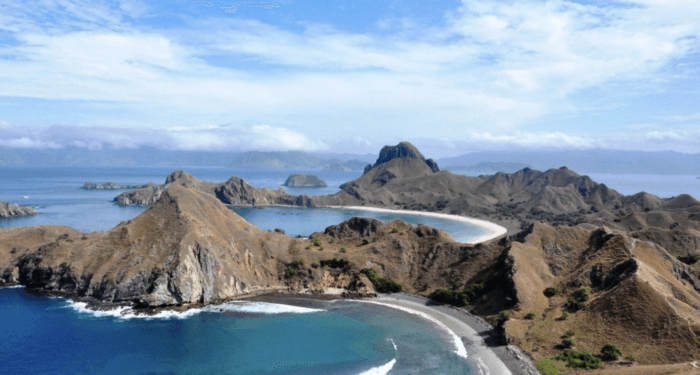 Group Tours
This is a good option if you're travelling solo – you'll make heaps of pals, there'll be someone to snap you in your bikini on pink sand, and people to discover all the islands have to offer without you feeling stranded in the wilderness. It's also a little more budget friendly! There are loads of tours on offer on the main street in Labuan Bajo, and you're likely to find people to team up with whilst you're there. You could pick anything from a trekking tour, to a boat tour, to a village tour (there's still settlements on the islands, and they're an amazing sight to see!) so the world is your oyster!
Trekking Tour
Dragon island tours do a CRACKING trekking tour, and the ultimate guide to Komodo National Park would be incomplete without mentioning it. It's 6 days long, but it is incredible. If you've the time, and you love a jolly good walk – this is the one for you, we promise! Think incredible views, jumping in the sea to cool off, uphill and down dale, and really getting immersed in the flora and fauna of the islands. Like the other tours, you're seeing all the great sights like pink beach, Padar Island and its iconic views, and the villages! You're staying on the boat so it's the best of both worlds, really!
---
What should I bring?
---
A water bottle: Make sure to bring a water bottle. The islands can get HOT so you'll definitely want to keep hydrated.

High SPF sunscreen to keep you safe: We'd also make it an eco friendly one, too, to protect the natural environment of Komodo National Park. (My favourite is Badger Sport sunscreen. It's affordable, it smells great, it goes up to a high SPF and only has five ingredients!)

Closed toe shoes: Not just because it'll make any hiking a hell of a lot easier, but also because you might feel a lot better around the dragons if you haven't got your little toes sizzling in the sun like ready-to-eat sausages!

Cool, airy clothes you can move in (and your swimwear so you can jump into the sea at any given opportunity)
Other than that, yourself, your eyes, and maybe a camera and a portable charger and you're good to go! Komodo National Park is all about enjoying the nature and landscape, so as long as you're respectful of that and you've planned for the climate, you should be fine!
---
When should I go?
---
Indonesia basically has four seasons: The rainy season, The lush season, High season, and the off season.
Rainy: December to March.
When we say rainy season, we mean rainy season. Think of the monsoon bit from the original Jumanji and that's kind of it. It's a risky time to choose to go as most tour companies don't operate due to the weather.
Lush: April to June.
The weather is way cooler than in the high season, though still pretty warm. The greenery is verdant and lush so that all the islands look like tropical paradises.
High: July and August.
It is HOT. and we mean HOT. it's going to be pretty tourist heavy, too, but that doesn't mean it's not still an amazing time to go.
The off season: September to November
This is kinda one of the best times to go. There's hardly any tourists, and the weather is still scorching for the most part.
---
I think that might be all you need to know about Komodo National Park, without getting there and seeing it all for yourselves! You know what the best sights are, we've sufficiently hyped up the dragons, and you know what to pop in your carry on. You're ready!
We hope you love Komodo National Park and enjoy this amazing natural wonder as much as we did.