Are you looking for a guide to Las Vegas on a budget? Look no further!
Las Vegas might not be known as a budget location – but Las Vegas is actually a pretty great place to go when you're on a budget! Some cities can be very difficult to visit when you're on a budget, but it's still really enjoyable to visit Las Vegas on a budget because there's so much to do that is cheap or free!
I've split this guide to Las Vegas on a budget into several sections; where to stay, what to do, where to eat and top tips for saving money in the city. Hopefully this guide to Las Vegas on a budget will help you have an amazing time in Las Vegas, whilst not spending too much money!
---
Guide to Las Vegas on a budget: Where to stay
---
First on my list of tips for Las Vegas on a budget… Where to stay! There are loads of hotels in Las Vegas for when you're on a budget, so you really have your pick of the bunch! If you're looking for somewhere affordable or on a budget, there are a few options for you!
On the strip of Las Vegas
The Las Vegas strip is probably what you'd class as the 'city centre' of Las Vegas, so it's a great place to stop. Hotels on the strip range in price, but the hotels listed below are some of the cheapest you'll find!
The Excalibur
The Luxor
Jockey Club Suites
New York New York
Downtown Las Vegas Hotels
Downtown Las Vegas is located about a 15-20 minute drive from the Las Vegas strip, but it's also a hub of nightlife and activities. In fact, it's considered the other big 'centre' of Las vegas, and there are lots of hotels there. It tends to be cheaper to stop in downtown Vegas, so if you're on a budget, it's a good place to look!
The D Hotel
 4 Queens Hotel and Casino
Hotel Apache
Fremont Hotel and Casino
Off the strip (less central)
One of the easiest ways to reduce the costs of your vacation in Las Vegas, is by choosing a hotel off the strip. You may end up spending money on taxis (if you plan on visiting the nightlife on the strip) but the hotels are definitely much cheaper off strip.
Gold Coast Hotel and Casino
The Orleans Hotel and Casino
Hilton Grand Vacation Suites
Desert Rose Resort
Club de Soleil
Palace Station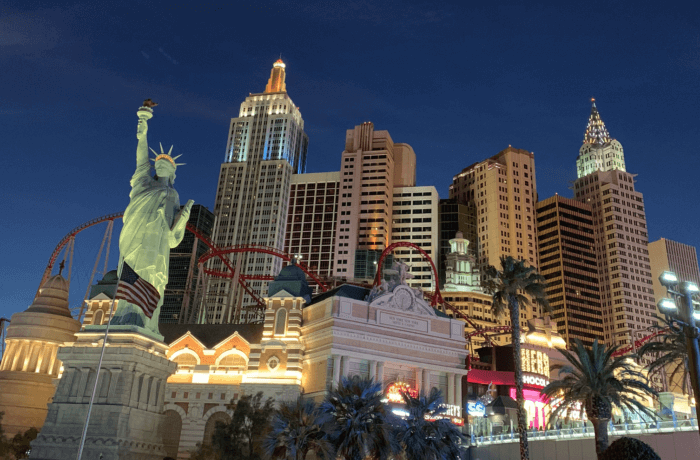 ---
Guide to Las Vegas on a budget: What to do
---
Next up on my tips for Las Vegas on a budget, What is there to do?
When it comes to spending time in Las Vegas on a budget, there are so many things to do in the city that don't cost anything! There are plenty of free activities in the city that will easily keep you entertained. Here are a few of my suggestions for free (or nearly free) things to do…
Walk around all the hotels
First on things to do in Las Vegas on a budget… Look around the hotels! The hotels in Vegas are so much fun – and like mini resorts in themselves. You don't need to be a guest of a hotel to enjoy the hotel grounds and look around. Generally, the themed hotels tend to be more fun to explore! Some of the main ones I'd recommend exploring are; New York New York, The Paris, The Bellagio, The Venetian, Caesar's Palace, The Wynn Hotel and The Cosmopolitan.
Go window shopping
Next up for things to do in Las Vegas on a budget, window shopping! There are so many shopping malls in Las Vegas, and window shopping doesn't cost a thing!
Watch the Bellagio Fountains
The classic, iconic and famous Las Vegas landmark! The fountains are free to watch and go off about every 30 minutes. They're amazing, and so entertaining!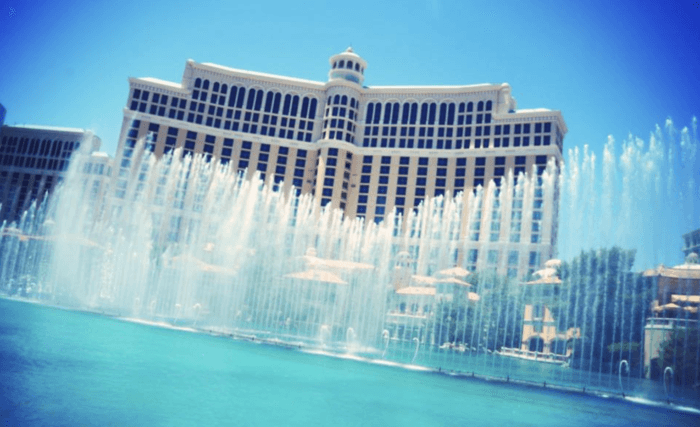 Watch the Volcano erupt at The Mirage
Of course, I couldn't do a list of things to do in Las Vegas on a budget without mentioning the Volcano at The Mirage! This outdoor show at the Mirage goes off every evening multiple times, and it's completely free to watch!
Bet some cents!
In most casinos you'll find slot machines with a minimum of 1 cent bets. This means you can make $10 last agessss! It's entertainment for the whole night!
Visit the Wildlife Habitat at The Flamingo Hotel
The wildlife at The Flamingo Hotel is such a lovely way to spend an hour or so! It's really lovely to see these beautiful birds!
Visit the Bellagio Gardens / Conservatory
Next up on my list of things to do in Las Vegas on a budget… The Bellagio gardens! The Bellagio Conservatory is re-decorated every seasons to suit the beautiful surroundings. It's really something to see, and the levels of details in the gardens is just stunning.
Visit the Fremont Street Experience in Downtown
Fremont Street is a hub of activity, lights and sounds. There are street performers, a light show, and music – and it's very 'old school' Las Vegas. If you've never seen it, you should definitely go and explore for an evening!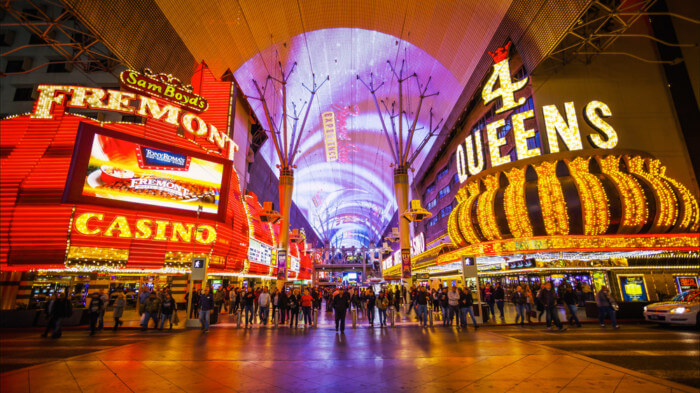 Walk along the outdoor walk ways
There are lots of great outdoor walkways in las vegas, each with pedestrian access (obviously!) and great views of the city. One of my favourite walkways is from outside the Cosmopolitan (near the Bellagio driveway) and up to the Bellagio lobby.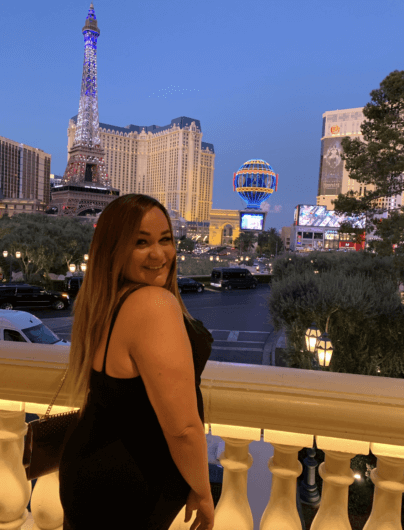 Visit the Forum Shops
The Forum shops (even if you don't have any money to spend) are so much fun to walk around. There are great shops, of course, but the design and decor of the mall is something else! There is also a free live show at the fish tank area every hour (near Cheesecake Factory).
Explore the Canal Shoppes at the Venetian Hotel
Up next in my list of Las Vegas on a budget suggestions… The mall in the Venetian Hotel is an incredible place to have a walk around. They're recreated the look and feel of Venice itself and created Italian-style shop fronts, and even canal and gondolas!
Spend a day by the pool
If you're in Vegas in Spring / Summer and the pools are open – spending the day by the pool is a perfect way to pass time! In most hotel pools you can bring external coffees or smoothies up – so no need to buy those expensive poolside drinks.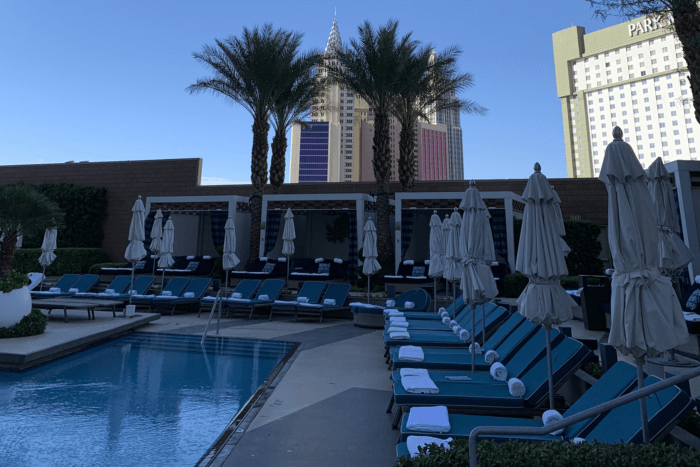 ---
Guide to Las Vegas on a budget: Where to eat
---
Food can be a big drain on budget, so of course I had to give you some suggestions for food places in Las Vegas on a budget! Most hotels have affordable food courts in them, and of course there are fast food joints on every corner and in every hotel too. Here are some of the best picks of budget food options…
Block 16 Urban Food Hall @ The Cosmopolitan
Block 16 is an urban style food hall in the heart of The Cosmopolitan Hotel – has loads of great food options for under $10. Pok Pok wings are my FAVOURITE!
Denny's
There are two Denny's on the strip (at each end) and they're one of the cheap options for breakfast of snacks throughout the day. Just classic food choices you'd expect from a diner!
Secret Pizza @ The Cosmopolitan
Pizza by the slice, NYC style, this place is a cheap option for a quick dinner or a quick midnight snack.
Earl of Sandwich @ Caesars or Planet Hollywood
There's a few of these dotted around Vegas, and they're a good options for a quick lunch or dinner. Sandwiches around usually under $10 and they're super delicious too!
Tacos El Gordo
Who doesn't love Tacos? You'll find these across the strip – and oh boy, they're tasty.
Food court @ The Fashion Show Mall
There are quite a few cheap food vendors at the Fashion Show Mall, so if you're in the mall and doing some shopping and fancy having a cheap lunch – definitely pop by the food court on the upper floor.
Dirt Dog
Hot dogs… An American classic! This place is great for late night snacks!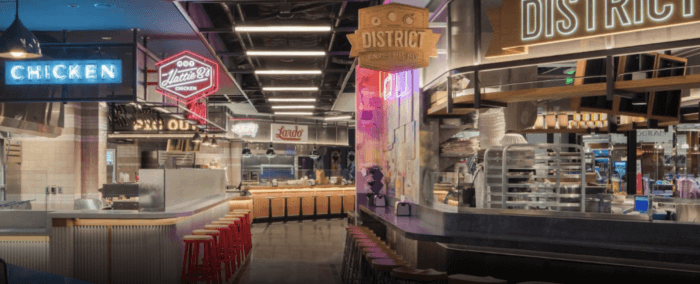 ---
Top tips for saving money in the city
---
Remember! If you gamble, you drink for free (plus a small tip). So sometimes sitting at a slot machine is cheaper than sitting in a bar.
The more expensive casinos have more expensive everything else – including drinks and minimum bets (when gambling). If you head to cheaper hotels and casinos, you'll get cheaper drinks and also cheaper minimum bets.
Always look out for food courts if you want to save money on food costs.
Every day feels like the weekend, so if you're only in Vegas for a few days, opt for Monday – Friday (not the weekend).
Book with the hotel directly – you'll avoid extra costs and might be able to score extra freebies or cheaper upgrades when you check in.
If you're from outside the USA, and you're paying with things on your Credit / Debit Card – make sure you always choose to pay in dollars (not pounds). You'll get a better exchange rate that way, and end up paying less.
Avoid boxing matches, big conferences and big events! Unless you're heading to the city for those events specifically, try and forward plan to avoid huge calendar events. The hotel prices will rocket during match weekends or big during conferences!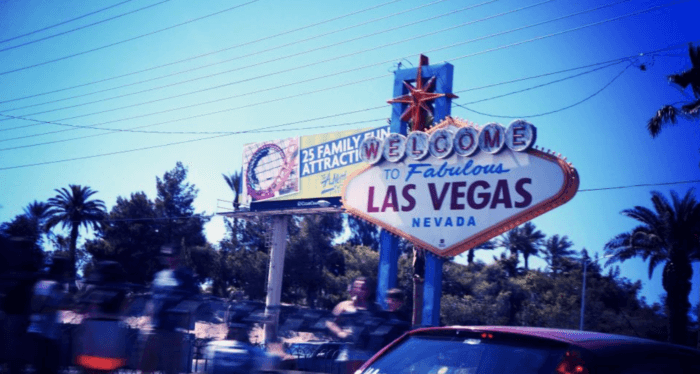 ---
I hope this guide for Las Vegas on a budget has been helpful! If you need anymore suggestions or ideas, just drop me a comment and I'll try to help!
---