If you're planning a visit to the Black Forest Germany, you might be looking for an ultimate guide to the area. Look no further – this guide has all the information you need. 
---
The Black Forest is one of Germany's most beautiful and expansive areas, and it offers a grandiose range of hills, lakes and forests which measure 160km from top to toe. The Black Forest Germany is one of the most stunning locations in Europe and it's ideal for touring, hiking, exploring – you name it. The Black Forest in Germany offers sensational views every step of the way.
Whether you're planning to travel by bicycle, car or (if you're brave enough) by foot, I'm here to give you the lowdown on what to do and how to do it and what to see whilst you're visiting the Black Forest Germany.
Famous for its mineral spas, hiking trails and open villages, Germany's Black Forest is the perfect getaway if you've found yourself overworked and in need of a change of pace. I'll be splitting this guide to visiting the Black Forest into two sectors, which will encompass the two main areas of Baden-Baden and Freiburg. Though I'll be focusing on Baden-Baden for the most part, the Black Forest is so expansive that I'm sure you'll find plenty on this list that you can get stuck into!
---
Baden-Baden
---
Baden-Baden has a distinctly antique feel. The stunning 19th-century architecture on show gives this luscious resort town an unquestionable air of elegance. Baden-Baden's streets and parks are designed for leisurely walks and all the top attractions tend to be close to one another, making this area easy to explore.
---
Mineral Spas and Friedrichsbad
---
The mineral spas that are renowned in Baden-Baden date back to the Roman times and are one of the main draws of this town and the Black Forest in Germany. The perfect way to recharge, these mineral-rich waters were first discovered by the Romans who sought "health through water" back in the day. Known to ease aches and muscular pain, the Romans quickly caught on to the therapeutic offerings of Germany's Black Forest. Not only are the baths top notch, but you happen to be surrounded by incredible scenery too!
The Friedrichsbad spa is the most legendary of Baden-Baden's offerings. As this is the most well-known cultural sector of Baden-Baden's baths, it's super appealing to tourists. The spa itself is 143 years old and is influenced by classic Roman sculptures. You can clearly see this, as it's decked out with marble pools and domed architecture! There are 17 bathing spots in the Friedrichsbad, so you're bound to be spoiled for choice!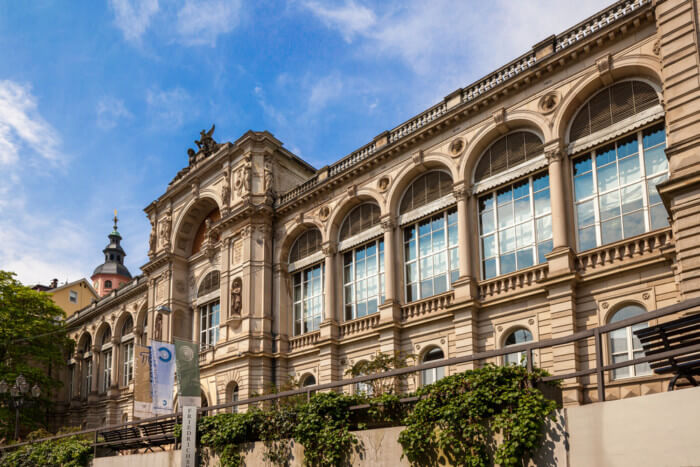 ---
Lichtentaler Allee
---
Next on my list of things to do in the Black Forest Germany, is Lichtentaler Allee. If the spas don't quite float your boat or you're looking for something to do after visiting the baths, make sure you take a stroll down Lichtentaler Allee. A beautiful park that runs along the river Oos, this area is home to some of Baden-Baden's finest cultural institutions. Why not pop into the Faberge museum and have a gander at the exhibits? Or, if you're a fan of contemporary art, the Museum Frieder Burda has plenty of art that is sure to pique your interest.
However, one of the top things to do here has to be paying a visit to the city's oldest café, Café Koenig. With a Black Forest Gateau that could melt the coldest of hearts, it's absolutely worth a trip for foodies that wish to sample Germany's famous cherry-filled delight.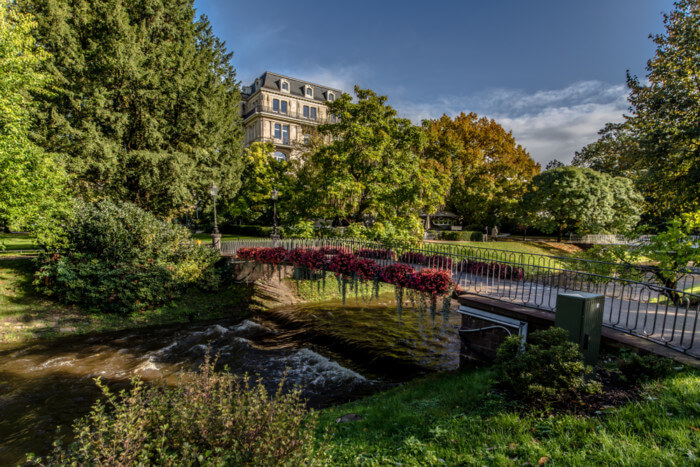 ---
Merkur Bergbahn
---
Merkur (Mercury for us English-speaking folk!), is Baden-Baden's landmark mountain. The Merkur Bergbahn just so happens to be the longest funicular railway in Germany, so I feel it certainly deserves a spot in my guide to visiting the Black Forest Germany! With a summit of 2191 feet, the Merkur Mountain can be reached with a simple (yet steep!) funicular railway journey.
In just over 5 minutes and with inclines that range between 23% and 54%, this convenient mode of transport is as much of an adventure as the peak itself! Operating between the base of the mountain and the summit between 10am and 10pm, there are plenty of opportunities to get your high-altitude fix.
If you're a particularly keen hiker, why not try taking the footpaths up to the top of the mountain? With a wonderful dedicated footpath and a free lift to the viewing platform, you get a full panoramic view of Baden-Baden that's majorly insta-worthy.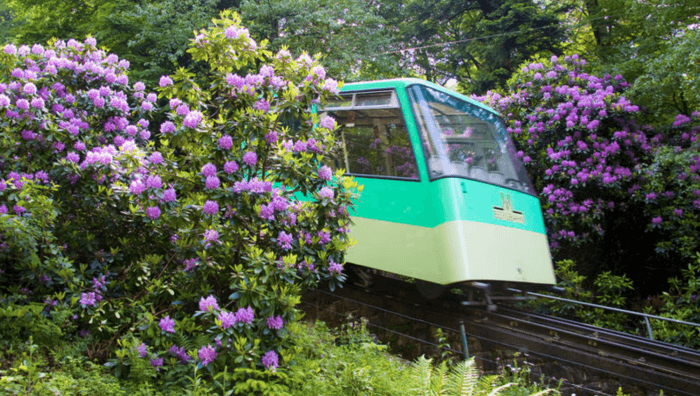 ---
Altes Schloss Hohenbaden (Hohenbaden Castle)
---
Perched on the hills of the Black Forest Germany, Altes Schloss Hohenbaden is a beautiful set of landmark castles that offer terrific views of the countryside. For those that don't know, these castles were known as the seat of the Margrave of Baden back in the Middle Ages. If you were wondering where Baden-Baden got its name, well, now you know!
Built in 1102, this historical beauty is free of charge to visit, and has ample parking facilities if you're driving there. If you're looking to discover the history of Baden-Baden, the Hohenbaden Castle is an excellent place to start (with it being one of the area's oldest possessions and all…). Everyone loves a castle, and this castle in the Black Forest Germany is iconic!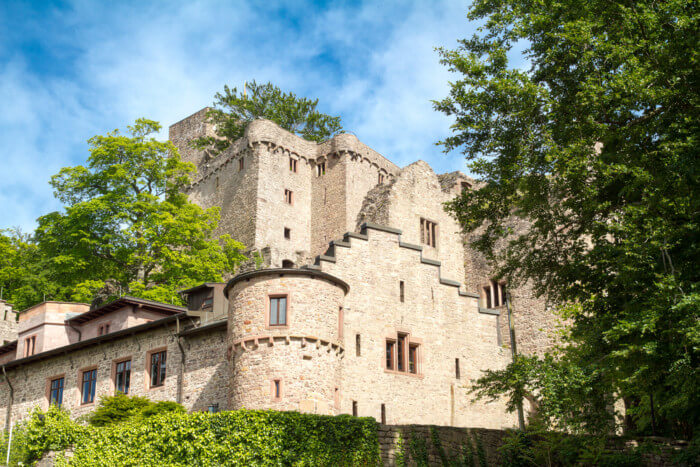 ---
Schwarzwaldhochstrasse (Black Forest High Road)
---
If you're visiting the Black Forest Germany by car, the Schwarzwaldhochstrasse is a must-do. Roughly translated to Black Forest High Road, it is one of the oldest and most celebrated themed drives in Germany. Running at an altitude between 800 and 1000 metres above sea level, you get magnificent views of the Black Forest valleys, the Rhine Valley and the Vogues Mountains.
If you're heading to the Black Forest in Germany during the winter months, this is a fab choice for the skiers amongst you! With snow basically guaranteed here, you're sure to have a fantastic time on the slopes.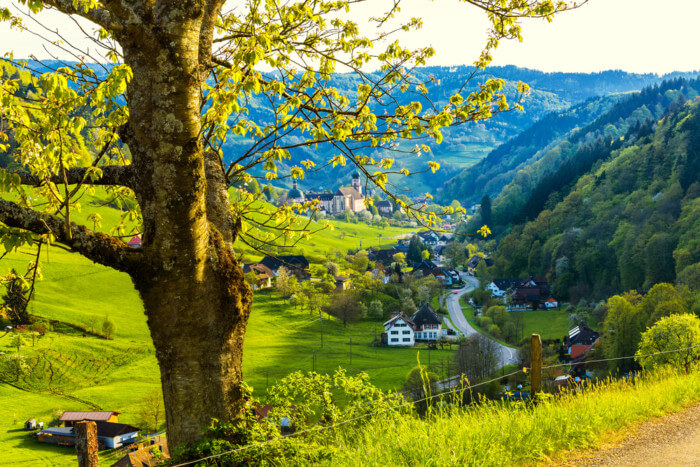 ---
Durbach
---
The tiny town of Durbach is located around 50km south of Baden-Baden and it s must-see stop on you visit to the Black Forest in Germany. With rolling vineyards visible as far as the eye can see, this area is a fantastic place for wine lovers to see where their prized beverage comes from.
I particularly recommend the Durbacher Winzergenossenschaft (gesundheit!), which stocks plenty of distinguished local wines, so it's great if you want to stock up on local tipple! It's worth noting that these guys are liberal with their samples, so you get quite the bang for your buck at this humble shop.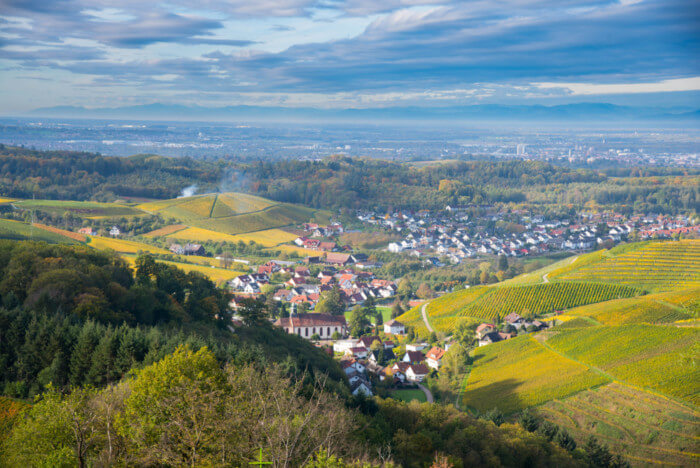 ---
Calw
---
One of the prettiest towns in the Black Forest Germany. It's super popular with visitors (of course) because of how stunning the buildings and surroundings are. The town is a lovely place to stroll around, and it also has a museum, and plenty of beautiful cafes and restaurants (including a few delicious ice cream parlours too). We recommend starting your day in the market square and taking it all in from there.
If you're visiting the town in summer, it's pretty amazing just to sit and people watch and enjoy the views.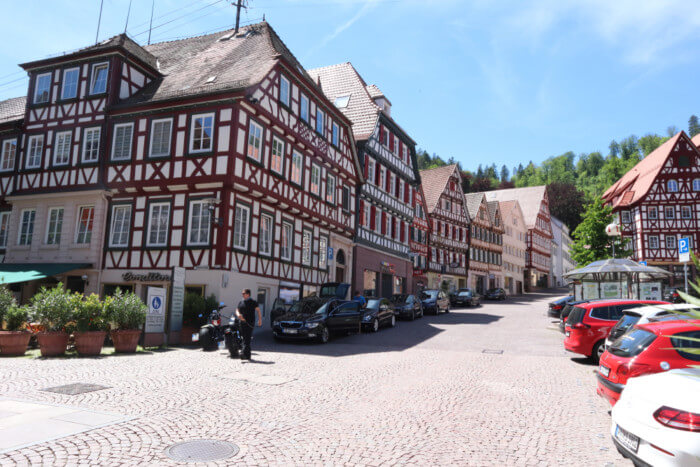 ---
Kinzig Valley and Gutach Valley
---
Next on my list of things to do in Black Forest Germany, is the Kinzig and Gutach Valley. Both the Kinzig Valley and Gutach Valley are quintessential parts of the Black Forest Germany. If you're travelling along the Schwarzwaldhochstrasse, you will probably pass this quaint region. The densely forested Kinzig Valley is a horseshoe-shaped area in the Black Forest's valley system and is surrounded by a ton of small towns. With many acting as cultural hubs in the Black Forest, why not stop by and pick up some world-renowned cuckoo clocks as you pass through? These are iconic souvenirs from the Black Forest in Germany. 
If you're wondering, the Gutach Valley is a side valley of the Kinzig Valley. Looking for some Black Forest trivia? The Gutach Valley just so happens to be the home of the Bollenhut! If you don't know what that is, it's a German hat that's topped with pom-poms. Donned by ladies sporting traditional dress, it's certainly a memorable symbol for this charming area!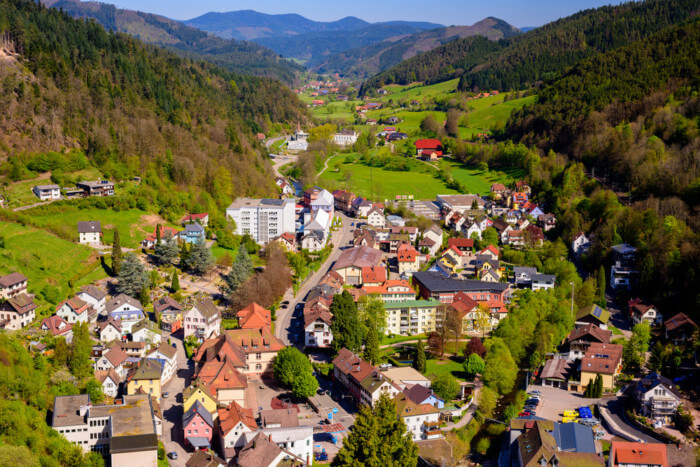 ---
Titisee Lake
---
This stunning lake is located in the Southern region of the Black Forest Germany, and Titisee Lake is a muse-visit! It's a really popular resort and really well-frequented in the spring and summer months. The lake is huge (around 1.2 miles long!) so there's plenty to do and see around it. You can go on the lake itself and enjoy water sports and swimming, or you can enjoy walking around the lake and enjoying the views.
Quick bit of trivia: This is also the largest natural lake in the Black Forest!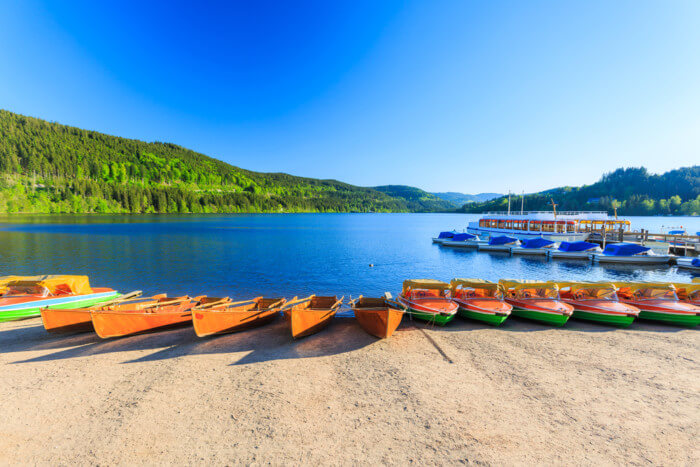 ---
Freiburg and 
Freiburger Munster
---
In contrast to Baden-Baden, Freiburg is one of Germany's great exhibitions of classic Gothic architecture. Built between the 13th and 16th centuries, this place is worth a visit for its beautiful buildings alone. With stained glass windows that are visible in multiple properties, a visit to Freiburg is like stepping back in time. This is definitely one of the must-see things to do in the Black Forest Germany.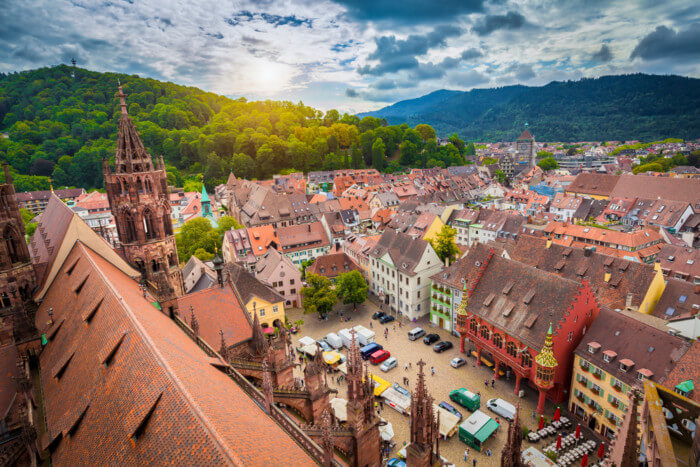 Next on my list of things to do in Black Forest Germany is Freiburger Munster. One of Freiburg's most distinctive landmarks, this cathedral is a testament to the area's Gothic architecture. Built between 1200 and 1513, this is one of the Black Forest's most striking cathedrals. An interesting element of the Freiburger Munster is that it's got the only Gothic church tower in Germany (which was completed in the Middle Ages by the way!). You can even climb the tower if you fancy, with its look-out platform providing wonderful views of the city.
If you've not already been blown away by this cathedral in Black Forest Germany, make sure you check out its gorgeous altars too. With one by Hans Baldung Grien and another by the famous Hans Holbein, you're sure to walk away spiritually enlightened.
---
Schauinsland
---
Another epic mountain in the Black Forest Germany that had to make it onto my list is the Schauinsland. Literally meaning 'look-into-the-country', this stunning mountain stands 1,284 metres above sea level and provides an unparalleled view of the city. Particularly popular amongst hikers, this one's a definite must if you're partial to a bit of The Great Outdoors. Definitely something to put on your list for the Black Forest Germany.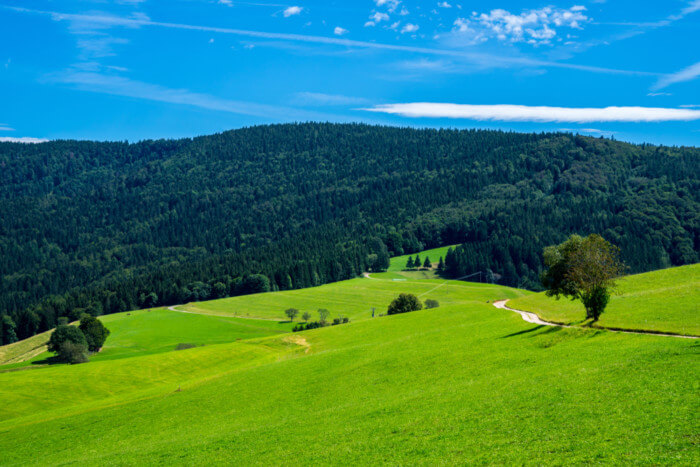 ---
Freiburg Bachle
---
Though more of a feature of Freiburg than an attraction, the Freiburg Bachle are small, water-filled rills in the Black Forest's famous city. Being visible along most of the city's streets and alleyways, they're an awesome and unique feature of Freiburg that are quite hard to miss.
Behaving as part of the water supply back in the 13th century, they're now a cool reminder of Freiburg's historical waterways. Oh, and fun fact? It's local superstition that if you step into the Bachle, you'll marry a Freiburger! It may not work, but hey- it's worth a try, right? It's such a unique thing to check out in the Black Forest Germany.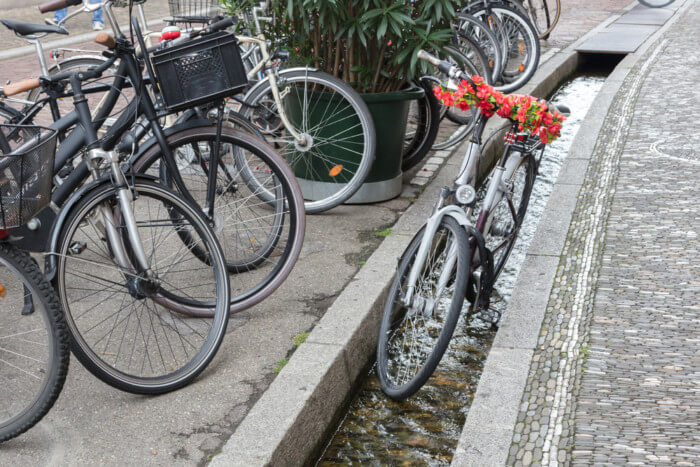 ---
Black Forest Germany Spa Route
---
As a closing note, I want to quickly mention the Black Forest Spa Route! A dedicated 270km (!) loop of spas (that includes areas of Baden-Baden), you're sure to find somewhere to relax along this massive stretch of road. If you're looking to take a break whilst taking in some of the world's most beautiful scenery, pop into one any one of the spas on this route for a massage, facial or pedicure. Prepare to be pampered into oblivion! A great way to spend time in the Black Forest Germany. 
---
Gengenbach
---
This cute little town is so picturesque and beautiful, you'll want to stop by if you can just to snap some photos and soak in the atmosphere. Seriously check out the photo below and tell me it's not the kind of place you want to look around! It's so pretty, and Gengenbach is definitely once of the most scenic places in the Black Forest Germany.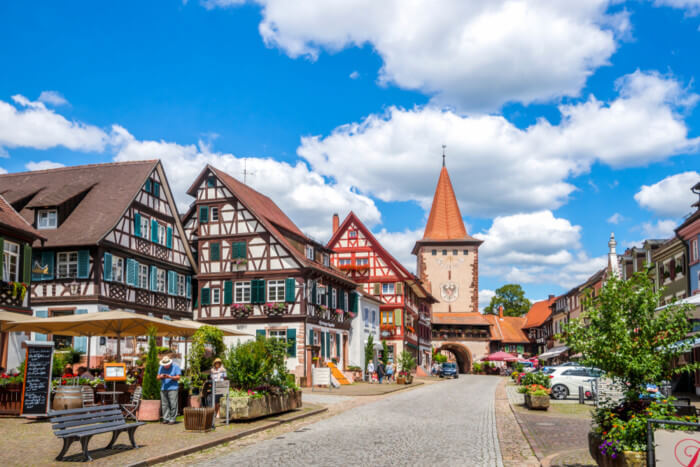 ---
So, I hope I've adequately inspired you to check out the Black Forest in Germany. In terms of creating a guide to visiting the Black Forest, it's impossible to cover absolutely every base. However, Freiburg and Baden-Baden offer fantastic history and beautiful scenery that are sure to pique the interest of any keen traveller!