One of the most amazing places you could possibly wish to visit in Australia, is Hamilton Island. If luxury resorts, fine dining, incredible views and crystal clear water are all your kind of thing – then you'll find all of those here, and then some.
Here you'll find everything you need to know about Hamilton Island, from the best hotels to stop in, to the restaurants we'd recommend, and the best way of getting there. When we visited, we discovered one of the most beautiful places we'd ever been, and fell head over heels – I'm sure you will too.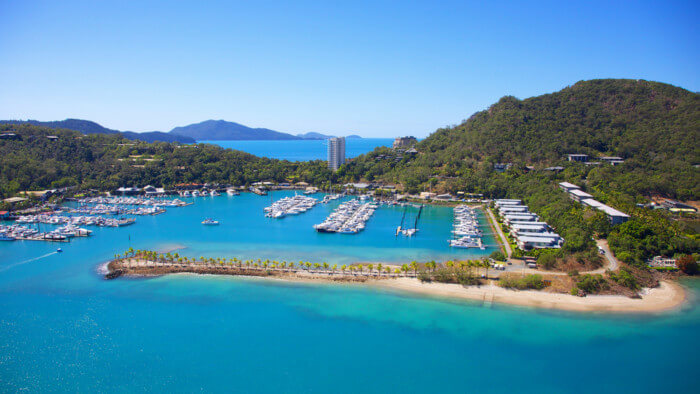 When is the best time to visit Hamilton Island?
Hamilton Island is one of the Whitsunday Islands of Queensland, Australia. This beautiful paradise has mild temperatures year round but May to October are the most popular months for tourists.
January sees the highest temperatures when the mercury hovers around 30 degrees Celsius during the day time. July is the coolest month when the highs are around 22 degrees. January to April can have quite a lot of rain.
We once visited in May (and decided to risk it) and spent a lot of time in the rain! But it was still a lot of fun! It didn't stop us making the most of it!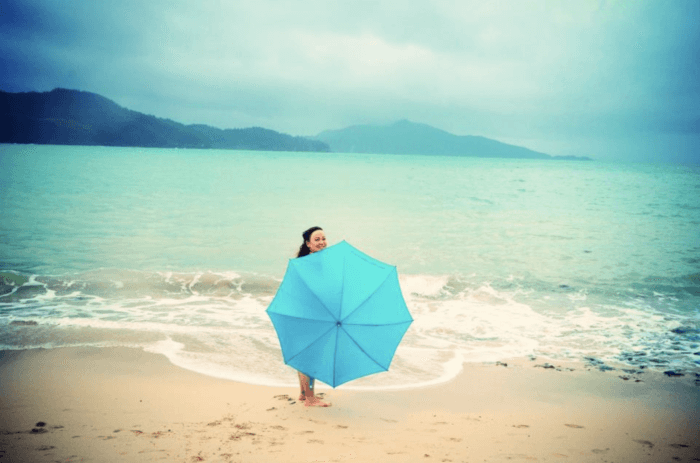 How do you get to Hamilton Island?
The only commercial airport serving the Whitsunday Islands is on Hamilton Island. There are regular flights to Brisbane, Sydney, Cairns and Melbourne, and some private planes and helicopters fly to the island as well (at a cost of course!).
A ferry service operates from Shute Harbour on mainland Australia, and there is secure car parking there for anyone leaving their car. If you're driving, we'd recommend stopping at Airlie Beach and catching a quick ferry across to the island from there.
How do you get around Hamilton Island?
Hamilton Island is a car-free zone so getting around is done on foot, by complimentary shuttle bus (the buses run 7am to 11pm) or by golf buggy. The island is relatively small, so it's not difficult to walk from place to place – although hiring a golf buggy is probably much more fun!
You'll need to have a driving license to hire a buggy, and different sized buggies can be hired – depending on the size of your group. All golf buggies have a canopy for shade, headlights for night driving, and drink-holders for refreshments. All buggies have a canopy for shade, headlights for night driving, and drink-holders for refreshments.
$59 – 2 Hour
$69 – 4 Hour
$70 – Overnight 3:00pm to 9:00am
$87 – Per 24 Hours
If you're hiring a gold buggy for more than one day (recommended if you're stopping for a week or so) then you'll be able to park up outside most hotels on the island, at various charge points specially for the buggy rentals. Easy!
---
Things to do on Hamilton Island
---
There are so many things to do in Hamilton Island, which is one of the reasons it's such a great vacation destination. here are just a few of my favourite things to do in Hamilton Island…
Take a helicopter over The Great Barrier Reef
The Reef is the top attraction in these parts of Australia, and one of the best ways to see the reef (if not from the water) if the air! Seeing the reef from above is simply stunning… and it's one of the only angles you can see the sheer size and scale of the Great Barrier Reef too.
There are some trips from Hamilton Island where you swoop over the reefs in an amazing helicopter, then spend time snorkelling in the water with the fish, before enjoying a tasty lunch on a luxury boat.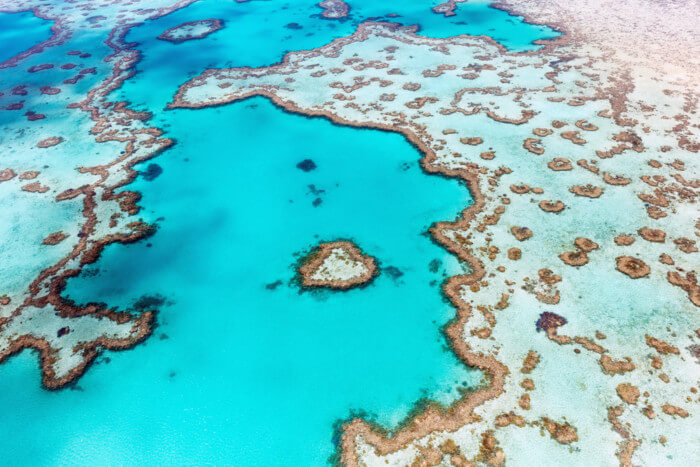 Hire a kayak or standup paddle board
There are lots of equipment rentals available on Hamilton island, so one of my favourite things to do in Hamilton Island is actually getting out on the water using a kayak or paddle board. It's a relaxing way to spend the day, but it's also active too and a great way to spend time in the great outdoors. Kayaking and paddle-boarding is also an amazing way to see the marine life around Hamilton Island (of which there is plenty!).
Relax by the pool
Most accommodations in Hamilton Island will either have a shared pool or a private pool, so relaxing by the pool on a sunny day is definitely one of the nicest and most relaxing things to do in Hamilton island. Take a good book and sit back and relax! Can't ask more from a vacation than that right?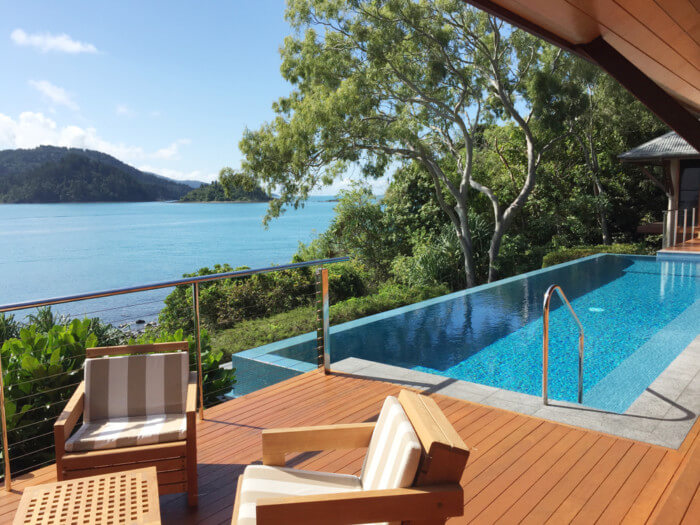 Lay back on a catamaran trip to Whitehaven Beach
There are several catamaran companies that offer day trips out to Whitehaven Beach. Whitehaven Beach is one of the most scenic and beautiful beaches in the world – and it's only a short sail away from Hamilton Island. Spending the day on the sea around Whitehaven Beach is an ideal way to spend your time in this gorgeous part of the world.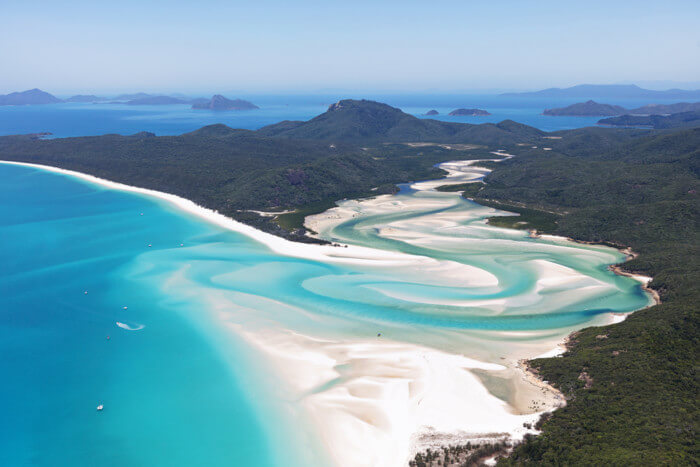 Bushwalking afternoon
There are some scenic trails to be explored on Hamilton Island with picnic tables scattered along the way. Depending on your fitness level, there are a easier trails and more strenuous ones all of which take in the local flora and fauna.
Tee off in style
As you'd expect from any luxury island, Hamilton Island has it's own golf course. The golf course has spectacular scenery to enjoy between swings, and it's truly a must-do for anyone remotely interested in golf! I mean, when else do you get to plat golf in paradise? The course has 18 holes and is rated par 71.
For all the family there's nothing like a round of mini golf
This particular course is near the Reef View Hotel and opens daily from 9am to 5.30pm. Mini golf is one of those things to do in Hamilton Island that's great for all ages and families of all kinds! It's something everyone can get involved with and have fun with, and you can be as competitive as you like (or just have fun!).
Hop on an off-roader
These 4 X 4 vehicles take you over hills, down dirt tracks and across scrubland, of which there's plenty to explore in Hamilton Island. Self-drivers need to show their licence and the tour costs upwards of $150. It's a great way to see the island and it's a great way to have a bit of an adrenaline rush too!
Try tubing, wake-boarding or waterskiing
More water sports (of course!). Hamilton Island is an island… so it's surrounded by water. The water around Hamilton Island is idillic and crystal clear, so spending your days trying out lots of water sports is amazing and so much fun.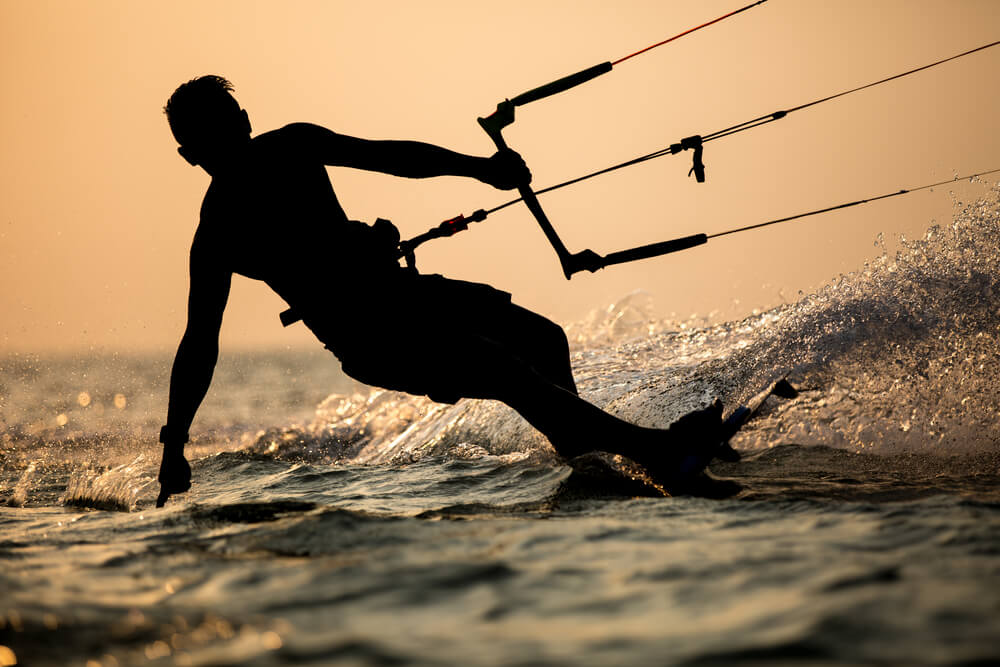 ---
The best restaurants on Hamilton Island
---
So you've spent your day doing one of the many activities above… and in the evening you're hungry and you want to enjoy some great food! Although Hamilton Island might be small… there are actually a few great eating options for when you're hungry!
Here are some of the best places to eat in Hamilton Island…
1. Bommie restaurant sits at the number one spot on TripAdvisor with reviewers raving about the innovative food, the amazing marina location and the spectacular building. The menu features seasonal dishes and an extensive wine list. Open for dinner.2. Romano's serves Italian food with the seafood pasta a particular favourite amongst diners. Steaks cooked to perfection and a choice of desserts are also on offer.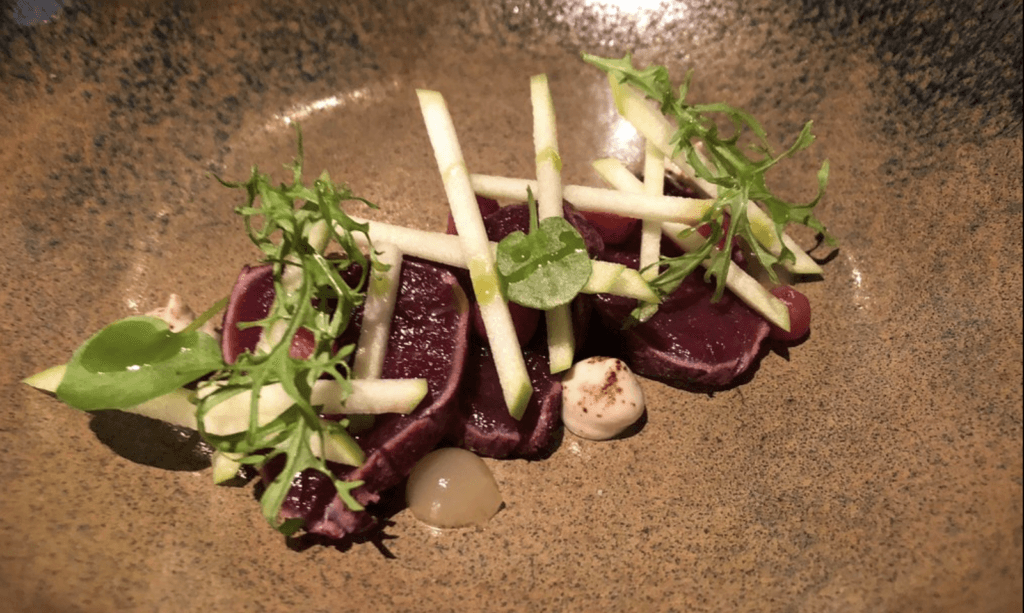 3. Beach Club restaurant has views over Catseye Beach. Open for breakfast, lunch and dinner they serve high tea as well. Dishes like pan-seared duck and slow-cooked lamb are on the dinner menu.
4. For informal dining and keenly priced food, try the Marina Tavern. There is a laid-back vibe here which is perfect for families and friends.5. Coca Chu serves Asian cuisine with an Australian twist. Open 7 days a week for dinner.
6. The gourmet pizzas are the top pick at Manta Ray restaurant. There is also a selection of seafood and meat dishes on the menu.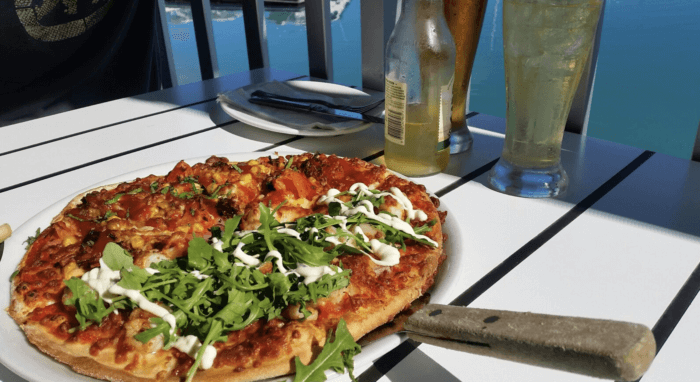 7. Sails Steak and Seafood Grill has prime beef and fresh fish on its menu, alongside a list of tasty dishes like home-made sushi and pork meatballs.
8. For fresh oysters, local prawns and a choice of fish, Mariners is the place to head. This restaurant looks over the harbour and is open 5 nights a week.
9. Wild Life Cafe can be found in the wildlife park and it is open for breakfast and lunch. At the weekend they offer a BBQ dinner Australian style.
10. To dine by the water at the Reef View Hotel, pull up a chair at the Pool Terrace restaurant. There are snacks, light bites, breakfast and dinner served here. There's also a buffet in the restaurant too you could check out.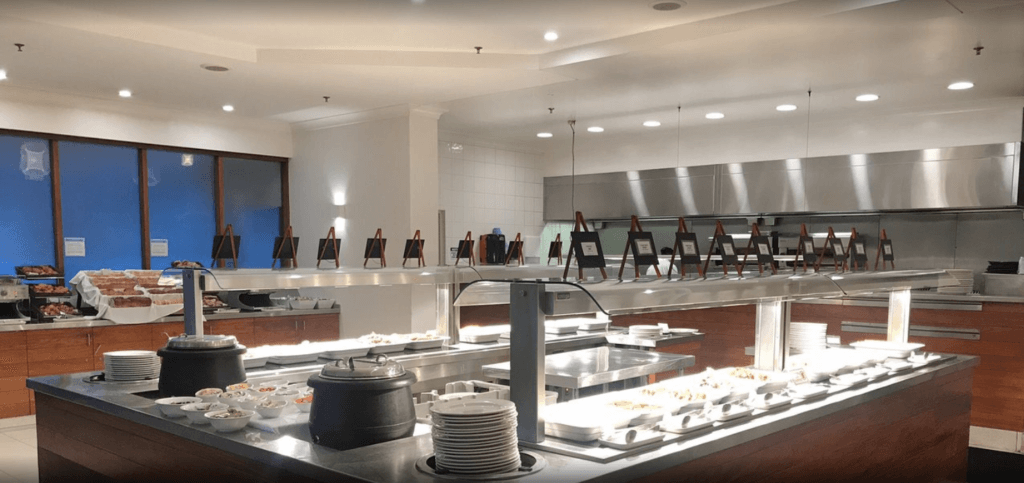 ---
Where to stay on Hamilton Island
---
1. The Qualia Resort was voted the best resort in the world in 2012 so accommodation doesn't get much better than this. Infinity pools, private pavilion rooms, secluded balconies, a quality spa and impeccable service are all to be expected here as well as views over the Coral Sea.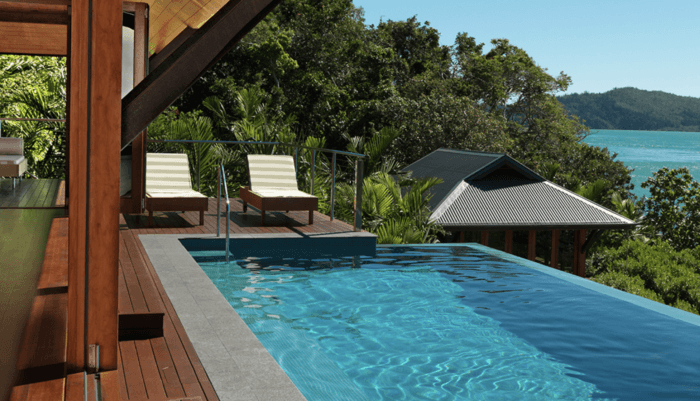 2. Reef View Hotel has large, spacious hotel bedrooms, a wide pool and a great location. Just opposite Catseye Beach it's a short walk to entertainment and restaurants. This is where we like to stay whilst on the island. I love the views from the balconies, and I love the little visitors you get on the balconies!
3. If you're looking for a break from the kids, The Beach Club resort is an adults only place offering peace and quiet for over 18s only. The luxury facilities include an infinity edge pool, a spa and free access to paddle boards, kayaks, windsurfers and a gym.
4. Palm Bungalows have a kitchenette, private balcony and plenty of space. They are set in tropical gardens and it's only a short walk to the beach and the resort pools.
5. Just footsteps from the yacht club and right on the water's edge, the Yacht Club Villas are luxurious holiday homes with high-end fixtures. Stay in one of these villas and you will have access to an exclusive pool and use of a golf buggy for the duration of your stay.
6. Look on Air BnB for Holiday homes… There is a range of holiday homes where you can stay for a little less, although Hamilton Island accommodation is never going to be cheap. Because of the beauty of the island, and the remote, idyllic surroundings, you do pay premium to stop here. The homes range from small apartments to large 5-bedroom houses and are reasonably priced when shared between friends or families.
I hope this ultimate guide to Hamilton Island has been useful!