If you're planning to visit New Paltz NY, you might be wondering what there is to do there, where to eat, and where to stay!
This ultimate guide to New Paltz NY will help answer those questions! If you're visiting New Paltz NY and you want to know all there is to know about this beautiful little town in upstate New York, keep reading.
---
Why you'll love New Paltz, NY
---
New Paltz is a vibrant and fun village, and it's home to lots of lovely buildings, things to do and things to see.
You'll find a lively music scene, lots of outdoor activities, farm-to-table eateries (perfect for foodies and food lovers), cute little boutiques for shopping, and cafes for people watching. There's also the historic Mohonk Preserve, which is one of the main draws of this area!
---
How do you get to New Paltz, NY?
---
New Paltz NY is located about a 1.5 – 2 hour drive from Manhattan (could vary a little depending on where in Manhattan you're located). Because it's located within such easy reach of the city, it's a popular place for weekend breaks, especially for NYC locals!
When driving up to New Paltz most routes will take you on the I-87 N, this tends to be the fastest route – and it's scenic too!
If you're taking the train up to New Paltz, then I'd recommend taking with the Empire Service from Penn Station which takes about 3 hours, or the Hudson Line from Gran Central which takes about 4 hours. Both of these routes take you to Poughkeepsie Station, which is then either a short drive or bus ride from New Paltz.
---
15 things to do in New Paltz, NY
---
This lovely little part of upstate New York is packed with things to do and see, so it's a perfect place for a little weekend getaway from the city. New Paltz is particularly enjoyable for people who love the great outdoors… there's plenty of outdoorsy things to do in New Paltz NY (which we'll get into below!).
Historic Huguenot Street
First on my list of things to do in New Paltz, it's historic Huguenot Street. If you love history, and you've got a thing for architecture – you're going to absolutely adore the historic Huguenot Street. These amazing part of New Paltz is lined with stunning 17th-century homes, buildings, and artifacts.
Whilst there, you can take part in guided tours, so you can learn loads about the history and stories from the area! In October, there are even special candlelight ghost tours, which is an absolute must!
Mohonk Preserve
Second on my list of things to do in New Paltz, it's the Mohonk Preserve. The Shawangunk Mountains are some of the most stunning scenery you can possibly soak in in upstate NY, so it's well worth heading out into the Mohonk Preserve!
Whether you plan on driving through, hiking, biking – it's such a wonderful place to enjoy some fresh air! In the winter there is even cross-country skiing and snowshoeing to enjoy there!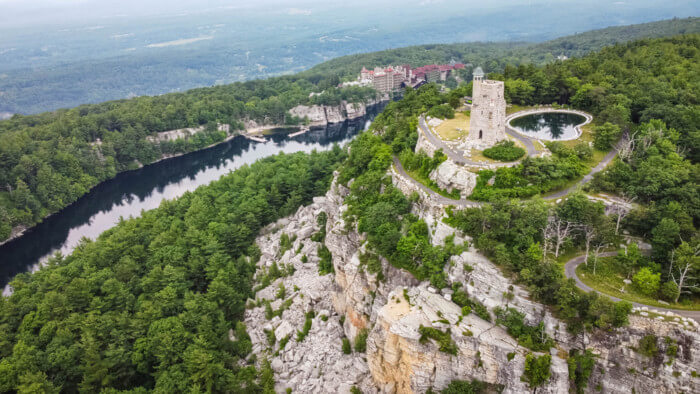 The Testimonial Gateway
The Testimonial Gateway is my next suggestion on this list of things to do in New Paltz, NY. It is a beautiful stone archway and tower that served as the formal entrance to Mohonk Mountain House. It's a great photo opportunity, and it's a beautiful piece of history too!
Hurds Family Farm
Hurds Family Farm is a great local farm and next on my list of things to do in New Paltz, NY. Hurds family farm is a family farm who open up their doors for great activities and outdoor fun. For families (or just people who are young at heart) this is a great place to spend the afternoon!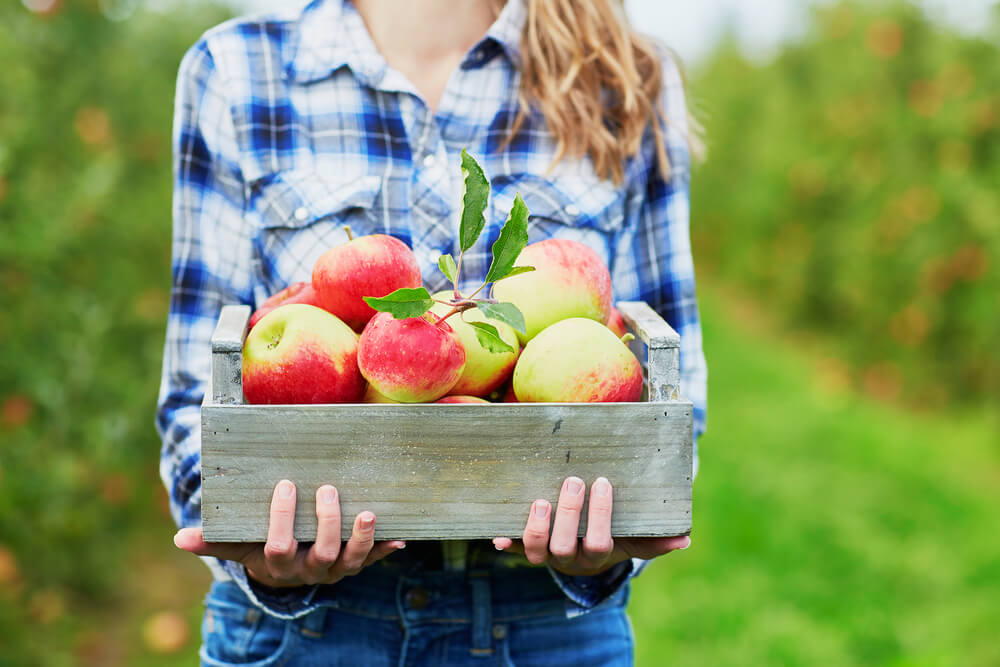 Visit the Robibero Family Vineyards
If you like wine (and who doesn't?) then a trip to the local Robibero Family Vineyards is a great way to spend time in New Paltz, NY. This is a family run, boutique vineyard where you can try lots of delicious locally-made wine.
They have several packages, but my favourite is their seated tasting, which costs $15.00 per person and includes a choice of 4 wines, crackers and a 11 oz.
Spend the day on Lake Mohonk
I couldn't write about things to do in New Paltz without mentioning Lake Mohonk! Lake Mohonk is a pretty beautiful place to spend the day if you're stopping in New Paltz, NY. There's so much you can do in and around Lake Mohonk, from kayaking and boating, to hiking, birdwatching and rambling!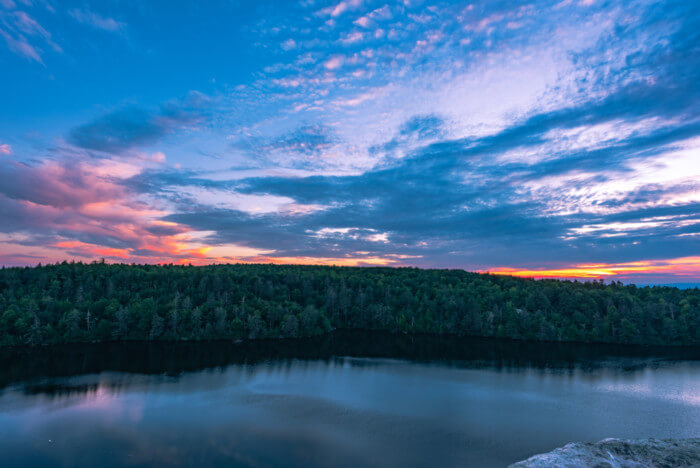 Minnewaska State Park
Minnewaska State Park is a beautiful state park, full of rolling hills, lakes, trees – everything you expect from upstate New York!
If you're stopping in New Paltz, then exploring Minnewaska State Park has to be on your list of things to do in New Paltz! Make sure you're prepared with water and hiking gear though – it's a big place!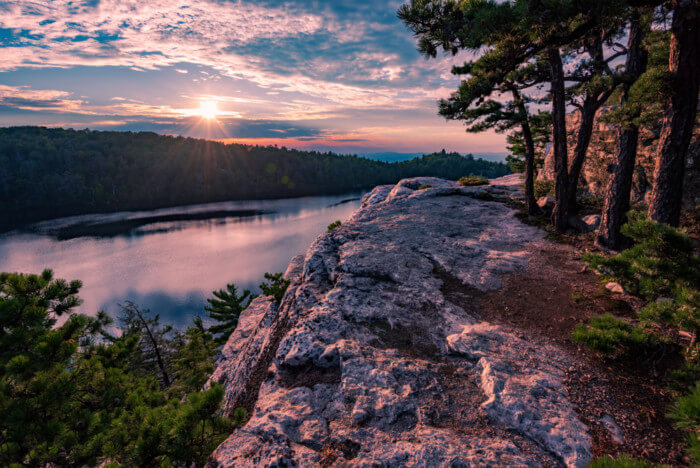 Stroll through Water Street Market
Water Street Market is home to 20 award-winning shops – so it's perfect for a little bit of relaxing retail therapy. If you want to spend looking through lovely little stores and boutqiues, then exploring Water Street Market is going to be one of your favourite things to do in New Paltz.
It's a perfect place to shop for gifts too (especially in the festive season), or somewhere to treat yourself!
Mohonk Mountain House
You've probably heard of Mohonk Mountain House already, it's one of the most eye-catching and beautiful buildings in upstate New York! You could spend the night here, or just simply drop in to explore the grounds and eat at one of the many restaurants.
Top tip! If you're visiting during October or Halloween, the hotel offers loads of fun spooky activities, including a costume ball.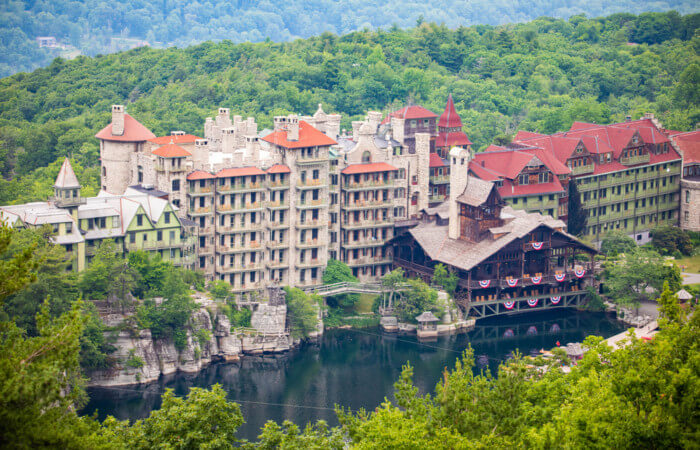 Mohonk Mountain House Spa
If you're after a bit of a pamper session, you're going to love this next idea on my list of things to do in New Paltz, NY. The Mohonk Mountain House actually has a wonderful spa inside, so it makes for a perfect spa getaway!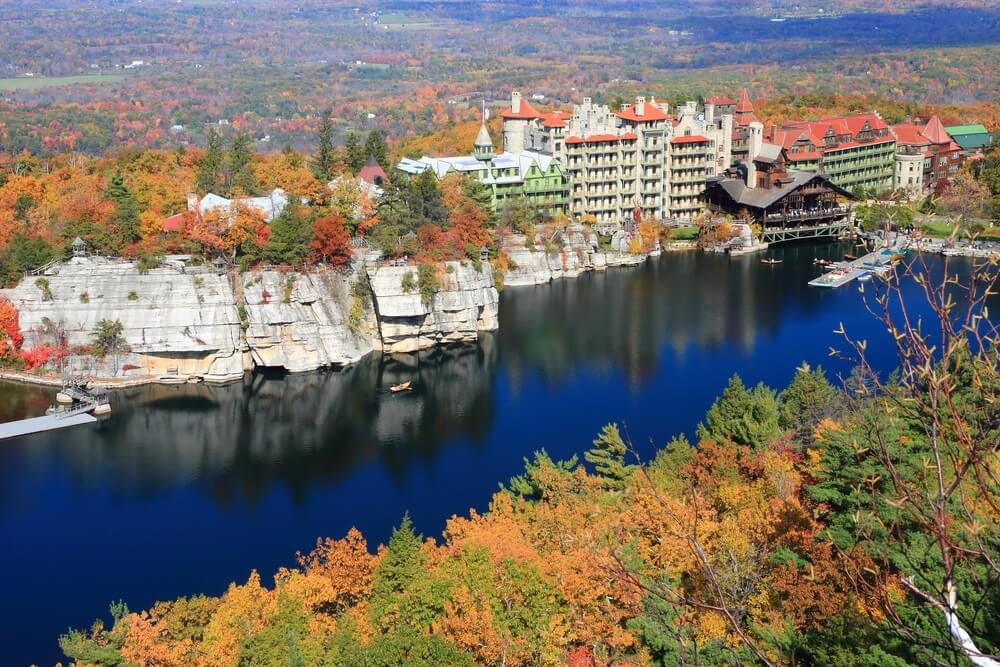 Visit Dressel Farms
A local farm that specialise in fresh apples, cider, honey, maple syrup, and ice cream – you'll want to stop by here and check out the seasonal produce and what's available! If you're putting together a little picnic, then this is a perfect place to stock up!
BC's Climbing Gym
BC's Climbing Gym is a great choice if you're looking for things to do in New Paltz during a rainy day! This indoor climbing gym is a great place to practise your climbing skills, and it's a fun and challenging afternoon activity!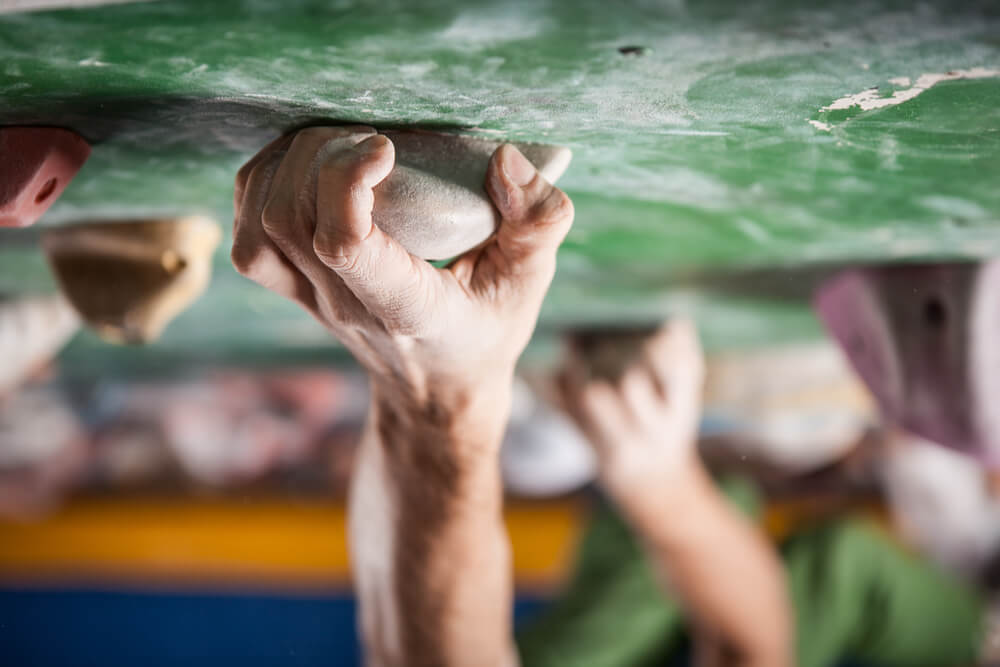 Samuel Dorsky Museum of Art
Next on my list of things to do in New Paltz, it's the Samuel Dorsky Museum of Art. If you love art, then this local gallery need to be on your to-do list whilst in New Paltz, NY.
The River-to-Ridge Trail
The River-to-Ridge Trail is a great little nature trail to enjoy for hiking enthusiasts or those that just want to get out into the great outdoors! The River-to-Ridge Trail offers up some beautiful views of the local area, so make sure you have your camera ready!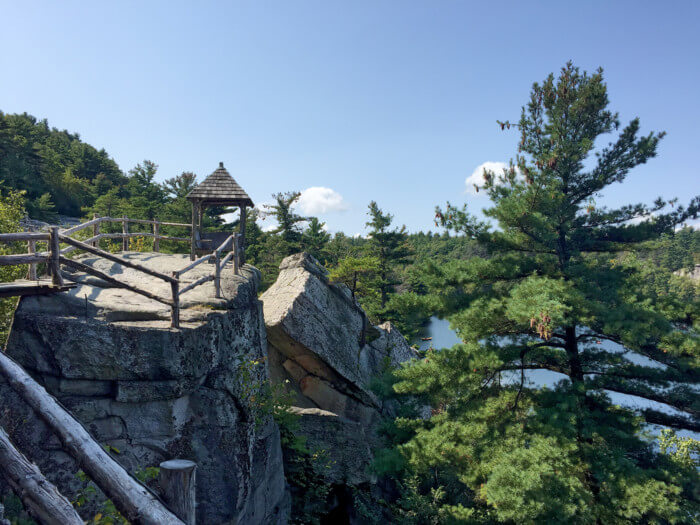 Day trip to Poughkeepsie
And last on my list of things to do in New Paltz, is a day trip to Poughkeepsie! It is only a quick bus ride away from New Paltz, so it's worth planning a little time to spend there, if you're in the area!
There's loads to do in Poughkeepsie to keep you busy, so you definitely won't struggle filling up a morning or an afternoon with fun things!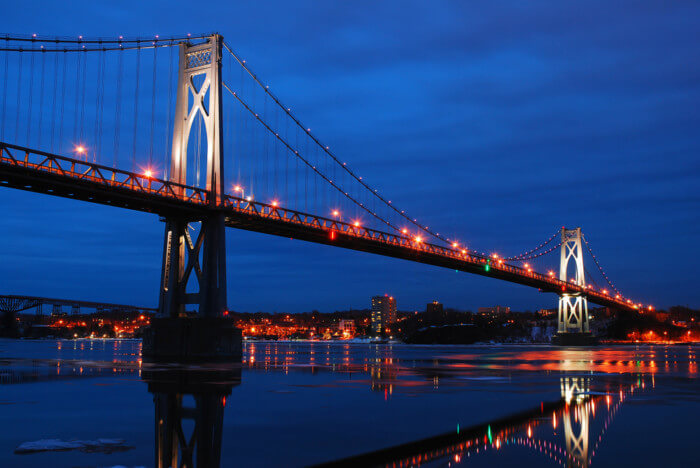 ---
Hotels in New Paltz, NY
---
There are plenty of accommodation options in New Paltz NY, but I've put together some of my favourite options below for you. I've given you 3 options (for varying budgets) so hopefully there will be an option on here to suit you!
Budget option: Americas Best Value Inn
The Americas Best Value Inn is located pretty central to New Paltz. Not quite in the centre of the village, but only a short walk from all the shops and restaurants. If you're on a budget, this is a great choice for comfort and cleanliness.
Middle budget: Mountain Meadows Bed and Breakfast
For a middle-range budget, the Mountain Meadows Bed and Breakfast is a great choice. This cosy and comfy B&B gives you a homely feel, and feels a little romantic too! The decor is lovely and modern, but has a tasteful and classic style too.
Top budget: Mohonk Mountain House
I've already discussed this beautiful hotel above! Mohonk Mountain House is just breathtaking! It's a wonderful hotel that is both unique and so pretty! There is also a spa (bonus!) and the views and scenery around the hotel are simply spectacular.
---
Places to eat in New Paltz, NY
---
If you're looking for the best places to eat in New Paltz, then look to further – hopefully this handy little list of the food highlights will give you some inspiration for breakfast, lunch and dinner!
Whether you're after a farm-to-table meal, or just a quick bite to eat, there should be something on this list of places to eat in New Paltz to suit you!
A Tavola Trattoria
A high-end option is first on my list of places to eat in New Paltz, Tavola Trattoria is another great choice for farm-to-table dining, with an Italian theme. The food here is elegant, tasty and creative, but with a rustic feel to it.
Main Street Bistro
Next on my list of places to eat in New Paltz, NY, it's the Main Street Bistro is a firm favourite amongst locals and visitors, the menu has plenty to offer and the food is delicious! There is plenty to choose from on the menu, and it's in the centre of town too.
Mountain Brauhaus Restaurant
Fancy trying some traditional German cuisine? You'll find hearty food here, along with some tasty beer too! It's a great choice and a great place to eat in New Paltz NY.
Bacchus
Bacchus is a really trendy eating-spot in New Paltz, with the added bonus of in-house craft beer! They also do live music too – which makes this place a must-visit!
Main Course Restaurant
If it's a farm-to-table experience that you're after, then Main Course restaurant is going to tick your boxes! This place is known for their fresh produce and the ever changing seasonal menu too.
Garvan's Gastropub
Who doesn't love a classic gastropub? Garvan's Gastropub isn't anything fancy, but it's good hearty food in a friendly setting – which I'm sure you'll enjoy.
P&Gs
For casual, quick food, P&Gs is the answer! This place does all the diner-classics… Hearty and delicious sandwiches, chicken wings, chicken tenders, burgers, etc. There's bound to be something you love on the menu here.
---
I hope this ultimate guide to New Paltz NY has been helpful!
---
Hopefully it has given you plenty of ideas and inspiration for your trip to New Paltz NY! As you can see, there's so much to do in and around New Paltz, so you're bound to have a fantastic time whilst visiting New Paltz.
If you've got any more questions about New Paltz, just leave them int he comments and I'll do my best to answer them!