Are you looking for the ultimate guide to travelling the USA using an Amtrak trains? Hopefully this guide is what you're searching for!
Amtrak is one of the lesser known methods of travel around the USA. For most people, they choose to drive or they choose to fly – but driving can be confusing or time-consuming and flying can be stressful, anxiety-inducing and is often prone to unexpected delays.
Of course, both of these methods of transport have their own unique advantages, but there's nothing quite like travelling by Amtrak trains – and this guide will hopefully help you trip be enjoyable and stress-free. 
Travelling by Amtrak train is one of those must-do bucket-list experiences. The USA is huge (there's no denying it) and seeing the country through the viewing carriages is something not many people can say they've done.
---
How do I book tickets for Amtrak trains?
---
You can book tickets online on the Amtrak trains website. The website is actually really good, and it's easy to figure out once you've got the hang of it.
You'll see the booking box (I screen grabbed it below) on their website, and you can input the journey you want to take there, and search for tickets.
Read more about traveling on Amtrak: Amtrak Roomette Vs Amtrak Bedroom – which is better?
Remember, Amtrak do deals and promotions too – so make sure you check that part of their website out, because you might be able to get a discount. At the time of writing, they have the following available:
Save 20% on early bookings
Get up to 45% for groups of 6 or more 
Veterans save 10%
Kids ride for 50% off 
They also have useful things like a 'train tracker' on their website so you can check for delays – which is pretty useful once you're out and about travelling.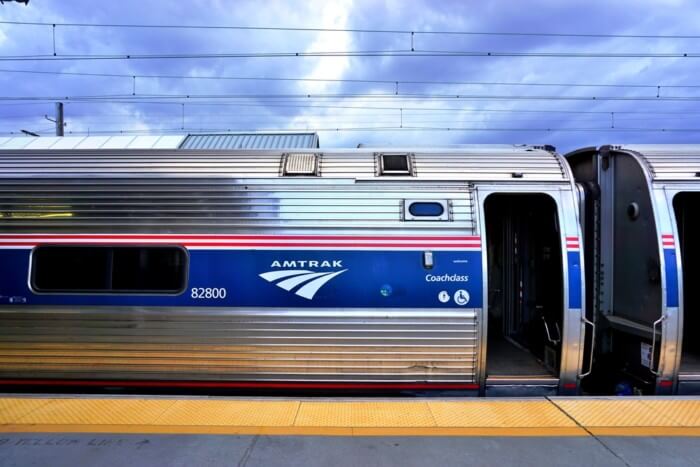 ---
What kind of tickets do they offer for long term travel?
---
Of course, as I mentioned above, you can book for one-off journeys on their website. But there are different packages and tickets available for different kinds of travellers.
The multi-ride monthly ticket
The monthly multi-ride ticket allows you to take multiple trips using one ticket within a set amount of time – in this case, one month.
So for example, if you bought a monthly ticket, it would be valid for unlimited travel between the origin and destination stations you select, and all stations in between, for an entire calendar month.
The ten-ride ticket
The ten-ride ticket is (as you'd imagine) valid for ten rides on the Amtrak trains. These ten rides can be within a 45-day, 60-day or 180-day window – depending on which stations you're travelling between.
The six-ride student ticket
The Six-ride student passes are valid for a 365-day period. On Capitol Corridor trains between San Jose and Auburn, the pass is valid for all students with student ID. So please make sure you carry your student ID with you when travelling on this pass.
Tours and sightseeing packages
There are also lots of pre-assigned routes designed to help you see specific destinations and cities. You can see all of these by clicking here.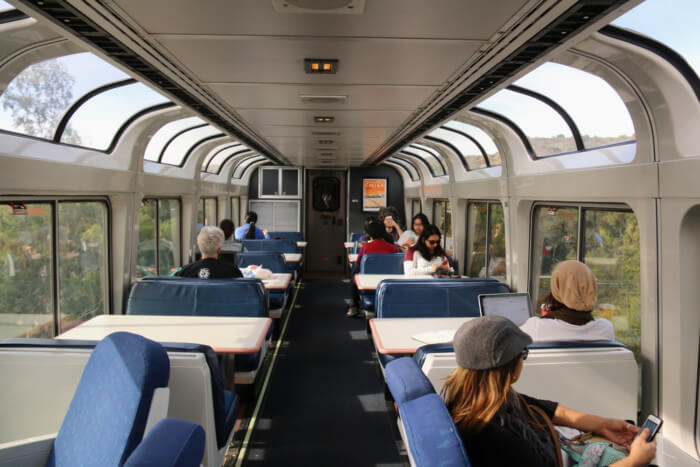 ---
What route should I take?
---
Honestly, anything goes on Amtrak trains. But the answer to this question really depends on your budget, where you're starting from and where you want to finish. 
Amtrak trains are all over the USA – and can take you almost anywhere. There are 30 train routes throughout the USA, and the trains travel to over 500 destinations in 46 states!
That's a lot of ground to cover! If you're confused about what you want to see, but you know you definitely want to travel by Amtrak trains, I think looking at their route map is the best idea.
I've copied a photo of it below so you can see just how much area the Amtrak trains cover!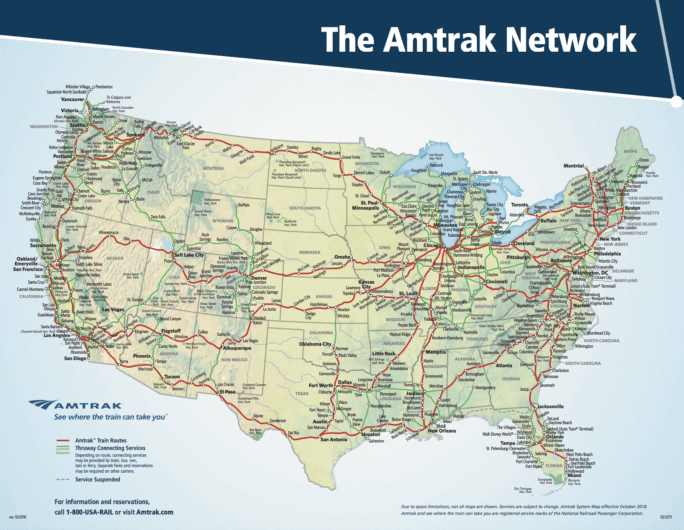 I know this is the ultimate guide to traveling the USA using Amtrak trains, but I would 100% advocate for going with no plan.
Make sure you've got Jack Kerouac, William Faulkner or Toni Morrison for company, a toothbrush and a vague idea of cities you'd like to wind up in, and just fly by the seat of your pants. Amtrak is one of the few methods of travel that can truly allow for spontaneity.
Half the fun of travelling like this on Amtrak trains, is finding those unexpected places and towns along the way – so my one tip would be to just get off the train if you stop by a town you like the sound of.
Some personal favourites of mine were rolling prairie, Indiana, Glenwood springs, Colorado, and Marks, Mississippi.
Even if you stop for a day or until the next train comes through, it'll show you a side of America you won't get to see any other way.
---
How long should I go for?
---
This is really up to you and depends how much time you have for your vacation. You could spend months travelling the USA using Amtrak, or you could spend weeks.
But bear in mind that some of the longer journeys can take multiple days, so the travel time does eat into your vacation time. 
Amtrak trains has some pretty rad USA rail passes. From 15 days with 8 segments up to 45 days with 18 segments. Do bear in mind, though, that if your journey requires a change, then that counts as two segments instead of one.
I decided against a rail pass in the end, as I had 90 days to travel, and wanted to stay a while in each place, but this can be risky as some tickets can skyrocket up to around $200 or more.
The way to combat this is to just go wherever the cheapest ticket will take you on that day, or meticulously plan your route to maximize your budget. 
I went for 87 days in the end on Amtrak trains, but I ended up staying with friends I made along the way which cut my expenditure massively!
I think if you want to hit it hard, 45 days would be enough to hit all the big places, and give you enough time to really soak up the vibes, and will only set you back $689 for train fare.
This sounds like a lot, but for 18 segments, it's actually quite reasonable, considering how much ground you cover and how much you see. 
If you only want to sample Amtrak trains, and you just want to try a shorter journey first – then the options below would be great choices for smaller journeys on the East coast. 
---
Can I take checked baggage?
---
Like with a plane, when you travel on Amtrak trains, you can check your baggage. This is different from train in Asia and Europe – so if you're used to lugging your big suitcase onboard with you, this might seem a bit weird to start with!
When you arrive at the station, you'll check your cases like you would at an airport at the designated check-in area. Amtrak trains riders are actually given an allowance of two free checked bags on trains with checked baggage service. This means you can pack to your hearts content – and you're not going to be worried about fitting bags under seats or on luggage racks.
Top tip! Before you travel, it is important to ensure your train and origin and destination stations accept checked baggage. 
---
What do I need to bring onto an Amtrak Train?
---
When riding with Amtrak trains, you'll check your main baggage (as mentioned above) and you'll carry with a small carry-on / hand luggage for the time on the train.
In terms of the must-have items for your hand luggage, this is what you'll want to bring:
An eye mask

A blanket

A good quality neck pillow (I swear by this one)

A change of clothes

Baby wipes

Flip flops
Another thing to consider when riding Amtrak trains, is bringing entertainment.
I know it's easy to imagine yourself dreamingly staring out of the window the whole time, but the truth is, you will eventually get bored.
Something to do is paramount. Whilst I loved talking to people in the viewing carriage and gazing out of the window, I don't think anything can prepare you for how long 24 hours on a train can feel.
Bring a variety of things to do so you don't get bored, and one of the best things I had on me was a deck of cards, so definitely stick a pack in your bag! A few other ideas would be: 
Dobble (the absolute best travel game I've come across!)
A magazine or comic book
Your kindle
A phone / iPad stacked with TV shows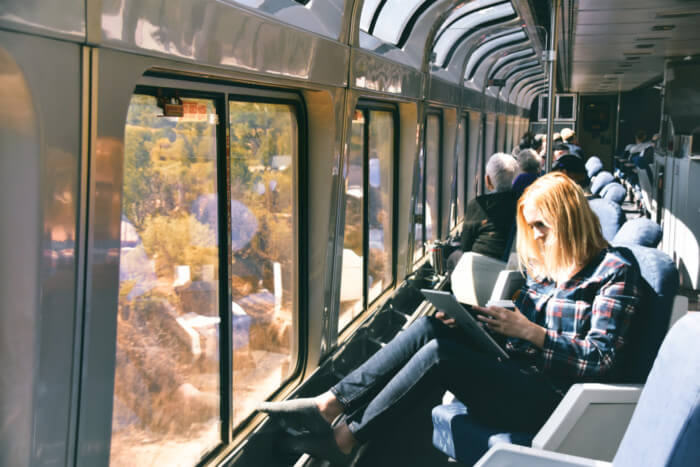 ---
Can I buy food on-board an Amtrak train?
---
Yes, of course! There are actually a few different food options onboard Amtrak trains.
From traditional sit-down dining, to cafes and snack – there should be something for you to enjoy whilst you travel. This page on their website is quite useful to look at! 
Remember, you can also bring your own food and snacks onboard the Amtrak trains too!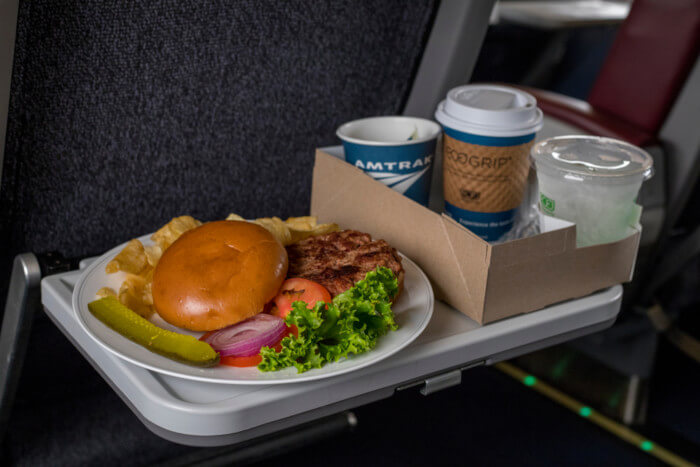 ---
What should I do on the train?
---
Honestly? Anything you like.
But I would 100% recommend sitting in the viewing carriage on your Amtrak train and striking up conversation with people – most people on the trains are travelling too, and it's amazing who you can meet and what you can learn about just by talking.
I carried a deck of cards on me, and I kept a book nearby in case I wanted some alone time, but I really did meet the most incredible people; from a film maker traveling to Canton, Ohio, to a new friend who invited me to her barbecue in Memphis the next day (I went, it was incredible).
I never failed to be astounded by the generosity and kindness of people riding trains, so I would definitely recommend striking up conversation whenever you can!
---
What's the most picturesque Amtrak trains route?
---
In my opinion the most scenic Amtrak trains route is DEFINITELY the California Zephyr.
It runs from Chicago to Emeryville (just outside SF), it goes through the Rocky Mountains, and shoots you out onto the Great Plains so that you feel almost as though you're on the edge of the world.
The whole journey is around 35-40 hours, and Chicago is a huge freight stop, so you can definitely expect delays coming into the station.
I would highly recommend stopping at Glenwood Springs, and Denver along this route. The former is known for its hot springs and its beauty, the latter because Denver is heart-achingly cool!
Also, any route that takes you along the coastline will be ridiculously pretty too!
---
Should I get a sleeper carriage?
---
This is entirely a personal choice but I really don't think that you'll need one at all, especially if you're on a budget and trying to save money where possible.
Compared to European trains, the seats on an Amtrak will make you feel like a small child again, they have plenty of space!
There are buckets of leg room, the seats recline and there's a very comfy leg rest so sleeping in your chair isn't too much of a hassle. And of course, you have the motion of the train to lull you to sleep too.
If you're traveling in excess of 24ish hours, though, you might want to think about it, just to guarantee yourself sleep and also comfort.
Being able to stretch out properly and have some alone time might make all the difference. For journeys that only require one sleep, though, you'll almost definitely be fine sleeping in your seat.
---
Get the Amtrak trains app
---
Amtrak trains finally have an app – so be sure to take advantage of it! It'll keep you up to date with arrival times, delays, re-routes and anything else important, like schedules.
It's available on iPhone, Android and Windows Phone.
---
Overall advice
---
Basically, my advice would be to pack minimally, and dream big.
American train travel is honestly one of the most romantic experiences you can have, and Amtrak trains are the heart of it.
Just hearing the plaintive cry of a lonely train whistle is enough to set me off. If you can, get to the back of the train and watch the track unfurl behind you, and leave all your troubles out there as you head on to pastures new.
If I could have spent my life riding around the states from small town to big city and back again I would have done.
So, what are you waiting for?