Within the finger lakes of New York State, you can find an absolute BEAUTY of a national Park: Watkins Glen State Park. A veritable oasis of trails, waterfalls, and peaceful calm away from the Big Apple. Watkins Glen is also a lovely village / town to stop in too – there's lots to do around the area (not just the state park) so here you'll be able to read everything you need to know about Watkins Glen, NY.
Because it's such a spot of outstanding natural beauty, we know you're going to want to soak it all up, so we've made you this ultimate guide to Watkins Glen, NY so you'll know where to go, what to do, and how it all works ahead of time.
---
A little history of Watkins Glen, NY
---
First up on our ultimate guide to Watkins Glen NY is going to be a little background info in how this gorgeous spot came into existence. It all started around 2,009 years ago when a huge glacier covered the whole of North America. As it moved across the landmass, and then melted away over time, it left behind the gorges, caverns, and waterfalls that you can see at Finger Lakes today. In 1851 the state turned Watkins Glen into a national park so that's its beauty could be preserved, and it's now known worldwide as one of the nations greatest national parks!
The town of Watkins Glen is right next door to the State Park, and it's where most people will stop during their time in the area. It has most things you'll need; a campsite, a BBQ restaurant, a Walmart, a bar and grill, and so on! It's a lively place to stay with lots to keep you busy.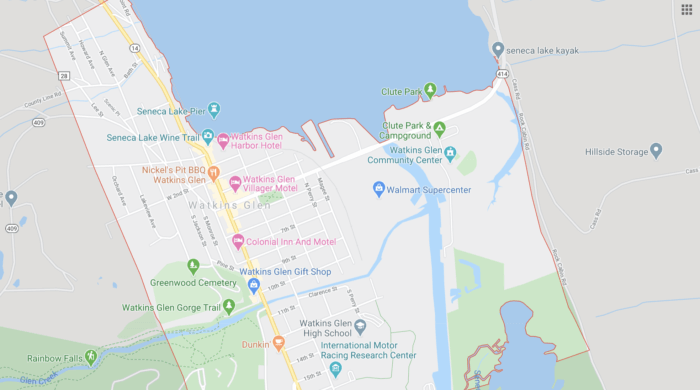 ---
When to go to Watkins Glen, NY
---
Watkins Glen, NY is a beautiful place and it's somewhere that's lovely to visit all year around! Here's a guide to what to expect from Watkins Glen all year round…
Spring: the crowds are way smaller, the weather is less humid and less hot, but the gorge trail (basically the park's main draw) is only open once all the snowmelt is gone, so you will want to check if it's open before you go (especially is you're driving there from NYC or Boston). The flora and fauna are at their best this time of year, with everything coming back to life after the winter. One of the main reason visitors head up in the spring time is actually the ARC Grand Prix Run– a well-known fundraiser that is hosted at Watkins Glen International race track in early April.
Summer: It's hot at this time of year and the town really comes to life. People are here on their vacations, enjoying the lake, enjoying the park, enjoying the activities. The crowds are biggest in summer in Watkins Glen, but if you're dead set on seeing the park in its verdant summer glory (and boy is it gorgeous) then this is a good time to go. We recommend avoiding the weekend, and starting out as early as you possibly can to beat the crowds. One of the highlights of summer has to be the NASCAR racing, but also the Waterfront Festival (usually held in June) every year in Seneca Harbor Park in downtown Watkins Glen. This little festival is a family-friendly, free event and it's always a hit with tourists and locals alike!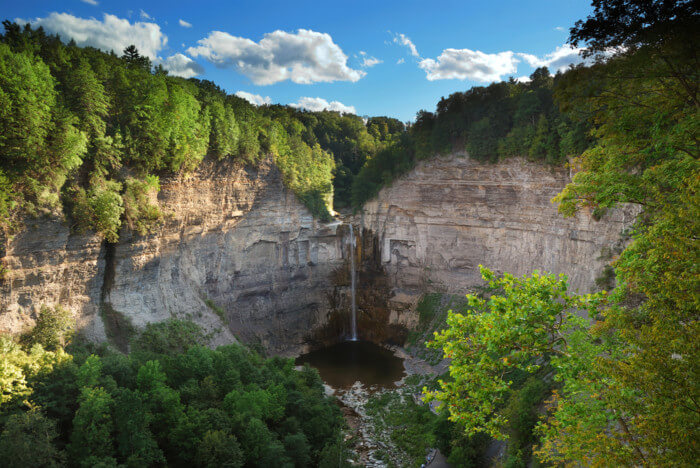 Autumn: This is one of our favourite time to go to Watkins Glen, NY. The gorge is full of that heralded New England foliage, and as all the kids are back at school the crowds are definitely lighter. The Gorge Trail is also definitely open for the whole of Autumn, so there's no chance you'll miss out.
Winter: We wouldn't necessarily recommend visiting Watkins Glen state park in the winter. The gorge trail will be closed, and you'll miss out on the parks best features. New York winters can be very harsh too!
---
How long should you stay in Watkins Glen?
---
Watkins Glen, NY, is one of those lovely vacation spots near NYC, that you could happily spend a week or even two in. Lots of people head to Watkins Glen for the weekend (it's a great long weekend destination from NYC) or in the summer, many people head up to Watkins Glen for a few weeks in the summer!
If you can, take a look at the local events or season events listed in this article, and try and plan your trip to Watkins Glen, NY around them!
---
What can I do and see in Watkins Glen?
---
There is lots to do in Watkins Glen, and below we'll discuss all of these amazing things to do!
Gorge trail inside Watkins Glen State Park
This is the park's main attraction, and boy does it DELIVER (and it's one of the main reason many visit Watkins Glen, NY). We recommend starting at the bottom of the trail by the main entrance, and then heading up the cascade to the north entrance. It is a tricky trail, there's 832 steps, it's 2.1 miles and there's an elevation gain of 501 ft. It should take around 2 hours to complete. There are no entry fees to the park, but there are parking fees at each entrance.
You can park for free in the village, and walk on over, but bear in mind that this parking can fill up pretty quickly, and it is supposed to be for people coming to the village rather than going to the state park – so be responsible and respectful when parking up.
Indian trail inside Watkins Glen State Park
This trail takes you along the top of the gorge. Whilst most sighted are within the gorge trail, this one gives you a birds eye view so if you've got the tie, it's definitely worth it! This trial is moderately difficult. There's no steps, but there is an elevation gain of 413 feet. It's around 1.9 miles long, and should take about 2 hours.
Other sights inside the Watkins Glen State Park
All these sights are beautiful, from the tunnel that was carved by hand into the rock in the early 1900s, to rainbow falls that dazzles and sparkles with rainbows in the sun. Your insta will be fire, and your senses will be delighted.
Spiral tunnel and suspension bridge
Seneca Lake Pier
This lovely scenic spot in the heart of Watkins Glen is a beautiful place to explore and just watch the world go by. It's a lovely place to relax in Watkins Glen, and it's right on the waterfront too – so it's a popular spot in spring and summer! Especially when the weather is nice!
Take a Schooner Excursion on the lake
If you don't know what a Schooner is, it's an incredibly big, traditional-style boat. Schooner Excursions are the company that run the boat tours on the lake, and it's seriously one of the best things you can do on Seneca Lake. It's also hugely romantic! There are different kinds of excursions available, from public sailing trips, to private schooner rental – it's such a fantastic thing to do in Watkins Glen.
Summit to Stream Adventures
Summit to Stream is a company that offer outdoor activities on Seneca Lake for people who want to explore some of the most beautiful parts of Watkins Glen (on the water!). They do fly fishing day trips and kayaking too – both really fun activities and perfect for couples and families alike.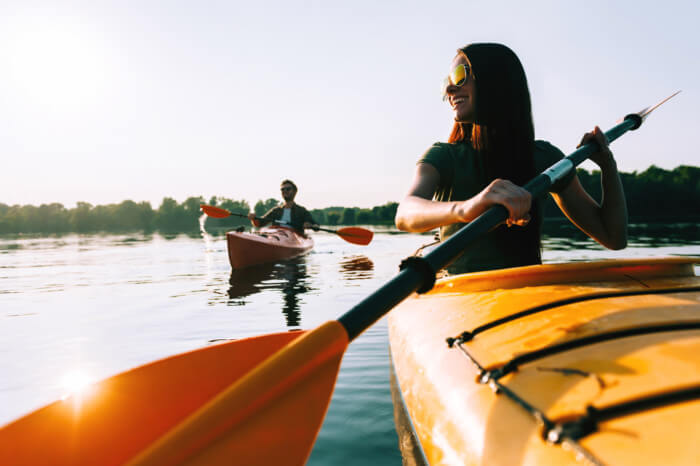 Seneca Lake Wine Trail
Seneca Lake has a really diverse offering of world-class wines, and visiting the Seneca wine trail is a really lovely way to try some of these world-class wines. If you LOVE wine and you want to experience some of the local flavours – this is for you. This is a great thing to do in Watkins Glen, NY.
Grand Prix Festival
Taking place in early September each year, the downtown area of Watkins Glen, NY transforms itself into a haven for car-lovers for the Grand Prix Festival. This event celebrates the towns racing car history and it's a really fun time to be in Watkins Glen! During this time you'll see loads of vintage cars lining the streets for the public to admire and look at, as well as music, food and other events and experiences.
Keep an eye on local events
There are actually lots of great local events put on by Watkins Glen and around the Finger Lakes, so it's worth keeping an eye on the community pages to keep up to date with these. From farmers markets, to mini-festivals – there's something for everyone. I find this website really helpful when finding the little local events in the Watkins Glen area.
---
Where can I stay in Watkins Glen, NY
---
There are actually lots of different accommodation options in Watkins Glen, NY. There are different options for different budgets too – which makes Watkins Glen, NY a really good getaway destination for all kinds of budgets.
Here are some of the best accommodation options I've come across in Watkins Glen, NY:
Watkins Glen Harbor Hotel – Located right on the waterfront, if you want a little bit of luxury, teamed up with some amazing views, then this is the place for you.
Longhouse Manor – Next up on our list of hotels in Watkins Glen, NY, it's another really nice choice for a weekend getaway or a romantic escape. I love the four-poster beds they have here and the traditional decor is charming. It also has a small lake-front swimming pool!
Idlwilde Inn – This place looks like a fairytale B&B from the outside and it's just perfect. If you're after somewhere romantic looking, with the traditional country-style, this is a good choice for you.
Clute park and campground – This is one of the prime camping spots in Watkins Glen, NY as it's really close to town and right on the lakefront. If camping is your deal, then this is one of the best places to pitch your tent!
The Local Hostel – If you're on a budget in Watkins Glen, NY, this is probably your best choice in the area. It's not as close to the lakefront as some of the other suggestions are, but it's still close to amenities, and it has really good reviews too.
---
I hope this guide to Watkins Glen, NY has been useful for you! It's a great place to visit and you're bound to love your time there, especially if you get lucky with the weather!