---
Are you looking for the ultimate list of non-touristy things to do in LA?
---
I love LA. If you've not been there, nothing can account for its sprawling mass, it's huddle of sky scrapers around downtown, the looming mountains at its back, the easy breezy vibes of north Hollywood, the pristine beaches of Malibu, and the fun of Santa Monica pier.
But if you're searching for a more authentic experience of LA and you're looking for those non-touristy things to do in LA – then this list will give you some amazing ideas.
So here we've made a list of fun non-touristy things to do in LA that'll leave you feeling like a local!
---
Go hiking
---
First on my list of non-touristy things to do in LA, it's hiking! I've already mentioned the undulating mountains that encircle the city of Angels, but this was one of my favorite parts about visiting LA.
Take a whole day to hike above the city, taking in the views, and spending some much needed time alone in the hills – it's one of the best non touristy things to do in LA because it's just you, the views and the landscape.
If you go alone, make sure to be safe, and don't stray from the paths as there are snakes in the brush.
Take your phone so that you've got a GPS Incase you get lost, and be sure to take enough water (crucial!) and sun cream too. If striking out alone isn't your thing, though, there are loads of guided hikes that steer clear of the touristy stops (mount hollywood, and the Hollywood sign).
---
The original pantry diner
---
I wouldn't say this place is a well kept secret, but I would say that it isn't a particularly touristy thing to do, which is why it makes my list non-touristy things to do in LA.
Here, you'll be rubbing shoulders with locals and, here's a tip, if you're riding solo you can jump the queue to sit at the counter.
I've added this to the list of the best non touristy things to do in L.A because it's breakfast, and there's nothing touristy about that!
I went here for breakfast three days running, and sitting at the counter meant I got to watch the chefs work the grill, which is half the fun of being at a diner anyway.
I can't vouch for everything on the menu but the pancakes, French toast, and steak and eggs were just excellent, and 100% worth the trip.
Read more LA travel inspiration: The ultimate guide to sightseeing in LA 
---
Barnsdall Art Park
---
Next on my list of non-touristy things to do in LA, it's Barnsdall Park. If you like art, and you like being outdoors, this is the place for you.
It possibly one of the most non touristy things to do in LA, and it'll keep your insta looking fire.
Located in East Hollywood, it's a word class art gallery, and under some gentle sunshine it's accentuated by its killer views of downtown LA and the Hollywood Sign.
Read more about Los Angeles: 15 upscale restaurants in Los Angeles

---
The shortstop in Echo Park for Motown Mondays
---
This bar is a must-visit place for anyone who wants to find non-touristy things to do in LA.
The music is always killer, and world renowned DJs (kinda) come down and spin records that are absolutely positively gonna get you dancing.
If you're at a loose end on a Monday in LA, you can get down and tie those loose ends up at the shortstop.
---
Find the secret stairs
---
Contrary to popular belief, you do not need a car for everything in LA.
Get your hands on a copy of Charles Fleming's Secret Stairs: A Walking Guide to the Historic Staircases of Los Angeles and get privy to one of LA's best kept secret.
This is one of those non touristy things to do in LA that is going to make your insta pop, and also provide you with some big city knowledge that you wouldn't have otherwise!
Bring a camera, and a water bottle; climbing loads of the stairs in LA heat can be very tiring. Definitely one of the best non-touristy things to do in LA for sure!
Read more about Los Angeles: 47 things to do alone in Los Angeles!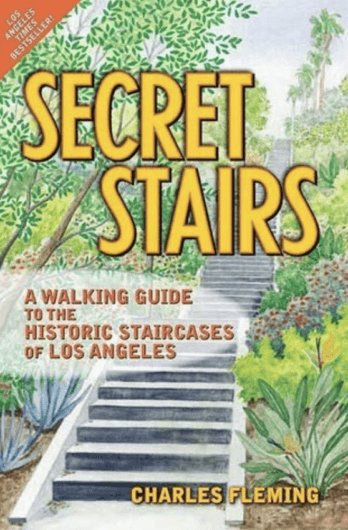 ---
Go to a roller disco
---
You will not regret getting yourself to moonlight roller disco. Even if you can't skate it is super fun, and you'll be rollering around before you can say disco queen.
It's a retro-inspired, nostalgic and fun way to spend some time, which is why it makes my list of the best non-touristy things to do in LA.
This is a great place to go whether you're headed there with friends old and new, or even just people you met along the way (if I'm honest this is 100% our idea of a cracking date, too so… bear that in mind boys!) you met a few minutes ago.
Read more about visiting Los Angeles: What is the best place to see the Hollywood sign?
---
Check out Amoeba Music
---
Do you love music? If so, this is the best non-touristy things to do in LA for you! Amoeba Music is HUGE (the world's largest independent music store) and it's perfect for you to spend hours and hours looking for the most obscure albums, records and cover art.
It's located on Sunset Boulevard, and it's an absolute musical icon in the city. Amoeba also hosts music events too – so check out their website and see if there are any taking place during your trip!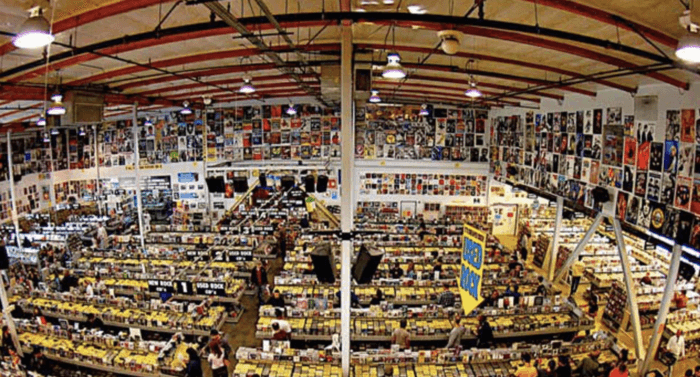 ---
Stuff your face at the 626 Night Market
---
Next on my list of non-touristy things to do in LA, is the 626 night market. This is a seasonal thing, so definitely check whether or not this is available when you get there (they come through every summer).
Basically, this entry on our list of the best non touristy things is going to make all you foodies lose your minds.
The 626 Night Market is an incredible food market, with a plethora of stalls from awesome bibimbap to pizza, you could eat so much you'd be rolling home and still not have tried everything!
An amazing non-touristy things to do in LA!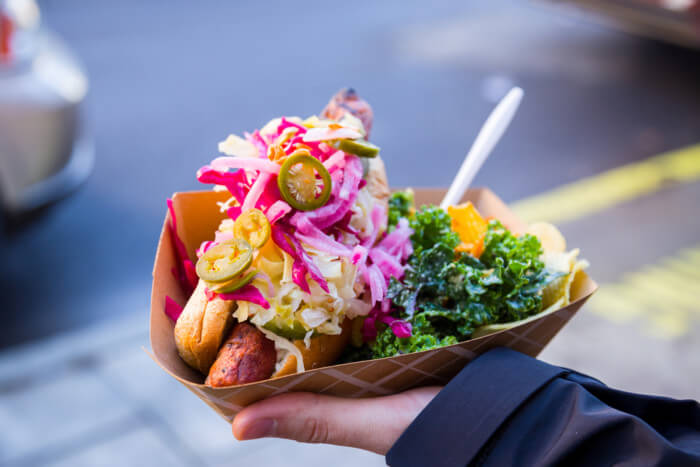 ---
Learn to surf
---
If you grew up watching sitcoms and TV shows set in LA you'll know the morning surf routine that a lot of LA residents love and enjoy. Learning to surf is such a fun and challenging way to spend the morning / afternoon – and if you've never tried surfing before, you're going to love it.
I really recommend this surfing lesson in Venice Beach you'll get amazing, professional instructors and learn to ride those waves on one of the most famous beaches in the world.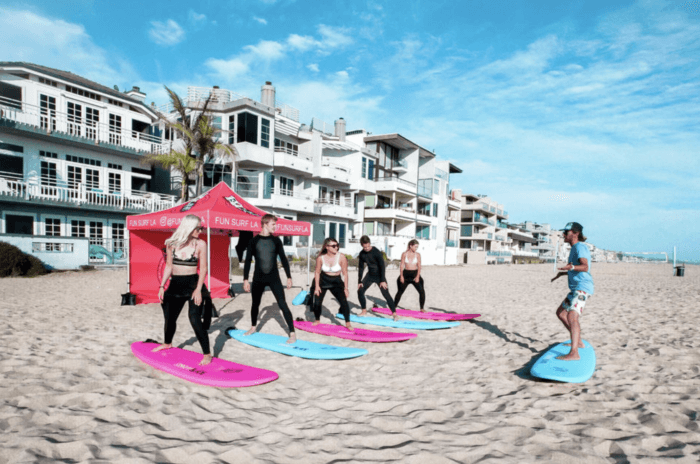 ---
Catch a movie at the Vista theatre
---
LA, the home of Hollywood, and Tinseltown, and lights! Camera! Action! Our next suggestions of non-touristy things to do in LA is to catch a movie at this incredible movie theatre in Los Feliz. I love this idea for non-touristy things to do in LA.
The architecture is amazing at Vista Theatre, it'll probably check all the boxes for one of the most beautifully weird cinemas you've ever been to, and as it's a single screen cinema there's a sense of being in a time and place where each individual moment of the movie matters.
---
Visit a beach town
---
There are so many beautiful beach towns around LA, and locals will tell you that one of their favourite things to do in the summer months is to head over to the beach and enjoy the scenery. It's a perfect way to get out of the city and enjoy some non-touristy things to do in LA!
Laguna Beach is a popular choice, it's a little more artsy than other beach towns in LA, and it has a more low-key relaxed vibe. There are loads of great cafes, restaurants and shops along the beach front too – and it's a perfect way to spend the day.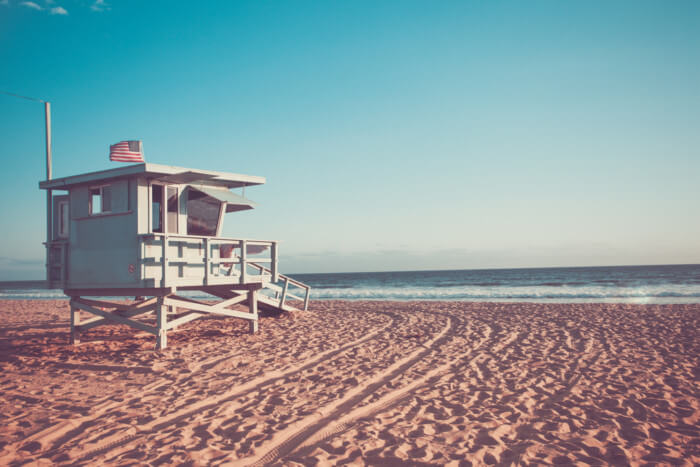 ---
Visit North Hollywood
---
Just FYI – this is a bit of a long one because NoHo (North Hollywood) is amazing, and I'm giving you options.
This entry in our list of non touristy things to do in LA is far my favorite neighbourhood in the city, and it's full of cute little cafés and bookshops. This neighbourhood is in the valley, so a lot of LA'ers May tell you it's not true LA, but even if you're a total anti-valley snob; hear me out.
With an understated, kinda gritty vibe, it's got a steadily growing arts community, putting on good nights and cool exhibitions, and a slowly thriving restaurant scene. Art highlights in NoHo include the remarkably well curated blastoff comics, and Gallery 800. Cahuenga Boulevard is home to a sweet selection of awesome spots from Cahuenga general store, which serves kick ass sandwiches, or Iliad bookshop which is full of cats and books in equal measure.
If you're into a dive, or a tiki bar then this area is all for you. Bar Toni's will give you shades of Goodfellas, being a tiny little cocktail oasis nestled out back of Little Toni's Italian restaurant. Bar Idle is also getting a big name for itself as one of the valley's most whimsical bars (it's shaped like a giant whisky barrel).
Finally, a must try restaurant is Rodini Park. They're doing Greek food a little differently – think entirely customizable from Mediterranean pastries to huge Greek style pittas -and boy is it good! As it's not really a place many tourists venture, you're likely to feel like you've stumbled on a secret. That's definitely how I felt when I found myself there, which is why it makes the list of the best non touristy things to do in LA.
---
Visit the Bradbury Building
---
The Bradbury Building is actually the oldest commercial building in the centre of LA and it's unique in style and design – which makes it a must-see. You can go and take a walk around, and admiring the beauty of it makes a perfect idea for non-touristy things to do in LA. Local LA residents would describe Bradbury building as a bit of a 'hidden treasure' and it's such a perfect place to take a stroll around.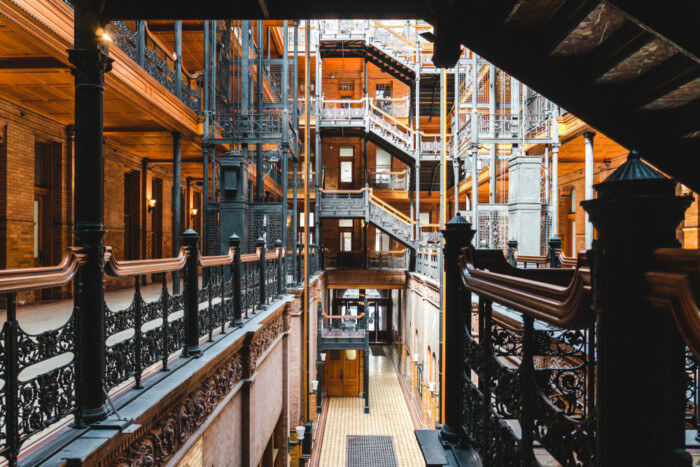 ---
Take a stroll around the Pinata District
---
Next up on my list of non-touristy things to do in LA – It's the Pinata District! The Pinata district is EVERYTHING it sounds like. It's a district of LA with market stalls dedicated to selling pinatas. Pinatas of every shapes, size, theme…. YOU NAME IT. In fact, I challenge you to find a pinata that isn't sold in the pinata district. This is a totally random suggestion, but if you want to have a completely weird and random day out – this is totally it. The whole district is an explosion of colour and energy and it's amazing.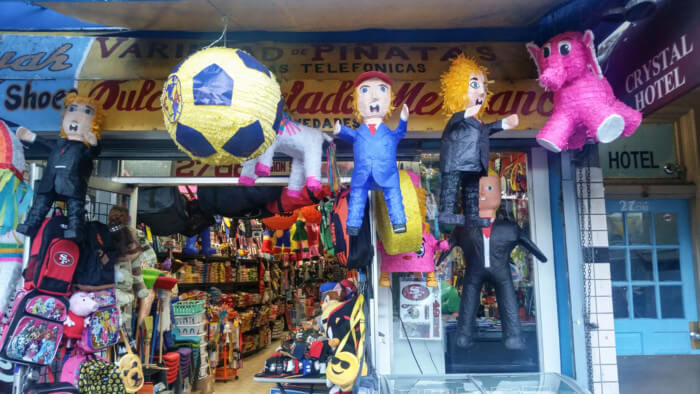 ---
Visit a vineyard
---
LA might be known for the beaches and shopping… But it's also pretty amazing for wine. Vineyards are everywhere in LA and some of the smaller wineries or vineyards make the perfect non-touristy thing to do in LA. Get an uber out there (so you can drink as much as you want without worrying about driving) and just enjoy a slow day of trying loads of delicious wines. Sounds pretty perfect right?
My favourite tour BY MILES is the wine-tasting tour in a VW camper van (click here to see the tour in more detail). I love this tour because it OOZES cool, you get to drive around in one of the most iconic cars ever made, and your pro tour guide will make sure you visit some of the best wine locations in the city.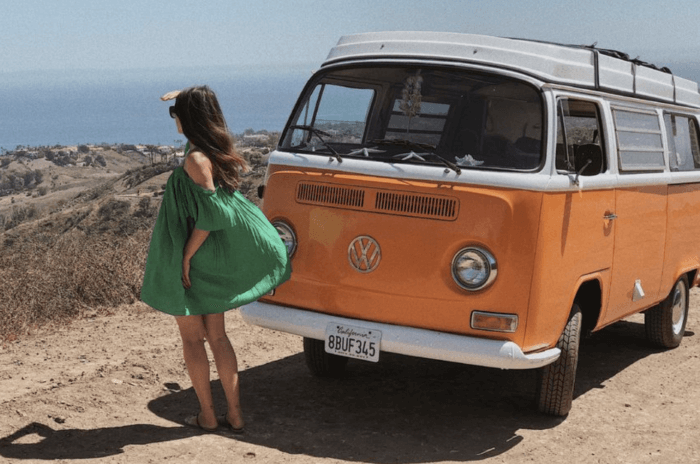 ---
Take a trip to Rosebowl Flea Market
---
Last on my list of non-touristy things to do in LA, it's the Rosebowl flea market. If you've never been to a flea market – you're missing out! There is so much to find at these markets and so many hidden treasures to stumble across.
Whether you actually need to find something, or you have something in mind, or whether you just want to find something random and see what sellers have got in store for you – it's so much fun! As a fun challenge, you can set yourself and your friends a budget, and see who can find the most random / whacky item.
---
I hope this list of non-touristy things to do in LA is useful! Let me know in the comments which place you'll be checking at!