If you're looking for a close, and more importantly, wonderful destination for your next getaway Verona has your name written all over it.
Found in the northern part of Italy (specifically in the Veneto region), Verona is not only full of fun and interesting activities, but also very easy to reach! For example, from the UK there are many means of transportation one may choose.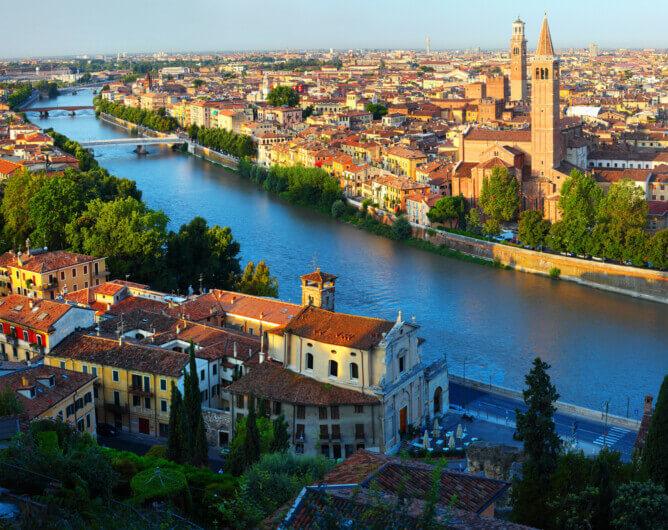 There is a well-equipped international airport only a 20 minute taxi ride away from the centre of the city, which also serves both European and international flights. What's more is that you could also fly into Venice, which is only a little over an hour away. Once you arrive, here are some of the things that will keep you busy during your Verona getaway.
Known for its romantic atmosphere, keep in mind that the city is home to Juliet's house- and yes, I mean Juliet from the Romeo and Juliet! The house originates back to the 13th century, and is quite the site to see when you're in town. With love in the air and Shakespeare's story to keep you warm, bring an extra pen and paper so that you can leave a note on the wall, it is said to bring look to the couples that do!
Once you're set and done with Juliet, you will want to make a stop at the Torre dei Lamberti where you will be able to gaze at the city from an 84 metres high viewpoint. Now that you're making your way back to your room for a well deserved rest, keep in mind that one of the best things about Verona is its arena.
In fact, Verona arena events are known around the globe for the unique setting the shows take place in. Dating back to AD 30, the arena was built by the Romans, was originally 4 levels, and could seat 30,000 people.
Today the arena is still in full swing and can welcome 15,000 spectators to its beautiful shows- one of which I highly hope you get to witness.
And what about the Veronese culinary scene? Fear not though because you are in Italy, which means that you are in good hands wherever you go when it comes to your meals. Of course, Verona is no different. One of the strong suits of the city can be found just outside, and goes by the name of Valpolicella region.
The region is in fact home to an extensive vineyard scene where you will be able to visit different wine making facilities. Whether you choose to go west towards the fantastic Lake Garda and visit some of the traditional wineries, or east towards today's up and coming winemakers, you will not be disappointed with what you find.
If anything, it just means you might have to come back to Verona in order to go the other way too!